News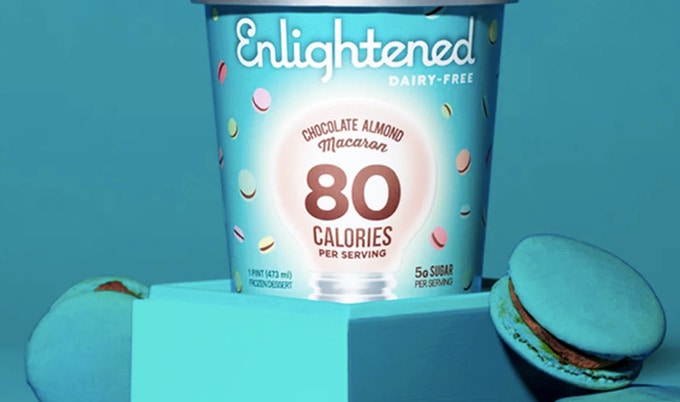 Enlightened Ice Cream Debuts Seven Vegan Flavors
The low-calorie brand joins the vegan ice cream revolution with almond milk-based flavors such as Ooey Gooey Cinnamon Bun, Triple Shot Espresso, and Chocolate Almond Macaron.
October 31, 2018
---
Low-calorie brand Enlightened Ice Cream will debut its first vegan line on November 5 at retailers Sprouts and ShopRite before expanding distribution in 2019, according to media outlet POPSUGAR. The brand's new vegan line features almond milk-based ice cream in seven flavors: Chocolate Peanut Butter, Cookies & Mint, Candy Bar Crunch, Chocolate Almond Macaron, Monkey Business, Ooey Gooey Cinnamon Bun, and Triple Shot Espresso. A number of traditional dairy-based ice cream brands have recently modernized their lines to offer vegan options, including Ben & Jerry's which now offers nine vegan flavors, Häagen-Dazs which features a line of vegan pints and bars, and Halo Top which debuted seven coconut-based vegan flavors last year before adding an additional seven flavors to the line in February.
Let's get FABULOUS! Order your copy of the hot-off-the-press VegNews Guide to Being a Fabulous Vegan — filled with everything you need to know to live a super-fabulous vegan life (including our all-time favorite recipes)!
Order Now