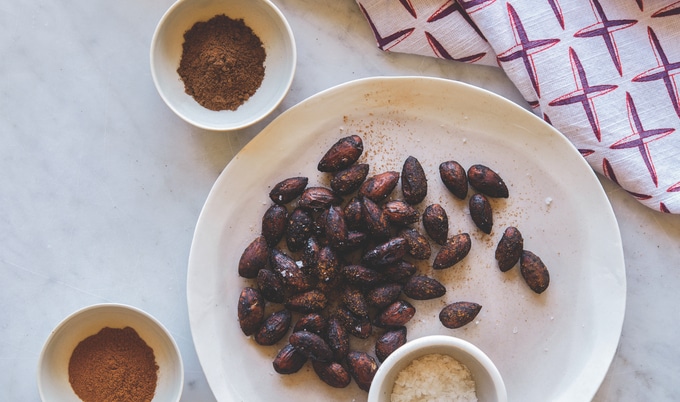 Cocoa Spiced Roasted Almonds
Warming, fall spices mingle with fiery chilies in this sweet-and-spicy roasted snack.
Pair these roasted nuts from the Eat Like You Give A Fork: The Real Dish on Eating to Thrive cookbook with your favorite vegan beer, or toss them into a snack mix for your next hiking adventure.
What you need:
2 tablespoons unsweetened cocoa powder
1 tablespoon ground cinnamon
1 teaspoon ground chili powder
1 teaspoon granulated stevia
1⁄2 teaspoon salt
2 cups raw almonds
1 tablespoon coconut oil
What you do:
Preheat oven to 375 degrees. In a small bowl, combine cocoa powder, cinnamon, chili powder, stevia, and salt. In a medium bowl, place almonds and toss with coconut oil. Add spice mixture and toss until evenly coated.
Onto a rimmed baking sheet, spread almonds in an even layer and bake for 12 minutes, taking care not to burn almonds and tossing as needed.
Remove from oven and let cool.
Photo credit: Mareya Ibrahim
Love vegan food as much as we do? Then you're going to LOVE the VegNews Ultimate Vegan Meal Planner with THOUSANDS of editor-approved, easy-to-make recipes. On sale now for 40% off!
Click here