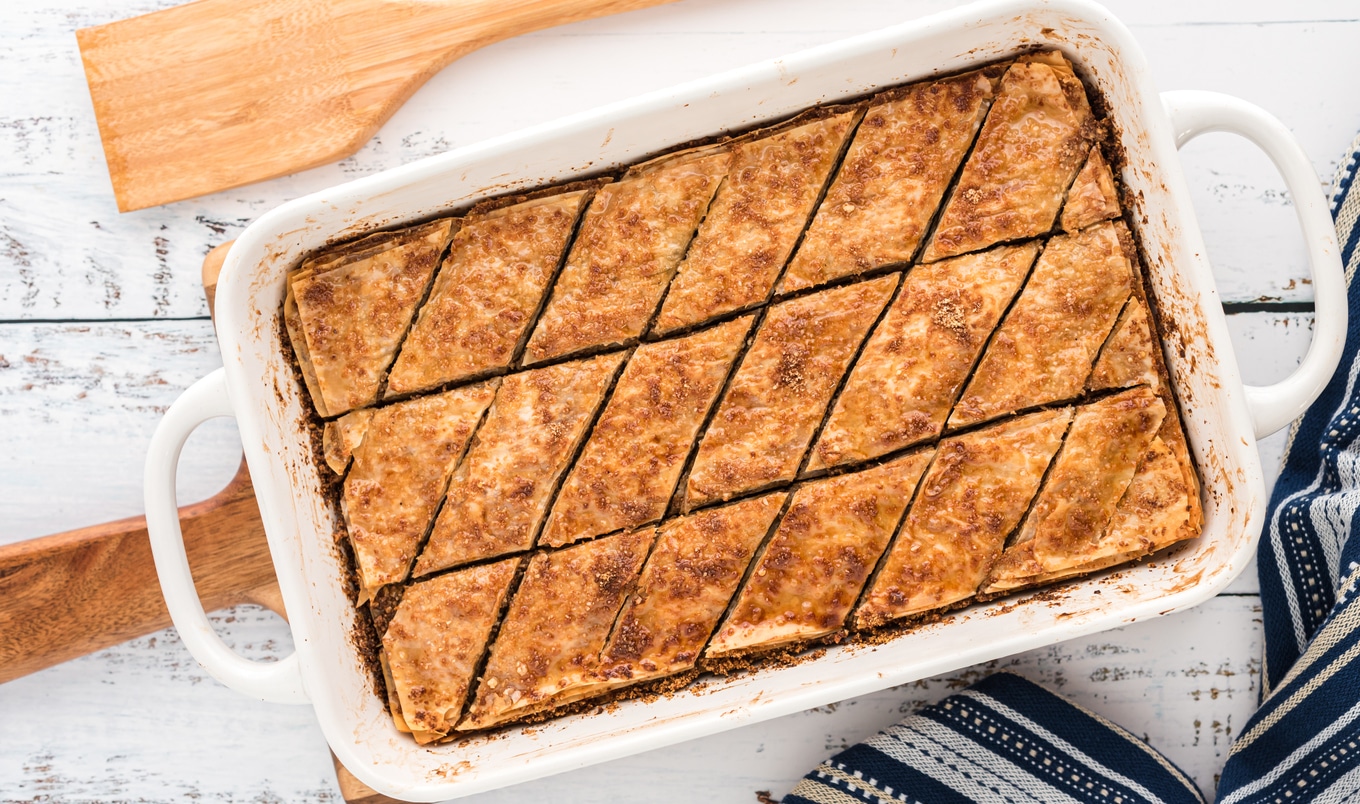 This baklava features crunchy, sweet, and sticky layers of phyllo dough with a cinnamon-infused nut mixture that's guaranteed to hit the sweet spot.
June 11, 2023
This traditional Turkish dessert is characterized by its many flaky golden layers and toasty nuts, all soaked in a sweet syrup. This plant-based variation from the Dreena's Kind Kitchen cookbook uses thick coconut cream and sweet agave syrup to pack in the sweet decadence.
What you need:
For the nut mixture:
¾ cup almonds
¾ cup pecans
3 tablespoons coconut sugar
1½ teaspoons ground cinnamon
½ teaspoon grated lemon zest
¼ teaspoon vanilla bean powder
¼ teaspoon salt
For the phyllo layers:
4 to 6 tablespoons refrigerated canned coconut cream, divided
¼ cup almond meal
2 tablespoons coconut sugar
½ (1-pound) package frozen phyllo pastry dough, thawed
For the syrup:
½ cup plus 2 tablespoons agave nectar
2 tablespoons lemon juice
What you do:
Preheat oven to 350 degrees. For the nut mixture, into a food processor, add almonds and process until crumbly. Add pecans and process until a fine nut meal is achieved. Add all remaining ingredients and pulse.
For the phyllo layers, wipe inside of an 8 x 11-inch baking dish with 1 tablespoon of coconut cream. Cut phyllo dough to roughly fit bottom of dish.
In a small bowl, combine almond meal and sugar.
Very lightly brush 2 sheets of phyllo with coconut cream and sprinkle with 1 teaspoon of almond meal mix. Layer on third sheet and add ¼ cup of processed nut mixture. Layer with another 3 sheets of phyllo, again brushing first 2 sheets with coconut cream and sprinkling with almond meal mix, then adding nut mixture after third sheet. Continue this layering until all nut mixture is used.
For top layer, use 3 to 4 sheets of phyllo and brush and sprinkle each layer. For the top layer, use a generous brushing of coconut cream and dusting of almond meal mixture.
Before baking, score baklava in a diamond pattern or squares with a sharp knife, cutting into baklava almost through to bottom.
Bake for about 40 minutes, or until golden. Remove from oven and let cool.
Once mostly cooled, in a small saucepan over medium-low heat, combine nectar and lemon juice. Allow syrup to come to a slow bubble. Once bubbling, remove from heat and slowly drizzle over cooled baklava. Allow baklava to cool enough to cut into pieces along score lines and enjoy.
For more recipes like this, check out: