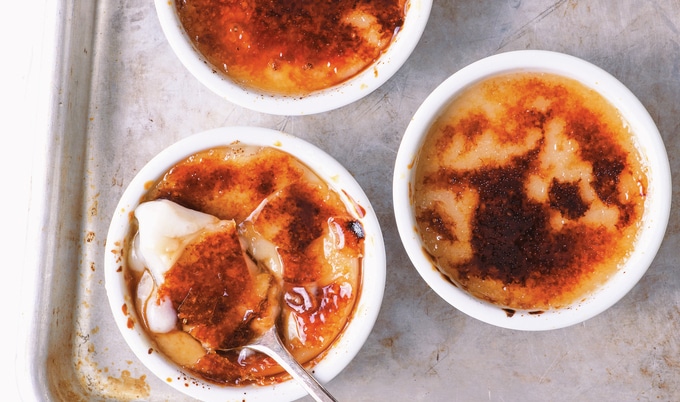 Vegan White Chocolate Crème Brûlée
These little bowls of goodness are the epitome of an impressive and elegant dessert.
This vegan custard from Lisa Dawn Angerame's cookbook Wait, That's Vegan? is made from a combination of coconut milk and cashew cream and gets an added richness from decadent cacao butter.
What you need:
1⁄4 cup raw cashews, soaked overnight, and drained
¼ cup water
1 (13.5-ounce) can unsweetened coconut milk
1⁄4 cup sugar, plus more for the brûlée
2 tablespoons arrowroot flour
2 teaspoons vanilla extract
1⁄2 ounce cacao butter
⅛ teaspoon salt
What you do:
Into a blender, add cashews and water. Blend for 1 minute until combined.
In a small pot over medium heat, add cashew mixture, coconut milk, sugar, arrowroot flour, vanilla, cacao butter, and salt and whisk until cacao butter is melted, about 5 minutes. The mixture will start to boil, pull away from sides of pot, and coat whisk. Remove from heat and pour equal amounts into six ramekins, cover and chill in refrigerator for 2 hours, or until set.
Evenly sprinkle top of each ramekin with sugar. Using a kitchen torch, burn sugar until dark and crispy. Serve immediately.
Photo credit: Alex Shytsman
Love vegan food as much as we do? Then you're going to LOVE the VegNews Ultimate Vegan Meal Planner with THOUSANDS of editor-approved, easy-to-make recipes. On sale now for 40% off!
Click here