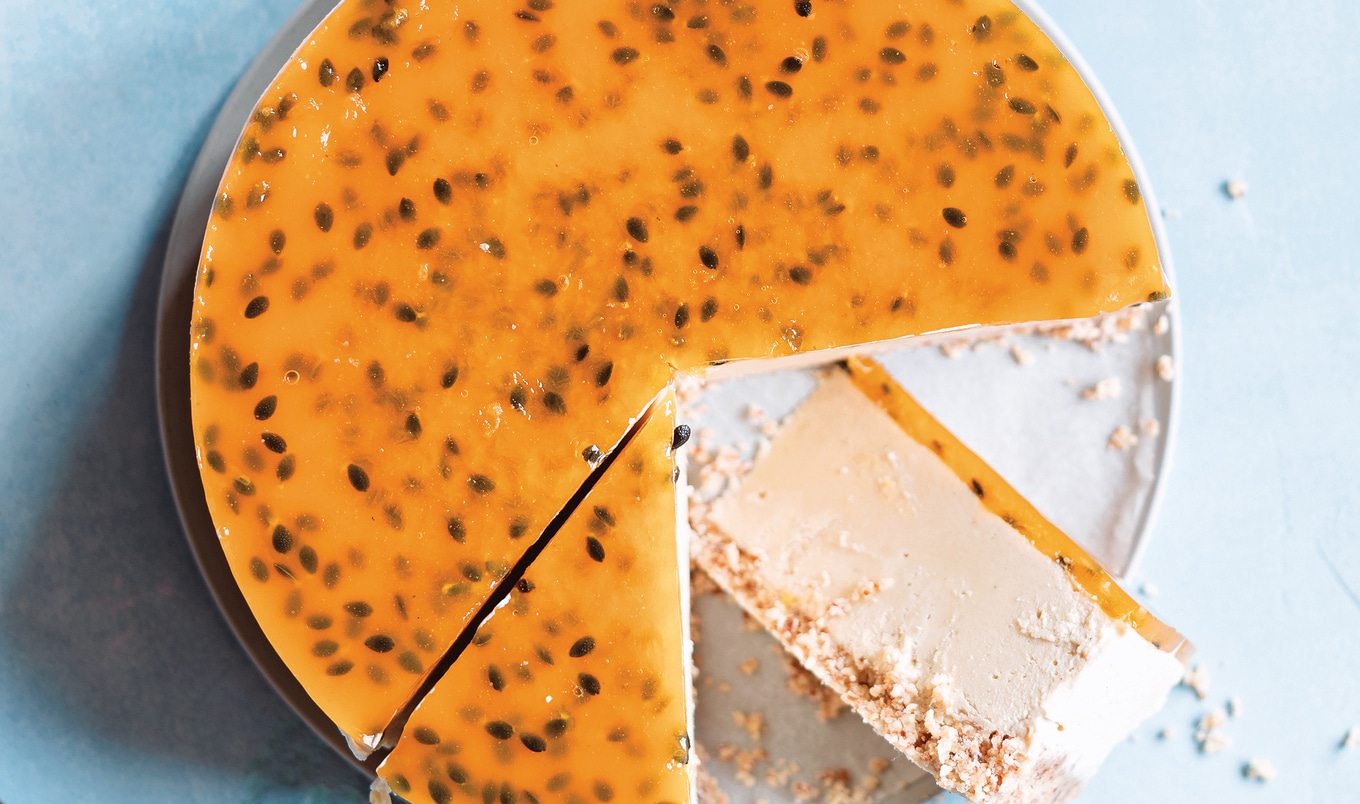 This decadent vegan cheesecake is complemented by sweet, tropical passionfruit for a match made in heaven.
January 1, 2023
The cacao butter gives this cake from the No-Bake Vegan Desserts cookbook its rich white chocolate flavor, which delicately balances the sweetness of its jelly topping.
What you need:
For the crust:
1 cup raw cashews
1 cup almond flour
¼ teaspoon salt
5 Medjool dates, pitted
½ tablespoon solid coconut oil
For the white chocolate filling:
1½ cups raw cashews, soaked
½ cup plus 2 tablespoons maple syrup
⅔ cup cacao butter
1½ cups vanilla soy yogurt
1 teaspoon vanilla bean paste
For the passionfruit jelly:
8 passion fruits
⅓ cup maple syrup
½ teaspoon agar-agar
2 tablespoons water
What you do:
For the crust, into a food processor, add cashews, almond flour, and salt and process for 1 minute, until a fine crumb consistency is achieved. Add dates and coconut oil and process for two more minutes, until mixture sticks together to form a dough.
Line bottom of an 8 x 4–inch cake pan with parchment paper and press dough evenly using a rubber spatula. Once even, place base in freezer.
For the white chocolate filling, into a high-speed blender, place all ingredients. Blend on high until completely smooth. Remove cake base from freezer and pour filling over it, tapping pan gently on counter to knock out any air bubbles. Place pan in freezer to set for 6 hours or overnight.
For the passionfruit jelly, slice passion fruits in half and scoop out filling. Squeeze filling through a fine-mesh sieve to separate juice from seeds. Reserve seeds.
In a saucepan, add passion fruit juice and maple syrup. Bring mixture to a simmer over medium heat. In a separate bowl, combine agar-agar with water and mix well.
Add agar-agar to saucepan and bring mixture to a boil, whisking continuously. Reduce heat and simmer for 5 minutes, stirring to avoid mixture from sticking to bottom of pan. Add half of reserved passion fruit seeds to jelly mixture, and whisk.
Remove jelly mixture from heat and allow to cool for 5 minutes before pouring on top of cheesecake. Place cheesecake back in freezer for one hour or until completely set.
Remove cake from pan while still frozen to keep cake from sticking to pan. Allow to defrost for 45 minutes to 1 hour before serving. Store in an airtight container in your refrigerator for up to 4 days or freeze and defrost before serving.