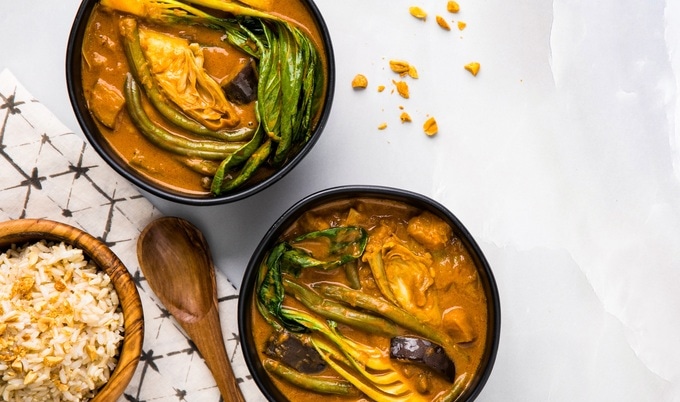 This traditional Filipino stew tastes similar to peanut satay and is colored with annatto, a carotenoid-rich food coloring derived from the seeds of the achiote tree.
May 2, 2020
The decadent array of texture and flavor in this recipe from The Healthspan Solution cookbook translates to an unforgettable stew.
What you need:
1 tablespoon annatto powder
1 cup chopped sweet yellow onion
3 garlic cloves, minced
1 medium Chinese or Japanese eggplant, cut in rounds or quartered if larger diameter
1 cup long beans, cut into 3-inch lengths
1 cup cubed winter squash (butternut, acorn, or kabocha)
4 cups low-sodium vegetable broth, divided
½ cup smooth peanut butter
5 baby bok choy, quartered
1 cup canned quartered artichoke hearts, in water, rinsed
1 tablespoon molasses
3 tablespoon tamari
½ teaspoon liquid smoke
2 cups cooked rice, to serve
½ cup chopped roasted peanuts, for garnish
What you do:
In a small bowl, mix annatto powder with 3 tablespoons water and set aside.
In a large saucepan over medium-high heat, add onions and ¼ cup water, and cook until onions are translucent. Add garlic and sauté for 60 seconds, or until golden, being careful not to scorch.
Stir in eggplant, long beans, squash, and 1 cup broth. Bring to a boil, and then reduce heat to medium-low. Partially cover and cook for 10 minutes, stirring occasionally, until squash begins to soften and eggplant is translucent.
Add annatto mixture, peanut butter, and remaining 3 cups broth. Increase heat and bring to a boil, and then reduce heat to medium-low and simmer for 15 minutes. Add baby bok choy and artichoke hearts and then cover and cook for another 5 minutes until bok choy has softened. Stir in molasses, tamari, and liquid smoke.
Serve hot over rice, and top with chopped peanuts as a garnish.
Love vegan food and cooking as much as we do?
Get the BEST editor-tested recipes inside every issue of VegNews Magazine. Find out why VegNews is the world's #1 plant-based magazine by subscribing today!