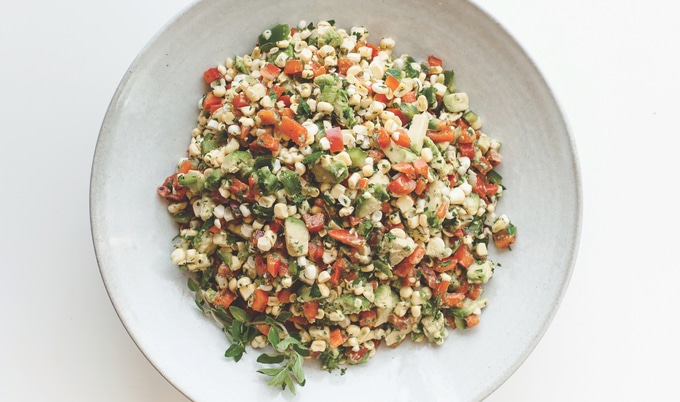 Vegan Summer Picnic Poblano Salad
This make-ahead, picnic-ready salad takes no time at all to prepare.
This simple salad from The Simply Real Health Cookbook pairs great with grilled vegan sausage or tofu. For a quick summer-ready dinner, try as a taco filling with black or pinto beans.
What you need:
2 red bell peppers, diced
2 poblano peppers, diced
4 ears organic corn, removed from cobb
2 avocados, cubed
5 sprigs fresh oregano leaves, chopped
½ cup fresh cilantro, chopped
2 limes, juiced
1 tablespoon garlic-infused olive oil
¼ teaspoon salt
¼ teaspoon black pepper
What you do:
Into a large serving bowl, add peppers, corn, avocado, oregano, and cilantro. Drizzle with lime juice and olive oil, and toss well to combine. Add salt and pepper and toss once more before serving.
Photo credit: Carina Skrobecki Photography
Love vegan food as much as we do? Then you're going to LOVE the VegNews Ultimate Vegan Meal Planner with THOUSANDS of editor-approved, easy-to-make recipes. On sale now for 40% off!
Click here