Sportswear brand Adidas is launching its first all-vegan soccer shoe in partnership with Stella McCartney and World Cup-winning soccer player Paul Pogba, who plays for Manchester United. Called the Predator Freak, the limited-edition, gender neutral cleats are the latest iteration of Adidas' iconic Predator soccer shoe but combine the vegan and sustainable standards of McCartney and the elite performance requirements of Pogba.
"Last year during lockdown, Adidas brought Paul and I together for [YouTube series] The Huddle, which is where this idea was first born. Hearing how passionate he was about fashion and learning how much we had in common really sparked the inspiration for co-creating this iconic boot," McCartney said in a statement. "One comment that stuck with me was how fashion was part of his personality both on and off the pitch, so it was important for this to shine through in the design."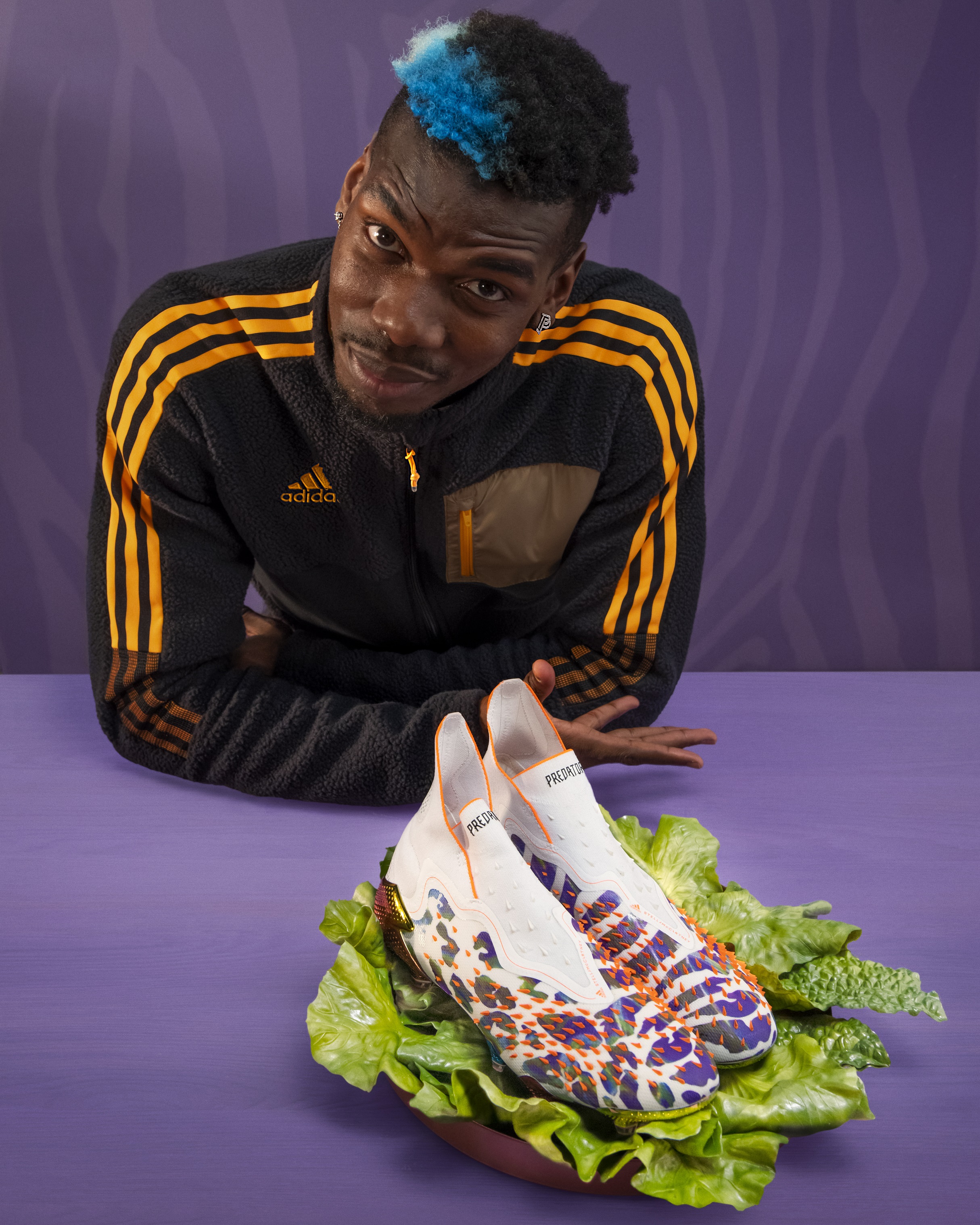 Adidas goes bold with its first vegan soccer shoe
Adidas chose a bold design for its first soccer shoe which features a distinctive silhouette and the white Primeknit upper is adorned with iconic leopard and Earth Protector graphics. Adidas' Demonskin rubber spikes, which are calibrated by computer algorithm for improved ball control and swerve, are featured on the shoe in signal orange. Signature Adidas by Stella McCartney detailing includes an opalescent finish and an ombré rainbow mirror metallic plate and heel logo—the first time a soccer boot has carried this feature.
"This collaboration has been particularly special for me because I've been a fan of Stella McCartney's work for a long time, so when we came together for The Huddle last year and had this idea, it felt like the perfect opportunity to create something," Pogba said in a statement. "It was in the middle of lockdown and I was missing playing football so much, so it was an incredible feeling to be able to focus on something that combines my love for the game with my passion for style. The boots we created with Adidas are bold and unique, and I can't wait to wear them when I step onto the pitch."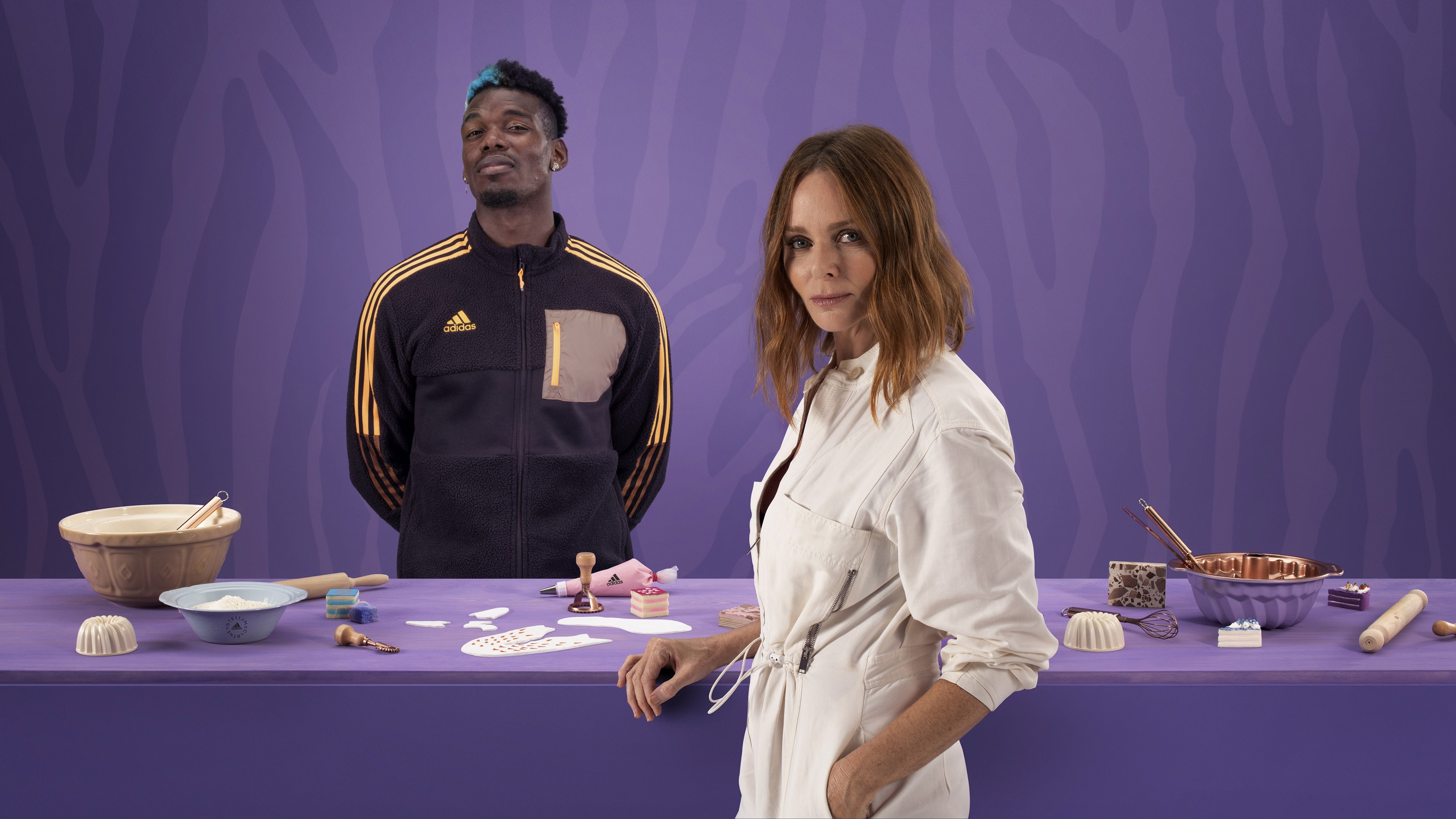 The cleats will be available via the Adidas app and select retailers starting on November 1. They will be available in two styles: the Predator Freak P+ ($325) features a laceless construction and a snug, sock-like fit; and the P1 model ($215) is engineered with a lower collar and similar sock-like feel.
"Creating with the planet in mind is core to the Adidas by Stella McCartney partnership, and as the first Adidas vegan football boot, the Predator Freak also uses part-recycled materials," McCartney said. "Working together on the design and bouncing ideas off each other was such a fun experience, and the boot perfectly fuses the world of fashion and football, showing how we can continue to create with the planet in mind."
McCartney brings sustainability to Adidas
McCartney has been bringing her unique style and sustainable vision to Adidas since 2005. The Adidas by Stella McCartney collection includes functional sportswear that continues to raise the bar for sustainability, challenging wasteful fashion industry practices and creating positive change by using eco-conscious materials such as upcycled plastic waste that was collected from beaches and coastal communities before reaching the ocean.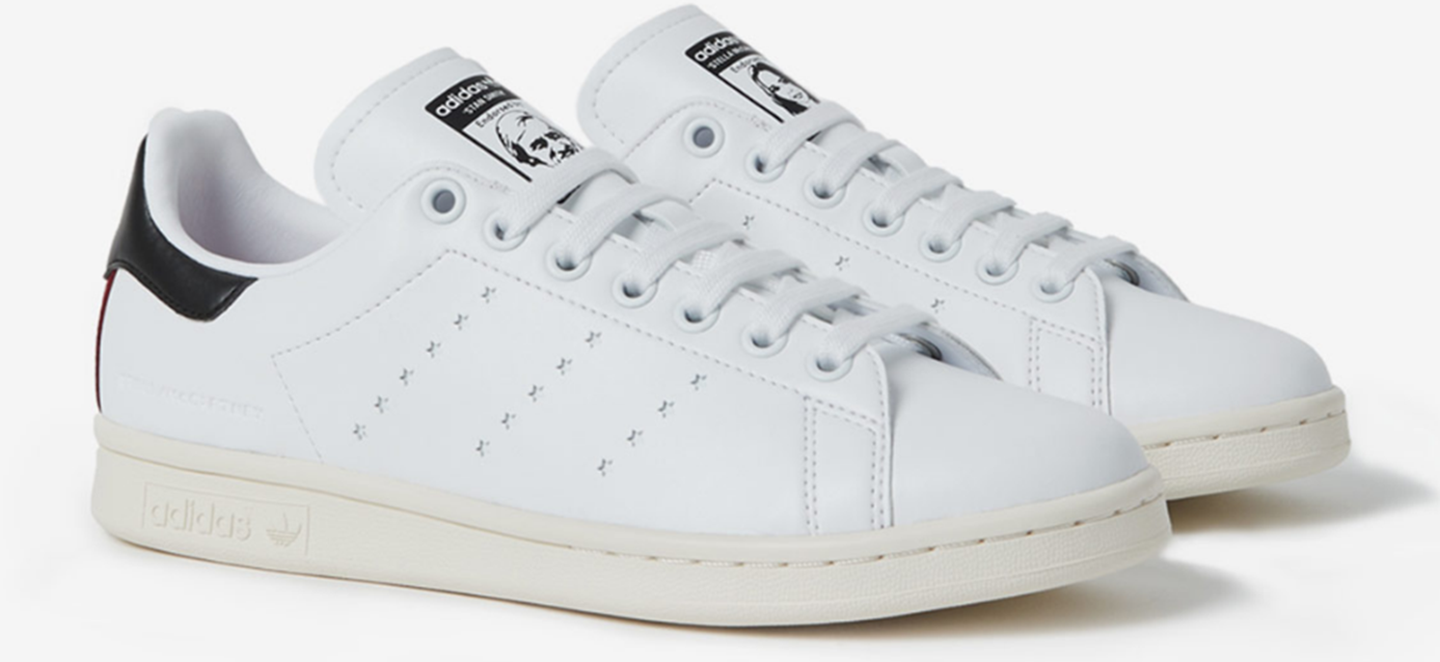 In 2018, McCartney and Adidas launched the first vegan leather version of the iconic Stan Smith sneakers. Made from recycled polyurethane instead of the original's animal-derived leather, the shoes feature star designs in place of stripes on the sides, a color-block heel with McCartney's signature, and embossed tongues—with McCartney's portrait on the right and tennis legend Stan Smith's on the left. The popularity of the vegan leather Stan Smiths resulted in additional designs, including a style made with rainbow accents and collaborations with Disney, Marvel Studios, and more. In August, the brand debuted vegan leather Stan Smiths in Miss Piggy, Peter Pan, Toy Story, Wall-E, and Monsters Inc. styles.
Adidas is also working to create vegan Stan Smith sneakers with more sustainable materials, such as vegan mushroom-derived leather Mylo—an innovative material created by startup Bolt Threads which McCartney showcased in a handbag on the runway during Paris Fashion Week.
For more about vegan Adidas, read:
Adidas to Launch Vegan Mushroom Leather Shoes
Adidas Becomes 1500th Apparel Company to Ban Fur

Adidas is Veganizing Its Iconic Sneaker Styles