The world's first vegan mushroom leather handbag just made its runway debut as part of Stella McCartney's Summer 2022 collection presentation during Paris Fashion Week. The Frayme Mylo bag is made from Mylo, a vegan leather crafted by startup Bolt Threads from fast-growing mycelium (mushroom root systems). Inspired by McCartney's iconic Falabella bag, the Frayme Mylo features the sustainable vegan mushroom leather which is wrapped with an oversized recyclable aluminium chain strap and embellished with a zamac statement medallion.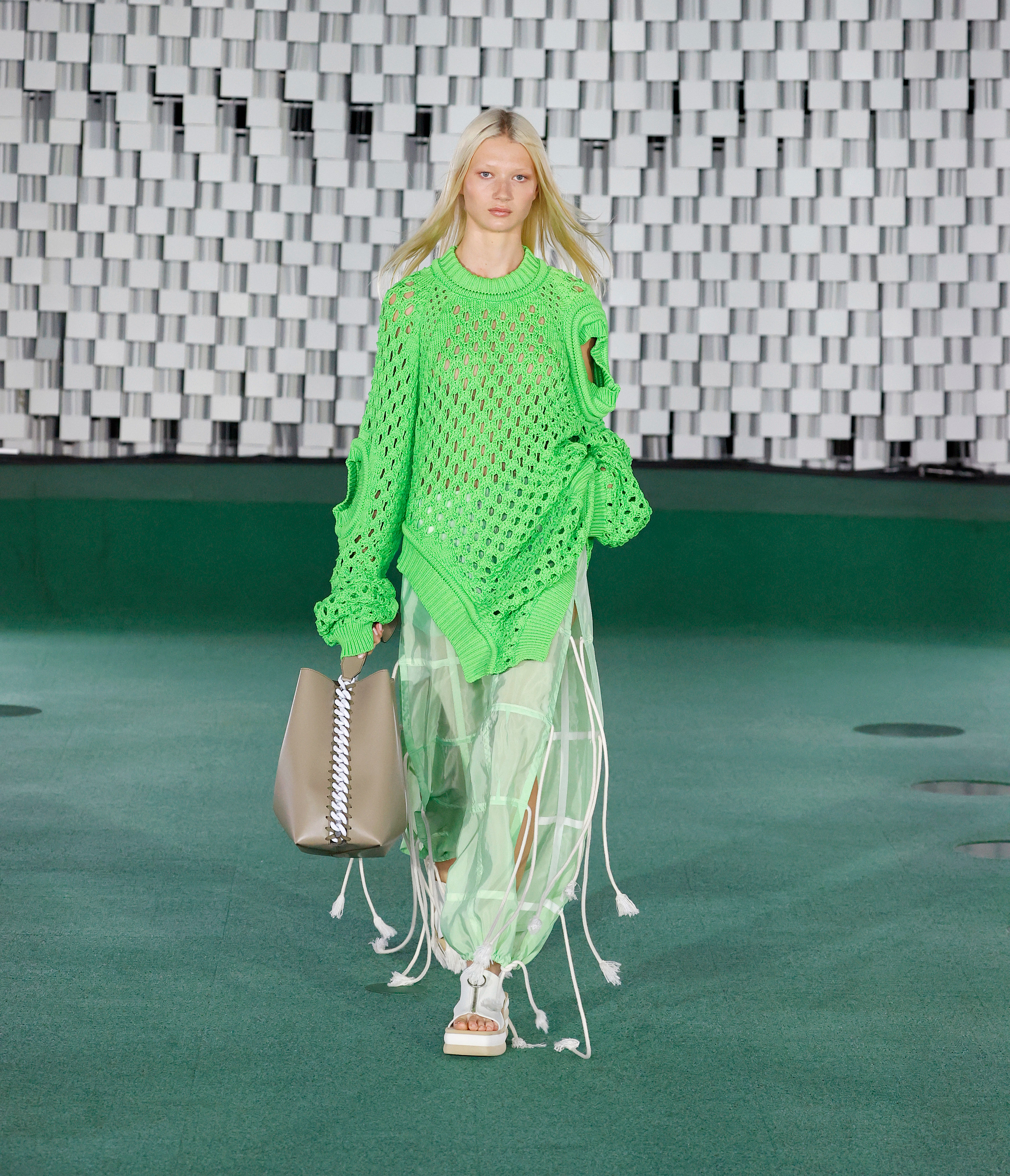 McCartney previously showcased Mylo in a concept duo of trousers and a bustier that she created at her atelier in London, which were made with recycled scuba nylon and panels of the vegan mushroom leather. While those garments were not for sale, McCartney developed her summer 2022 collection to showcase the versatility and beauty of mushrooms, which McCartney believes is the future of fashion.
"For my Summer 2022 collection, I was so inspired by fungi and their incredible potential for saving our planet—and the Frayme Mylo embodies that hope for the future," McCartney said in a statement. "Our long-time partners at Bolt Threads and I have a shared passion for material innovation and launching a luxury handbag made from Mylo mycelium leather is a landmark moment not only for us, but the world. What you see on the runway today is the conscious fashion industry of tomorrow."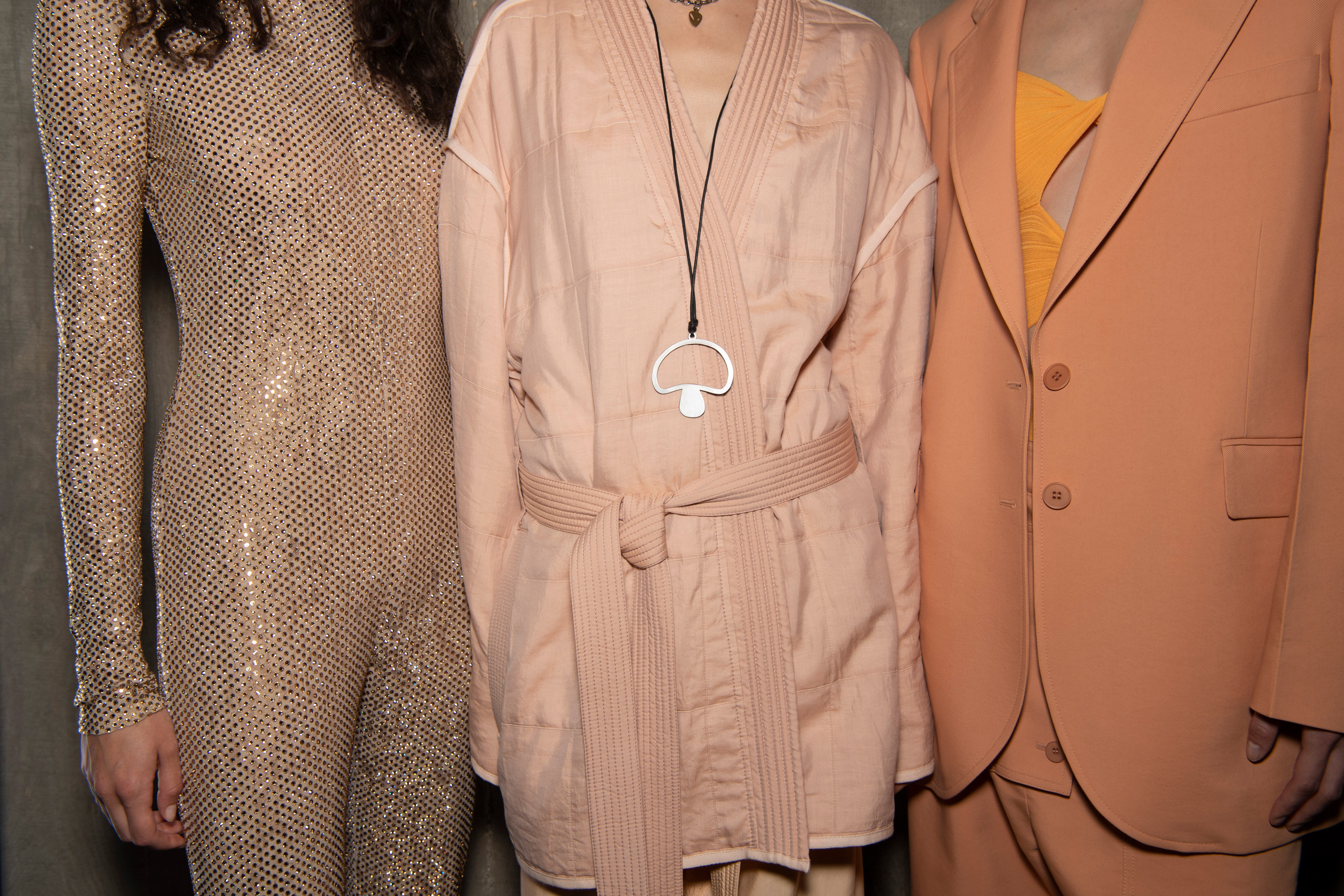 It takes 1,700 liters (approximately 4,500 gallons) of water to make one kilogram (approximately 2.2 pounds) of animal leather. Mylo is environmentally superior to animal-derived leather in a variety of areas, including reduced greenhouse gas emissions and lowered water and land use. It is also made without animal cruelty. While it takes years for cows to mature so that their hides can be turned into leather, Mylo is grown in a matter of days and is infinitely renewable. The mushroom leather is also not petroleum-based like many synthetic leathers, which allows more fossil fuels to be kept in the ground and less plastic to be deposited into landfills and oceans.
"With good reason, consumers are demanding sustainable material alternatives that also look and feel great. Working closely with Stella and her team of innovative designers has enabled us to make Mylo a no-compromise, animal-free alternative to leather," Bolt Threads CEO and Founder Dan Widmaier said in a statement. "The Frayme Mylo bag is a huge milestone for sustainable fashion, making better material options accessible to consumers all around the world."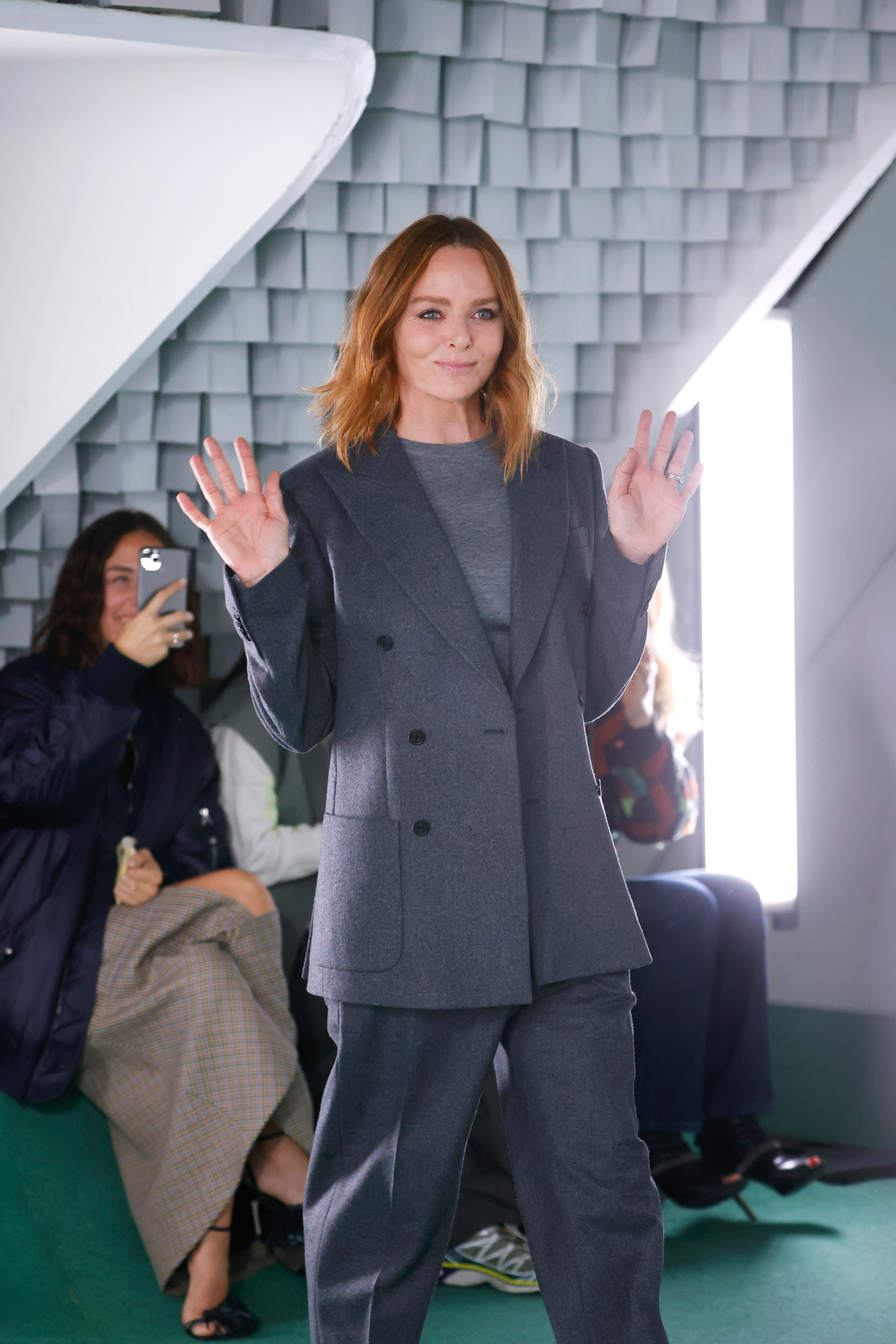 Stella McCartney gets behind vegan mushroom leather
McCartney is the first to put vegan mushroom leather on the runway but she will not be the last to feature the innovative material in fashion. The eco-conscious designer is part of the Mylo Consortium, a multi-brand collective formed last year with Bolt Threads that will result in the launch of multiple Mylo-based innovations in the coming months. In addition to McCartney, partners in the Mylo Consortium include Adidas, Lululemon, and Kering—a major fashion group that just ditched fur and manages the development of brands such as Gucci, Saint Laurent, Bottega Veneta, Balenciaga, Alexander McQueen, and more.
Last spring, Adidas released a concept Stan Smith sneaker made with Mylo that built on the athletic brand's recent release of the vegan leather versions of its classic sneakers. Adidas also plans to make a commercial version of its mushroom leather-based Stan Smiths in coming months.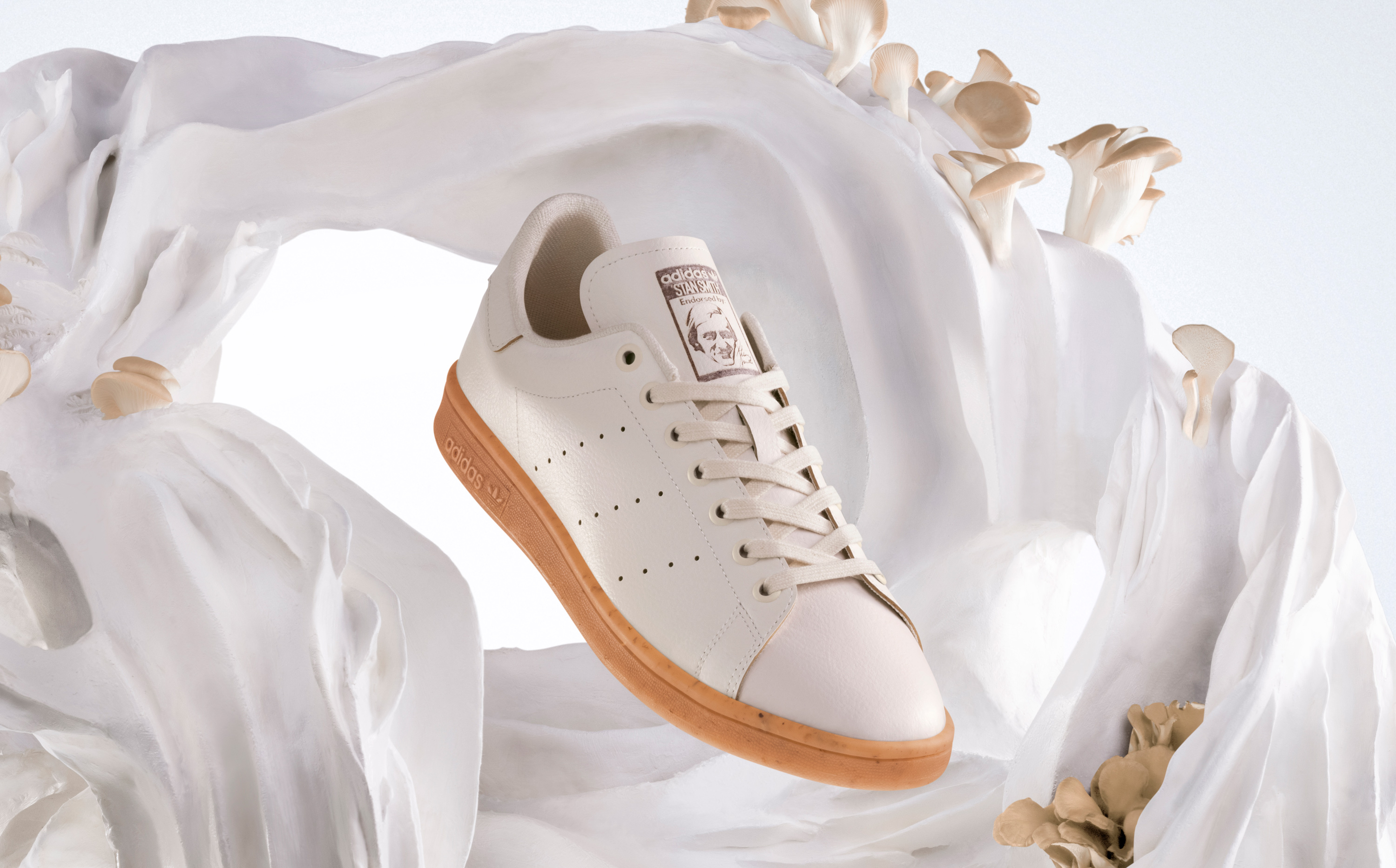 Better vegan leather
While all vegan leather beats out animal hides in terms of animal cruelty, new plant-based vegan leathers are being developed from a variety of sources to replace environmentally damaging polyurethane. Mexican entrepreneurs Adrián López Velarde and Marte Cázarez developed Desserto from cactus leaves and the innovative vegan leather is now making its way into the fashion world in the form of Fossil tote bags; a reimagined vegan version of of Karl Lagerfeld's classic K/Kushion bag; and even as vegan leather boxing gloves by athletic brand Sanabul.
In Italy, the wine industry is getting a sustainable makeover thanks to Vegea, which makes vegan leather with its grape byproducts. This luxurious plant-based leather has been featured by several brands, including H&M which debuted a collection of shoes and handbags made with the innovative "wine leather" last year.
Luxury brand Gucci recently went deep into the world of vegan leather by creating Demetra, a new material made from wood pulp. Developed over the course of two years, Gucci's Demetra is made from 77-percent plant-based raw materials, including wood pulp and viscose, and is tanned in the way leather would be but without animal cruelty or environmental harm. In June, Gucci released three sneaker styles (Basket, New Ace, and Rhyton) to showcase Demetra.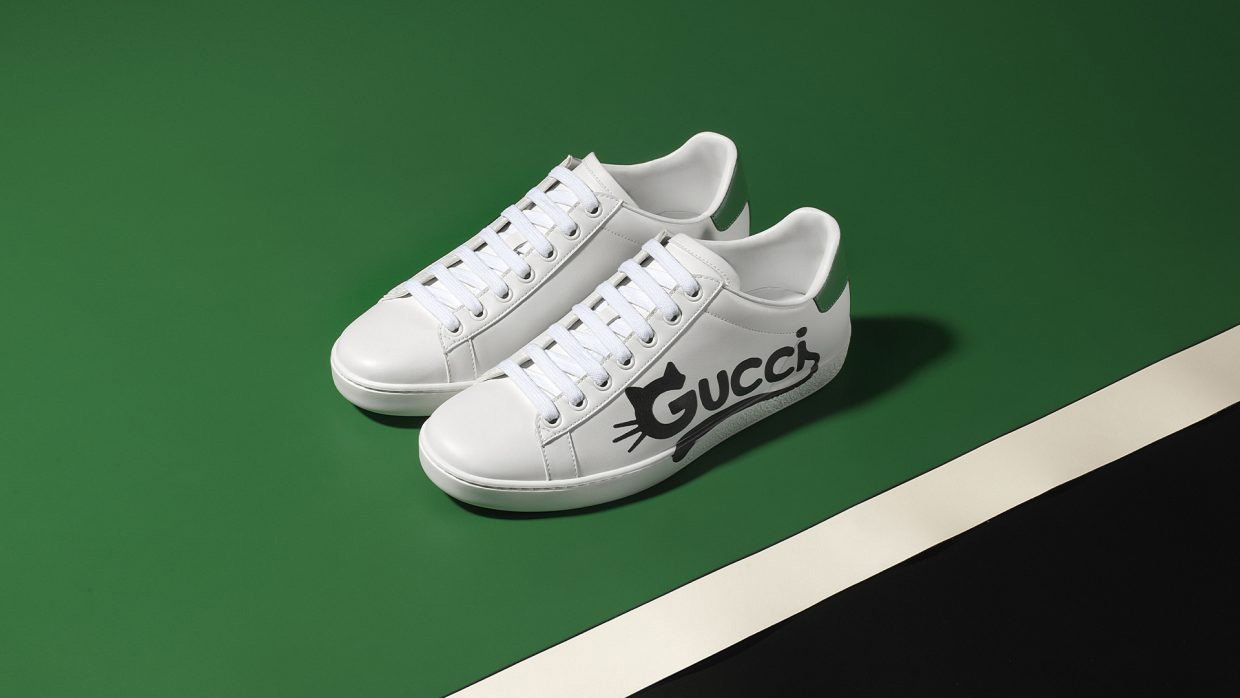 Pineapples are also being repurposed into vegan leather by Ananas Anam, maker of vegan pineapple leather Piñatex. Developed by Spanish designer Carmen Hijosa, Piñatex is made from would-be-wasted pineapple leaves that give the vegan leather the same versatility and durability as animal hides but without any of the downsides. Since its release in 2016, Piñatex has been used by major fashion labels, including Nike, Hugo Boss, and more. Earlier this year, Dole Sunshine Company became a supplier of pineapple byproducts to Ananas Anam, a step forward in achieving its goal of a more circular business by 2025.
For more about vegan leather, read:
5 Fabulous Vegan Leather Designers
Vegan Mexican Cactus Leather Wins International Eco Award
These New Luxury Handbags Are Made from Cactus, Not Cows