Jack in the Box is the latest fast-food chain to get into plant-based beef with its test of the Impossible Burger at participating Phoenix area locations (where it operates 50 outposts) for a limited time. Starting now and until December 12, 2021, Jack in the Box will offer the Impossible Burger—the first time the chain has tested a plant-based beef patty—on its menu in Phoenix as a substitute for beef in any burger for $1 to $1.50 extra. The test launch makes Jack in the Box the first fast-food chain to offer a plant-based patty in place of meat in items on its core menu.

"We're excited to test the Impossible Burger patty at our Phoenix locations. We feel it is important to give our guests as many options to choose from as possible, because Jack in the Box is all about menu variety and satisfying all types of cravings," Ryan Ostrom, Jack in the Box Chief Marketing Officer, said in a statement. "Our consumer insights show our guests are interested in plant-based options and we want to give them as many ways to enjoy our products as possible."
Jack in the Box gets into plant-based meat
While the Impossible Burger represents the first time that Jack in the Box has tested plant-based beef on its menu, it isn't the first time the chain—which operates more than 2,200 restaurants in 21 states and Guam—has tested plant-based meat.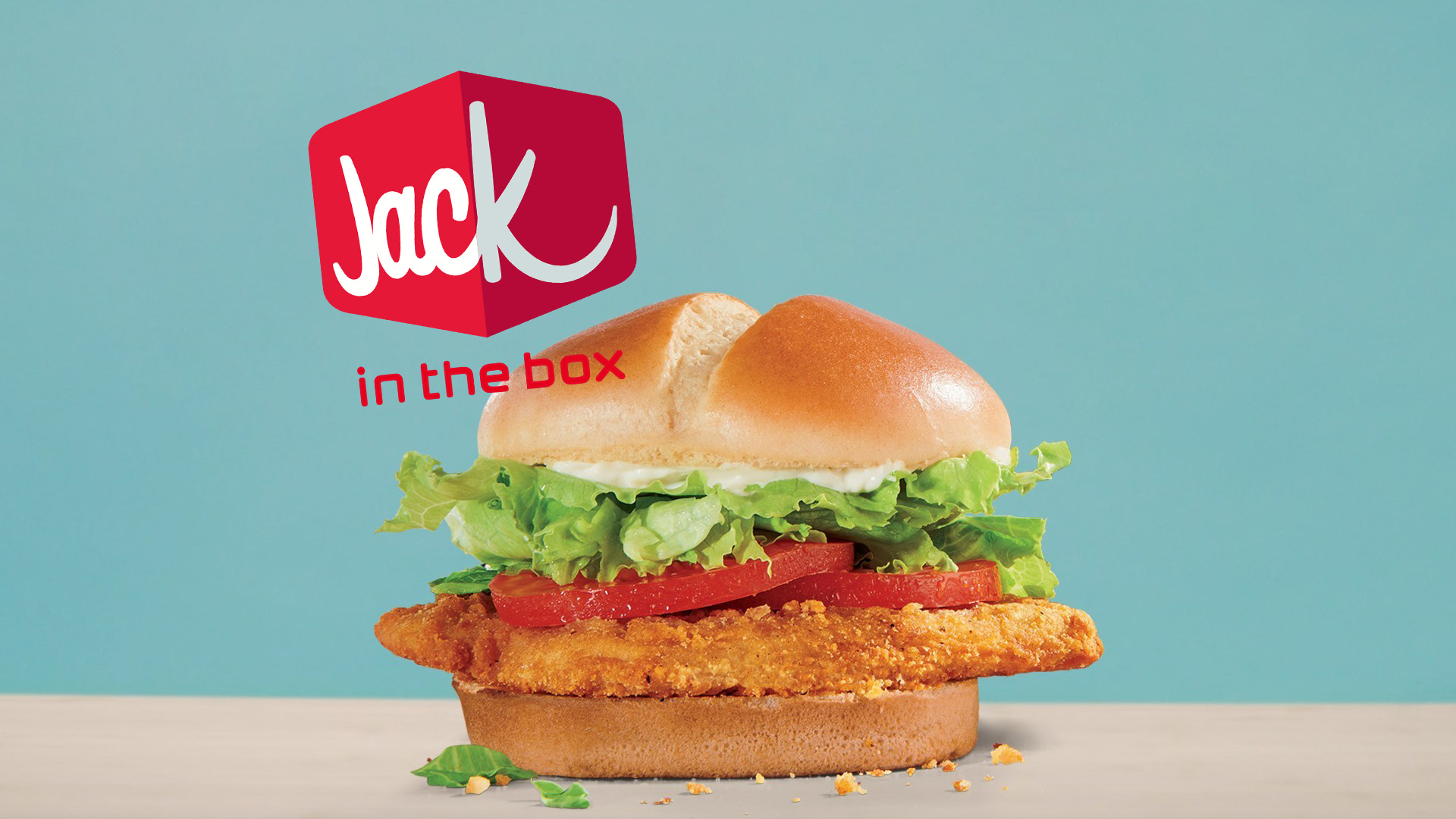 In October 2020, Jack in the Box unveiled the Unchicken Sandwich, its first meatless option, at test locations in Reno, NV and Monterey and Salinas, CA. The sandwich was made with a patty produced by Tyson-owned Raised & Rooted brand. While the retail line of Raised & Rooted then contained animal products such as eggs (which Tyson has since removed from this line), the bespoke patty at Jack in the Box was completely plant-based. The limited-time sandwich was served with non-vegan mayonnaise, lettuce, and tomato on a vegan bun and was available in Spicy and Classic flavors.
While the Unchicken Sandwich test has yet to result in a national rollout, Jack in the Box was only the second national fast-food chain to try out vegan chicken on its menu—the first being KFC in a 2019 test run of Beyond Fried Chicken. Since then, a slew of chains have gotten into the plant-based chicken business, including Burger King which is currently testing Impossible's vegan chicken nuggets at locations in Des Moines, IA; Boston, MA; and Miami, FL.
Fast-food chains embrace plant-based
Jack in the Box is the latest fast-food chain to embrace plant-based meat. In 2019, Burger King was one of the first fast-food giants to add the Impossible Burger—which it offers as part of the Impossible Whopper—to its national menu. The year prior, Carl's Jr. also added the Beyond Famous Star to its national menu, a meatless burger with a plant-based patty made by Beyond Meat, Impossible Foods' top competitor. From Pizza Hut to Taco Bell to White Castle and beyond, plant-based meat is now permeating almost every corner of the fast-food world, including the king of them all: McDonald's.
McDonald's has been slow to adapt to the plant-based shift but it's currently working on something big. Earlier this year, the chain signed a three-year partnership with Beyond Meat to work on its McPlant platform, which will result in a number of plant-based launches developed to suit the tastes and needs of different regions globally. Thus far, the partnership has resulted in the McPlant burger, which launched in European countries, including Austria, Sweden, Denmark, and the Netherlands.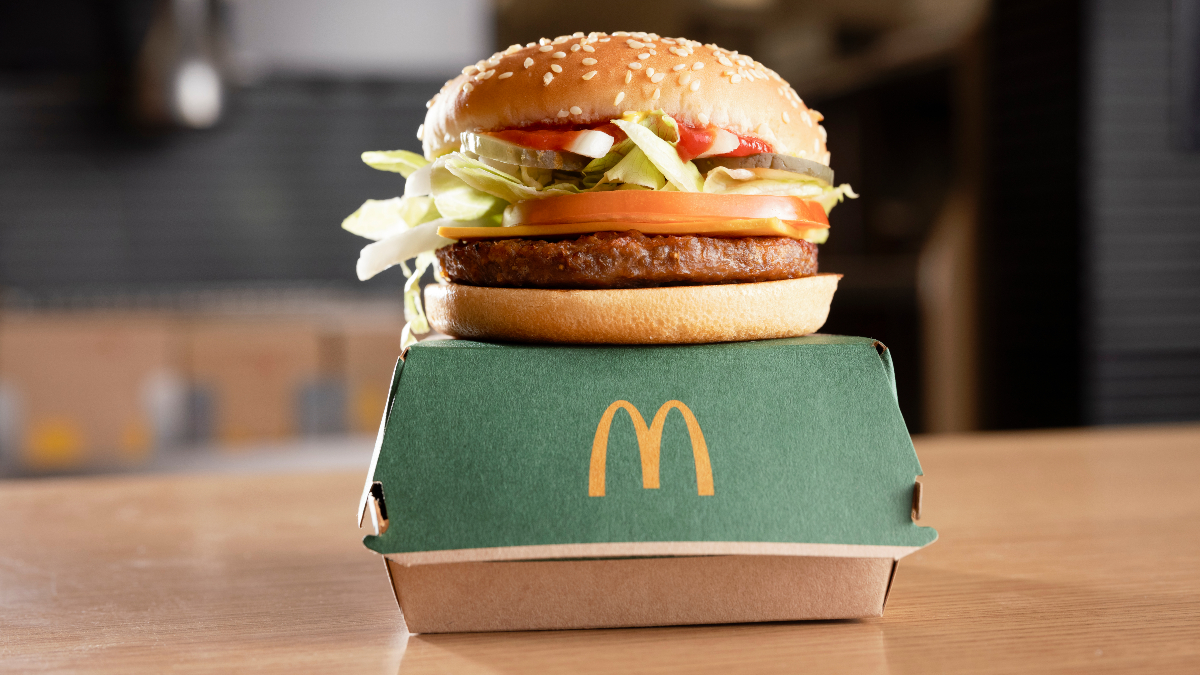 The McPlant also landed at 250 locations in the United Kingdom last week with a full national rollout planned for next year. In the UK, the McPlant features a Beyond Meat patty with ketchup, mustard, vegan special sauce, onions, pickles, lettuce, tomato, and vegan cheese on a vegan sesame-seed bun. Certified vegan by the UK's Vegetarian Society, the McPlant is also cooked on a separate grill.
On November 3, the McPlant will be making its way to McDonald's home turf with a limited-time test at locations in Irving, TX; Carrollton, TX; Cedar Falls, IA; Jennings, LA; Lake Charles, LA; Manhattan Beach, CA; and El Segundo, CA (Beyond Meat's headquarters). While the UK version of the McPlant is fully vegan, the US launch will test a McPlant that is topped with dairy-based American cheese and egg-based mayonnaise. The vegetarian burger will also be cooked on the same grill as meat during the US test.
For more about plant-based at fast-food chains, read:The Vegan Guide to Eating Plant-Based at Burger King
10 Vegan Hacks for Your Favorite Fast-Food Joints
Half Of Top 100 Fast-Food Chains Now Offer Plant-Based Foods