Swedish brand Oatly—known best for its vegan oat milk—is getting into sustainable fashion with the launch of its first line of upcycled denim jackets. The one-of-a-kind vintage jackets are painted by 10 female artists with messages that invoke Oatly's bold Post-Milk Generation campaigns with slogans such as "eat less animals" and "choose plants."
"Our awesome crew of Oatly evangelists have always been front and center, helping us spread the gospel that plant-based is better for the planet, and we've heard from them loud and clear that they want our merch," Heidi Hackemer, Executive Creative Director of Oatly North America, said in a statement. "However, it wouldn't be Oatly if we didn't find ways to constantly improve and strive to make everything we do and put out into this world, environmentally thoughtful."
From now until October 22, Oatly will drop two jackets (which retail at $250 each) every day on its website and all proceeds will be donated to The Lower Eastside Girls Club (LESGC), a New York City-based non-profit mentoring and community program for young women and gender-expansive youth.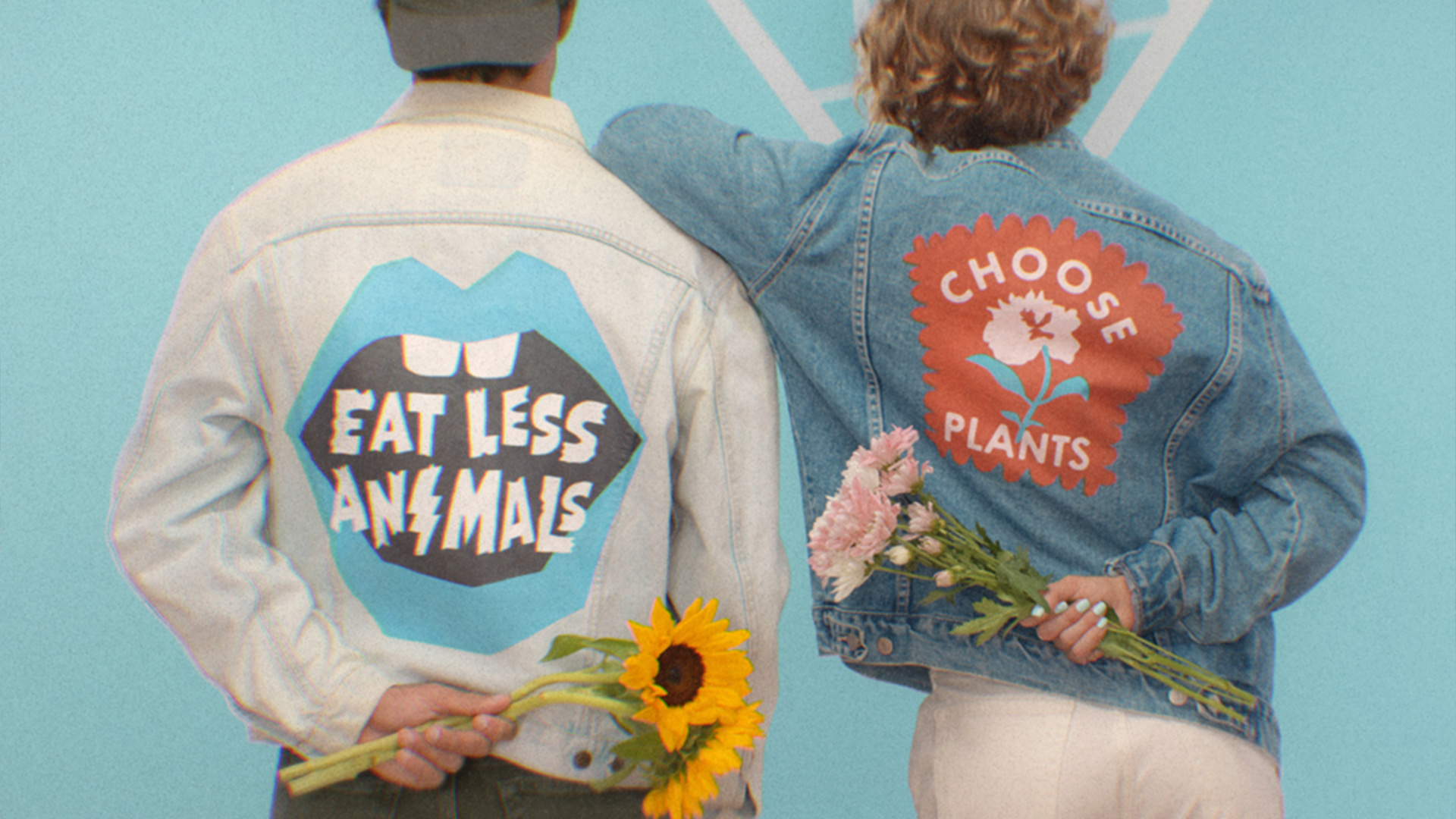 Oatly's merch is a fast-fashion protest
Eighty-five percent of textiles end up in landfills. As such, Oatly's limited-edition jackets are part of the brand "ReRuns" clothing experiment designed to tackle waste. The initiative also includes upcycled t-shirts (made in partnership with second-hand clothing brand Goodfair) and printed with Oatly's popular phrases such as "wow,no cow", which are purchased in an interesting way. Customers choose their size and message and the company surprises them with the color and style of shirt they receive. The program is designed to keep clothing out of landfills, especially as branded merchandise gains popularity. The T-shirts range in price from $14 to $24.
"Through this experiment, we're able to provide a handful of artists we love a platform to bring their talents to our Post Milk Generation fanbase, while also supporting a remarkable organization and lowering the impact of our merch," Hackemer said. "We think it's a win-win-win. But if we're proven otherwise, well, at least we tried."
After its jackets run their course, Oatly will also drop its second limited-edition release in December. The collection will be a series of one-off, Oatly-inspired, vintage holiday sweaters, designed by a new set of hand-picked artists.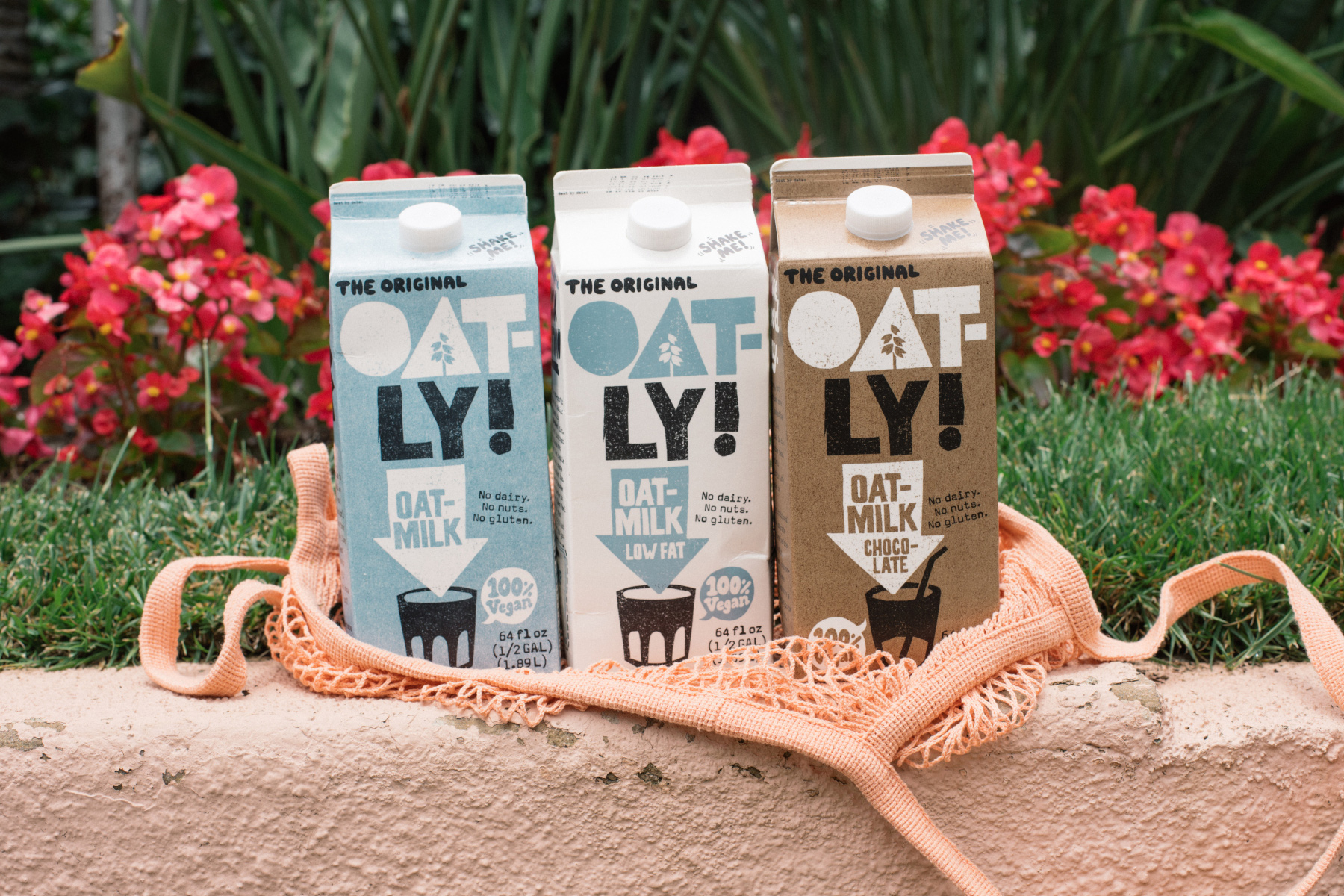 Vegan oat milk is so fashionable
Oatly has been in the oat business for more than 25 years and has dominated the US oat milk market since it made its way to the states in 2017 via NYC coffee shops. Since then, Oatly has expanded to the retail sector with partnerships such as Target and landed on the menu of Starbucks across the country. Outside of the vegan milk category, Oatly's oat milk-based soft-serve proved to be an instant hit stateside and is now available at select Major League Baseball stadiums, frozen yogurt chain 16 Handles, and several restaurants such as Gott's Roadside at the historic San Francisco Ferry Building.
Now distributed in 20 countries globally, the brand is backed by media mogul Oprah Winfrey and recently went public in a $1.4 billion IPO. Its 2020 Super Bowl advertisement brought its quirky Post-Milk Generation messaging to the big screen with a spot that featured CEO Toni Petersson playing a keyboard in an oat field while singing a short jingle with lyrics "it's like milk but made for humans."
In addition to oat milk (and now upcycled merch), Oatly's product portfolio includes oat milk-based products such as yogurt, ice cream, and spreads.
For more about Oatly, read:
Starbucks Is Facing Oatly Shortage "Due To High Demand"
Vegan Milk Brand Oatly Disses Dairy In New Ad Campaign
Oatly's IPO Is Just The Beginning. Plus 9 Vegan Oat Milk Products To Try