To help combat the climate crisis, consider eating vegan ice cream. At California-based The Urgent Company, parent company of plant-based brand Brave Robot, sales of ice cream pints are helping consumers save one million miles of greenhouse gas emissions, the equivalent of driving around the Earth's circumference 40 times.
After selling more than one million pints of Brave Robot's vegan ice cream made with food-technology startup Perfect Day's animal-free whey, The Urgent Company announced Brave Robot has become the number one driver of growth in the plant-based ice cream category.
"We're thrilled to see growth in the marketplace and the positive response from consumers who are making a rapid shift in relationship to the food we consume and the planet we inhabit," Jon Spear, Vice President of Marketing at The Urgent Company, said in a statement. "We will continue to bring new options to market at the intersection of technology and food that put the future of our climate first, without compromising on taste."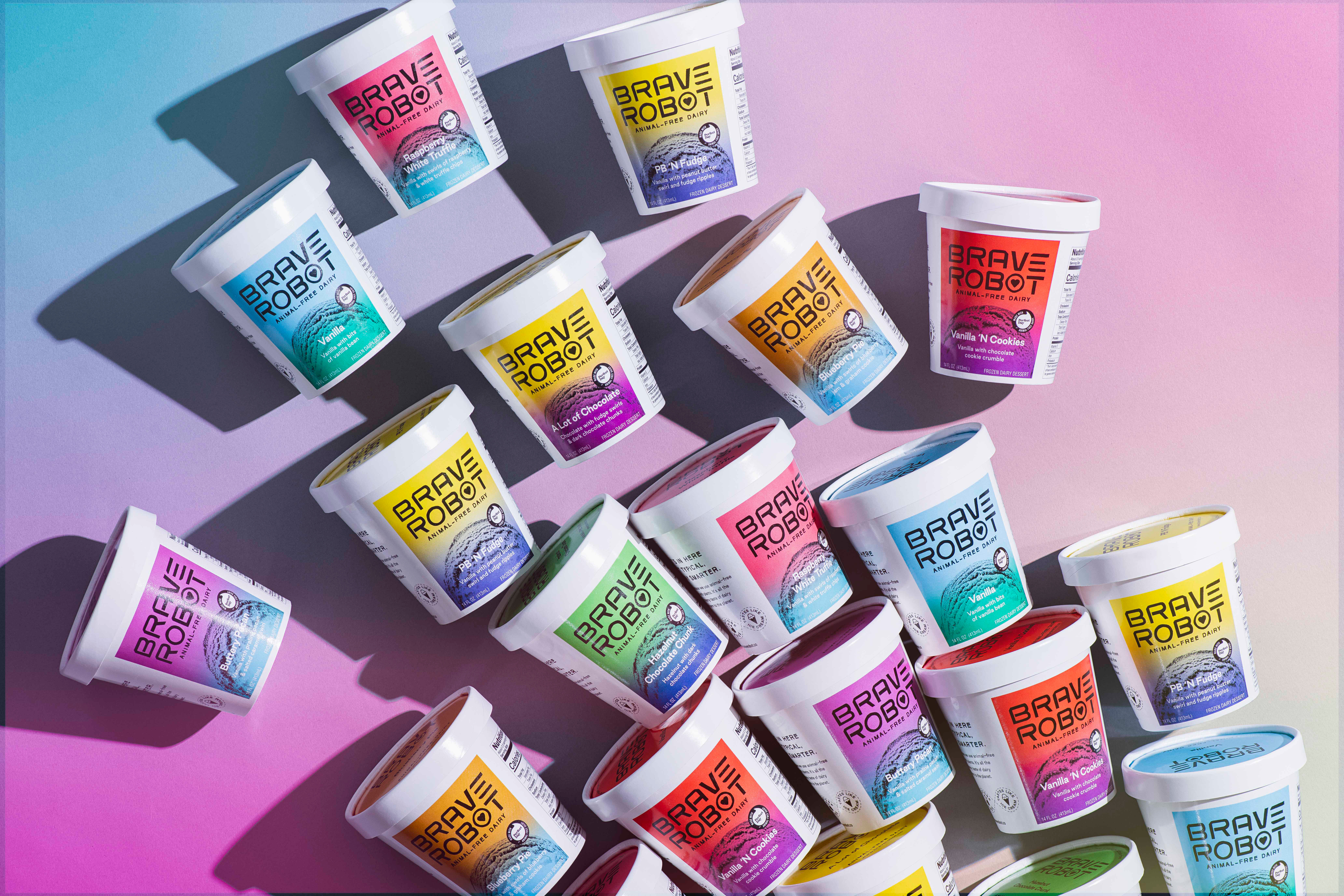 Vegan ice cream made with animal-free whey
Founded in 2019 by Perfect Day and Paul Kollesoff, a longtime dairy product developer, The Urgent Company is a sustainability-focused consumer packaged goods company utilizing Perfect Day's innovative technology to produce animal-free, dairy-identical products.
To make animal-free whey, Perfect Day inserts a cow's DNA sequence into yeast-based microflora. From there, the microflora takes the place of the cow and creates a protein that can be used to make vegan-friendly, dairy-identical foods that are better for the planet and are free from lactose and animal exploitation.
The limited retail launch of Brave Robot's ice cream in the San Francisco Bay Area last summer marked the world debut of dairy-identical, vegan ice cream. Earlier this year, Brave Robot expanded its retail footprint, bringing its eight flavors (Vanilla, Buttery Pecan, Blueberry Pie, Raspberry White Truffle, Vanilla 'N Cookies, PB 'N Fudge, Hazelnut Chocolate Chunk, and A Lot of Chocolate) to 5,000 stores.
Dairy-identical desserts for all
Following the success of Brave Robot in the ice cream sector, The Urgent Company launched its second product under the plant-based brand: a vegan cake mix made using Perfect Day's animal-free whey. Climate Hero Super Cake, a shelf-stable yellow cake mix, replaces approximately three eggs with the startup's whey protein and requires only oil and water to prepare.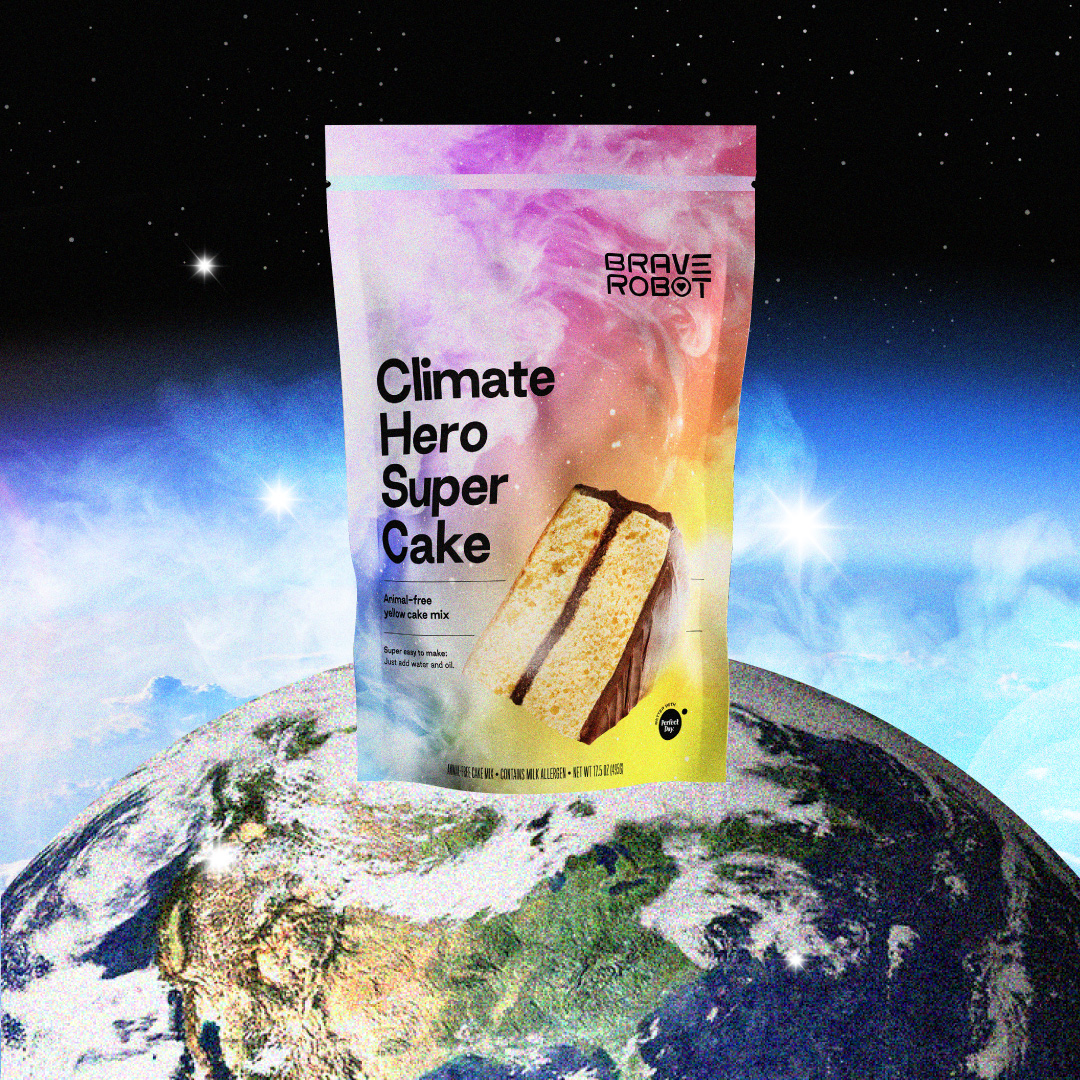 Available in 17.5-ounce bags, the vegan cake mix can be purchased through the Brave Robot website for $18 or $36 for a pack of three.
Perfect Day's gelato and baked treats
The Urgent Company is just one part of Perfect Day's three-pronged business model, which also includes a foodservice and business-to-business arm. The food-technology startup recently partnered with Villa Dolce, an Italian family-owned artisanal gelato and sorbetto supplier. Through their partnership, the two companies developed seven different gelato flavors: Sea Salt Vanilla & Honeycomb, Caramel Cold Brew, Chocolate all'Arancia, Strawberry After Dark, Burnt Caramel Praline, Pistachio Latte, and Tahitian Vanilla Bean. The vegan gelato is available to 2,000 foodservice producers through Dot Foods, North America's largest food redistributor.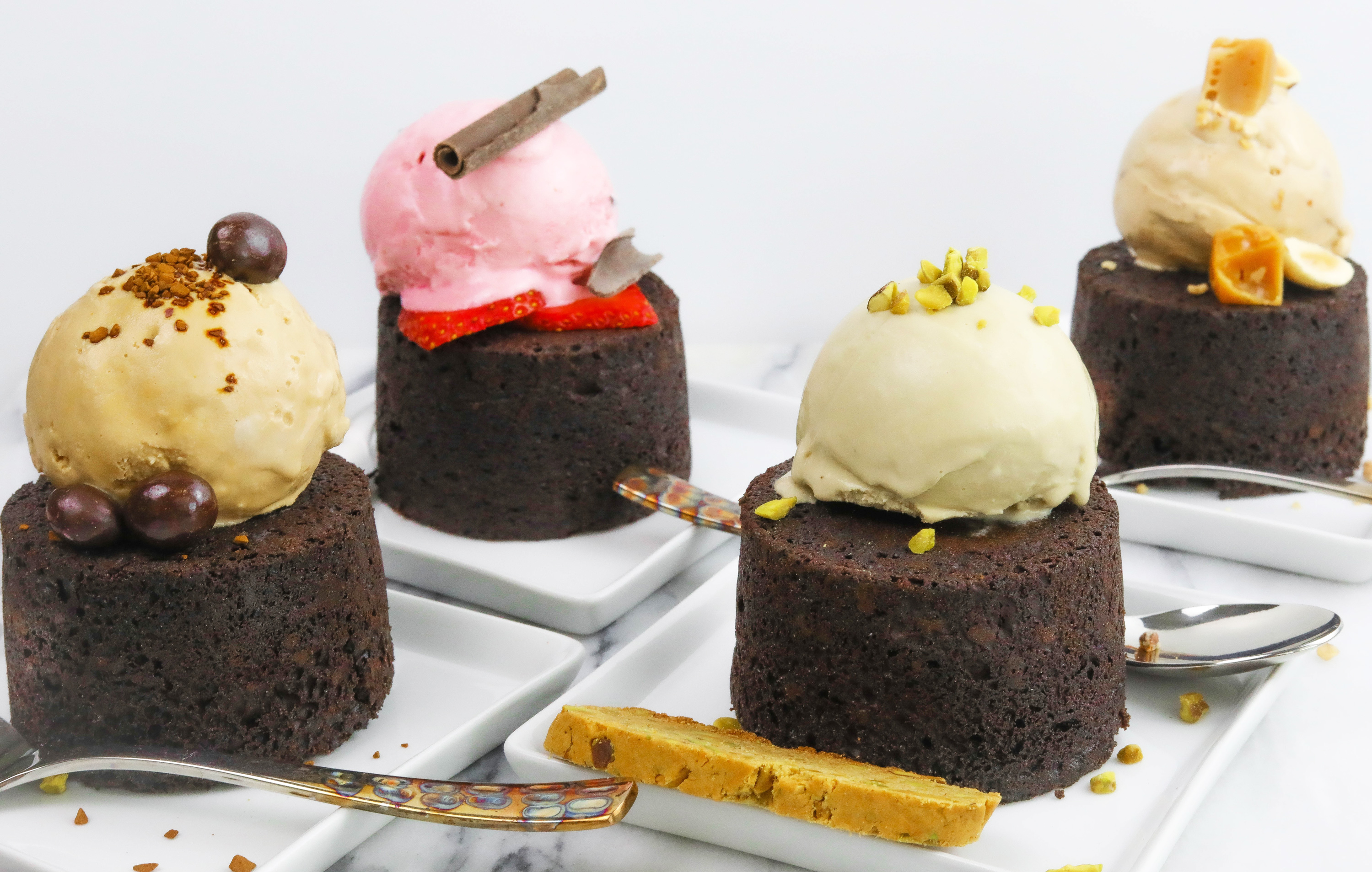 Four animal-free desserts—Cookie Dough, Pistachio Cake, Southern Brown Butter Cake, and Lava Cake—are also available to foodservice providers. Because Villa Dolce services several of the country's top universities, restaurants, casinos, and resorts, students at Arizona State University and UCLA; vacationers at Ocean Properties in Florida and New England; and visitors of the Talking Stick Resort in Scottsdale, AZ and Resorts Casino in Atlantic City will be among the first to try products from the collaboration.
For more about Brave Robot and Perfect Day, read:
This Brand Relies on Technology, Not Cows, to Make Dairy-Identical Ice Cream
Perfect Day Launches Dairy-Identical Gelato and Cakes
This Vegan Cake Mix Is Made with Animal-Free Whey