Indira Cristin, founder of Miami, FL-based Bettersweet Vegan Bakery, recently competed in Season 3 of the Food Network baking competition show Holiday Wars. On the show, teams of cake artists and bakers competed to create holiday-themed cakes with one team taking home a grand prize of $25,000. Cristin was the only vegan baker competing on the show.
During the second episode's "Thanksgiving in the Animal Kingdom" themed challenge, Cristin was partnered with two non-vegan teammates. They were given seven hours to create a cake with the flavor of a classic Thanksgiving pie to make the ultimate pie-inspired cake. The team sculpted and decorated the cake to show a shark and a pelican having a picnic on a pier, two wild animals who don't get along coming together to share a Thanksgiving meal. Cristin and her teammates chose to make a vegan bourbon sponge cake (made by Cristin) and a non-vegan pumpkin filling and praline pecan crust (made by her teammates).
While decorating the cake, Cristin was in charge of making the sugar jellyfish, fish, and corals. "I did a great job that was applauded by the judges," Cristin told VegNews. "I also hand-painted the pier to create the rustic wood effect, installed the lights in the pier sign, and helped my teammates with anything else we needed."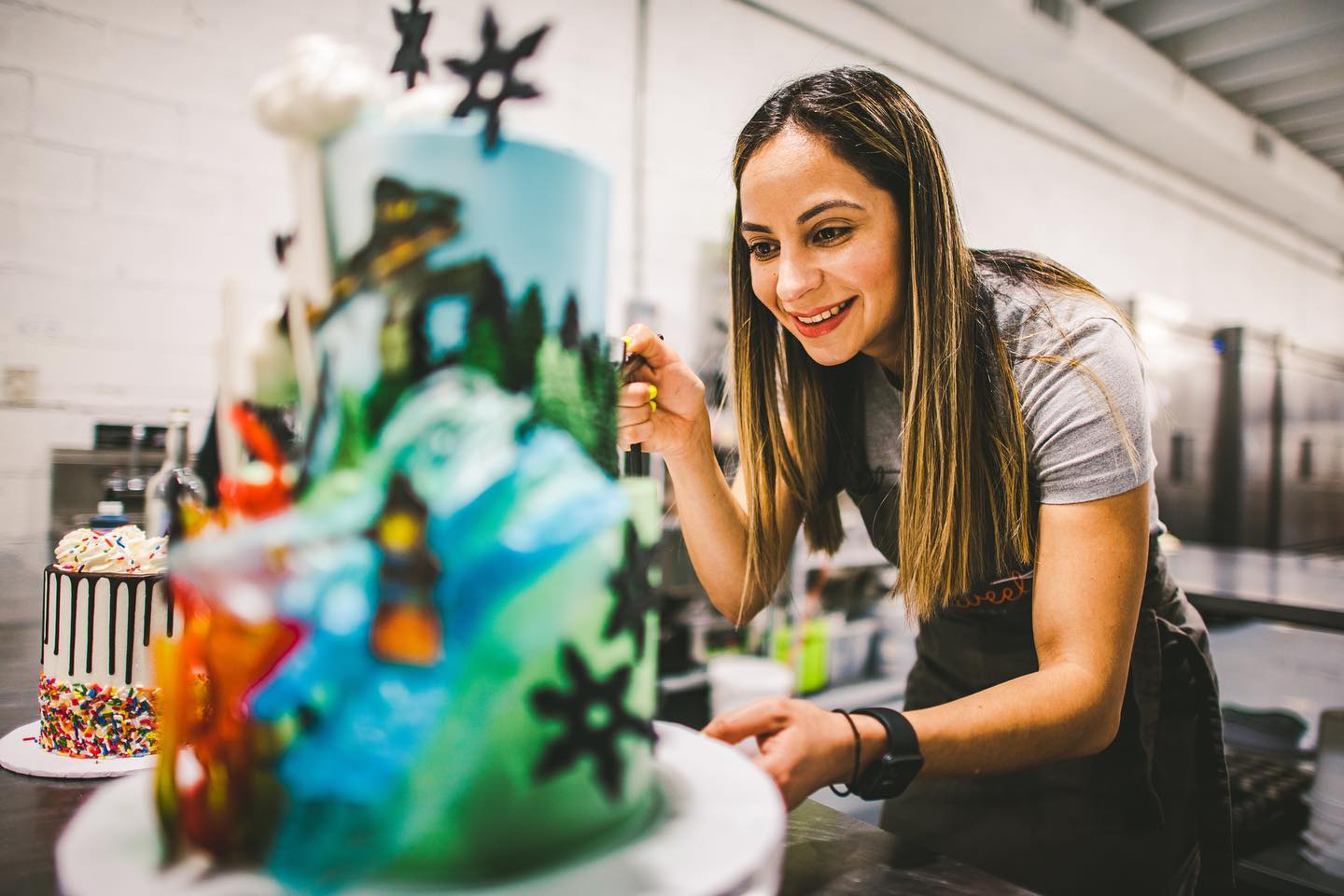 Cristin founded Bettersweet Vegan Bakery in 2015 and for the last six years she has dedicated her art exclusively to the vegan community. Originally from Venezuela, the self-taught baker offers custom cakes, cake pops, cupcakes, cookies, and "tasting boxes" (a collection of her most popular treats) through Bettersweet's takeout cake studio.
Because Cristin was the only vegan in the Holiday Wars competition, she had the additional challenge of working together with non-vegan teammates. "It was a challenge within a challenge," Cristin said. "I wanted to include a vegan recipe, especially being the only vegan chef in the competition. I knew that by creating this recipe we would delight the judges, which was exactly what happened. Even though we didn't win the challenge, I still feel like a winner. I received great compliments from the three judges about my vegan cake and the decorations I made."
Vegan bakers compete on Food Network
Though baking competition shows are still dominated by omnivorous contestants, some shows have given a spotlight to vegan contestants or hosted vegan baking challenges. In 2010, beloved vegan chef Chloe Coscarelli set the stage for vegan cuisine on network television when she became the first vegan to compete and win on the Food Network's Cupcake Wars. The show has since featured a number of vegan bakers—including two-time winner Doron Petersan of Sticky Fingers bakery—and hosted an all-vegan episode in 2012.
After three seasons, the first vegan baker appeared on Netflix's time-crunched baking show, Sugar Rush: Christmas. San Diego-based baker Anna Castellanos of Ámame Desserts attempted to wow celebrity judges Candice Nelson and Adriano Zumbo with her Mexican hot chocolate cupcake with a salted caramel date filling.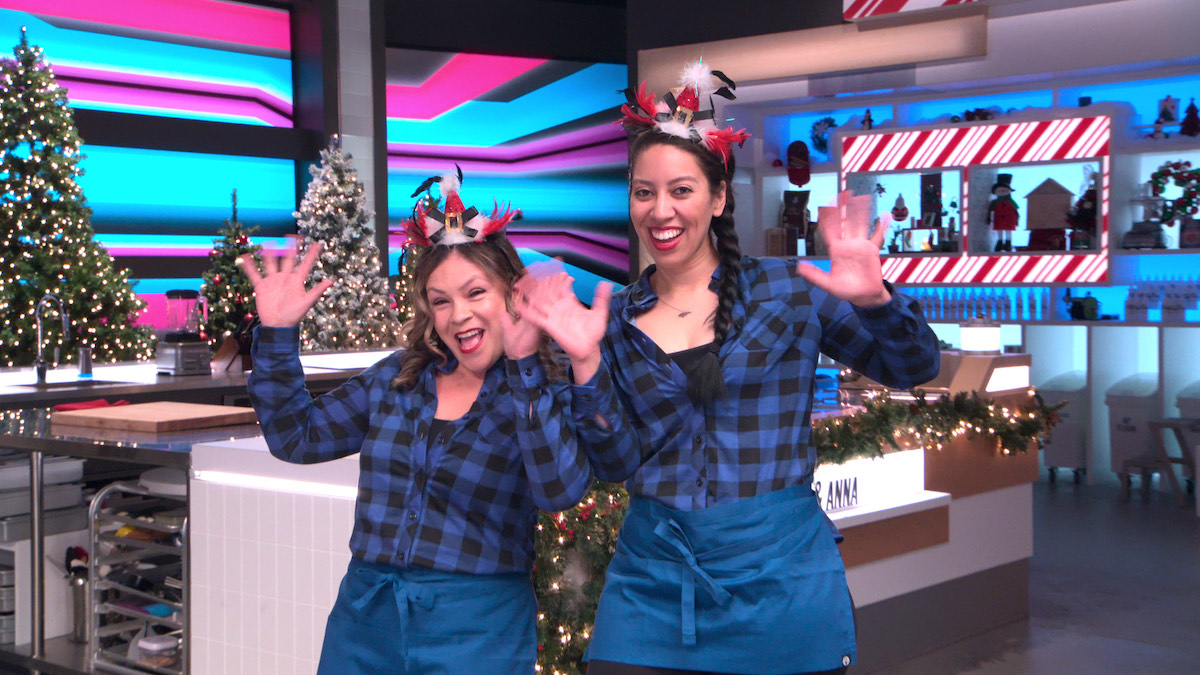 To keep up with the growing number of vegan viewers, The Great British Bake Off debuted its first Vegan Week in 2018. Each of the three challenges stripped contestants of their animal product go-tos and forced them to think like a vegan. And for the latest season, vegan baker Freya Cox became the first vegan contestant to appear on the show. However, despite her aim to showcase vegan baking, she was ultimately required to use animal products for technical challenges in which the same ingredients were provided to each baker for recipes such as malt loaf, jammy biscuits, and ciabatta breadsticks.
"I was desperate to show the world vegan baking is just as exciting with the hope to inspire people to give it a go," Cox said on Instagram. "For obvious reasons I wasn't able to change the technical challenge as it would mean the whole show was unfair … but once the show has finished, I have plans to veganize the recipes for you all, so I hope this makes up for that."
For more about vegan cooking shows, read:
13 Vegan-Friendly Food Network Moments

7 Reasons Why Lizzo Needs Her Own Vegan Cooking Show
This Petition Can Finally Get a Vegan Cooking Show on the Food Network