Pioneering vegetarian brand Amy's Kitchen will expand its meatless drive-thru concept to 25 to 30 locations by 2027. Amy's Drive Thru reimagines the fast-food industry as more sustainable and health-promoting—the polar opposite of what the industry, led by the likes of McDonald's and Burger King, is traditionally known for.
Amy's Drive Thru first launched in 2015 with its flagship location in Rohnert Park. Its wildly successful opening day attracted more than 500 people who waited in line for more than an hour. At Amy's, all menu items can be ordered vegan and include "The Amy" (a burger served with two housemade veggie patties, cheese, lettuce, tomatoes, onions, and a secret sauce); grilled cheese sandwiches; hefty burritos stuffed with beans, rice, and cheese; mac and cheese in traditional and broccoli flavors; along with formidable salads, sides, milkshakes, and breakfast items.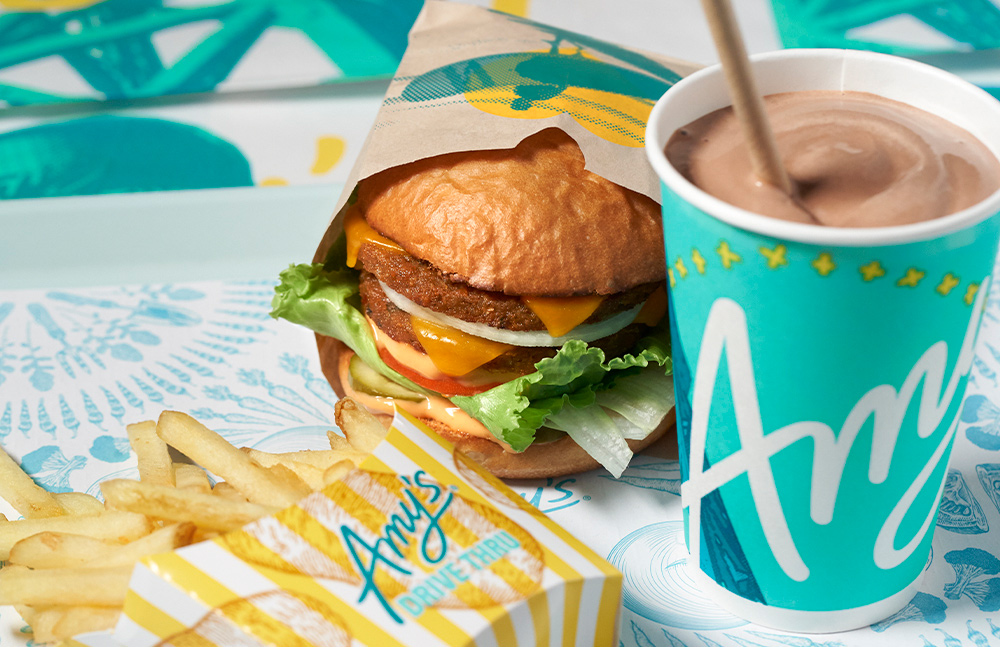 Amy's
"We've been committed to making organic vegetarian food since we started Amy's Kitchen over three decades ago, and that commitment extended to Amy's Drive Thru when we opened our first location six years ago," Amy's CEO and Co-Founder Andy Berliner told VegNews. "We never could have imagined where we would be today with more and more people, especially younger generations, choosing to eat vegetarian and vegan."
After the success of its first location, the company opened a modified takeout location inside Terminal 1 of the San Francisco International Airport in 2019 before expanding to a second drive-thru location in Corte Madera, CA in 2020, taking over a shuttered 4,125-square-foot Denny's restaurant.
Amy's meatless drive-thru expands to Roseville
The first stop for Amy's Drive Thru expansion is in Roseville, CA where it opened its fourth California location on December 2. To celebrate the opening, members of the local running group, Roseville-Rocklin She Runs This Town, ran through the drive thru and were the first to sample the restaurant's organic vegetarian menu.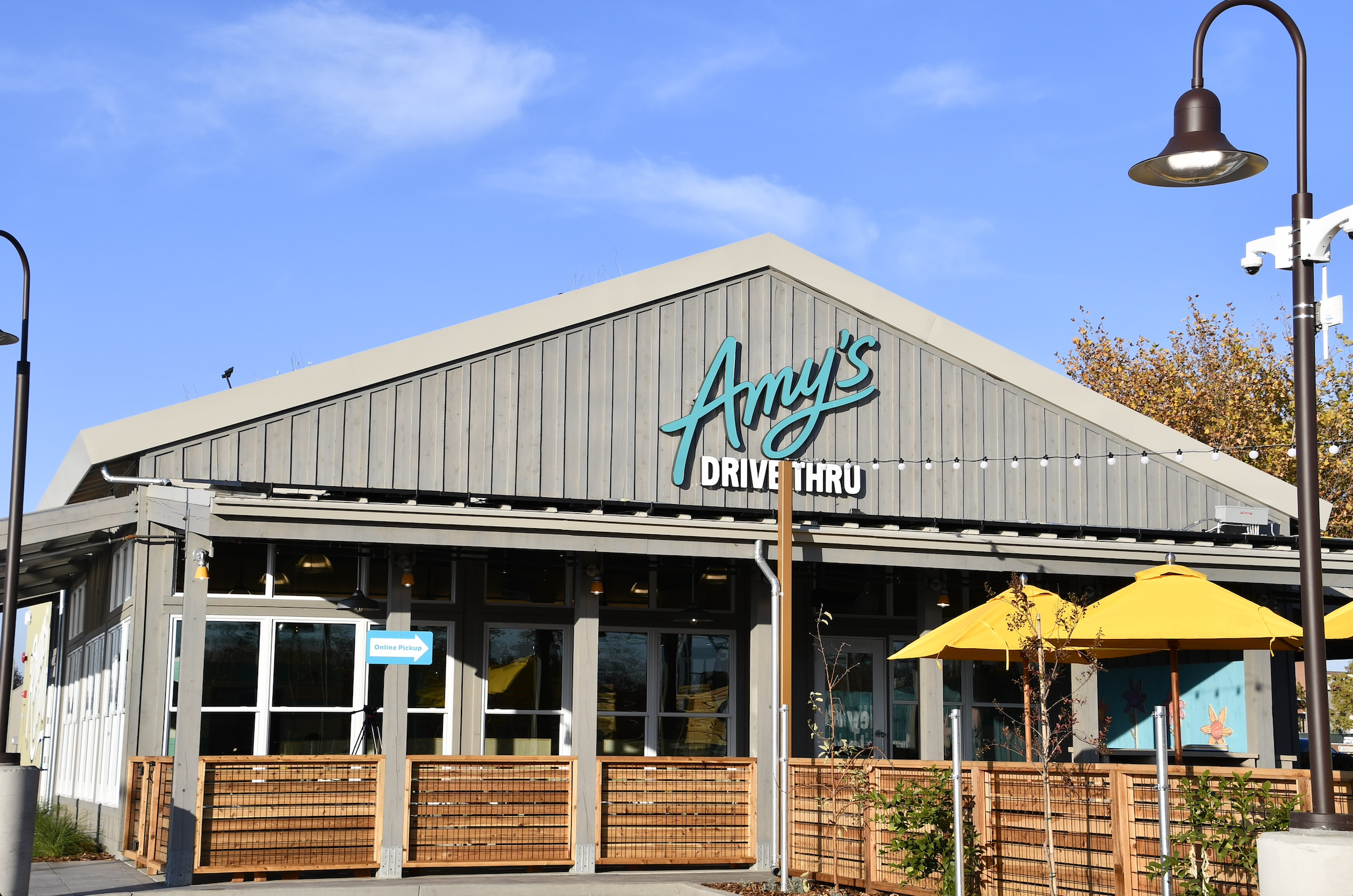 Amy's
The Roseville opening signals Amy's expansion down the West Coast, which will result in its first Southern California locations in Thousand Oaks and Aliso Viejo in 2022. Within the next five years, Amy's plans to operate 25-30 locations in California.
"We get so many requests from people across the country to open a drive thru in their community," Berliner said. "That's our main motivation for opening more Amy's Drive Thrus. We want to make our food more accessible to more people."
Amy's meatless drive-thru aims to revolutionize fast food
In addition to serving food that is more environmentally friendly than most fast-food restaurants, Amy's is one of the first-and-only fast-food chains to hold a B Corp certification—which it received in 2020. With every location, Amy's strives to be zero waste and zero impact through its restaurant designs and compostable packaging and environmentally practices. To that end, the chain outfits its location with solar panels, "living roofs" filled with plants to provide habitats for pollinators, and electric car-charging stations.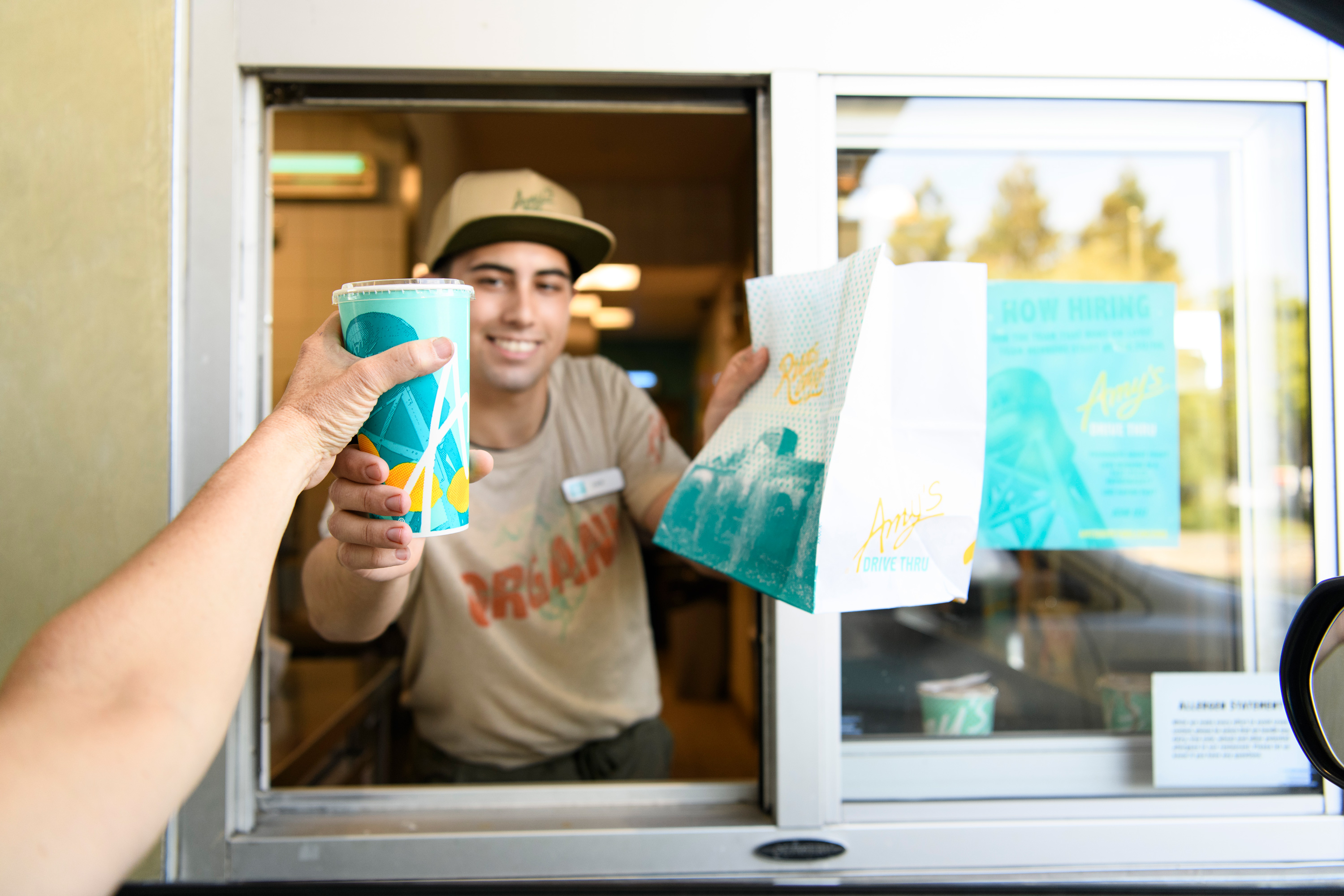 Amy's
As traditional chains adapt to changing consumer habits—with Burger King, White Castle, and even McDonald's getting on the plant-based train in recent years—Berliner envisions a fast-food future that leans heavily into personal health and sustainability.
"The restaurant industry, and fast food in particular, has to evolve with our consumers. Younger consumers are really the ones fueling this excitement and the majority are making their own decision to omit animal protein altogether," Berliner said. "We hope this motivates more restaurants to start serving more vegetarian and plant-based foods, more sustainably. It's an exciting time to be in food and also a critical time for the future of our planet."
For more about vegetarian drive-thrus, read:Chef Matthew Kenney Turns a Del Taco Into a Vegan Drive-ThruWorld's First 24-Hour Vegan Drive-Thru Expands to TorontoVegan Drive-Thru Takes Over Former Burger King