In 2022, vegetarian fast-food restaurant Amy's Drive Thru will open new locations in Aliso Viejo and Thousand Oaks, CA—its first locations outside of Northern California. Created by the founders of iconic vegetarian brand Amy's Kitchen, the chain specializes in affordable meatless fast food, including organic burgers, pizza, mac and cheese, burritos, and milkshakes, plus a full breakfast menu featuring vegan sausage-and-cheese sandwiches, hash browns, and yogurt parfaits. All menu items can be customized to be fully vegan or gluten-free.
Amy's Drive Thru first launched in 2015 with its flagship location in Rohnert Park. Its wildly successful opening day attracted more than 500 people who waited in line for more than an hour. The company opened a modified takeout location inside Terminal 1 of the San Francisco International Airport in 2019 before expanding to a second drive-thru location in Corte Madera, CA in 2020, taking over a shuttered 4,125-square-foot Denny's restaurant. A fourth location is planned for later this year in Roseville, CA.
Its new Thousand Oaks location was home to the former Mimi's Cafe, and the Aliso Viejo location was a Romano's Macaroni Grill, which will be transformed into a 4,200-square-foot restaurant with a patio and a drive-through. The two new Southern California locations are part of the company's larger plans to rapidly expand up and down the West Coast within the next five years.
Commitment to sustainability
From the packaging to restaurant design, Amy's Drive Thru aims to operate as sustainably as possible, striving for zero waste and zero impact at each location. In 2020, the company became one of the first and only B Corp Certified fast-food restaurants—meaning it balances purpose and profits by considering the impact of its business decisions on its workers, customers, suppliers, community, and the environment.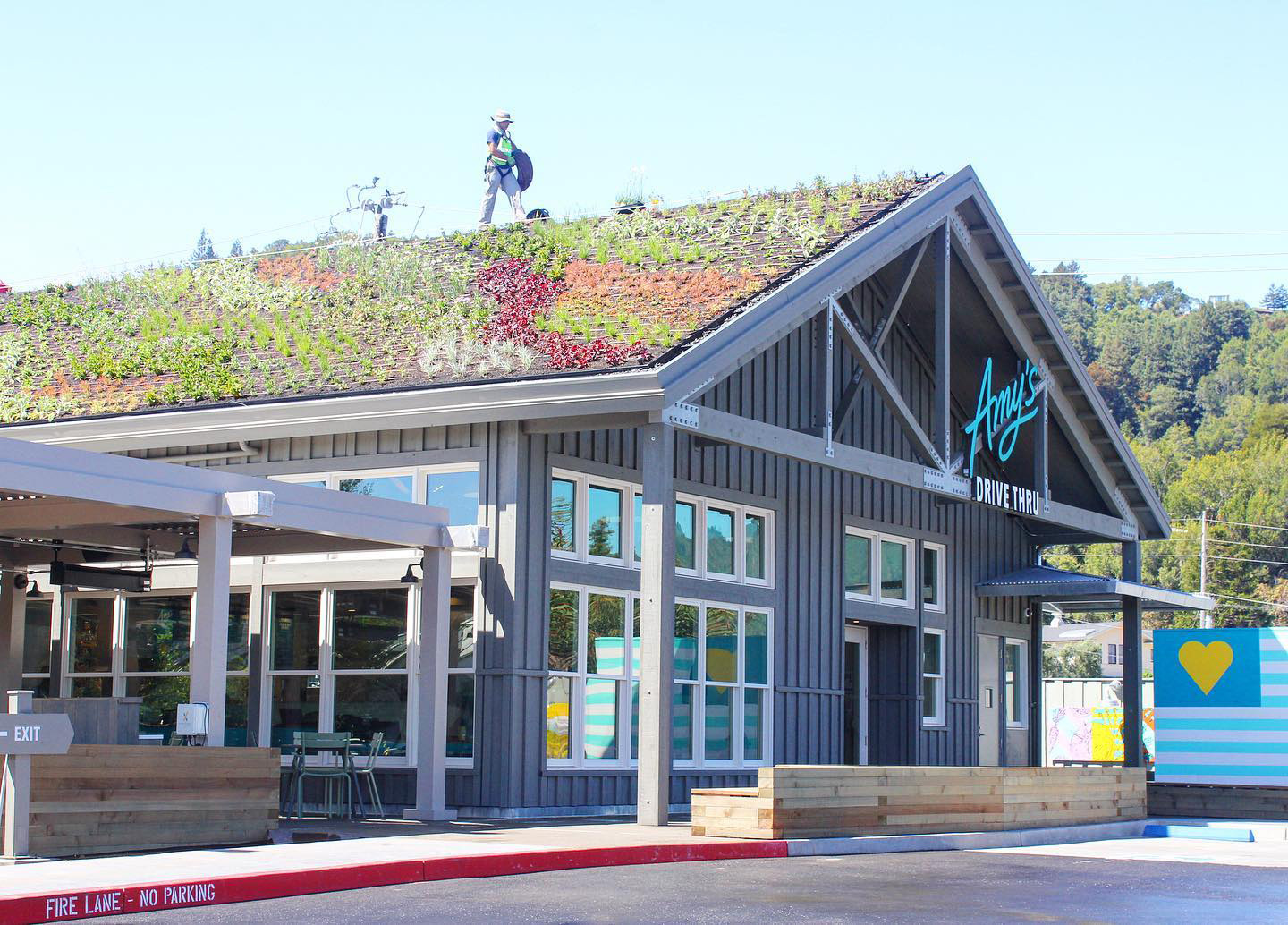 The chain's Corte Madera location, for instance, has been outfitted with 42 solar panels, a "living roof" filled with plants to provide habitats for pollinators, two electric car-charging stations, and 47 parking spaces for cars (and 12 bike racks). "Our mission at Amy's Drive Thru is to make organic and delicious food accessible for everyone," Amy's Drive Thru president Dave Wolfgram said.
Supporting community
Beyond its commitment to sustainability, parent company Amy's Kitchen also aims to support its community. Last year alone, the company donated more than 150,000 vegan meal products to food banks and 6,000 masks to local hospitals to support healthcare workers and those in need during the COVID-19 pandemic. The donation was given to food banks near its headquarters in Sonoma County, CA, as well as in Medford, OR, and Pocatello, ID, where its production plants are located. The company also provided meals from its Amy's Drive Thru locations to Bay Area hospitals, medical staff, and first responders.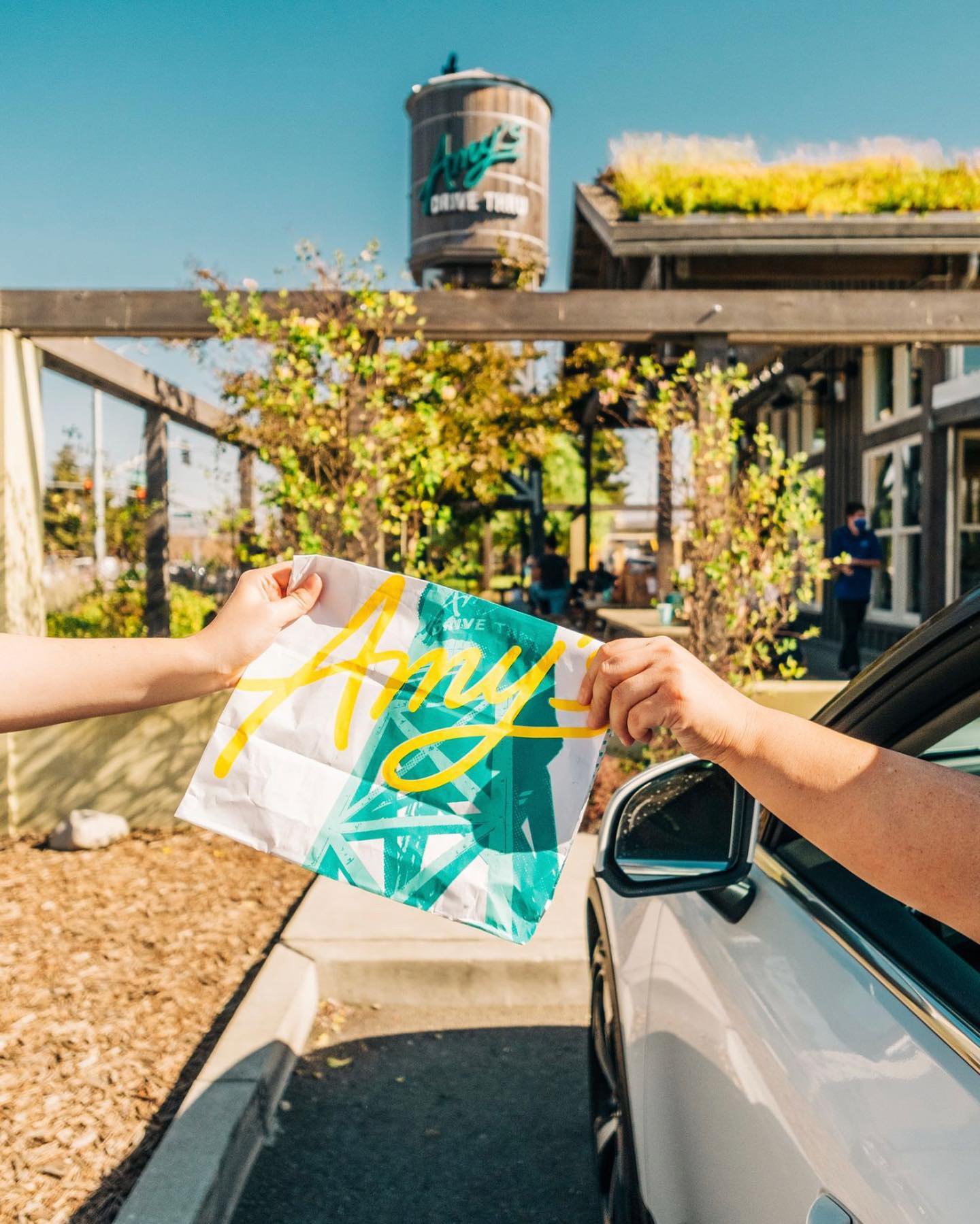 Additionally, the company committed to donating $500,000 to organizations working to end police brutality and support Black empowerment following the murders of George Floyd, Breonna Taylor, Ahmaud Arbery, and countless others. Internally, Amy's is also working to address and educate its team members on matters of unconscious bias and systemic oppression. "First, we want to acknowledge the fact that issues of equity and justice have not always been a public priority here at Amy's, as we thought that simply being kind to everyone and feeding all of you were enough," the company said. "We now understand that to be silent on these issues is to be part of the problem, and that addressing and educating ourselves deeply on issues of unconscious bias and systemic oppression are something that all people and all organizations in America must take on."