Israel-based company SavorEat has developed a technology that changes the way meat, vegan or otherwise, is consumed with its customizable 3D-printed burgers. The company held a press event this week to showcase its technology which allows customers to order a vegan burger through a phone app which is then made to order by a robot based on specifications such as protein and fat content and cooked within six minutes. This transformation in the way meat is made and ordered allows for users to choose the size of their patties, their protein and fat content, and the cook temperature, all while eliminating the need to raise and slaughter a cow for meat.
"​​From the beginning, we believed that the food industry is in need of significant changes in order to remain relevant," Racheli Vizman, SavorEat Co-Founder and CEO, said in a statement. "We choose to boldly look at the changes of our future and to challenge the status quo in the food industry. Through the technology we have developed, we will be able to get to know our customers better, respect them, and give expression to their changing needs."
While SavorEat previously demonstrated its "robot chef," this week represents the first time that its 3D-printed technology will be reaching a wide consumer base through its partnership with BBB Group, which will put the robot chef on the menu at 100 restaurants across Israel.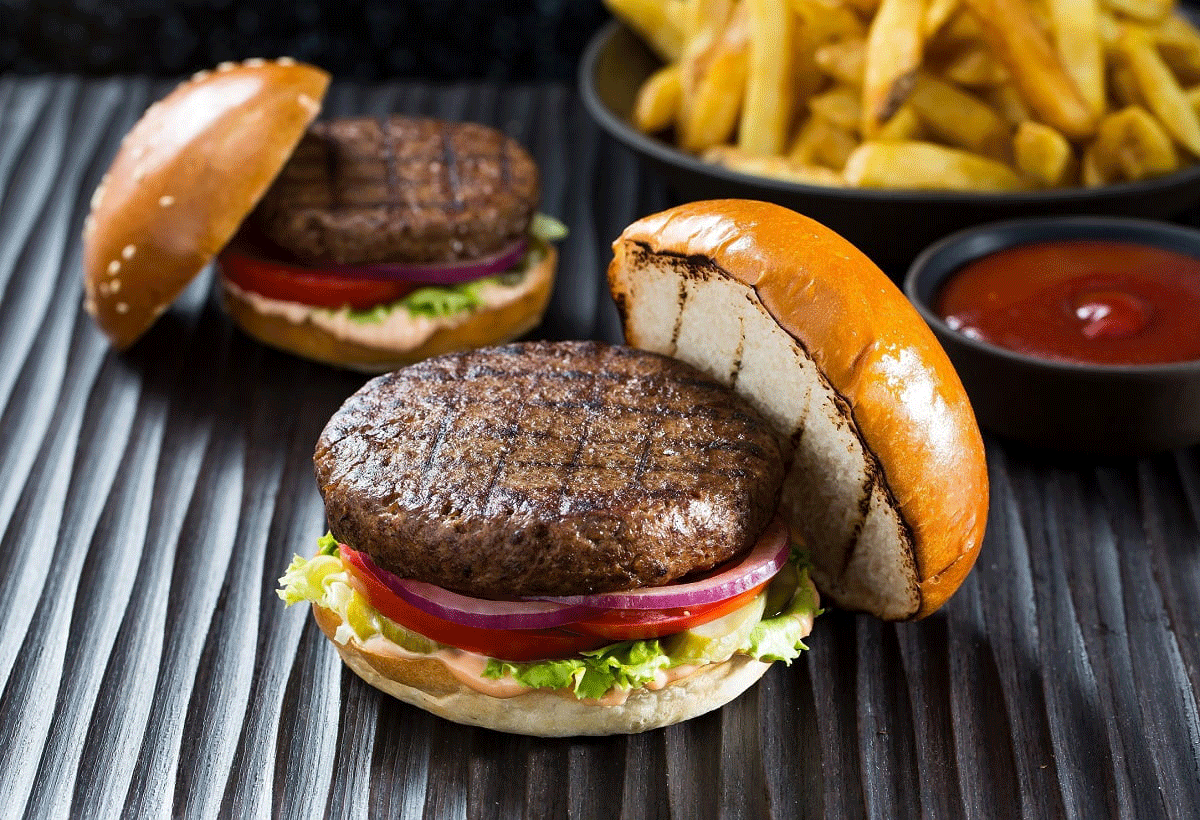 3D-printing protein-packed vegan burgers
SavorEat's product combines 3D-printing technology and a unique, plant-based nano-cellulose fiber that binds together the vegan ingredients (which include chickpea, pea, and potato protein), creating a meat-like texture. To make the vegan meat, cartridges are inserted into the 3D printer with the ingredients (fat, cellulose, water, flavoring, and coloring). Customers can personalize their burgers on a variety of factors through a mobile app which instructs the robot chef to mix together the ingredients and cook them to order.
Founded in 2018, the company is now picking up steam by moving into Israel's restaurant sector with its aim set on the United States market. To that end, SavorEat is currently working to launch a pilot program with food service giant Sodexo to bring its robot chefs to US universities in 2022. SavorEat's partnership with Sodexo helps it reach its target demographic of 20 to 30 year-olds, 47 percent of whom identify as flexitarian.
"Sodexo's partnership with SavorEat will further extend our ability to deliver the plant-based foods our clients' customers are demanding in increasingly growing numbers," Husein Kitabwalla, CEO of Services Operations and Food Transformation, Sodexo North America, said in a statement. "In 2020, US retail sales of plant-based foods grew 11.4 percent to a record $5 billion and Sodexo has long been a champion of plant-based alternatives —both from an environmental and revenue perspective. This partnership between Sodexo and SavorEat will only further our ability to offer consumers choice."
Last year, SavorEat became the first publicly traded food-technology company on the Tel Aviv Stock Exchange and raised $13 million with its IPO. While the company has perfected 3D-printed personalized vegan beef burgers, it also aims to recreate other forms of animal meat in the future, including pork. The company is also developing plant-based alternatives to eggs through its new subsidiary EGG'N'UP.
For more about 3D vegan meat, read:
Food Truck Sells Out of 1,000 Servings of 3D Vegan Meat in 5 Hours
World's First 3D-Printed Vegan Salmon to Launch in Austria
Why Celeb Chef Marco Pierre White Is Serving Whole-Cut Vegan Lamb