A vegan bacon-wrapped hot dog sub sandwich has arrived at select Subway locations in the United Kingdom in time for Christmas. The limited-time P.I.B. (Plants in Blanket) sandwich features a vegan sausage that comes wrapped in plant-based bacon and is drizzled with a maple syrup glaze and served with ketchup. As with all orders at Subway, customers can customize their subs with vegetable toppings and condiments.
Subway developed the P.I.B. over the course of several months in order to give its customer base a plant-based option to its Pig Tiger Sub, a sandwich it relaunched this holiday season that is made with animal-derived bacon and sausage. The new P.I.B. is available until December 28 (or while supplies last) at select West Midlands locations of Subway in Birmingham, Coventry, and Wolverhampton.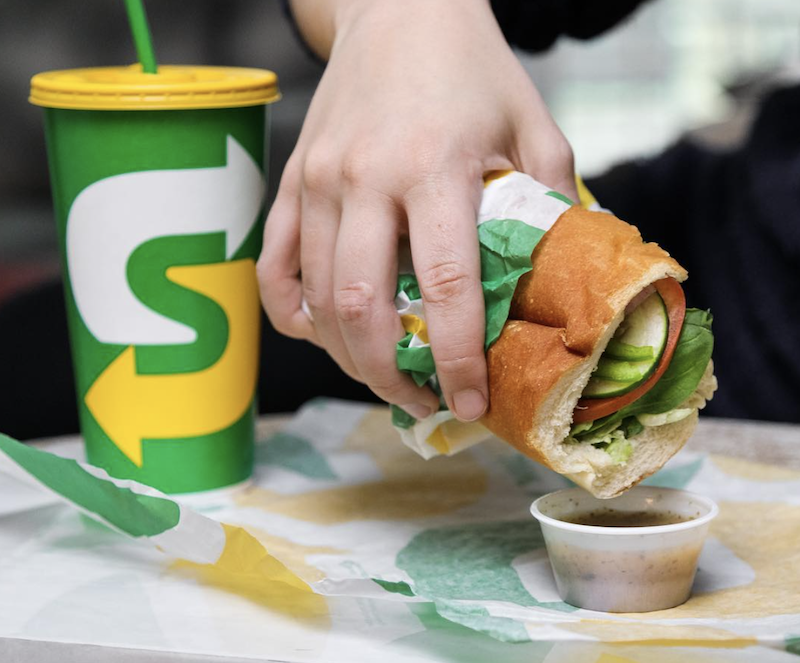 Vegan at Subway
In addition to the P.I.B, Subway offers a more extensive and diverse range of plant-based options at its UK stores than anywhere else in the world. The limited-time offer joins the T.L.C. (Tastes Like Chicken) sandwich Subway UK added to stores last year. Made to mimic the taste of Subway's roasted chicken breast strips, the chain spent 10 years developing the soy-based vegan chicken. The T.L.C. is fully customizable and comes topped with Violife vegan cheese slices and a variety of vegetables.
Subway UK's vegan options also include a Vegan Double Choc cookie, Meatless Meatball Marinara (which comes with vegan cheese), and a Plant-Based Patty (which is seasoned with red pepper, chili, garlic, and red onions).
Outside of the UK, Subway is exploring other interesting meatless options, including a Plant-Based Chicken Schnitzel it is offering at its Singapore locations until January 18, 2022. While this sandwich is marketed as "plant-based," the meatless schnitzel patty—made by Nestle's foodservice brand Harvest Gourmet—is not in fact made solely from plants as it contains egg whites.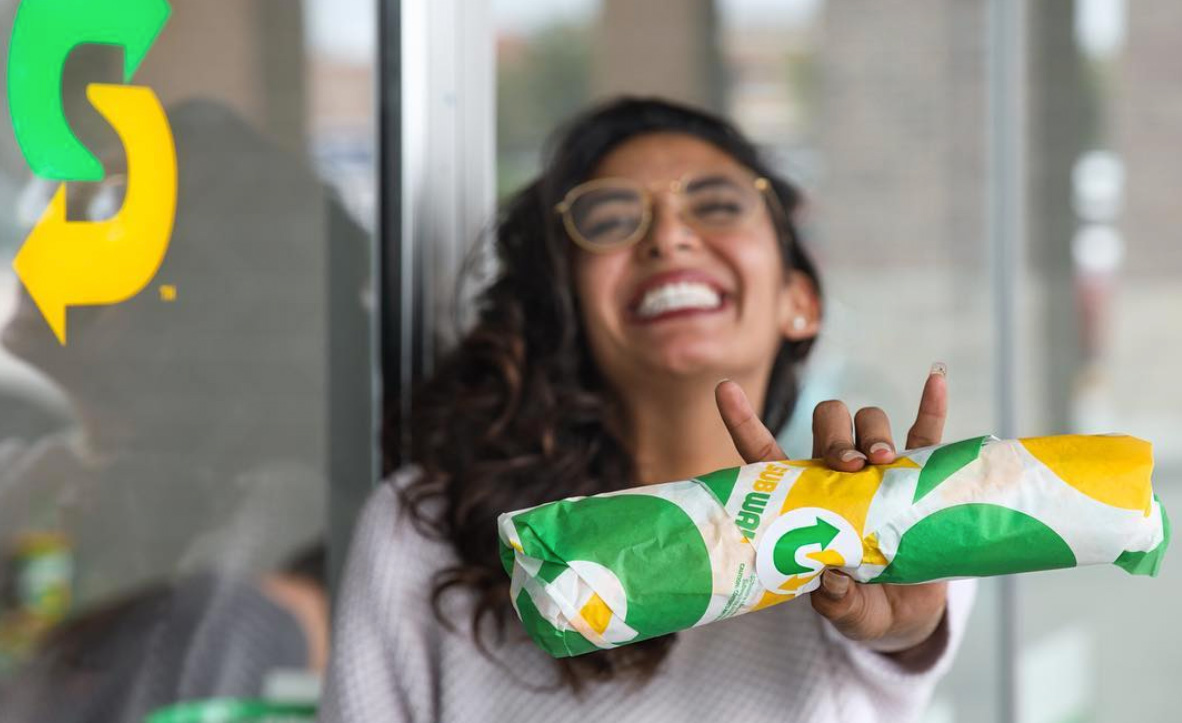 Are vegan options coming to Subway US?
The Veggie Delite has been a menu mainstay at Subway's United States locations for eons but a substantial vegan protein has yet to hit its national menu. The chain did test a Beyond Meatball Marinara in 2019 at select US and Canada locations. Unlike Subway UK, this sandwich was served with dairy cheese, rendering it not vegan as-is. While Subway did expand the sandwich to locations across Canada in early 2020 (with the help of lifestyle guru Martha Stewart), its US locations have yet to get the same menu update.
But good things are on the horizon. This summer, plant-based brand Good Catch trolled Subway by giving out free vegan tuna sandwiches in front of select stores. It was inspired to pull the stunt—which sent the message that fish-free tuna is actually a good thing—when Subway's tuna came under fire for not containing any actual tuna DNA.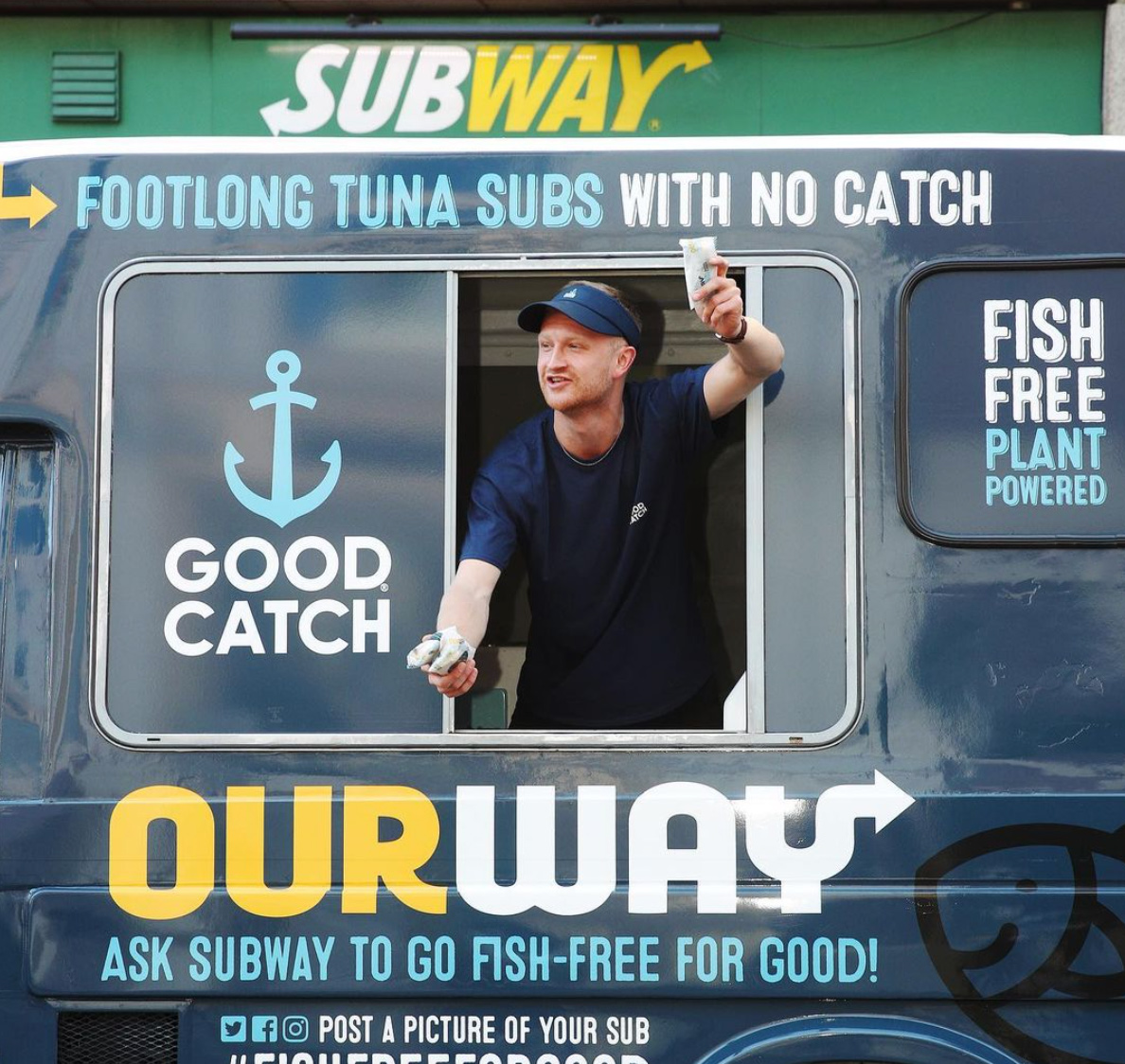 In a cease and desist letter sent by Subway to Good Catch, the chain explained that it is aware that plant-based foods are in high demand and that it is working to deliver more options. "Subway is not surprised that your company believes that consumers want environmentally friendly food options," the letter stated, noting that the chain is "adding more plant-based options to its menus to meet growing consumer demand for meat-free alternatives."
For more about vegan at Subway, read:
Subway Australia Gets Its First Vegan Sandwich
How to Order Vegan at Subway: A Sandwich Lover's Guide
Subway Commits to More Vegan Options After Tuna Controversy