Buzz around Taco Bell's relationship with Beyond Meat has been building after Bloomberg reported last week that the fast-food chain cancelled an October test of vegan carne asada developed by the California brand, citing anonymous sources. VegNews reached out to Taco Bell for comment on the matter and a spokesperson explained that its relationship with Beyond Meat was ongoing and that creating multiple iterations of a new product is part of its regular research and development process.
"The test between Taco Bell and Beyond Meat was not canceled. Taco Bell and Beyond Meat are actively still working together to create a plant-based protein that's just as craveable as Taco Bell's current meat options and completely innovative to the national QSR (quick-service restaurant) space," the spokesperson told VegNews. "Creating multiple iterations of a product before bringing it to market is commonplace and not out of the ordinary. We can't provide additional details at this time but are very excited about what Taco Bell and Beyond Meat have planned."
Taco Bell works with Beyond Meat on new vegan protein
With its easy-to-customize menu, Taco Bell has been a late-night favorite for vegetarians everywhere for years. The chain further leaned into its veg-friendly status by launching dedicated vegetarian menus, adding "Veggie Mode" to its ordering interfaces, and publishing guides on how to order vegan and vegetarian food from the Bell.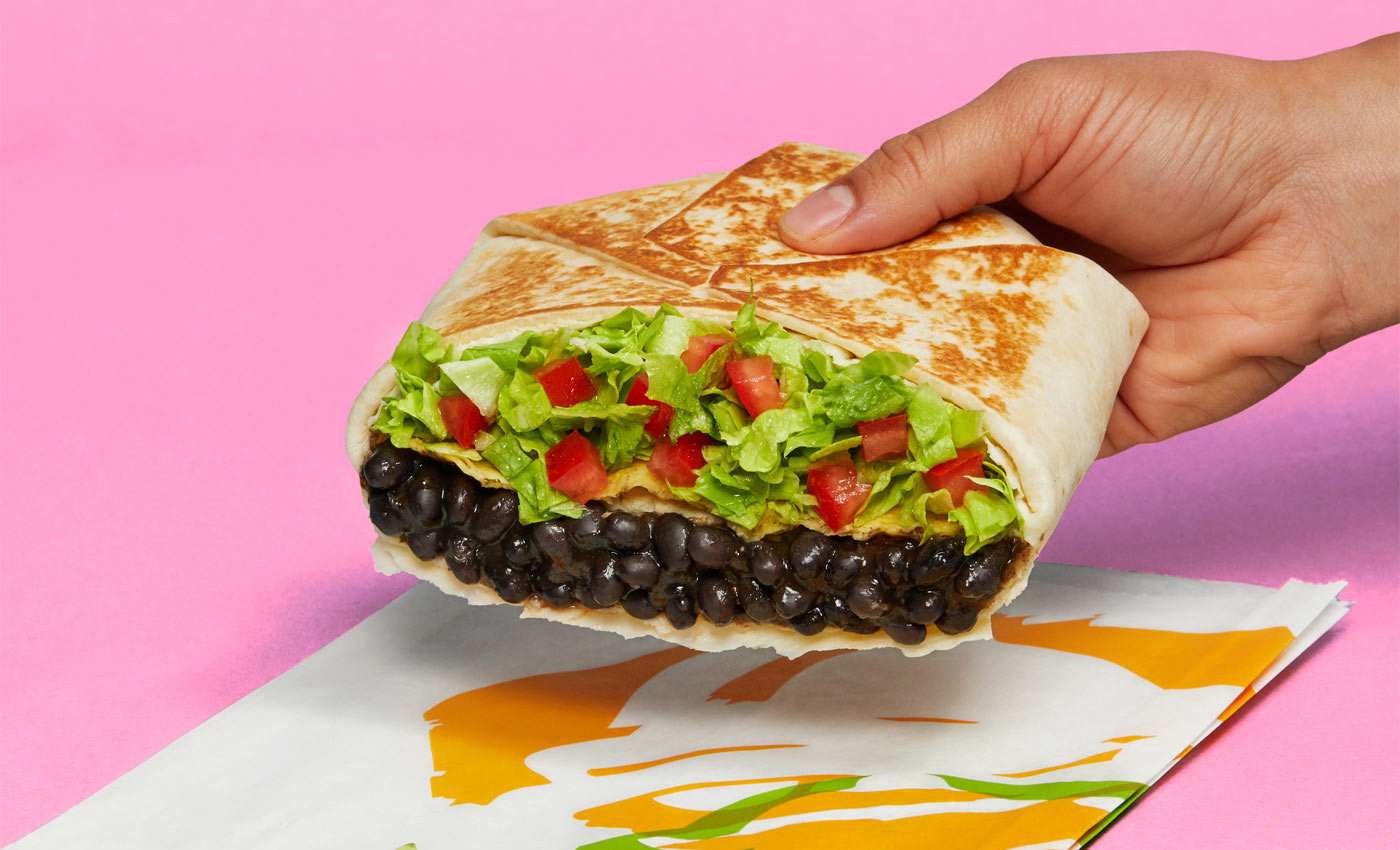 Taco Bell
The summer of 2020 marked a big turning point for Taco Bell's journey into understanding its consumer base. In July 2020, the chain removed seasoned potatoes to make room for new options, including plant-based alternatives, sparking an unprecedented uproar. By March 2021, Taco Bell heard its customers loud and clear and reinstated the beloved potatoes. During the excitement, Taco Bell also announced that it would be working with Beyond Meat to bring a "not quite yet seen in the industry" plant-based protein to its menu.
Taco Bell's plant-based updates
While Taco Bell continues to iterate its forthcoming plant-based protein with Beyond Meat, the chain is simultaneously testing the plant-based protein waters with other new launches. In June, Taco Bell experimented with a bold new plant-based chicken offering at one location in Irvine, CA. Taco Bell's Test Kitchen developed the Naked Chalupa with a Crispy Plant-Based Shell to mirror the chain's Naked Chicken Chalupa but instead of using animal meat, the shell was made entirely from vegan chicken which was crafted from a proprietary pea protein-based blend that was breaded and fried. This option has yet to hit any other Taco Bell locations.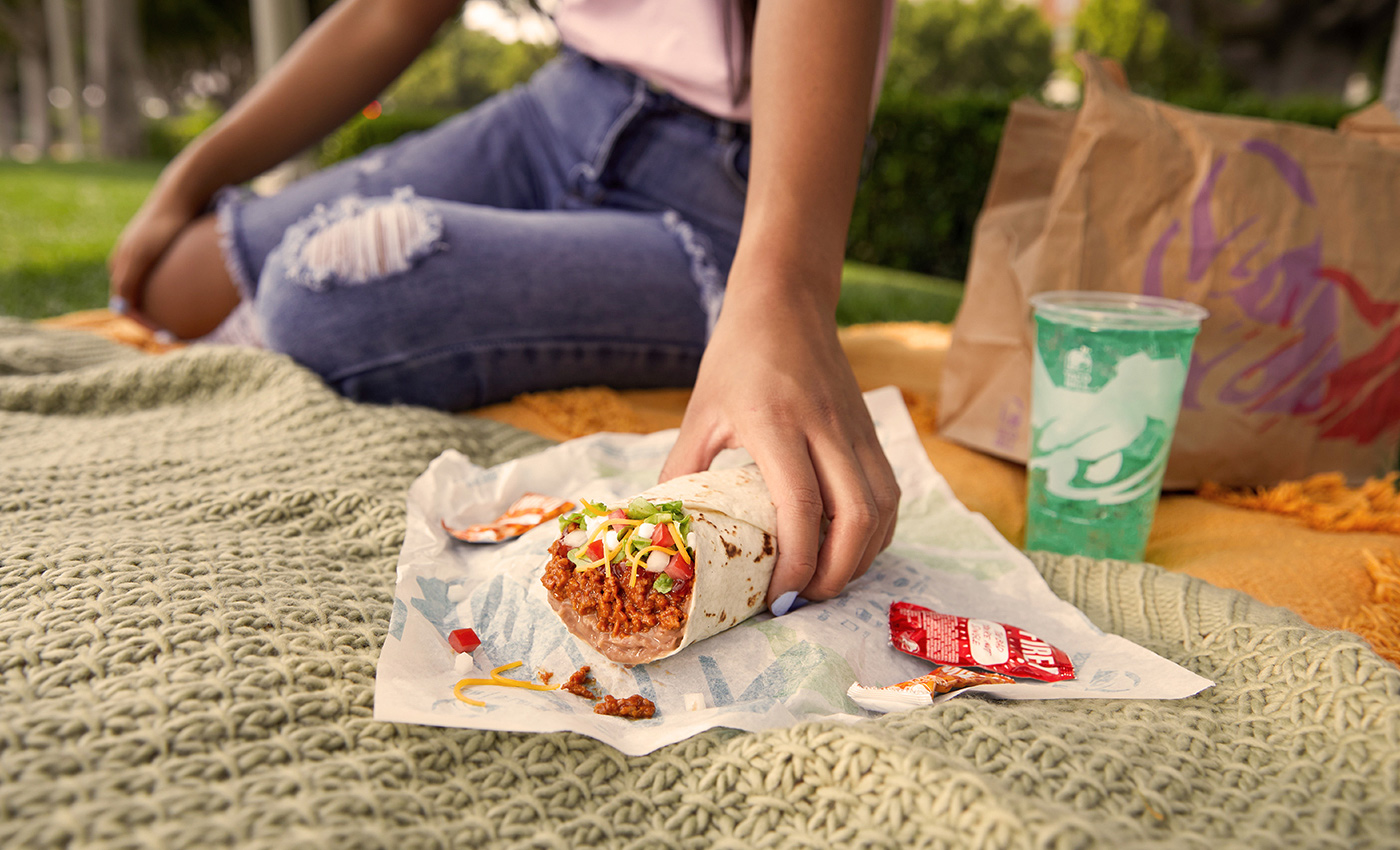 Taco Bell
Also outside of its Beyond Meat partnership, Taco Bell is testing a house-made plant-based beef option. In April, Taco Bell unveiled the "boldly seasoned plant-based protein" at one location in Tustin, CA. There, Taco Bell offered the vegan meat—which it developed from chickpea and pea proteins—as part of the Cravetarian Taco (a meatless version of its Crunchy Taco Supreme). In October, Taco Bell expanded the test of its first plant-based beef to 95 Detroit area locations until early November.
"With Taco Bell committed to offering food for everyone, no matter their lifestyle, the brand will continue listening to its fans and analyzing menu test results—including the Cravetarian plant-based protein test," the spokesperson said. "While there is no news to share just yet, Taco Bell is excited to evaluate test findings and continue innovating in the plant-based space."
For more about vegan at Taco Bell, read:
How to Order Vegan at Taco Bell: The Ultimate Guide5 Essential Vegan Items Taco Bell Should Add to Its Menu
Taco Bell Tests Vegan Pork in China