Fair-trade chocolate brand TCHO will be an entirely vegan company by 2023. The brand is currently transitioning all of its retail chocolate bars—many of which are already vegan—to be entirely plant-based in a sustainability move. As part of its transition, TCHO is launching new vegan chocolate bars—which will eventually replace its remaining dairy-based offerings.
Available in six flavors, the new bars are:
Toffee Time: cashew butter base, coconut sugar, oat milk, and cacao flecked with sea salt and vegan toffee pieces
Aww Nuts!: a dark chocolate bar filled with almond butter
Choco Latté: a coffee truffle bar filled with oat milk chocolate and organic coffee beans
Holy Fudge: a bar made with Ghanaian dark chocolate with a flavor that is meant to evoke crispy brownie edges
Born Fruity: a single-origin Peruvian chocolate bar with a fruity flavor
Dark Duo: a bar that combines the previous two flavors with a Holy Fudge outer shell and a Born Fruity filling

The new chocolate bars will join TCHO's other vegan chocolate products, including Hawt Chocolate drinking chocolate, Sweet & Sassy bittersweet baking chocolate, Dark & Bitter unsweetened baking chocolate, Super Powder cocoa powder, and Crush This roasted cocoa nibs.
"Reducing our reliance on dairy is one of the quickest ways TCHO can lighten our impact on the environment. While this will not be an easy transition for us, we know it's the right one," Josh Mohr, Vice President of Marketing at TCHO, said in a statement. "From the beginning, TCHO has been committed to working with our farming partners in the field, improving farming techniques, bettering soil conditions, and doing what we can to help minimize deforestation—all of which speaks to a plant-based model."
TCHO's vegan chocolate transition
Founded in 2007 on the principles of bringing higher ethical and sustainability standards to the chocolate industry, TCHO operates its TCHO Source program, which invests in infrastructure, training, and higher, more fair wages at chocolate's source.
In addition to transitioning its retail line to be fully vegan, TCHO—which recently attained B Corp certification—will make its professional foodservice line, used by restaurants and bakeries nationwide, vegan by early 2022. TCHO is also redesigning its packaging to coincide with its vegan transition. Its paper cartons are now easy-to-open and easy-to-close and fully recyclable, and the chocolate bars are wrapped in layers of 100-percent post-consumer waste paper and certified compostable film.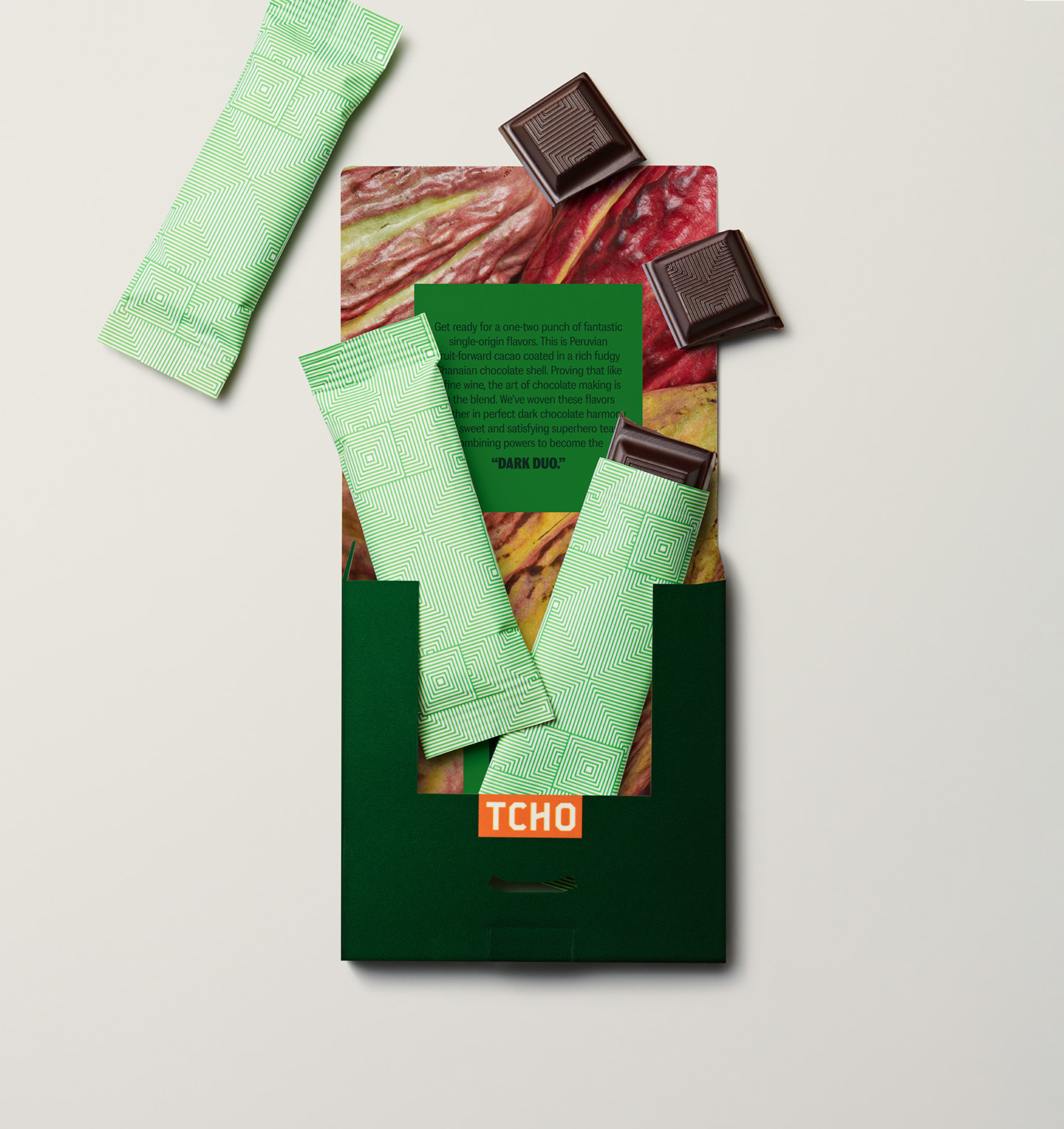 TCHO is delivering chocolate to consumers in a different way, as well, in cartons of three mini bars rather than a single packaged bar. The company made this change in order to make its chocolate easier to share and stow. Each package also comes with a QR code that directs readers to learn about the origin of that particular chocolate.
Brad Kintzer, Chief Chocolate Maker for TCHO and President of the Fine Chocolate Industry Association, has worked for three years to perfect the company's new plant-based formulas and relaunching TCHO as a vegan brand is part of its continued evolution toward becoming more sustainable. "This was an exciting opportunity to make chocolate that further reflects our values," Kintzer said in a statement. "The spirit of TCHO is rooted in the idea of accepting challenges and trying to bring them to life. Taking out dairy and focusing entirely on plants opened up a whole new world for us. We're proud of the unique flavor profiles we've created. Our alt-milk is an entirely new cacao experience."
TCHO's new life as a vegan company also comes with a new tagline: "Chocolate. Fair & Square."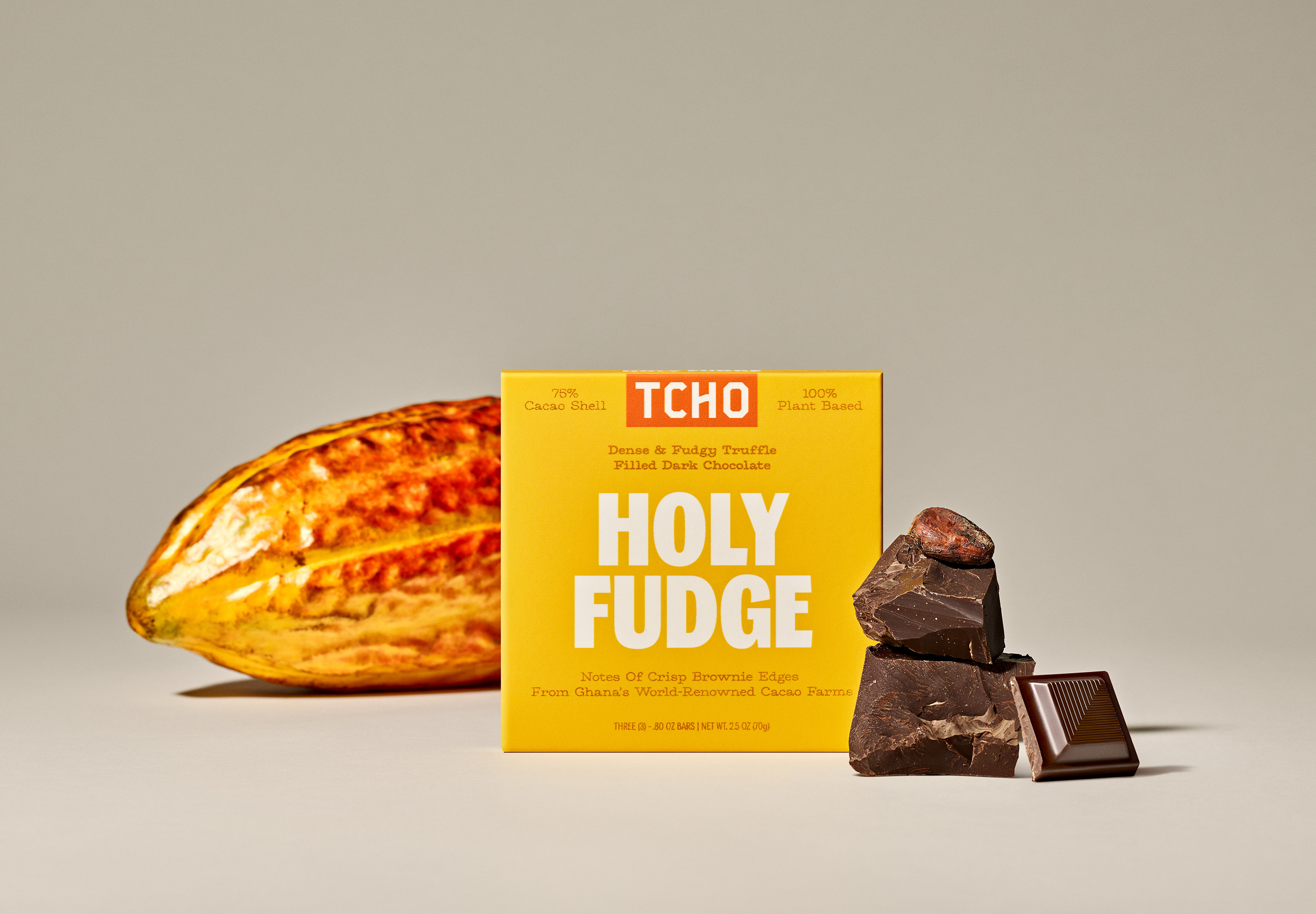 Ditching dairy is a sustainable move
While meat production is responsible for emitting the majority of food-related greenhouse gases, dairy (which is not wholly separate from the meat industry) is not far behind and is a major contributor to greenhouse gas emissions, particularly methane. In one report entitled "Milking the Planet" released last year by the Institute for Agriculture and Trade Policy, the world's top 13 dairy farms emitted the same amount of greenhouse gases as the United Kingdom, the sixth largest economy in the world.
In light of dairy's high environmental impact, in addition to TCHO, other companies are replacing milk with plant-based alternatives to help their sustainability metrics, including Blue Bottle Coffee—which supplies the beans for TCHO's new Choco Latté flavor. The artisan coffee chain began experimenting with offering oat milk as a default (as in, customers would have to ask for dairy milk, instead of the other way around) at three California locations this summer. The move resulted in Blue Bottle ordering 8-percent less cow's milk. After five months, 75 percent of milk-based beverage orders at Blue Bottle's pilot cafés called for plant-based milks, prompting the chain to expand the initiative to all of its Southern California cafés last month to further improve its sustainability metrics.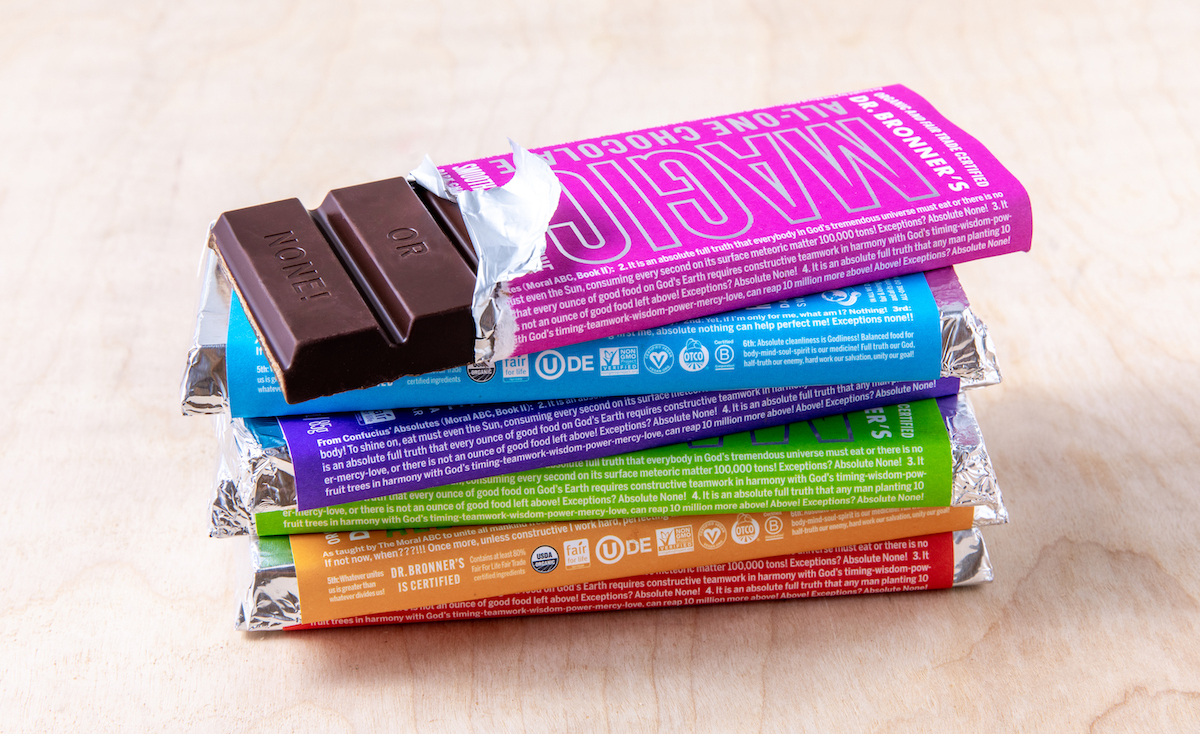 In the chocolate realm, giants from Nestlé to Hershey are getting into vegan lines to help ease their reliance on dairy. An unlikely company, soap giant Dr. Bronner's, released its first line of chocolate bars to nudge the industry toward more sustainable practices. The company's sustainability driven ethos needed to extend to its new chocolate line, which is entirely free from animal products. In addition to omitting dairy from its formulations, Dr. Bronner's is challenging the chocolate industry by setting other standards in sourcing ingredients that are truly sustainable from regenerative cocoa farms in Ghana, with a mission of doing better for people, animals, and the planet.
For more about vegan chocolate, read: Dr. Bronner's Makes Vegan Chocolate Like It Makes Soap: SustainablyThe VegNews Guide to Vegan Chocolate25 Accidentally Vegan Chocolate Bars You Need to Know About