While many coffee chains charge a fee for substituting vegan milk in beverages, Blue Bottle Coffee is taking a totally different approach. Currently, the chain is testing oat milk as a default option at select locations, including one outpost in West Hollywood, CA, which displays a sign that states, "May we recommend oat milk?"
While Blue Bottle is not disclosing further information about the initiative and whether or not it plans to make oat milk the default at its nearly 100 locations globally, a representative for the chain said defaulting to dairy-free milk is a climate-motivated move. "We are now serving oat milk as the default option in your coffee drinks because many of you prefer it and it steams into a beautiful, shiny micro-foam," the rep told New Consumer. "Plus, oat milk creates fewer greenhouse gas emissions than dairy."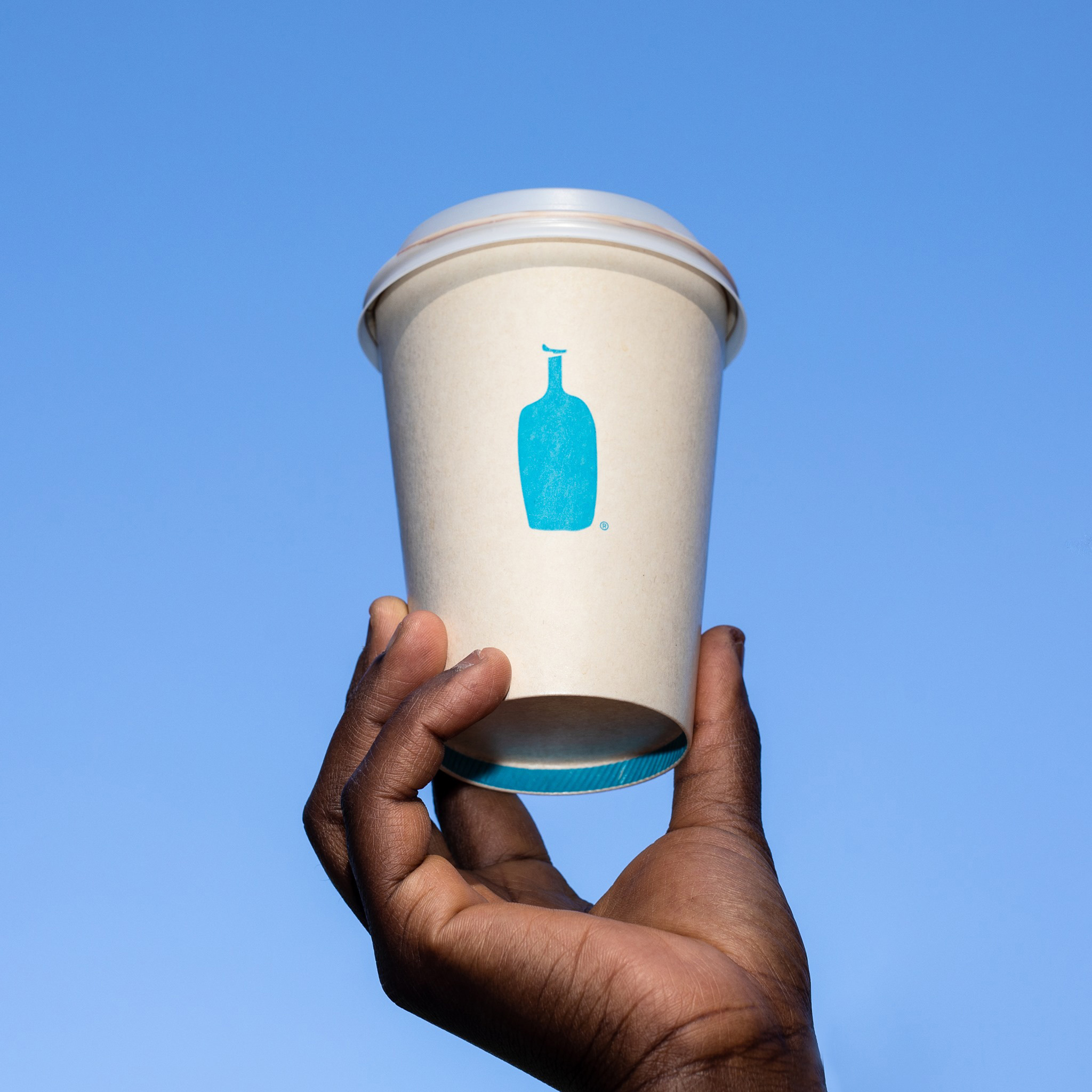 Default to vegan
Blue Bottle is not the only chain experimenting with defaulting to vegan options to help consumers make more environmentally friendly choices. Under its project Default to Veg, non-profit organization Better Food Foundation (BFF) has been working with a variety of coffee shops to help them make a similar switch, including Portland, OR-based Guilder Cafe (which is opening its second location this fall) and Onyx Coffee Lab in Bentonville, AK. The shift at these shops has come with zero pushback from customers and at Guilder, its decision to offer vegan milk as a default elicited overwhelmingly positive responses online.
"It's important for Guilder to explore a default-to-dairy-free initiative because we know that industrialized animal agriculture is one of the leading contributors to greenhouse gas emissions," Guilder Owner Caryn Nelson told VegNews. "Dairy milk and plant-based milks are as big a part of a café's menu as coffee is. We sell more milk-based drinks than black coffee, and therefore we have an opportunity to make a change with the default-to-dairy free initiative that will have an impact on the environment."
A 2018 Oxford University study showed that substituting dairy milk with vegan milk cuts a food item's carbon footprint in approximately half. BFF is working with Guilder to track how defaulting to a vegan milk option translates into actual carbon footprint savings in order to create resource materials for customers and other coffee shops to use. In addition to working with Guilder and Onyx, BFF is planning to host a series of default-to-oat-milk pop-up days at cafés in New York, NY; Washington, DC; Chicago, IL; San Francisco, CA, among other locations, to gauge community response.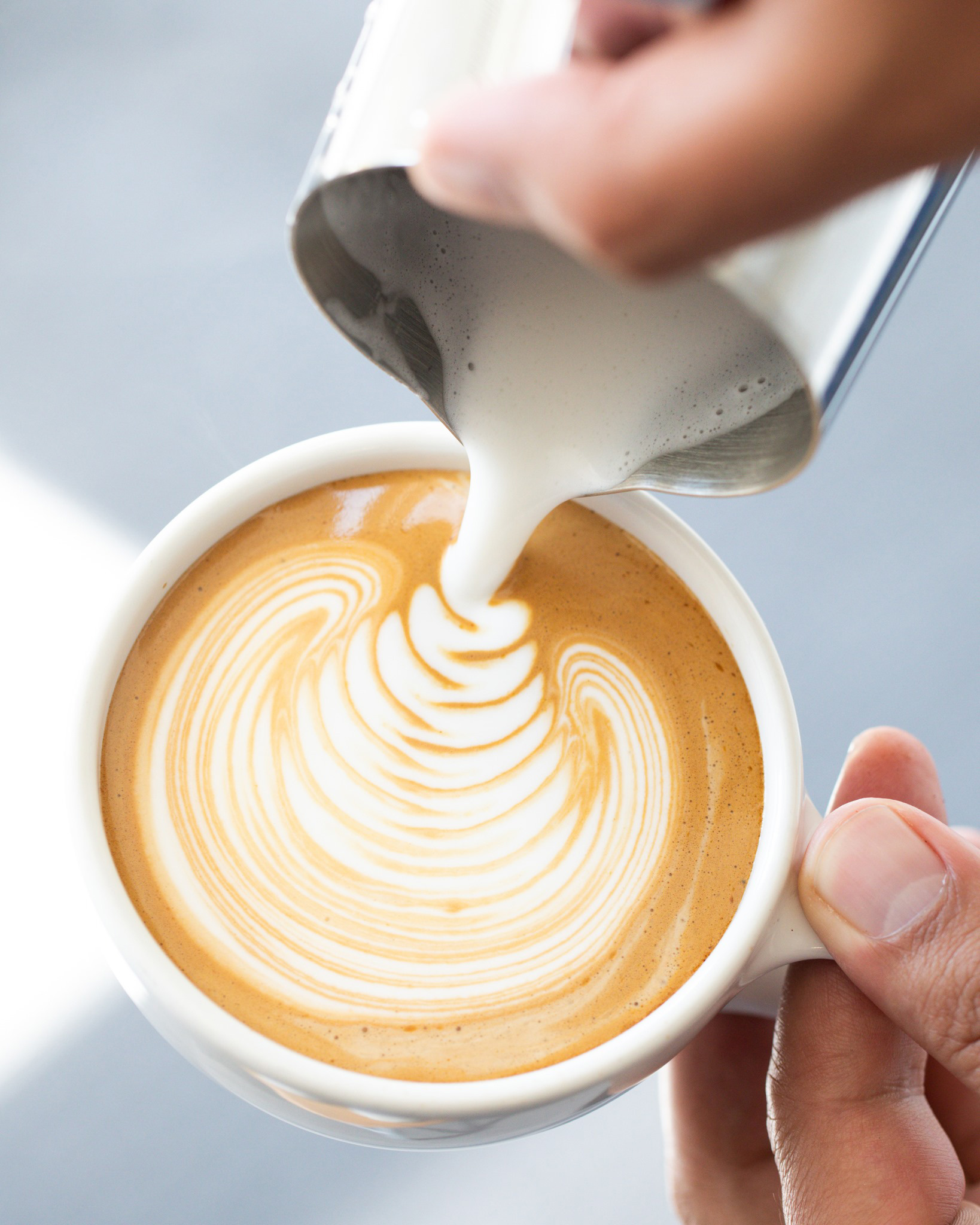 Vegan milk surcharges
From oat milk lattes at Dunkin' to fully vegan sandwiches at Peet's and Philz, coffee chains are going all in on plant-based to offset the astronomical carbon footprint created by dairy and other animal products. And while the biggest coffee chain of all, Starbucks, is exploring plant-based alternatives as well, the chain continues to charge extra for vegan milk substitutions—even when most of its carbon footprint (21 percent) comes from dairy at an innumerable cost to the environment.
"Many cafés, including Starbucks, are still charging a premium for 'alternative' milks despite Starbucks reporting that dairy milk was the greatest contributor to their scope 3 (indirect) emissions," Erin Eberle, BFF Director of Engagement, told VegNews. "However, we are beginning to see a shift in philosophy at many smaller chains and independent cafés who are incentivizing more sustainable choices by defaulting to an upcharge for dairy milk instead."
Throughout the years, Starbucks has explained that one reason for its vegan milk surcharge is a cost passed down to consumers from the higher wholesale cost of plant-based milk. However, as plant-based milk is quickly becoming the norm, and default in some places, vegans—including celebrities Alan Cumming, Alicia Silverstone, and many others—have taken Starbucks to task for continuing to discourage customers from making environmentally friendly choices with its vegan milk surcharges.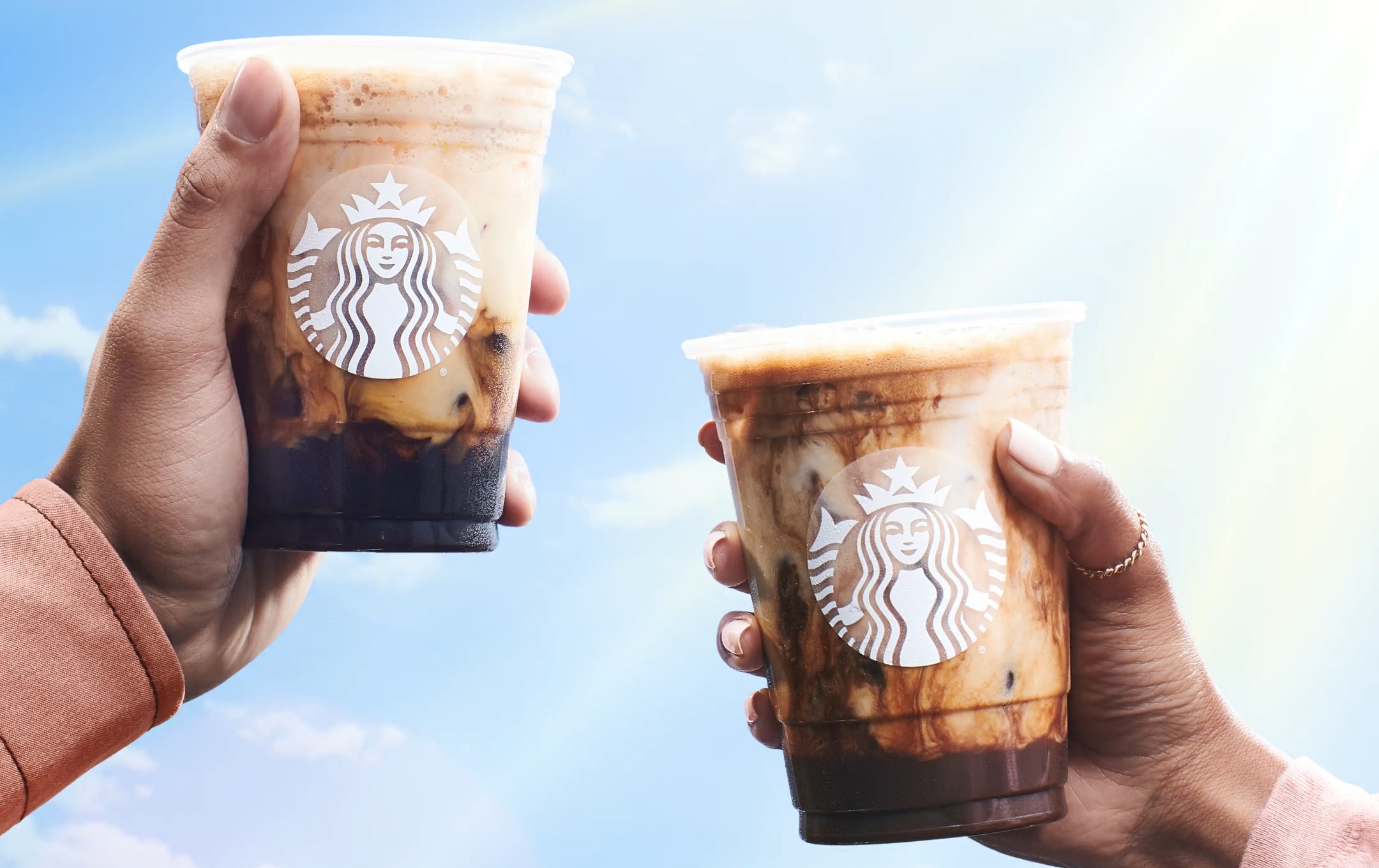 In April, after years of campaigns, Silverstone published a scathing public letter to Starbucks on her The Kind Life blog which debunked its claim that it must charge extra for vegan milk due to economic factors. Given that Starbucks' profit margin on a black cup of coffee is 90 percent, Silverstone was not convinced that charging extra for vegan milk was the chain's way to recoup losses. Instead, the Clueless actress explained that dairy prices are kept low by government subsidies and come with costs such as animal exploitation and environmental harm. "If the true cost of milk were reflected by its carbon impact alone, it would cost far more than the surcharge we're forced to pay on the sustainable alternative," Silverstone wrote.
Eberle echoes Silverstone's sentiment and adds that lactose intolerance is a normal condition for adult humans as they are not young calves, whom cow milk is designed to nourish. "There is no question that plant-based milks can be more expensive, especially since dairy milk is government-subsidized and we rarely factor in the external costs of dairy products, but I think the question we should really be asking is: Why are we upcharging lactose-normal people and those making choices that are better for the planet?" Eberle said. "If Starbucks wants to be an inclusive sustainability leader, it should consider shifting its own defaults to meet its sustainability goals."
Read more about vegan milk surcharges here.