Coffee chain Blue Bottle Coffee is in the middle of an interesting experiment, one in which it offers oat milk as a default option in its beverages to see if it helps slash its dairy-driven carbon footprint. Earlier this year, the chain piloted the oat milk initiative at three California locations and found that in three months, it was ordering 8-percent less cow's milk. After five months, 75 percent of milk-based beverage orders at Blue Bottle's pilot cafés called for plant-based milks. The success of this pilot program has led Blue Bottle to expand the effort to all of its Southern California cafés, which make up more than 25 percent of the chain's total locations in the United States.
"We understand dairy to be a leading source of emissions from our café operations. In an effort to do our part to lower these emissions, we have embraced the opportunity to encourage guests to go plant-based, starting with our cafes in Southern California," Blue Bottle CEO Karl Strovink told VegNews. "It is important for us all to reframe what 'alternative milk' is, and we aim to continually invite and encourage more guests to join us in deliciousness while leading a lower-emissions lifestyle."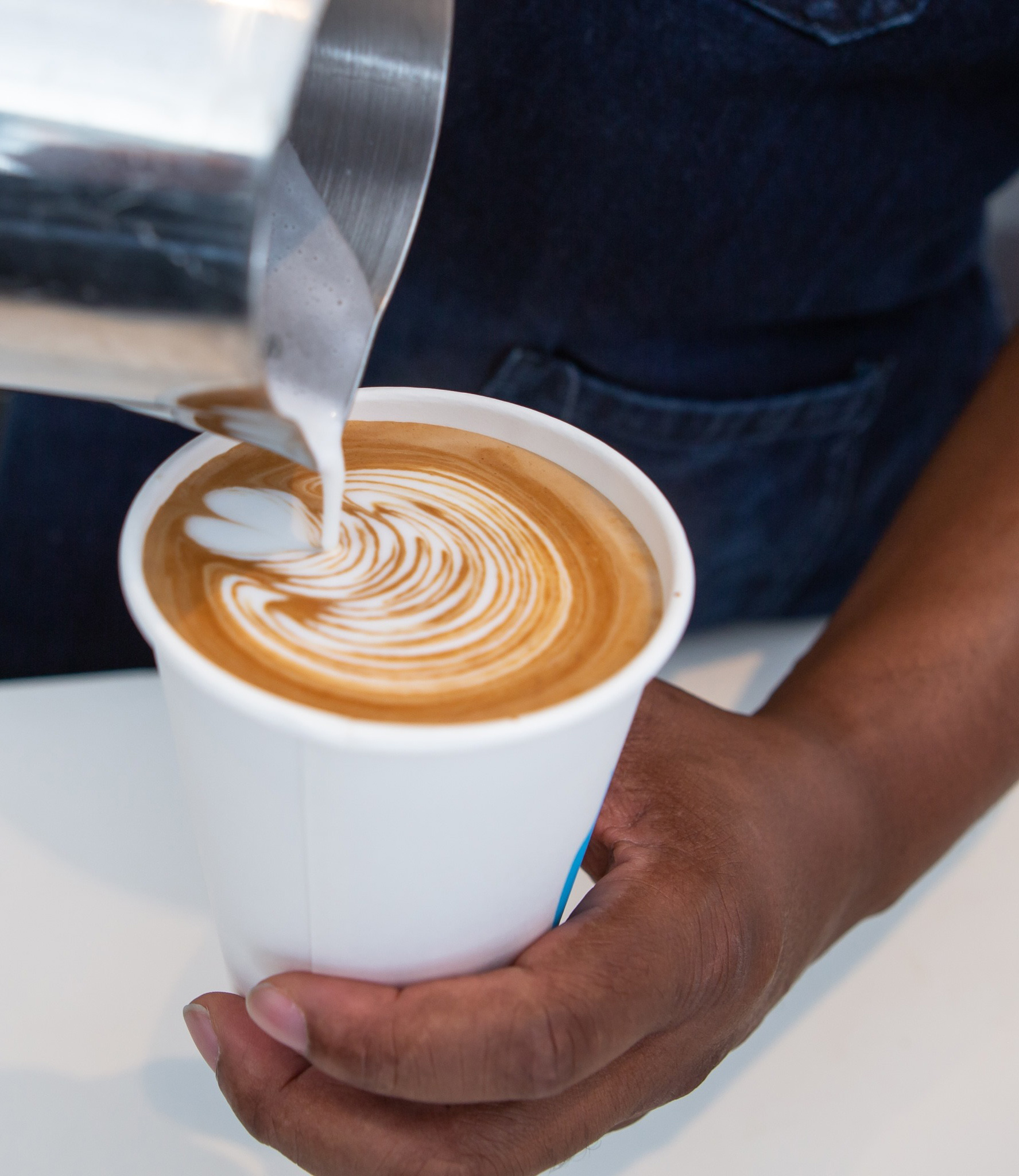 Blue Bottle aims to reach carbon neutrality by 2024 and, in addition to leaning on eco-friendly oat milk, the chain is implementing other changes to help achieve its climate goals, including integrating climate targets within its coffee supply chain; offsetting its electricity use by purchasing renewable energy certificates; and drastically reducing its in-store waste (with a target of its US operations becoming zero waste by 2022).
"We invite guests to join us in forging positive change—from wasting less and reusing more to adopting new product offerings with lower environmental footprints—we are committed to accelerating progress but cannot do this alone," Strovink said in a statement. "We hope our guests will join us in taking bold steps on climate action, one cup of coffee and one day at a time."
Vegan milk upcharge makes no climate sense
Outside of its oat milk program, Blue Bottle has always offered plant-based milk at no extra cost. Other chains have also dropped their upcharges to encourage climate-positive choices, including Panera Bread, which changed its policy after talks with PETA last year. One major outlier in this regard is Starbucks, which has yet to drop its vegan milk upcharge.
Like Blue Bottle, Starbucks has publicly committed to a climate goal—which is to become a resource positive business by 2030. Starbucks operates more than 32,000 locations worldwide and encouraging its customers to make climate-friendly choices, such as plant-based milk over dairy, would make a huge environmental impact. While Starbucks now offers four plant-based milks on its US menus, it still charges extra (between $0.70 and $0.80 per beverage, depending on location) for plant-based milk substitutions, an obstacle to climate-friendly choices that activists have been fighting to remove for years. In April, actress Alicia Silverstone took the coffee giant to task on her The Kind Life blog, debunking the chain's cost-related justifications for its vegan milk upcharge.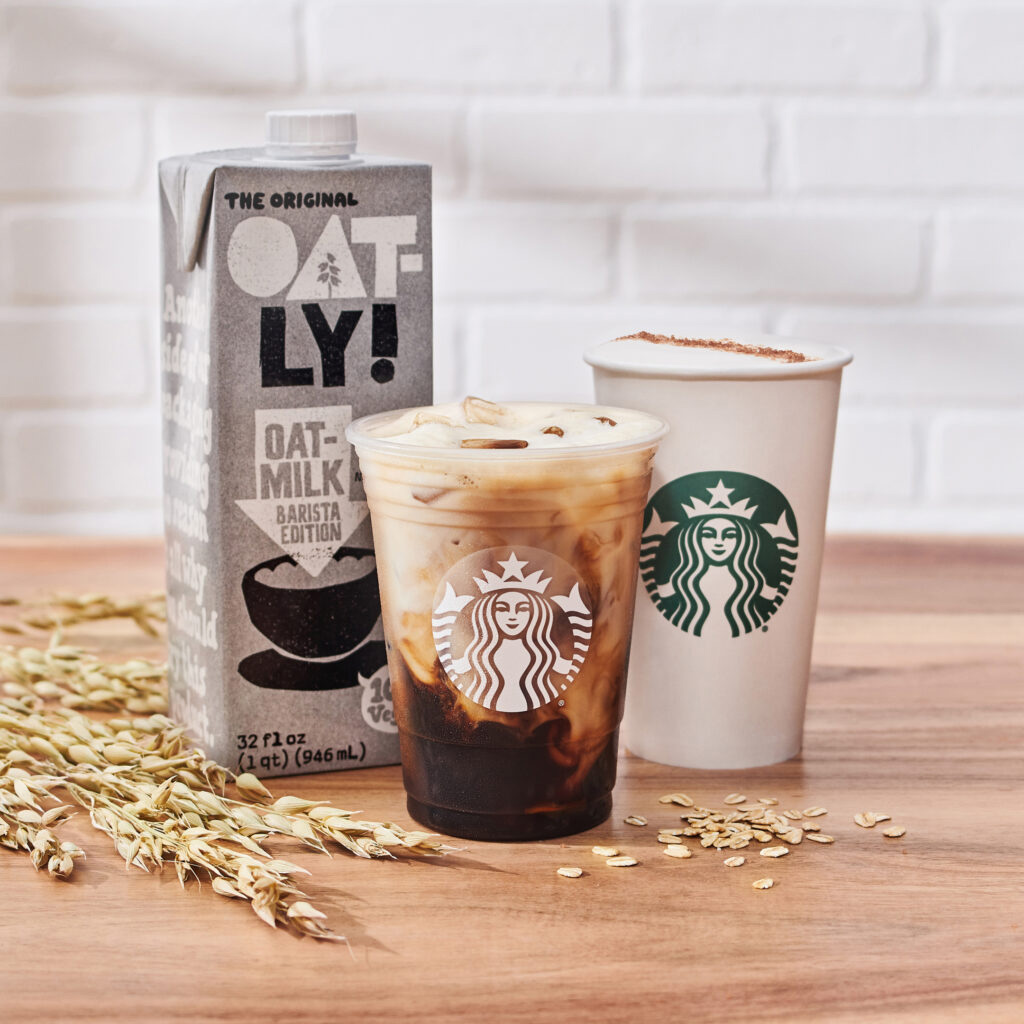 "If the true cost of milk were reflected by its carbon impact alone, it would cost far more than the surcharge we're forced to pay on the sustainable alternative," Silverstone wrote. "If Starbucks hopes to meet its goal of reducing 50 percent of its carbon emissions, water use, and waste by 2030, then an obvious first step is to ensure that the environmentally friendly options are accessible to everyone by lowering the price of their non-dairy options, and not penalizing those of us who are already choosing the sustainable, kind products."
Starbucks is exploring oat milk as a default at one Greener Store it recently opened in Shanghai, China, but has yet to roll out the initiative to other Greener Stores—the next two of which it plans to open in Seattle and Southern California.
For more about vegan milk at coffee chains, read:
How Much Extra You're Going To Pay For Vegan Milk at These Coffee Shops
Vegan Oat Milk Lattes Launch at Drive-thru Coffee Chain Dutch Bros
Coffee Chain Philz Drops 2% Dairy Milk as Vegan Oat Milk Sales Surge