Diner chain Johnny Rockets now offers a plant-based cheeseburger and dairy-free milkshakes at its participating locations (approximately 80 restaurants) in the United States for a limited time. Customers at the 1950's themed chain can now order a plant-based Impossible Burger in place of animal meat and Daiya Foods' vegan Cheddar Style Slices along with three dairy-free milkshakes in chocolate, vanilla, and strawberry flavors made with Craig's hand-scooped vegan ice cream and topped with vegan whipped cream. Johnny Rockets currently does not offer a vegan bun, a spokesperson confirmed to VegNews. The new options are available throughout the summer and may become permanent menu items after the limited-time offer.*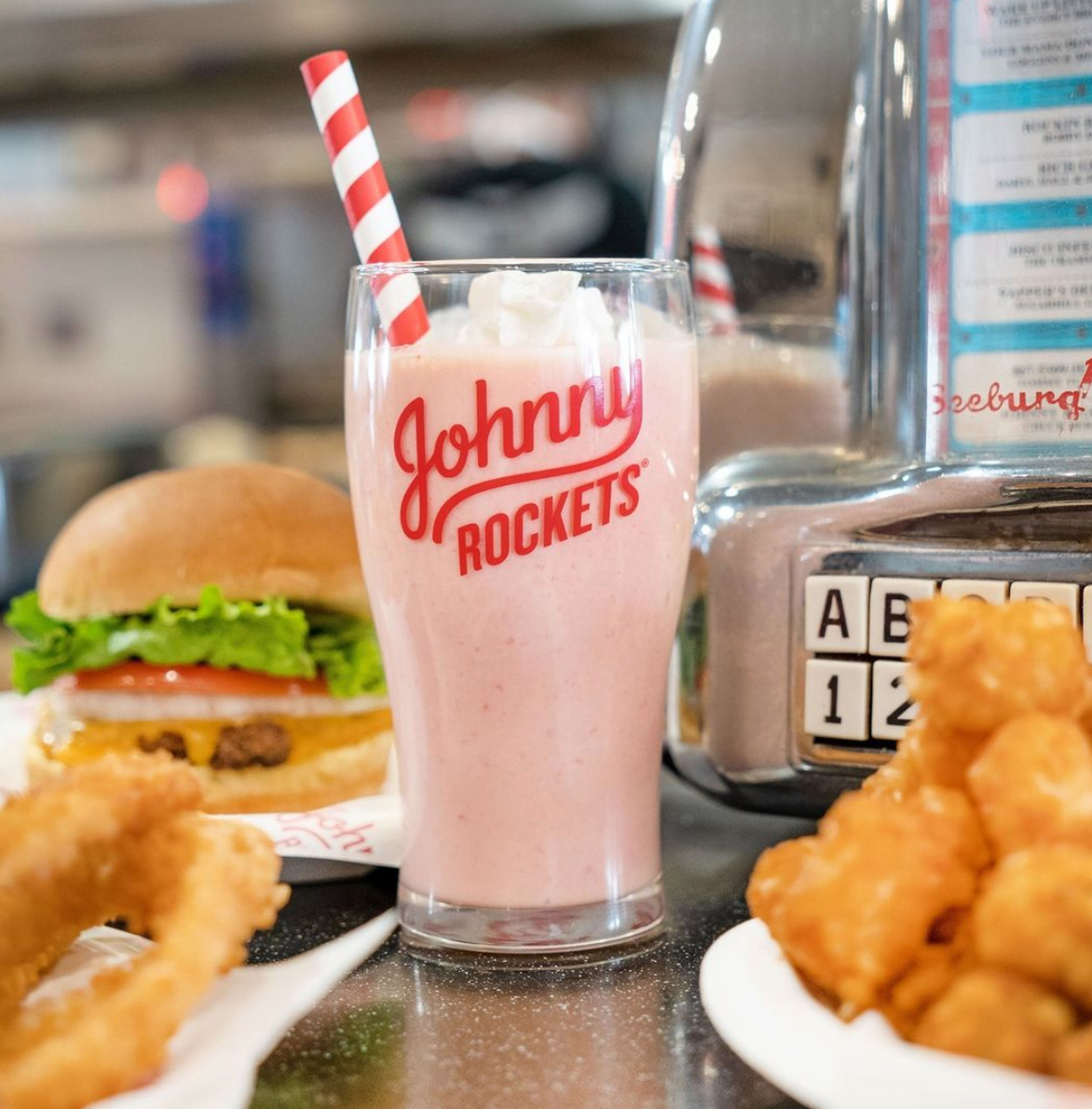 "The Johnny Rockets environment and menu delivers a piece of nostalgic Americana at locations around the globe," Andy Wiederhorn, CEO of Johnny Rockets' parent company FAT Brands, said in a statement. "While that will always be the most evident and fun part of the Johnny Rockets experience, we also acknowledge the future, which is plant-based."
And for the first location of Johnny Rockets—which opened on Melrose Avenue in Los Angeles, CA in 1986 and operated there for more than 30 years—the future turned out to be completely plant-based. In 2020, vegan burger chain NoMoo took over Johnny Rockets' flagship Melrose location and now serves Impossible Burgers, vegan chicken sandwiches, fries, salads, and cashew-based milkshakes.
Plant-based at Johnny Rockets and beyond
In addition to Johnny Rockets, FAT Brands owns fast-food chain Fatburger. In 2017, Fatburger was one of the first chains to add the Impossible Burger to its menu and in 2019, the chain added Daiya's vegan cheddar to complement the plant-based burger. In 2019, Fatburger also updated its milkshake offerings to include vegan vanilla and strawberry flavors—made in partnership with Craig's—along with dairy-free whipped cream.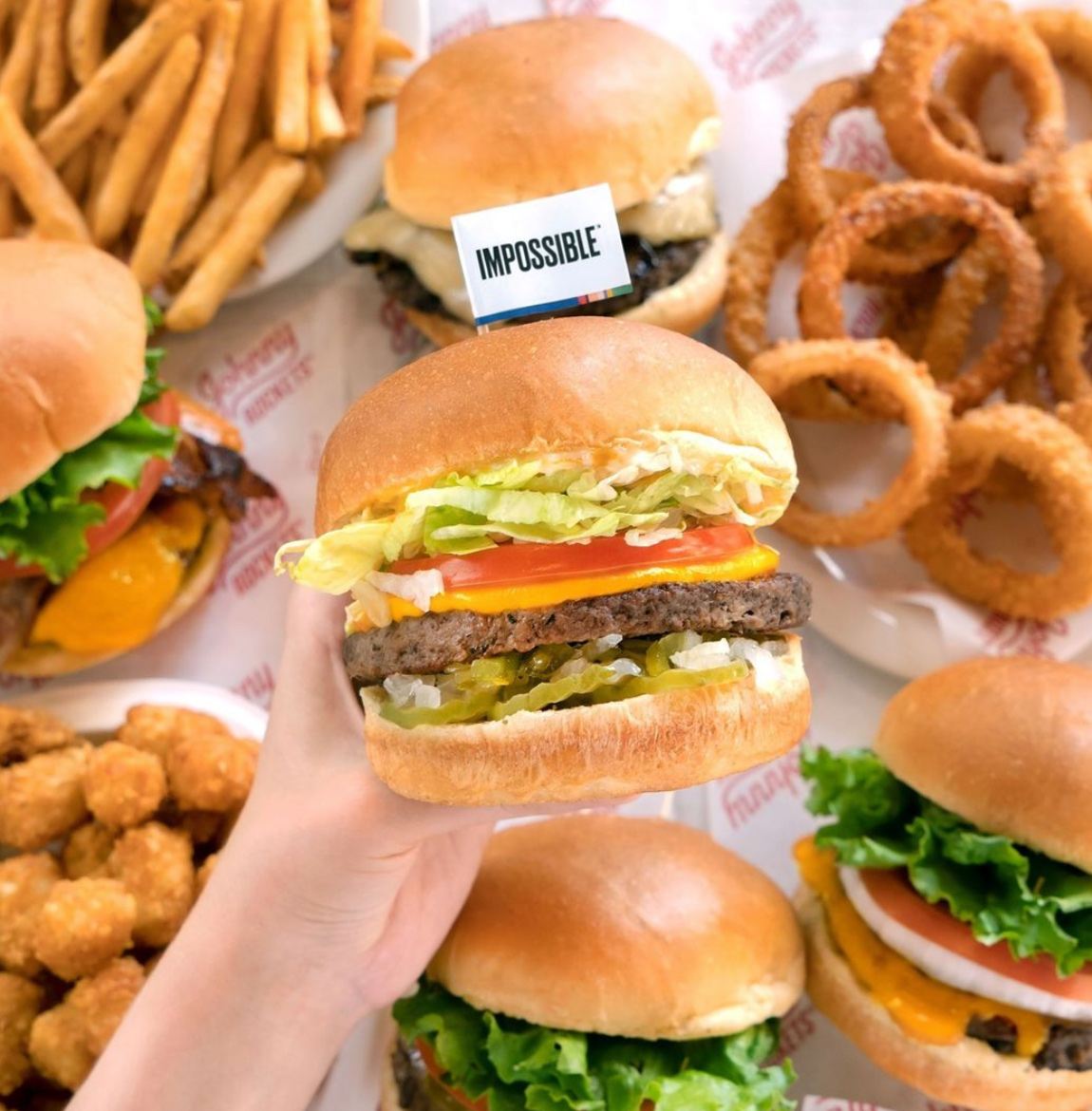 "FAT Brands' long-standing relationships with Impossible Foods, Daiya, and Craig's Vegan has proven that these items integrate seamlessly into classic American menus, and we're very happy to partner with brands that are centered around providing high-quality and great tasting products like we are," Wiederhorn said. "These product offerings have performed well to date at other concepts of ours, and we hope to incorporate as long-standing menu additions at Johnny Rockets, as well."
For more about vegan fast food, read:
The Vegan Guide To Eating Plant-Based At Burger King
Ultimate Guide To The Top US Vegan Fast-Food Chains
10 Vegan Hacks For Your Favorite Fast-Food Joints
*Editor's note: As of October 19, 2021, Johnny Rockets is still in the testing phase of its plant-based burgers. Its brioche buns are not vegan as they contain dairy and eggs.