Vegan cheese brand Miyoko's Creamery recently launched new kid-friendly, snackable vegan cheese sticks. The Plant Milk Cheddar Sticks are made with Miyoko's Plant Milk (made with coconut oil, oats, and chickpeas) along with unique ingredients such as fava beans, pineapple, and hemp seed butter, and are currently available exclusively online through Miyoko's website for $4.99 for a package of six cheese sticks.
The product's soft launch on Miyoko's website this month will be followed by a rollout to Whole Foods Markets in June and July before landing at other retailers later this summer, in time for the new school year. The brand also plans to launch new, yet-to-be-announced flavors of existing products in the coming weeks in the same way—first on the website and then through a retailer rollout—in addition to a "never before seen" vegan cheese with 10 grams of protein per serving later this year.
"For a while now, parents have asked us when we'll introduce more family-friendly snackable options, and we're very excited to launch Vegan Cheddar Sticks," Miyoko Schinner, founder and CEO of Miyoko's Creamery, told VegNews. "These vegan cheese sticks allow us to continue on our promise of delivering all the goodness of plant milks and with no added flavors; they also have two grams of plant protein. Earlier this week, we gave our social media followers a sneak peek at the new Vegan Cheddar Sticks and the reaction has been overwhelmingly positive."
This month, Miyoko's Creamery also launched its largest advertisement to date with a three-segment electronic billboard in New York City's Times Square. The billboard celebrates the company's compassion-centric values with the tagline "Milk Plants Hug Cows" and is being displayed every six minutes until June 27.
A vegan cheese empire
Miyoko's Creamery offers a variety of nut-based cheese wheels, spreads, and butters, along with a line of cheeses and butters made from allergen-friendly oats, potatoes, and legumes that launched last year at Whole Foods Markets nationwide. Prior to its launch, the company shocked hundreds of unsuspecting cheese lovers at a grilled-cheese sandwich pop-up in San Francisco, where the brand served free sandwiches made with its vegan cheese and butter without telling customers they were vegan.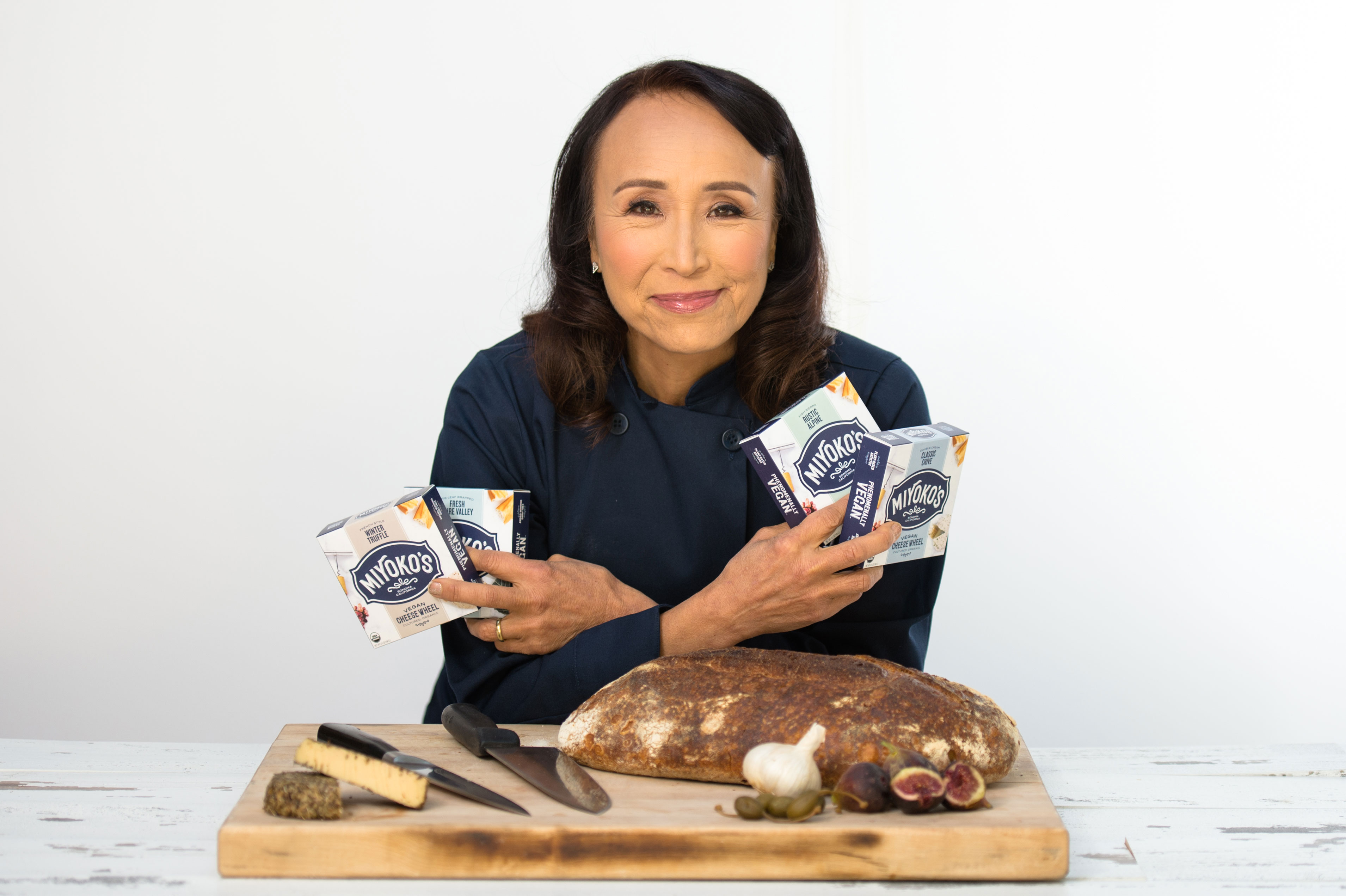 In addition to creating the brand's beloved products, Schinner is a committed activist within the vegan and social justice movements, fighting for the right to use terms such as "butter" on vegan products, calling on the US government to build back a better economy with long-term climate solutions, helping to rescue dogs from the South Korean meat market, and donating free food to hospital workers and people in need during the COVID-19 pandemic.