Lisbon-based shoe brand Undo for Tomorrow recently launched its vegan "Nuven" sneakers, which feature a multicolored sole made from discarded party balloons and rubber tire leftovers. The shoes are made using other recycled and natural materials such as bamboo for the lining, sustainably sourced Amazon Rainforest rubber for the toe caps, caster oil for the insole, and recycled plastic for the vegan suede outer shell. The sneakers are gender neutral and available in four color options: Vanilla Rainbow, Desert Camel, Dark Grey, and Black Bird.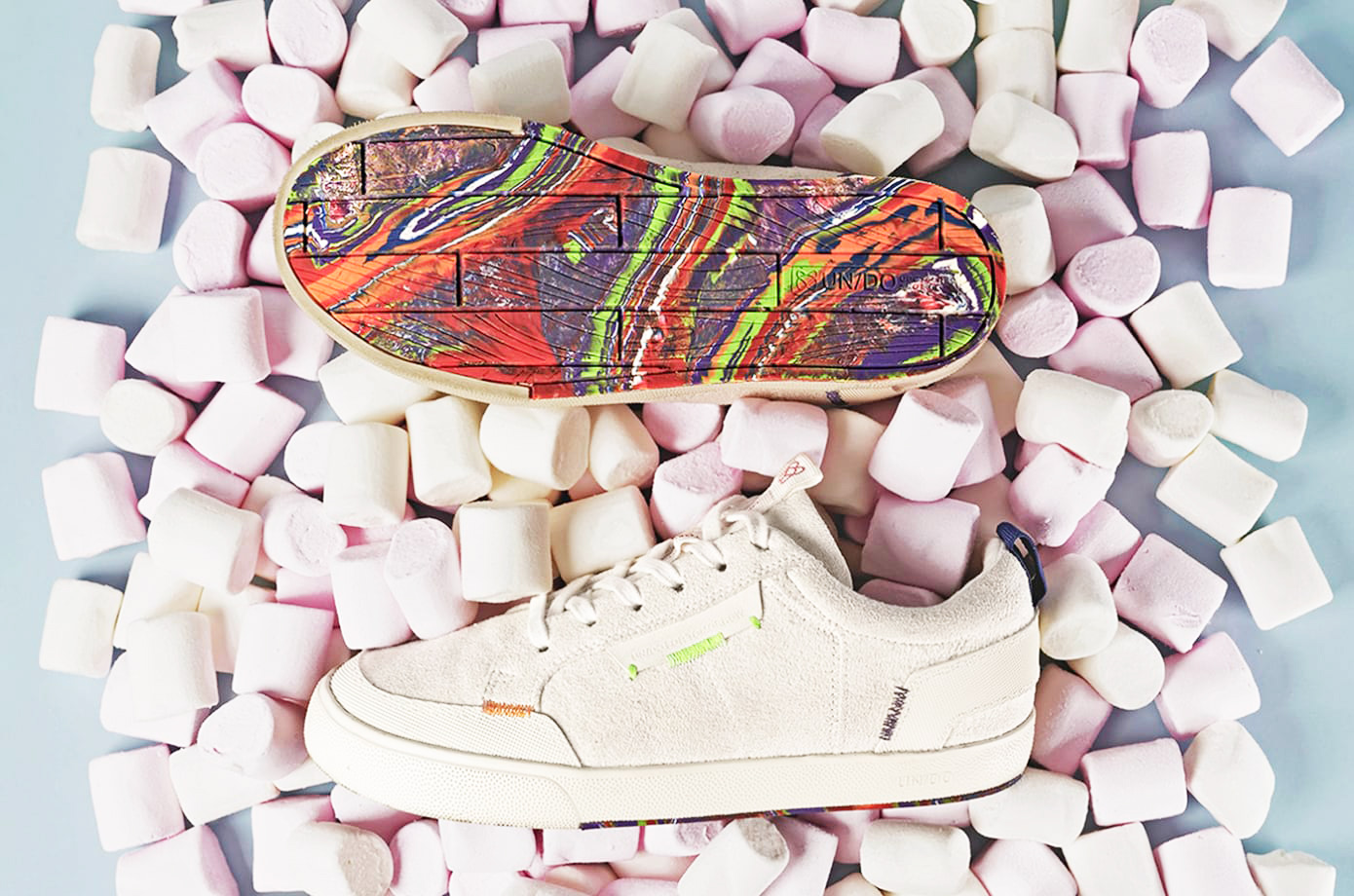 The startup's goal when designing the shoe was to combine the comfort of performance sneakers with the style and shape of casual shoes. The shoes are also designed with super light materials and are water repellent. Undo for Tomorrow works with a family-owned factory in São Paulo, Brazil, where environmental responsibilities, human and social rights, and good working conditions and wages are paramount, and uses materials supplied mainly from within the Brazilian domestic market.
Launched via crowdfunding site Indiegogo, the Nuven shoes are being sold for €74 ($91US) with worldwide shipping starting August 2021. Undo for Tomorrow's crowdfunding campaign has thus far raised more than $87,000—more than eight times its initial $10,000 goal.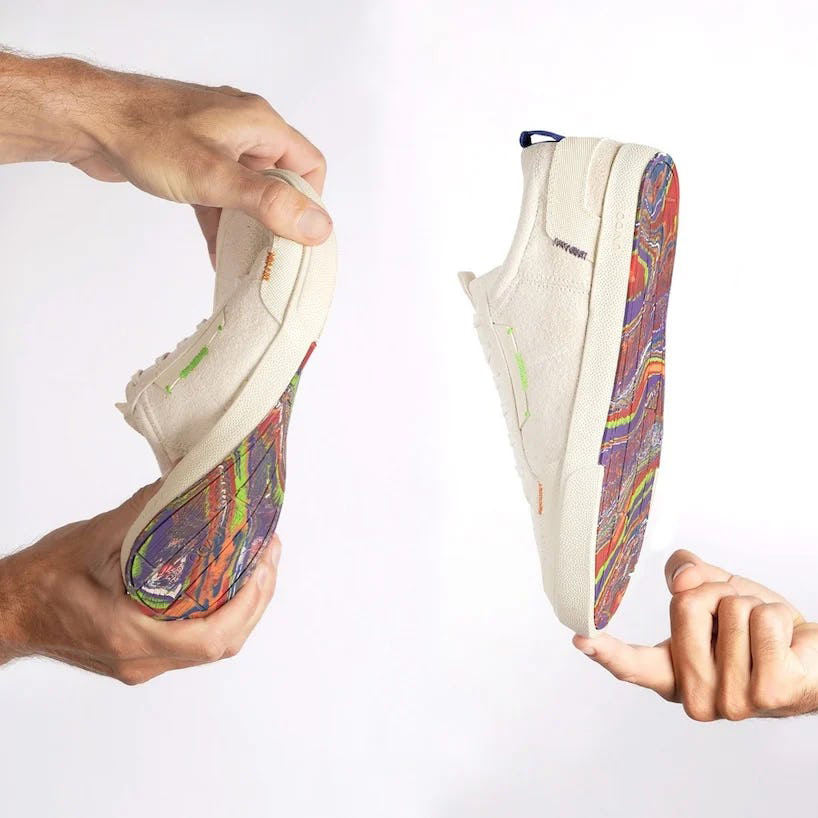 Ethical vegan footwear
The global footwear industry is both wasteful and cruel with its use of materials such as plastic, petroleum, and animal-derived leather. A number of startups are changing the way shoes are traditionally made, taking into account ethics and sustainability and using recycled and renewable materials.
Earlier this month, actress Nikki Reed launched a vegan sneaker line in collaboration with sustainable footwear brand LOCI. The Reed x LOCI collection features a simple low-cut sneaker crafted from cork and recycled foam insoles, a bamboo lining, and an outer material made from repurposed ocean plastic.
Big names are getting into eco-friendly footwear, too. Fashion brand Adidas also recently unveiled the Mylo Stan Smith, a vegan version of its iconic Stan Smith sneakers made with mushroom-based leather. The concept shoes were made in partnership with Bolt Threads, which supplied Mylo—vegan leather made from mycelium, the fast-growing root systems of mushrooms. The material is renewable, environmentally friendly, and performs exactly in the same way as traditional leather but without animal cruelty. The outer upper, perforated stripes, heel tab overlay, and premium branding are all made with Mylo and the midsole of the shoe is made with natural rubber.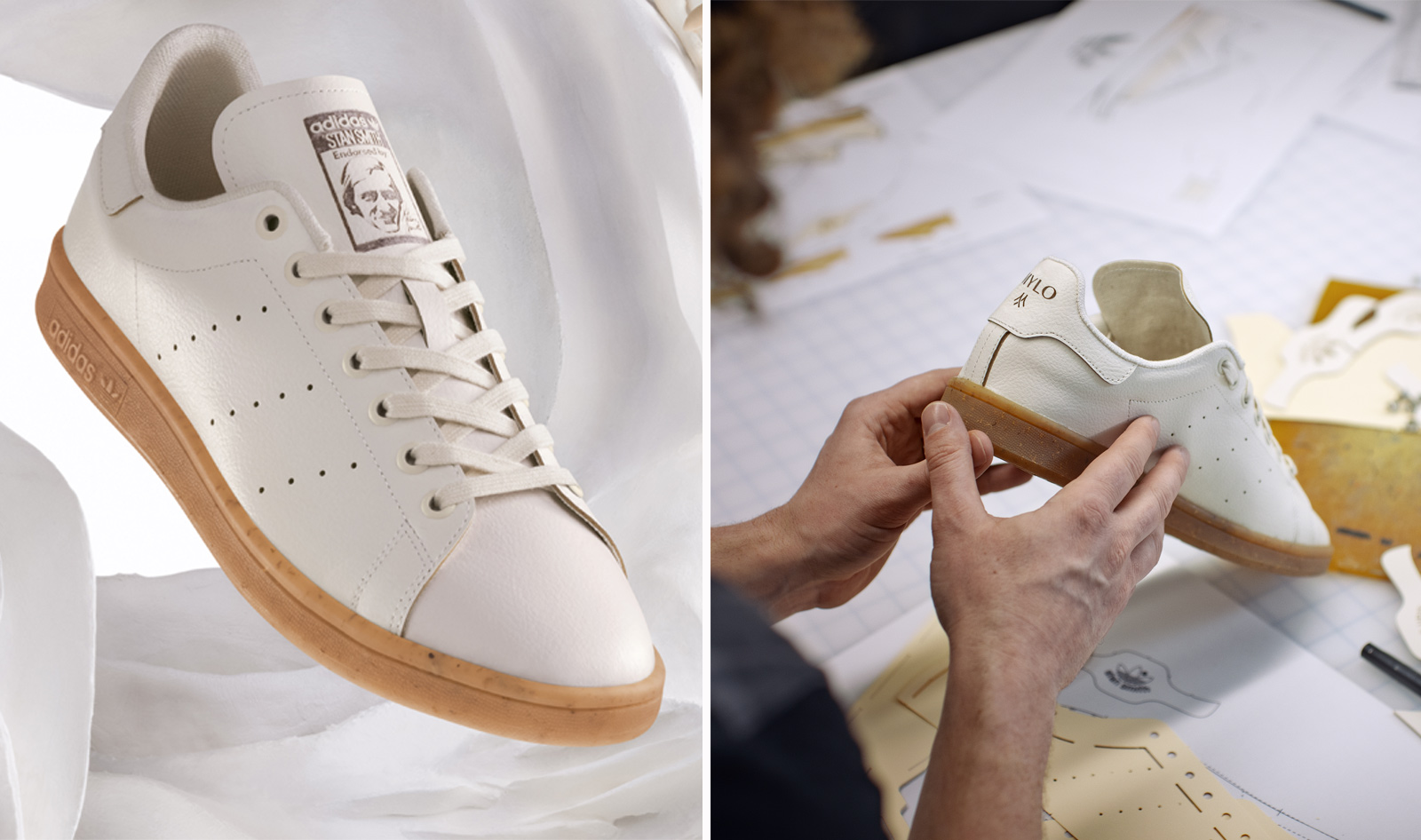 And the trend is expanding into functional footwear, as well. Climbing apparel brand So iLL is releasing a line of biodegradable vegan sneakers made with algae. Made in partnership with actor Jason Momoa—of Aquaman and Game of Thrones fame—the iLL x On The Roam Collection features vegan sneakers featuring an insole made by BLOOM Foam, a company that turns harmful algae growths into sustainable materials. The sneakers are also made with an organic cotton upper, a top layer of cork, and biodegradable outsoles.