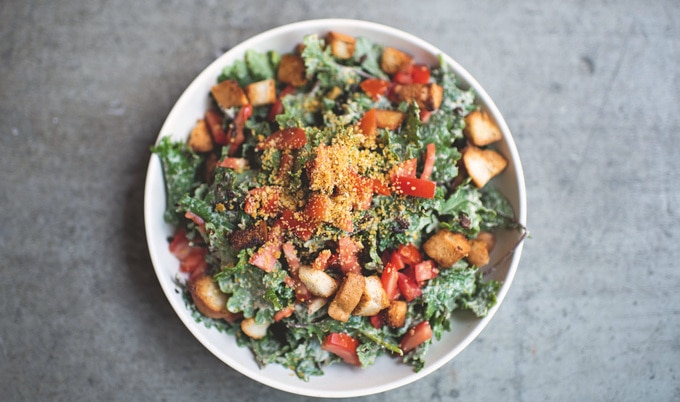 In this healthy twist, creamy tahini and pepita-based dressing take the place of eggs and anchovies for that classic tangy Caesar taste.
June 24, 2021
Thick, creamy dressing and fresh greens are paired with buttery, crunchy croutons and smoky vegan bacon bits for a flavor-forward vegan version of this classic salad in this recipe from the Eating for the Planet Cookbook. Add a meatier protein such as blackened tempeh or store bought vegan chicken to make it even heartier.
What you need:
For the dressing:
½ cup raw pumpkin seeds
3 tablespoons lemon juice
2½ tablespoons Dijon mustard
1 tablespoon garlic powder
1 tablespoon tahini
1 tablespoon minced roasted garlic
½ teaspoon salt
¼ teaspoon ground black pepper
½ cup water

For the cashew parmesan:
3 tablespoons raw cashews
1 tablespoon nutritional yeast
¼ teaspoon salt

⅛ teaspoon garlic powder

For the salad:
1 (5-ounce) package baby kale salad greens
½ cup vegan bacon bits
1 cup diced tomatoes
1 cup vegan croutons
What you do:
For the dressing, into a high-powered blender, add all ingredients, and blend, scraping down sides as necessary, until smooth. Refrigerate at least 4 hours to allow flavor to develop. Dressing will keep in refrigerator for up to 5 days in a tightly covered container.
For the cashew parmesan, in a food processor, combine all ingredients and process to fine crumbs. Store in a tightly covered container in refrigerator for up to a month.
For the salad, in a large bowl, toss kale with bacon bits and prepared dressing. Divide salad among 4 bowls or plates and top each with tomatoes, croutons, and cashew parmesan.
Photo credit: Charlotte Dupont Photography
Love vegan food and cooking as much as we do?
Get the BEST, editor-tested recipes inside every issue of VegNews Magazine. Find out why VegNews is the world's #1 plant-based magazine by subscribing today!