On National Chicken Wing Day today, California-based vegan brand Alpha Foods will decrease the price of its vegan Chik'n Nuggets as the price of traditional chicken wings is going up. According to industry publication MarketScale, the price of traditional chicken wings are soaring—increasing from an average of $1.50 per pound to between $3 and $4—due to a supply shortage across the country. The shortage is due, in part, to meat producer Tyson, which had an "unexpected decline" in hatchlings earlier this year because the type of roosters it uses for breeding did not meet breeding expectations.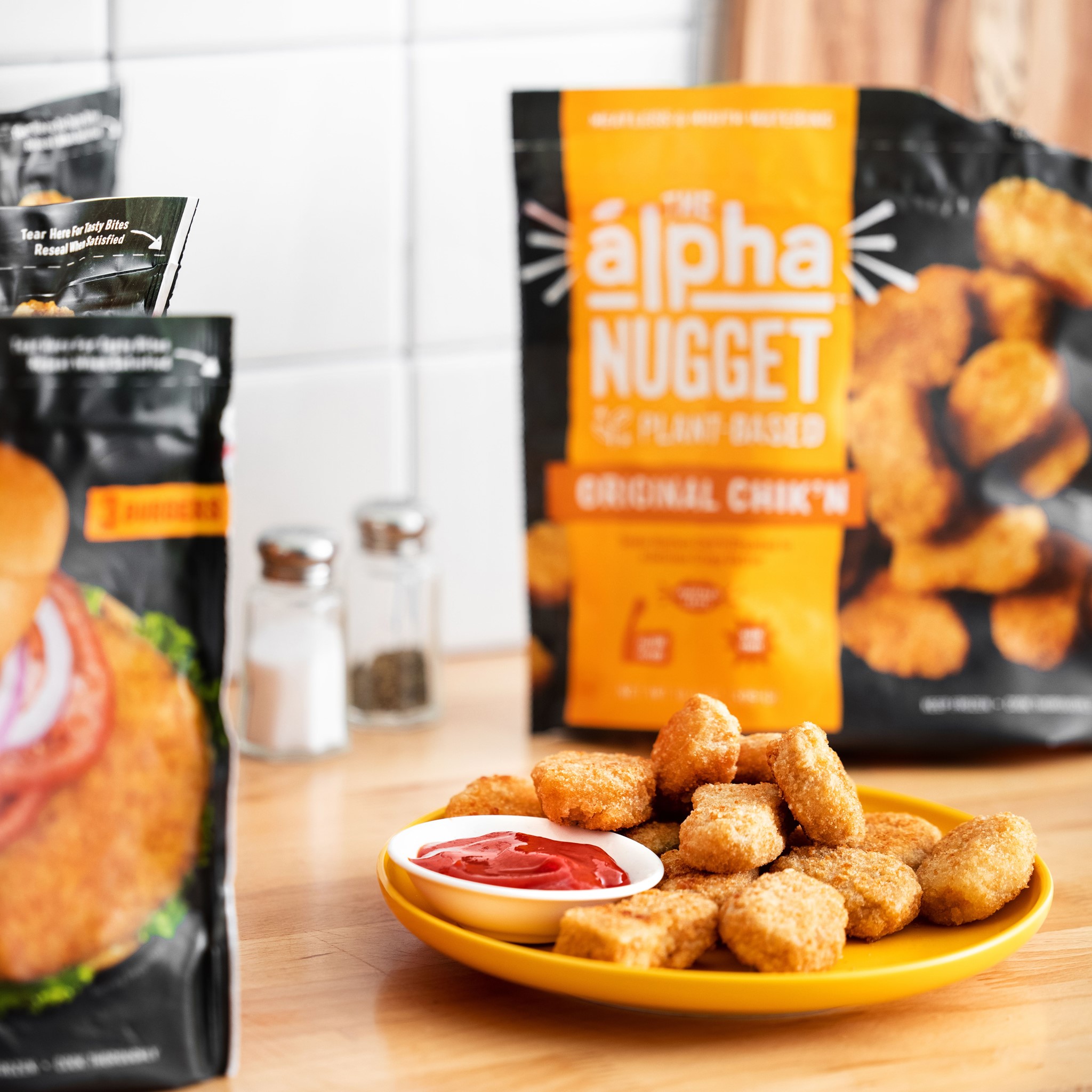 Alpha Foods is working to combat the "chickenflation" by countering the cost increase of chicken with a drop in the price of its own chicken nuggets with the goal of making vegan alternatives to chicken more appealing. For every cent that chicken wings went up last week, Alpha Chik'n Nuggets will go down by the same amount. During the campaign, Alpha street teams will be positioned with coupon handouts outside of fast-food restaurant chain Popeyes and other locations throughout New York City's Times Square, and discounts will be available online for those seeking an alternative National Chicken Wing Day experience. The discount will play into the difference in inflation for the week, allowing customers to take nearly 30 percent off their purchase.
To bring further visibility to the issue of surging prices of animal meat and its corresponding effect on the stock market, Alpha will take over the iconic digital billboard at NASDAQ in NYC, as well as a full-page ad space in The Wall Street Journal, to spread the word.
"In the past few months, chicken prices have skyrocketed, leaving consumers looking for alternative options," Kierstin De West, Alpha Foods Chief Marketing Officer, said. "By lowering the price of our plant-based chik'n products in-line with chickenflation, we're encouraging people to try something new, without the pressure of changing their entire diet."
In addition to its Chik'n Nuggets, Alpha Foods offers dozens of other vegan products, including pizzas, tamales, burgers, and crumbles, which are available at more than 9,000 stores nationwide. Last year, the company raised $28 million in a funding round led by investment firm AccelFoods, building on a $7 million investment round it closed in March 2019.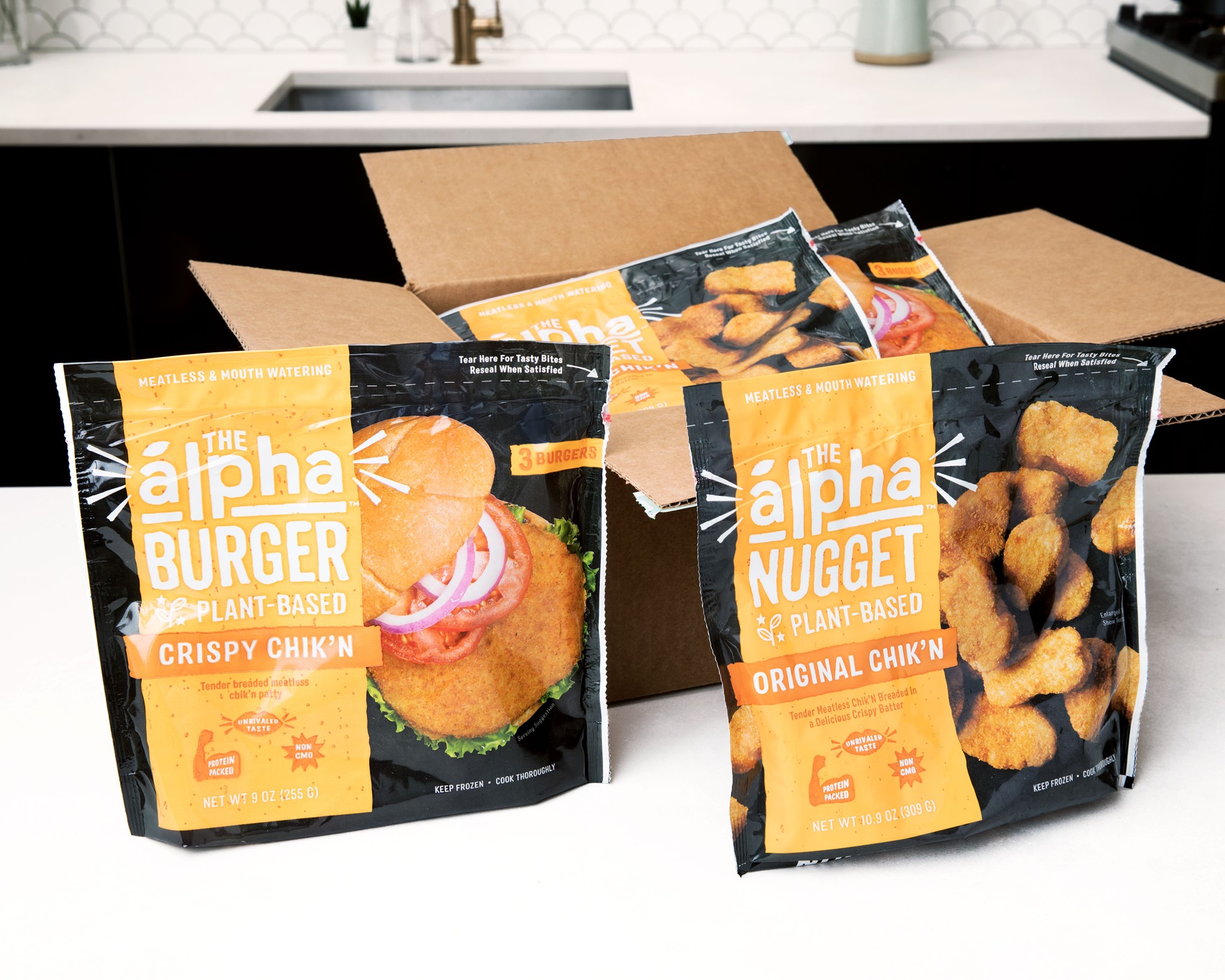 The year of the chicken wars
This year has been coined the year of the "Chicken Wars," as fast-food chains such as Popeyes, McDonald's, Burger King, Wendy's, and Chick-fil-A compete for the best new crispy chicken offering, setting off a corporate social media war following Popeyes' launch of its crispy chicken sandwich. This competition is also a contributing factor to the chicken shortage—and a great deal of animal suffering.
At the same time, vegan food companies have upped the game by launching or expanding on their vegan chicken alternatives. Last May, Alpha Foods launched its crispy vegan chicken patties at Costco stores in the Southeast region, Los Angeles, Hawaii, and Texas. This month, Field Roast's vegan chicken nuggets joined Alpha's patties on the shelves of Costco locations in the Los Angeles area.
Daring Foods—which briefly sold its vegan chicken at Costco—recently attracted the attention of hip-hop artist Drake, who helped the brand close a $40 million Series B funding round. Daring plans to use the funding to continue its mission of eliminating chickens from the food system by providing a viable, plant-based chicken alternative.
For more information about vegan chicken, read The Ultimate Guide to the Best Vegan Chicken Brands.