Vegan brand Beyond Meat is giving fans an opportunity to try its new vegan Beyond Chicken Tenders for free on National Chicken Tender Day. On July 27 only, any order on delivery platform DoorDash that includes Beyond Chicken Tenders will be credited $15 (at participating restaurants). Beyond Meat is offering the deal to both promote its new product but also to show consumers that plant-based chicken is an attractive alternative to traditional chicken.
"Our mission is to make delicious, better-for-you plant-based options accessible to everyone. We are excited about all the positive taste reviews that have started to roll in following our launch of Beyond Chicken Tenders across the country, and knew we had to find a way to give more consumers the opportunity to try and enjoy our latest product innovation," a representative for Beyond Meat told VegNews. "We partnered with DoorDash because the added convenience of on-demand delivery allows even more consumers—particularly Gen Z and Millennials—to try Beyond Chicken Tenders this National Chicken Tender Day."
As of last week, approximately 400 restaurants nationwide added the new Beyond Chicken Tenders to their menus, and they are serving them up in interesting ways. At Duke's on 7 in Minnesota, the vegan tenders are fried until golden brown and come in a basket with vegan ranch for dipping. Vegan chain Next Level Burger is stuffing Beyond Chicken Tenders into a triple-stack Beyond Chicken Animal Burger which is rounded out with tempeh bacon, grilled onions, cheese, special sauce, barbecue sauce, lettuce, tomato, and crinkle-cut fries. The vegan tenders are also available at a number of chicken-centric restaurants, including Fire Wings, Flyrite Chicken, Bird Bird Biscuit, and many more.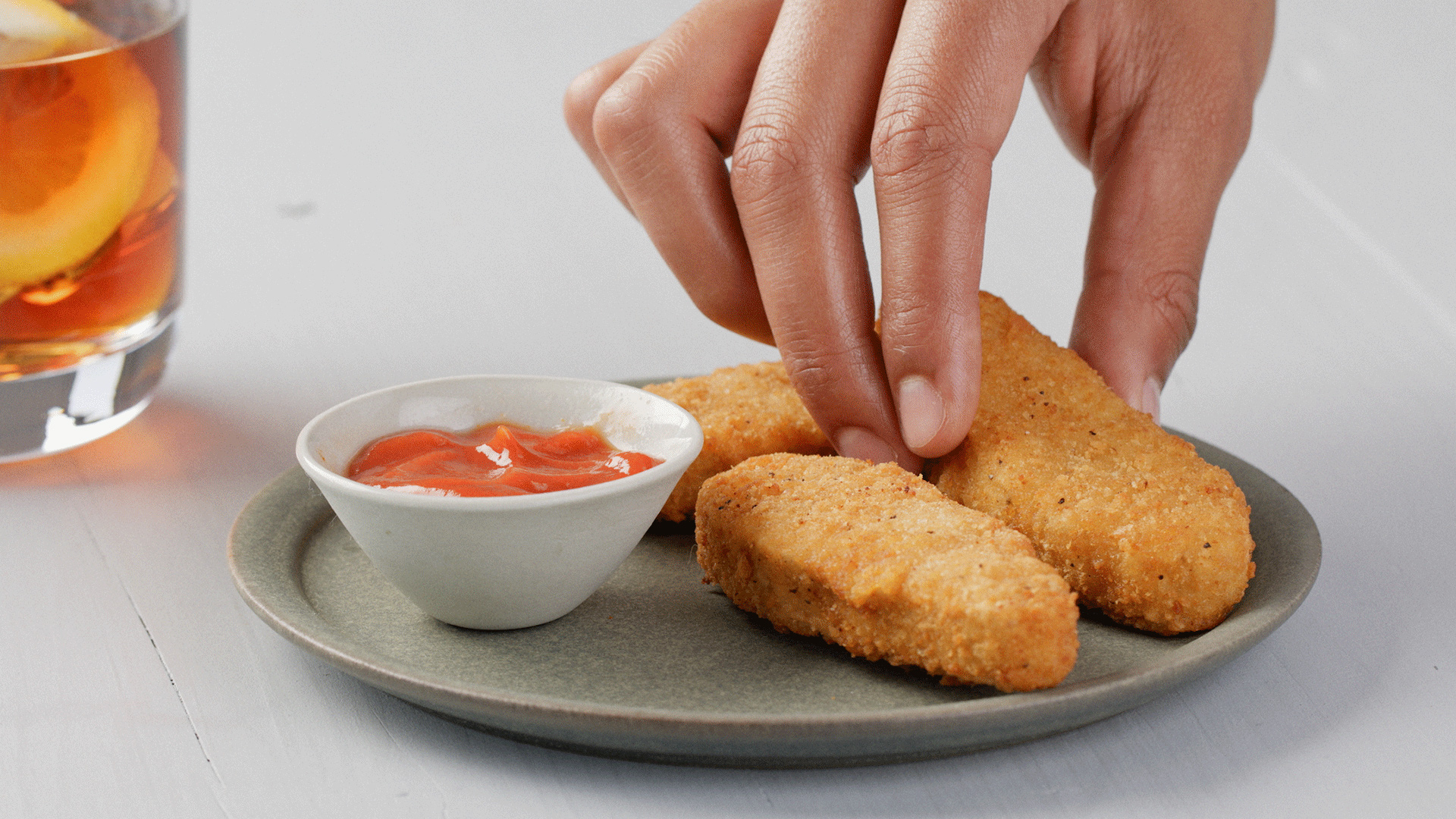 Beyond Meat's new vegan chicken tenders
The California-based brand is known best for its vegan ground beef alternative Beyond Burger. Since its launch in 2016, Beyond Meat has been iterating the Beyond Burger to better approximate cow meat. This year, the company released its Beyond Burger 3.0 version which features 35 percent less saturated fat (and 35 percent less overall fat) than an 80/20 beef patty and will release another Beyond Burger patty with half the saturated fat in 80/20 beef later this year.
While Beyond Meat has focused on vegan beef (and to some extent vegan pork), the brand is a pioneer in vegan chicken, as well. In 2012, Beyond Meat offered innovative vegan chicken strips that were widely available, including as part of a vegan chicken salad in some Whole Foods Markets' self-serve food bars. While that vegan chicken has since been discontinued, the innovation team at Beyond Meat has been working for nearly a decade to perfect vegan chicken, which the company unvieled earlier this month. Launched at a time when consumers are looking for more plant-based meat options, the new Beyond Chicken Tenders are made from a combination of faba beans and pea protein and serve as a substitute for chicken in appetizers, entrées, salads, sandwiches, and more.
"Now, more than ever, consumers are becoming more aware of the health implications of their food choices— specifically, the health concerns associated with animal protein, which is driving greater interest and trial in Beyond Meat. Throughout the pandemic, we have been able to continue meeting consumer demand for meat amid nationwide animal meat shortages," the representative said. "Growing interest in plant-based meat coupled with skyrocketing demand for chicken makes this the perfect time to launch plant-based chicken. Chicken is also the most popular meat in America, so we see a huge opportunity to reach an even wider segment of consumers."
The new vegan chicken tenders are currently only available in the foodservice sector and Beyond Meat has not announced plans for a retail launch.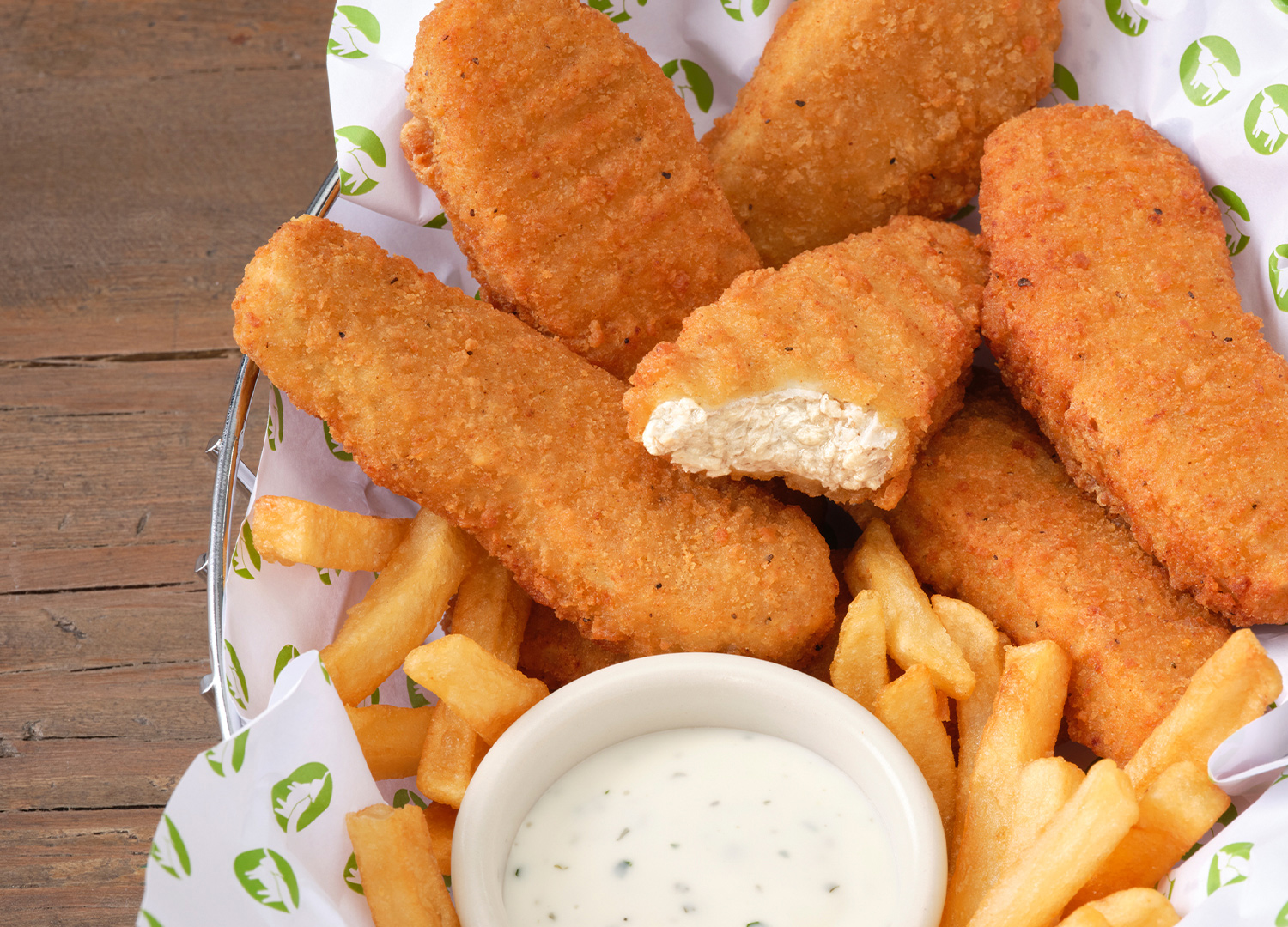 Panda Express gets into vegan chicken
Over the years, Beyond Meat has crafted a variety of bespoke products for its foodservice partners, including the wildly successful Beyond Fried Chicken that KFC tested in select markets in 2019.
The brand's newest fast-food partner is Panda Express, which worked with Beyond Meat to create a vegan version of its iconic orange chicken entrée. On July 26, select locations of Panda Express in New York City and Los Angeles will offer the limited-time option of Beyond The Original Orange Chicken which features a fully plant-based breading and is coated in a tangy vegan sauce similar to the chain's original orange chicken. The item will be the first time that Panda Express offers a plant-based meat on its menu and based on feedback from the test run, the chain might expand the option in a wider national rollout.
All of the restaurants where Beyond Chicken Tenders can be ordered on National Chicken Tender Day can be found here.