Nabisco has launched another Oreo cookie flavor, and just like the original, the new Salted Caramel Brownie Oreo is accidentally vegan. The limited-edition batch features the iconic Oreo chocolate wafer cookies sandwiched together with two layers of flavored crèmes and sprinkled with salt. Both the caramel and brownie crèmes fillings are vegan. These new Oreos have been steadily rolling out to stores throughout July. Soon, customers can find them anywhere Oreos are sold—from supermarkets to gas stations.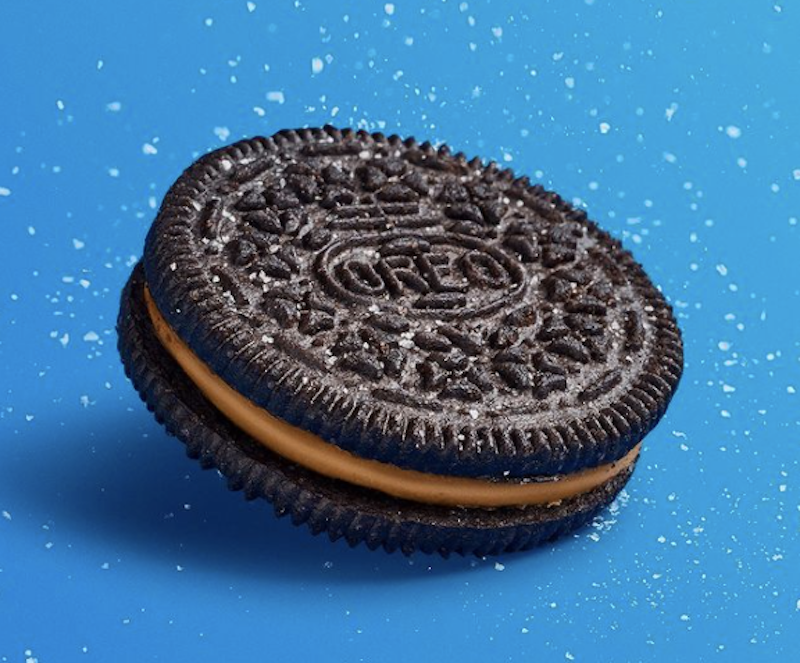 Oreo
How are Oreos vegan
The fact that America's favorite cookie happens to be vegan is the worst-kept secret among the plant-based crowd. It's the first thing people tend to find out after deciding to go vegan. Ever since 1997 when the brand eliminated lard from its recipe, Oreos have become a vegan staple, much like French fries or a plain salad when there are no other options while dining out. However, the fact that Oreos are accidentally vegan is a bit of a juxtaposition, particularly when one considers the crèmes element. The key here is in the spelling: crèmes, not cream. The FDA prohibits food companies from labeling their products as "cream" if they do not contain any dairy. The sweet center of an Oreo is completely dairy-free; therefore, crème it is.
To enhance shelf life, Nabisco omits dairy ingredients from the crème and cookie recipes. Instead, the filling is made with sugar, high fructose corn syrup, palm and/or canola oil, soy lecithin, food colorings, and non-animal artificial flavorings. While not a health food, the ingredients that make up this classic cookie are completely free from animal-derived ingredients. However, Oreos are made in facilities that process dairy ingredients, and cross contamination is something some vegans consider.
Between the Double-Stuffed, Carrot Cake, Mint, Golden, and other creations, more than 85 Oreo flavors have hit the market since the cookie's inception in 1912. While many are vegan-friendly, it's always recommended to check the ingredients for stray animal products. For example, the upcoming Apple Cider Donut Oreos contain honey.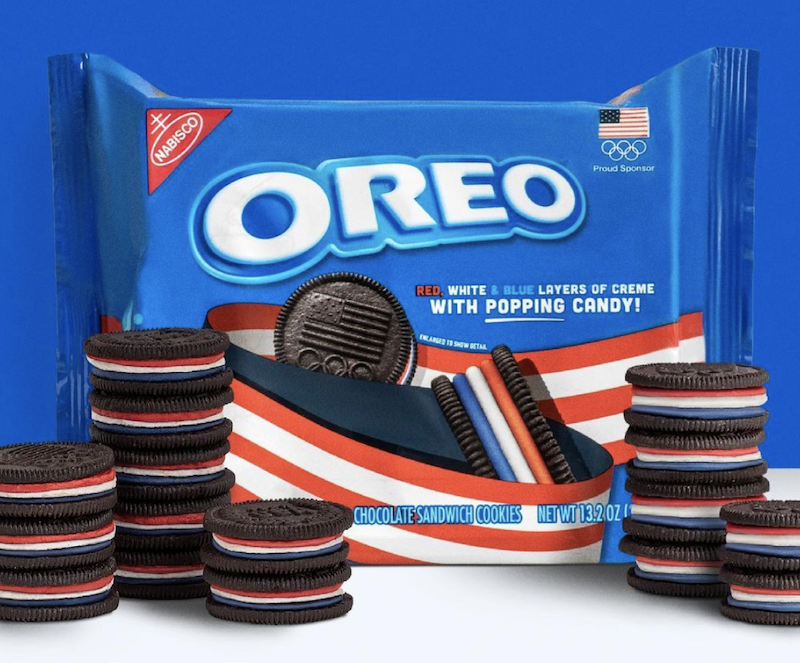 Oreo
More limited edition vegan Oreos
The sweet-and-salty Salted Caramel Brownie Oreo is just one of the new flavors to debut this summer. In celebration of the 2020 Tokyo Olympics, the brand launched Team USA Family Size Oreos. While the taste is the same as the original, these chocolate wafer cookies are stamped with the American flag and the Olympic rings. Each super-stuffed cookie is sandwiched together with three layers of colored crème filling—red, white, and blue.
In December 2020, Oreo launched a special collaboration with Lady Gaga. The entertainer's limited edition Chromatica Oreos featured a vegan-friendly, Golden wafer cookie dyed hot pink accented with bright green crème. Like many of the Oreo renditions that have come and gone, Chromatica Oreos are no longer in production.
Accidentally Vegan Cookies
Oreos are just one of the many accidentally vegan cookies consumers can find on most supermarket shelves. Big brands such as Biscoff, Nutter Butters, Fig Newtons, Nabisco Original Graham Crackers, Trader Joe's JoeJoe's, and multiple flavors of Girl Scout cookies are devoid of animal ingredients by nature.
Adjacent to the cookie aisle, vegans can find several animal-free options along the baking shelves. Like Oreos, many commercial tubbed frostings do not contain any dairy, eggs, or lard. Betty Crocker's Rich & Creamy Vanilla, Pilsbury's Funfetti Vanilla Flavored Frosting, and Duncan Hines Creamy Chocolate Frosting are vegan—among many others. Similarly, boxed cake mixes tend to be vegan as-is, though a vegan egg replacement is often necessary to prepare the cake.
For more accidentally vegan finds at the supermarket, view the VegNews Guide: 17 Things Already In Your Grocery Cart You Didn't Know Were Vegan.