Recipes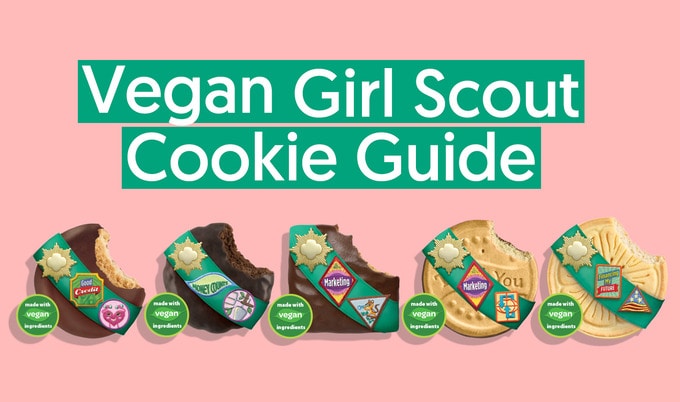 The VegNews Guide to Vegan Girl Scout Cookies (+downloadable guide!)
With the 2020 cookie season in full swing, make sure you know if yours are vegan.
February 1, 2020
---
From January to April, we're keeping an eye out for the girls in green sashes selling their deliciously addictive (and increasingly vegan-friendly) cookies. These treats aren't just for us, though. Every box sold helps a scout learn essential skills in entrepreneurship, compassion, and communications. Read on to find out which flavors are vegan-approved and how they help a scout out. Don't forget to take this printable guide on your cookie quest!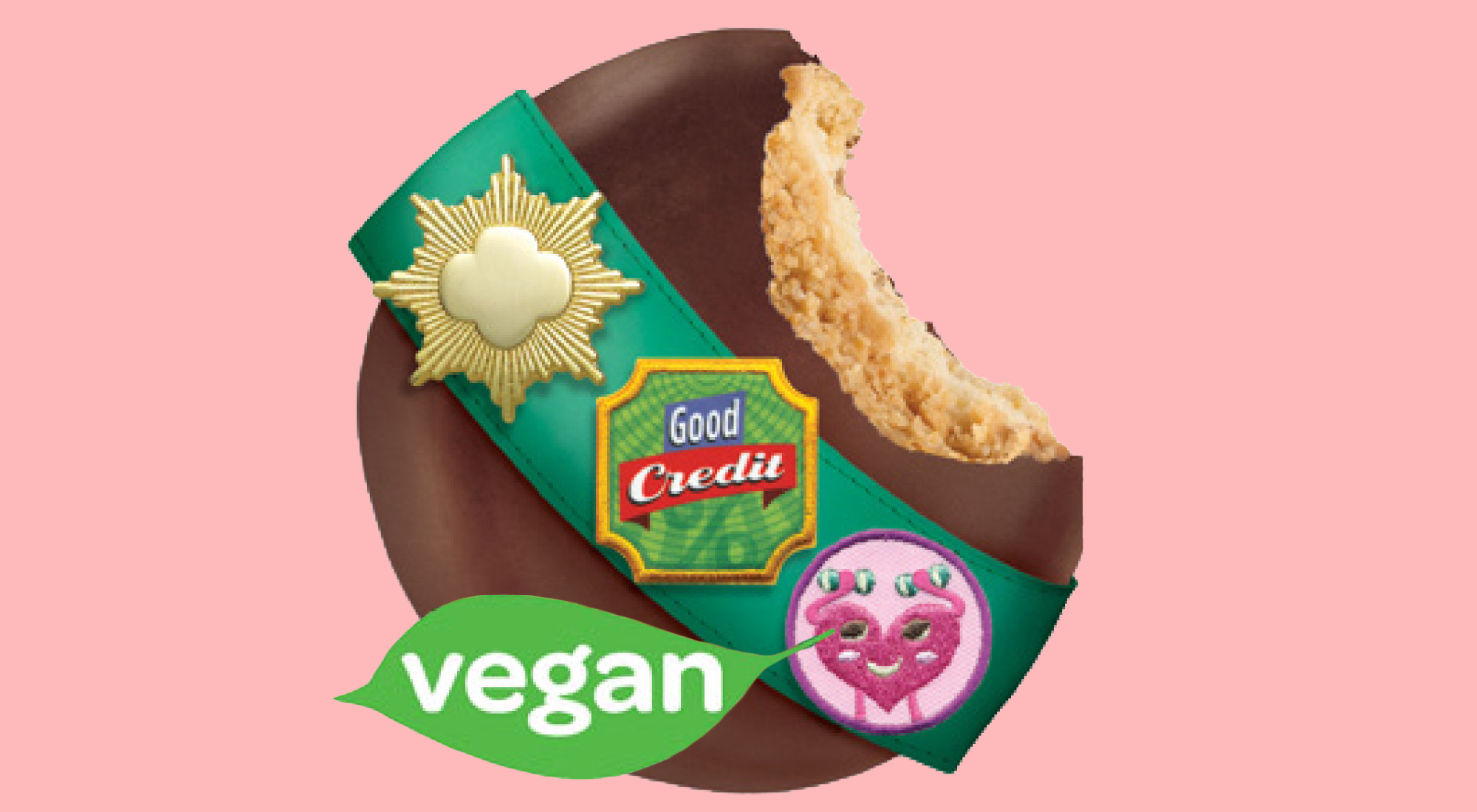 Peanut Butter Patties
If the peanut butter cup could be improved, Peanut Butter Patties are it. Crispy vanilla cookies are topped with sweet, creamy peanut butter and enrobed in vegan chocolate. Make sure you don't mistake them for Tagalongs, though. While Peanut Butter Patties made by ABC Bakers are vegan, their cousins—Tagalongs, made by Little Brownie Bakers—contain milk.
How you help: In a world of endless options and pathways prompted by marketing and social media, these crispy yet creamy cookies focus on teaching a life skill we wish we managed better: decision making. Scouts are taught how to plan, solve problems, commit to action, and think creatively. At least we can be decisive about one thing—we want these cookies.
How VegNews staffers eat them: Sandwiched with Dandies vegan marshmallows to make a peanut buttery s'more.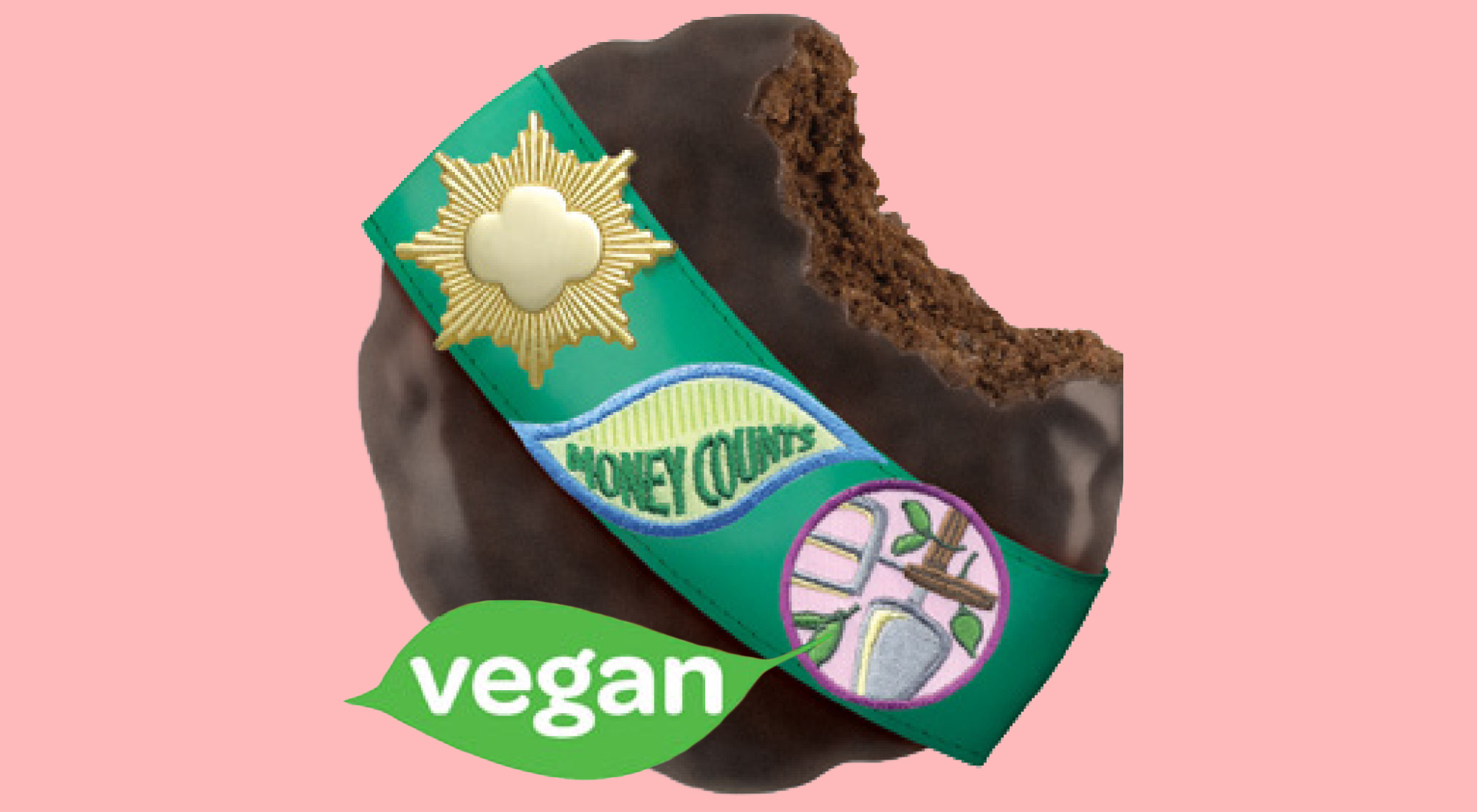 Thin Mints
These eat-the-whole-box minty chocolate cookies remain best-sellers year after year. They're great crumbled into non-dairy ice cream, dunked into hot chocolate, and of course, nibbled straight from the box!
How you help: These popular cookies help teach a skill we could all improve on: money management. Scouts learn how to track orders, keep records, and develop essential skills necessary for any young entrepreneur.
How VegNews staffers eat them: Straight from the freezer for a minty cool treat.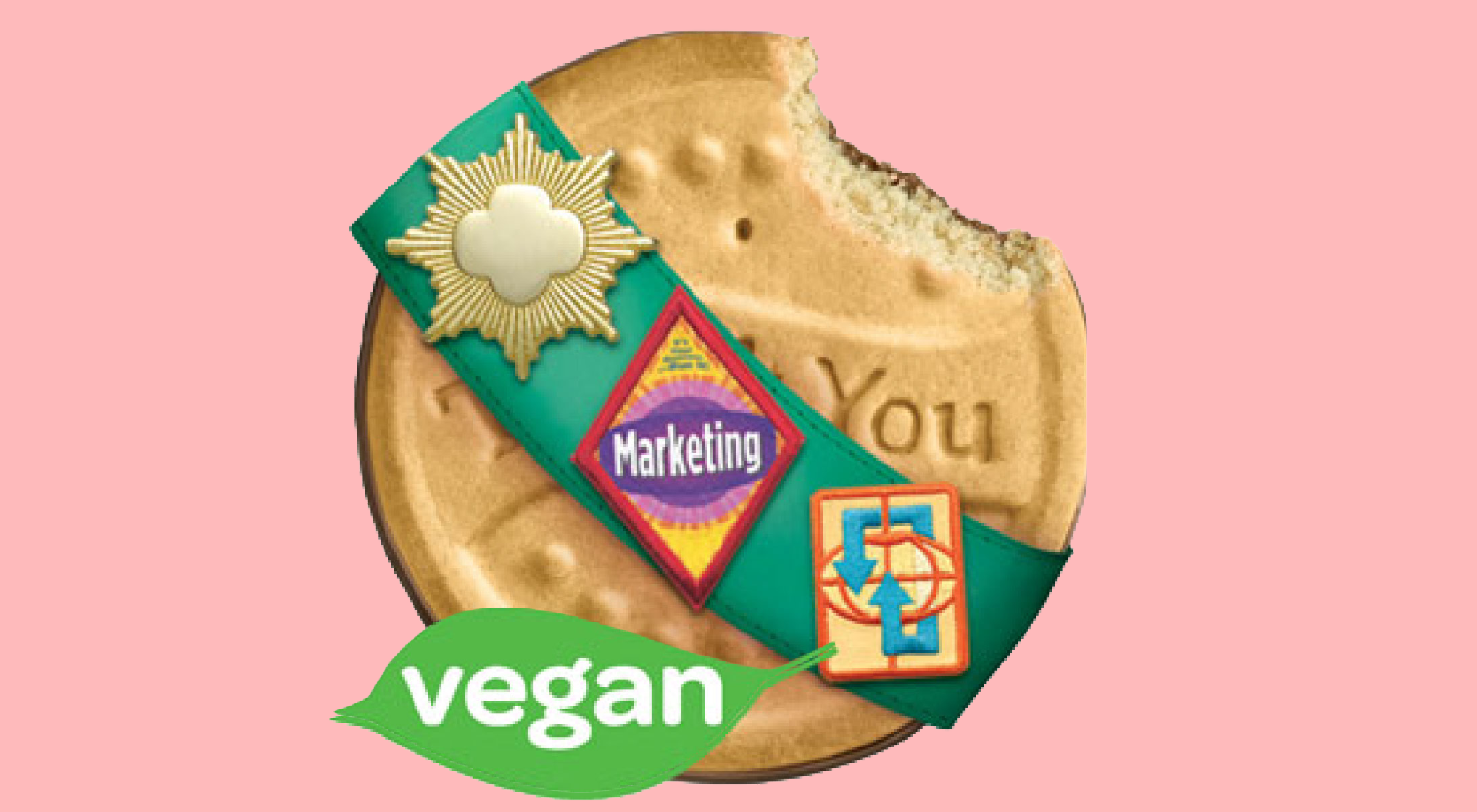 Thanks-A-Lot
These buttery shortbread cookies are dipped in rich fudge and inscribed with their "Thank You" namesake in either English, French, Chinese, Swahili, or Spanish. We'll take two boxes—one for us and one for a friend—thank you very much!
How you help: Each box of these tasty treats focuses on Girl Scout skill number three: business ethics. Scouts learn about integrity and fairness—both in business and social situations. Scouts' honor!
How VegNews staffers eat them: At high tea accompanied by a hot cup of Earl Grey and mini cucumber sandwiches.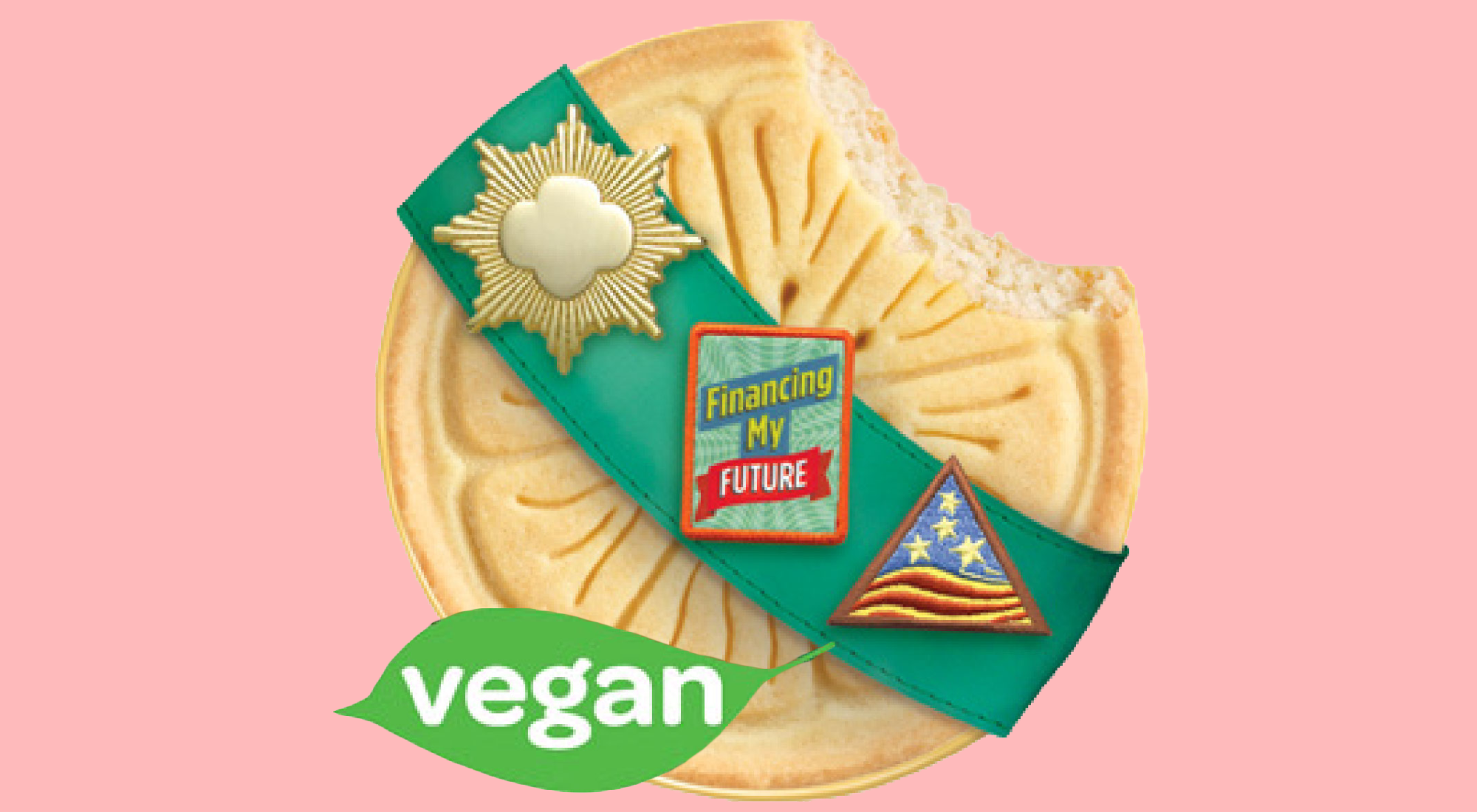 Lemonades
Pucker up! These citrusy shortbread cookies balance tart and sweet with a tangy lemon icing and a sweet, crumbly base. Don't confuse them with the latest 2020 flavor—Lemon-Ups—as this new cookie contains milk.
How you help: When you hand over your five dollars for a box of these citrusy sweets, you're contributing to a scout's goal-setting skills. Girls learn how to organize a sale, build goals, and follow through.
How VegNews staffers eat them: Crushed, mixed with melted Miyoko's butter, and pressed into a pie crust for a fluffy aquafaba-based lemon meringue pie.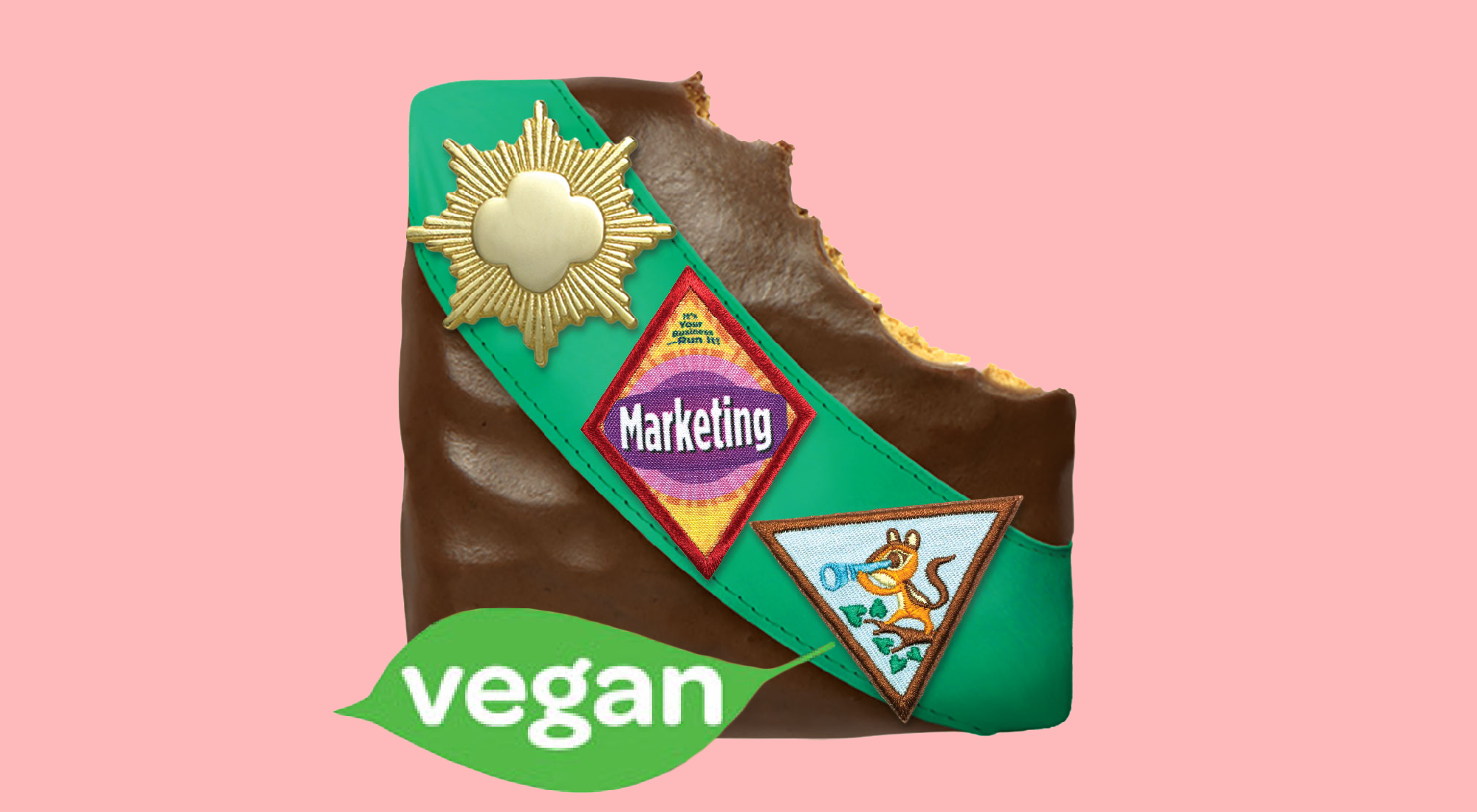 Girl Scouts S'mores
Too lazy to make a vegan s'more? The Girl Scouts have you covered. The vegan version of this cookie is made by ABC Bakers and features a crunchy graham cracker slathered with a dairy-free icing and dunked in chocolate coating. When you purchase your box, make sure the picture shows a chocolate cookie—not something that looks like a graham cracker sandwich. The latter is made by Little Brownie Bakers and is not vegan. A good rule of thumb is to trust in ABC Bakers when selecting your cookies.
How you help: While these campfire treats aren't geared toward any specific skill, the proceeds benefit the Girl Scout programming and help mold the boss babes of the future.
How VegNews staffers eat them: Crushed between layers of vegan chocolate pudding and aquafaba marshmallow fluff for a deconstructed s'mores parfait.
Don't miss our handy downloadable guide to vegan Girl Scout cookies! Prefer to make your own cookies? Check out these delicious veganized versions.
Please support independent vegan media and get the very best in news, recipes, travel, beauty, products, and more.
Subscribe now to the world's #1 plant-based magazine!
Subscribe
Give a Gift