Vegan crab cakes by Good Catch Foods are now available in wholesale retailer BJ's Wholesale Club nationwide. The Plant-Based New England Style Crab Cakes are made with the company's proprietary six-legume blend to achieve a texture that mimics the flakiness of traditional seafood, seasoned with sweet peppers, green onions, parsley, and a kick of spice. At BJ's, they are now offered in a bulk pack of 24 crab cakes for $13.99—which works out to approximately $0.58 per crab cake. This is the first partnership between the Good Catch Foods and BJ's Wholesale Club.
"We offer a craveable range of innovative products that fill a gap in the market, and consumers across the country are asking for products like ours," Christine Mei, CEO of Gathered Foods (makers of Good Catch), said. "Our Plant-Based Crab Cakes have continued to be a fan favorite, and we're excited to expand our reach with new availability at BJ's. This launch truly represents the tremendous growth of plant-based offerings and how seafood-alternatives are continuing to spark mass consumer interest."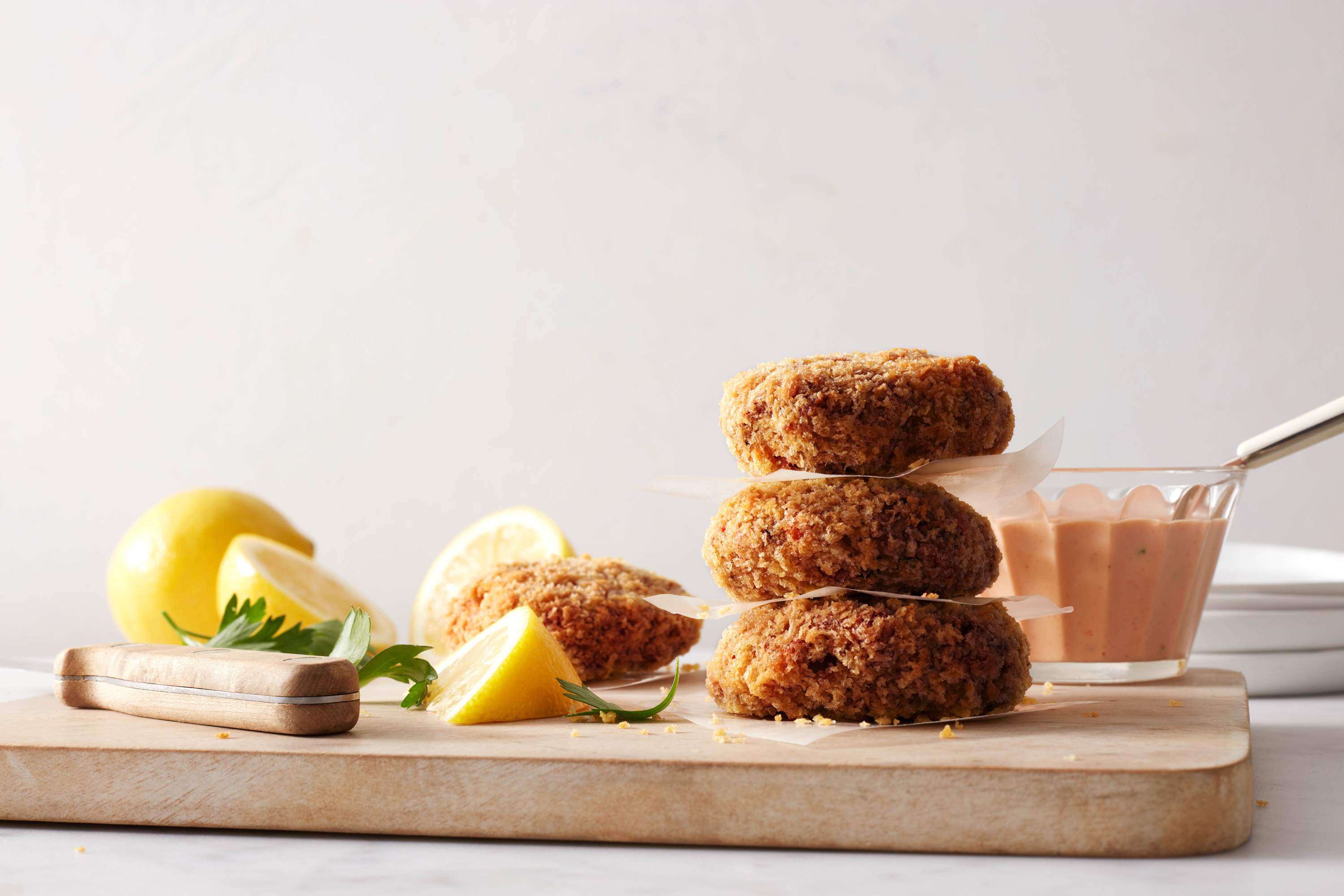 The Plant-Based New England Style Crab Cakes are part of Good Catch's frozen line of entrees and appetizers, alongside the Plant-Based Classic Fish Burgers and Plant-Based Thai Style Fish Cakes. In May, the brand expanded its frozen offerings with a breaded line that features Plant-Based Fish Fillets, Plant-Based Crab Cakes, and Plant-Based Fish Sticks.
Vegan crab cakes are making waves
Good Catch is a mission-driven brand founded by pioneering vegan chef brothers Derek and Chad Sarno that aims to offer the taste, texture, and eating experience of seafood without the need to slaughter animals or destroy the world's oceans. Good Catch products include single-serve, ready-to-eat pouches of Plant-Based Tuna and a frozen line of entrees and appetizers that are available in retailers across the United States and Canada, with wider distribution currently in the works.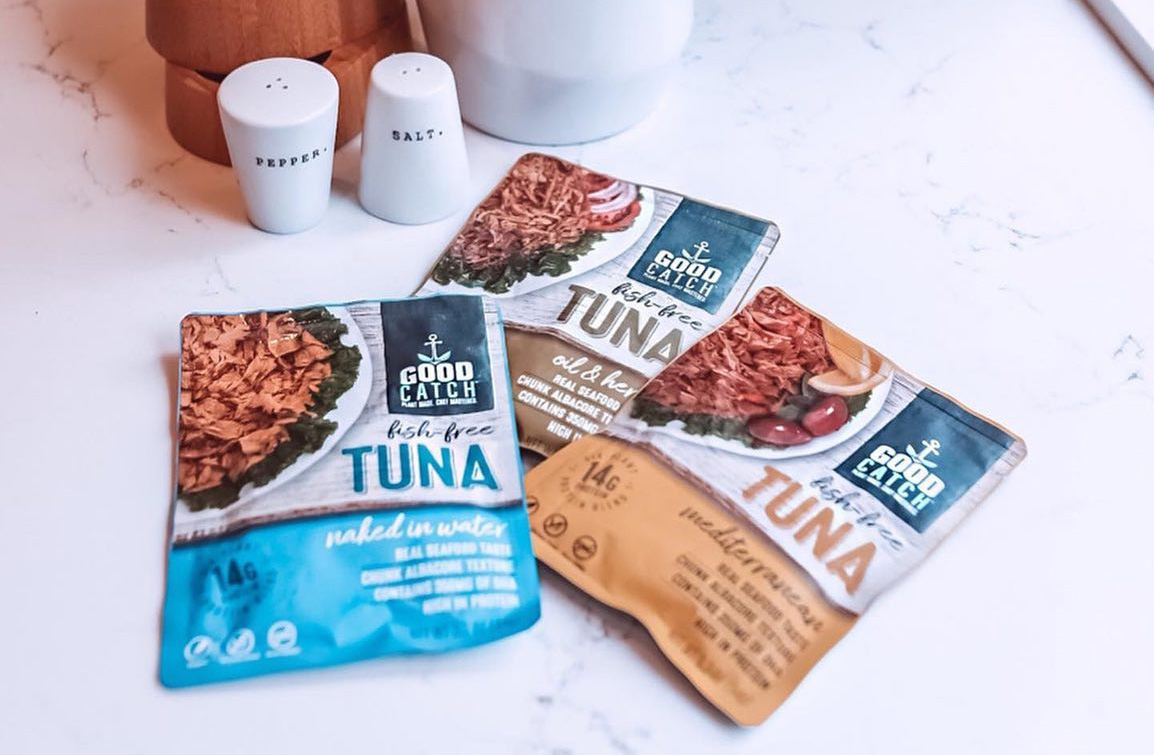 Over the last year, Good Catch has also been growing its foodservice footprint. In 2020, the brand partnered with vegan restaurant chain Veggie Grill to offer an exclusive tuna melt at Veggie Grill's 37 locations nationwide. Earlier this year, Good Catch expanded its plant-based, deli-style tuna into the prepared foods section of select Whole Foods Markets. The seafood brand also partnered with eatery Bareburger to launch a signature vegan menu item called "The Gulf," featuring the Good Catch fish-free patty, lettuce, tomato, red onion, cucumbers, vegan mayonnaise, and vegan green goddess dressing on a sprouted bun.
Most recently, Good Catch launched its new Breaded Plant-Based Fish Fillets and Plant-Based Crab Cakes for a limited time in Long John Silver's—the largest seafood chain in the United States—as the first plant-based offering served at the chain.
Vegan tuna at Subway?
In July, Good Catch Foods found a new way to promote its plant-based seafood to one particular foodservice chain. Good Catch deployed trucks to New York City, NY, Austin, TX, and London, England to give out free vegan tuna sandwiches in front of Subway restaurants. The event was part of a larger #FishFreeforGood campaign to push Subway to ditch fish on its menu after the chain's tuna became the subject of debate. A lawsuit filed by two customers sparked a New York Times investigation into Subway's tuna, and a subsequent lab test found that it might not contain tuna DNA at all. Subway CEO John Chidsey responded that the chain is proud of its tuna and explained that the test was faulty because the DNA in cooked tuna is denatured.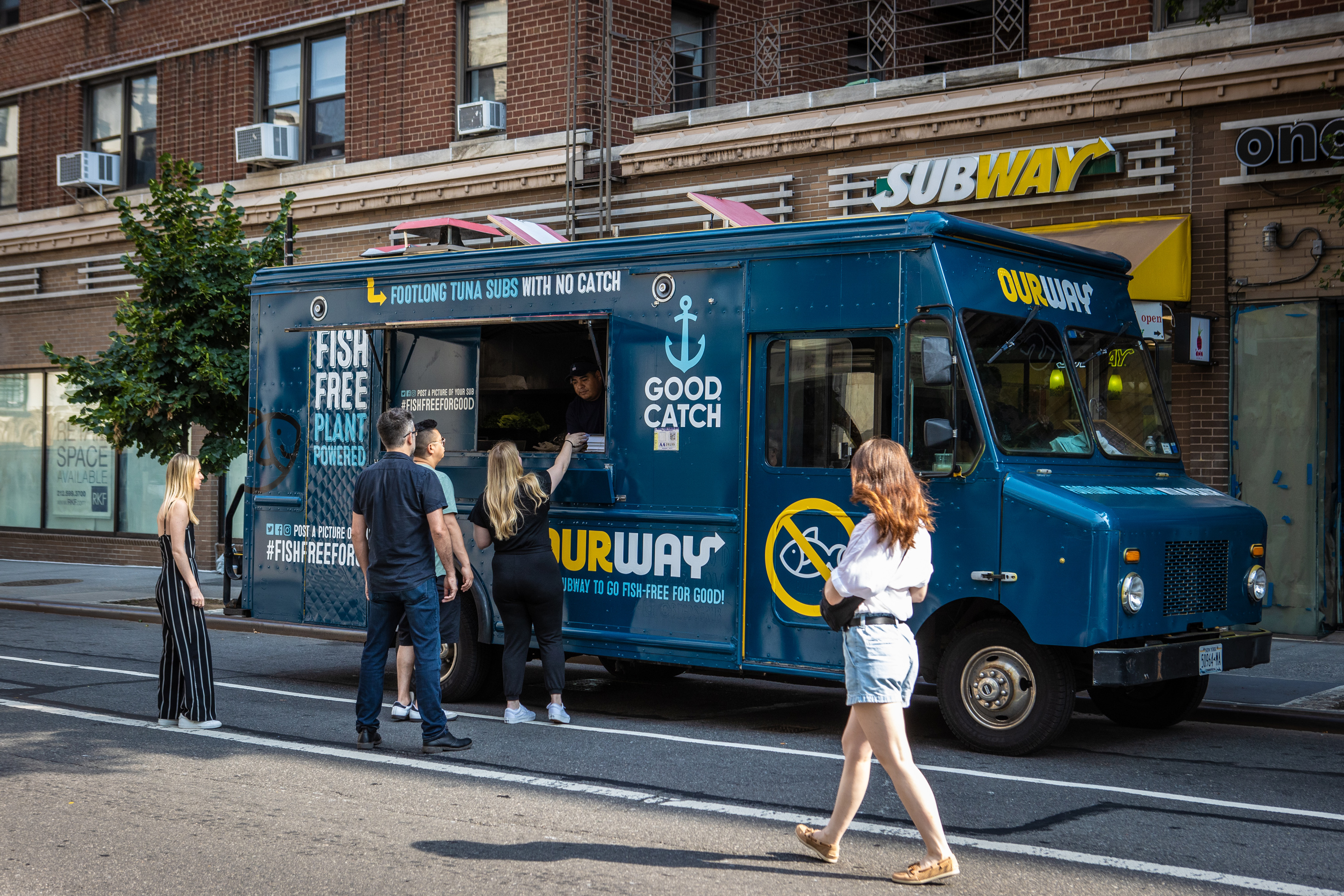 While the debate raged on, Good Catch took matters into its own hands by offering passersby free sub-style sandwiches made with its Plant-Based Tuna. The brand outfitted its trucks with an "OurWay" logo to mimic Subway's own branding and a slogan that stated "footlong subs with no catch"—referring to the DNA controversy but also to bycatch, or animals such as dolphins and turtles caught in industrial fishing nets. After the event, Subway lawyers reached out to Good Catch with a cease-and-desist letter about its "OurWay" advertising. In the letter, Subway teased that it would be working on more plant-based options to meet growing demand for meat alternatives.
With or without Subway on board, Good Catch is continuing to team up with other foodservice partners to meet the growing consumer demand for vegan seafood nationwide and across the world.