On August 11, a vegan burger will be available at the Shake Shack in Harlem, New York for a limited time thanks to a collaboration between the fast-food chain and vegan entrepreneur Pinky Cole. The SluttyShack—a blended name that refers to Cole's Atlanta, GA-based chain Slutty Vegan and Shake Shack—will feature a Shake Shack veggie patty topped with Pinky's secret Slut Dust, lemon ginger kale, caramelized onions, vegan ranch, and vegan mayo on Slutty Vegan's signature toasted Hawaiian bun. The limited-time burger is part of Shake Shack's "Now Serving" series, a collaboration initiative with local chefs across America that supports local organizations.
"Our mission isn't to tell people to go vegan—but rather, to inspire guests to open up horizons with something new and different. Partnering with Shake Shack is a natural way of furthering this mission—enjoy one of America's most beloved burger spots, but try it with a twist," Cole said. "Philanthropy is the core of who I am, and I'm encouraged by Shake Shack's aligned outlook on giving back to its communities. Our goal with this collab is to build support for communities and industries close to our hearts."
Vegan burgers at Shake Shack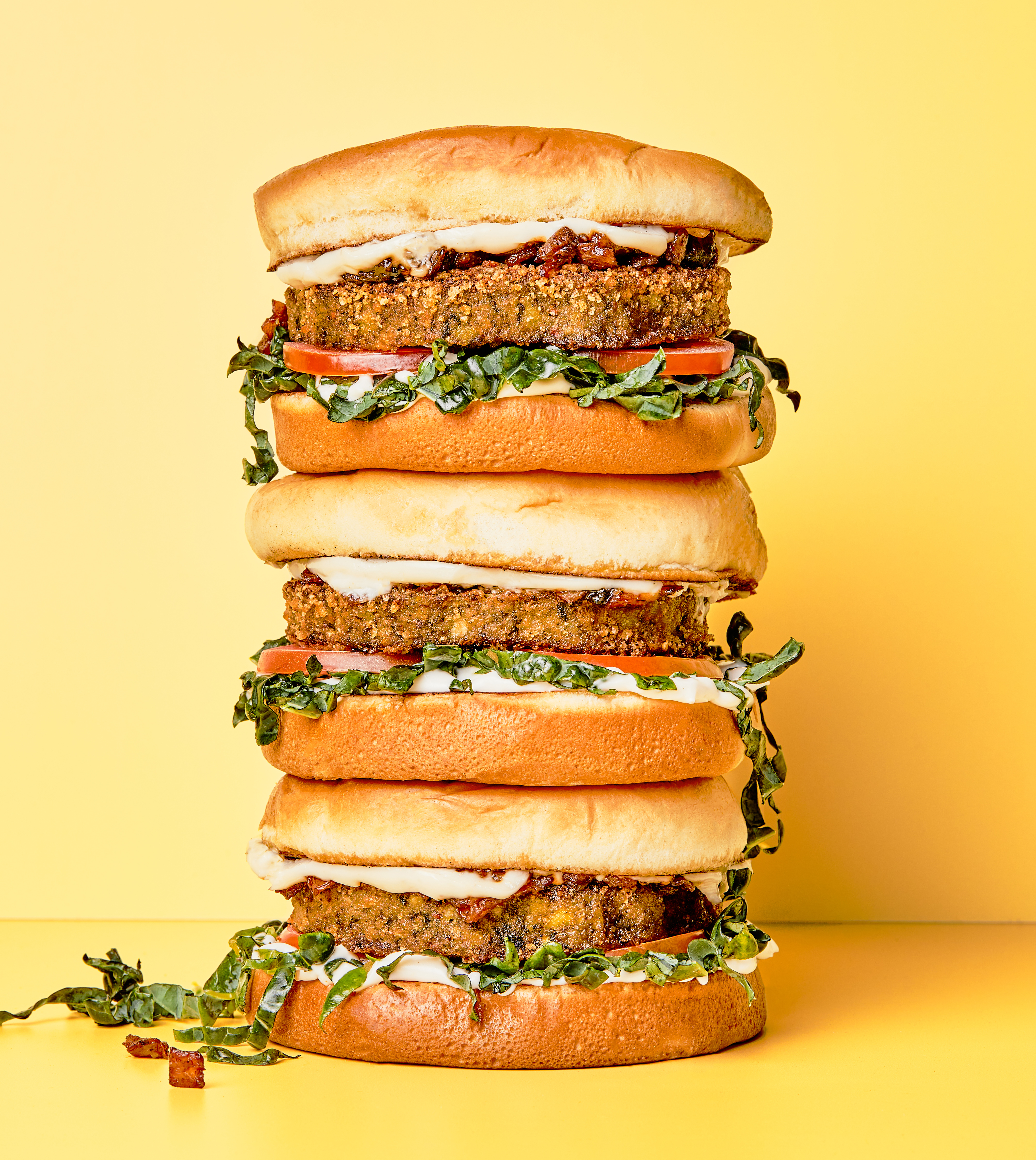 The vegan SluttyShack burger was first available in April at the Old Fourth Ward Shake Shack in Atlanta (which is located near Slutty Vegan's Edgewood location) and proceeds from its sales went to benefit crisis relief organization Giving Kitchen.
After a brief postponment due to COVID-19 percautions, the SluttyShack ($8.49) will now also be available at the Shake Shack in Harlem, NY, where Cole operated Pinky's Jamaican and American Restaurant until a fire forced her to shutter the business in 2016. Proceeds from the SluttyShack here will benefit ROAR, a coalition of hospitality leaders who advocate for the NYC restaurant industry. The Harlem event will be attended by NYC musical artist DJ Menyu and Cole, and guests will get custom SluttyShack swag (while supplies last).
"Over the last year, we've all heard of Pinky Cole and the impact she's making, not just in Atlanta and New York, but across the country," Mark Rosati, Culinary Director of Shake Shack, said. "Having the chance to collaborate with her and her team on this burger has been an honor—not only has it been fun and creative, but it's been inspiring. We're proud to work alongside the Slutty Vegan team and support communities near and dear to us both, and after a successful run in Atlanta, we're excited to bring the SluttyShack to our New York fans, too."
Cole's vegan empire
After closing Pinky's, Cole picked up the pieces and turned her love of vegan food into a growing empire that supports her community at every turn. Cole first launched Slutty Vegan as a food truck in August 2018, selling provocatively named vegan burgers made with an Impossible Burger patty that comes stacked with various toppings and slathered with a secret sauce. After the truck drew five-hour lines of more than 500 hungry guests waiting to be "sluttified," Cole opened her first brick-and-mortar location in Atlanta in January 2018—attracting 1,200 customers on opening day. Currently, Cole operates three Slutty Vegan locations in Georgia and recently opened spinoff concept, Bar Vegan, at the Ponce City Market in Atlanta serving vegan Philly cheesesteaks and inventive cocktails. Slutty Vegan's first restaurant location outside of Georgia is planned for Birmingham, AL later this year.
Through her nonprofit The Pinky Cole Foundation, the 33-year-old mission-driven entrepreneur supports community building and social justice initiatives. During the course of the COVID-19 pandemic and the renewed fight for racial justice sparked by the police killing of George Floyd last summer, some of the foundation's efforts have included paying the tuition balances of 30 Clark Atlanta University students in an effort to help them stay in school; paying the rent for small businesses in the Metro-Atlanta area to keep them afloat during the pandemic; and partnering with HBCU Clark Atlanta University (Cole's alma mater) to send the four children of Rayshard Brooks—yet another Black man killed by police last summer—to college when they are ready.