California-based vegan brand Alpha Foods is being "sued" by America's most famous meat-eaters—an "anonymous" Colonel Sanders of KFC restaurants, Ronald McDonald of the McDonald's empire, and Wendy of Wendy's chain of restaurants. The lawsuit alleges that the vegan brand has accidentally turned them all vegan. The famous fast-food mascots are seeking compensation because of their newfound cravings for vegan burgers, burritos, and nuggets after tasting Alpha Foods' products.
The fictional litigation is part of Alpha Foods' clever new campaign that pokes fun at meat-eaters who tend to avoid plant-based products, while marketing Alpha Foods' meatless products as tasting identical to the real thing.
New vegans Ronald McDonald, Colonel Sanders, and Wendy want justice
"Did you unknowingly become vegan because of Alpha Foods' plant-based products that taste too good to be true?" a "lawyer" asks at the start of the commercial. "Visit AlphaFoodsClassAction.com right now." The commercial then moves to a blurred-out Colonel Sanders, who says: "After I started eating chicken nuggets from Alpha Foods, I couldn't help myself. I was hooked." A blurred-out Ronald McDonald adds: "I got duped into becoming vegan and it makes me sad. It's my job to be happy. So I'm suing for lost wages."
"Help me hammer Alpha Foods so bad that no one will ever again be victimized by a plant or any number of plants," the lawyer continues. Consumers are asked to call 1-833-NO-PLANTS or register on the website to join the fictional lawsuit—but instead they will receive a free Alpha Foods burrito or a $1 coupon for any Alpha Foods product.
"You don't have to change your entire diet and personality when you try plant-based—just change up what you eat on a Wednesday night," Kierstin De West, Alpha's Chief Marketing Officer, said. "As the flexitarian movement grows, there's never been a better time to try something new that's good for your body—it's all the benefits without the sacrifice."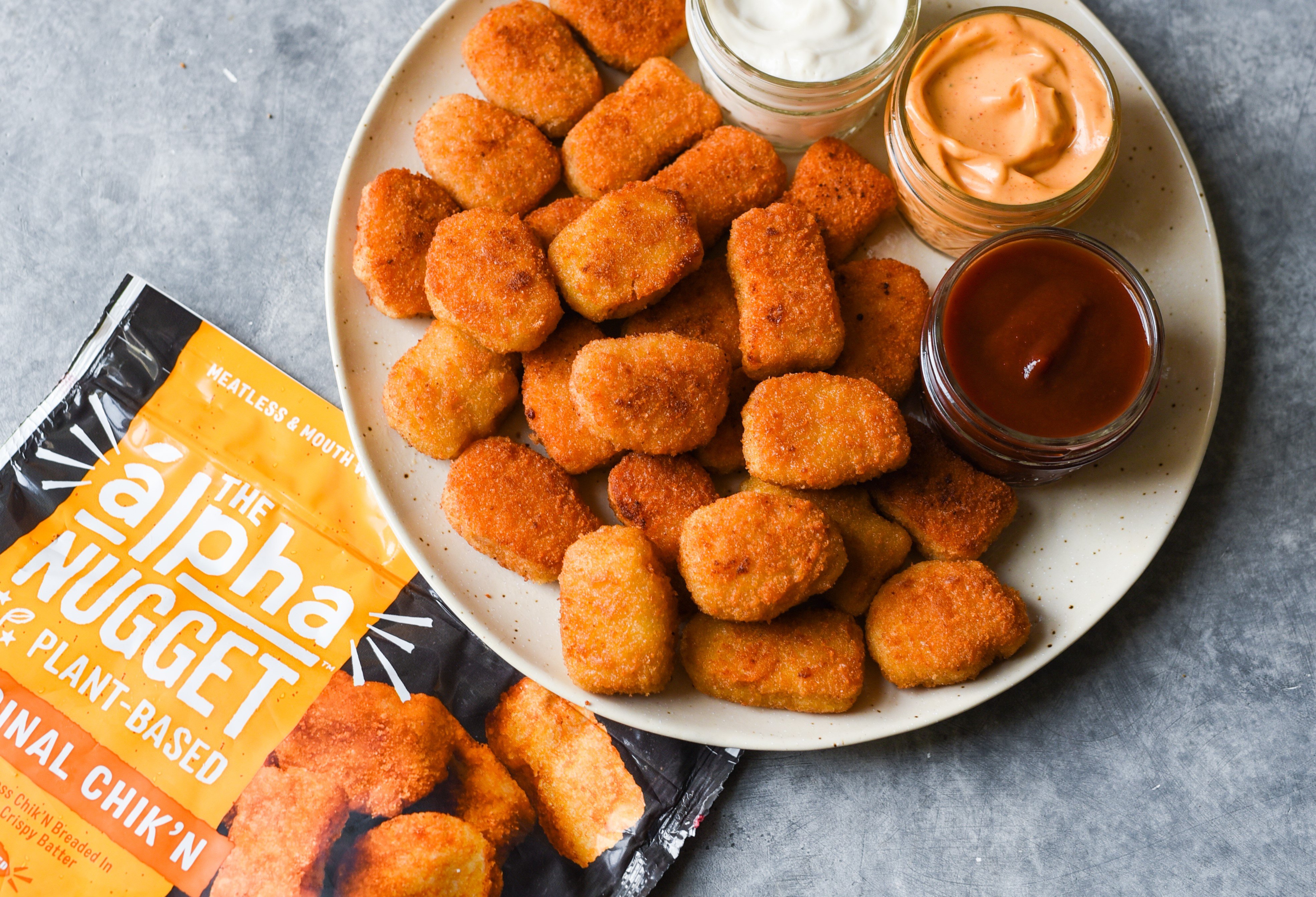 Alpha Foods entices meat-eaters
This is not the first campaign that Alpha Foods has come up with to encourage meat-eaters to try plant-based products. In July, the brand countered the skyrocketing prices of animal-derived chicken by dropping the price of its own vegan chicken nuggets. Dubbed the "chickenflation"—when chicken meat nearly quadrupled in price due to a supply shortage across the country—Alpha Foods reduced the price of its vegan chicken nuggets by the same amount that animal-derived chicken went up during the campaign. The discount offer played into the difference in inflation for that week, allowing customers to take nearly 30 percent off their purchase.
During the campaign, Alpha street teams were also positioned with coupon handouts outside of fast-food restaurant chain Popeyes and other locations throughout New York City's Times Square. To bring further visibility to the issue of surging prices of animal meat and its corresponding effect on the stock market, Alpha took over the iconic digital billboard at NASDAQ in NYC, as well as a full-page ad space in The Wall Street Journal.
In addition to its Chik'n Nuggets, Alpha Foods offers dozens of other vegan products, including pizzas, tamales, burgers, and crumbles, which are available at more than 9,000 stores nationwide. Last year, the company raised $28 million in new funding, building on a $7 million investment round it closed in March 2019.