Today, Impossible Foods announced the retail and foodservice launch of its vegan chicken nuggets. The new Impossible Chicken Nuggets Made from Plants are crafted from a base of soy and sunflower oil and feature a crispy breadcrumb coating and a juicy, meaty interior. Impossible's plant-based nuggets will begin heading to grocery stores this month, including Walmart, Kroger, ShopRite, Safeway, and Gelsons (the first supermarket to sell its Impossible Burgers).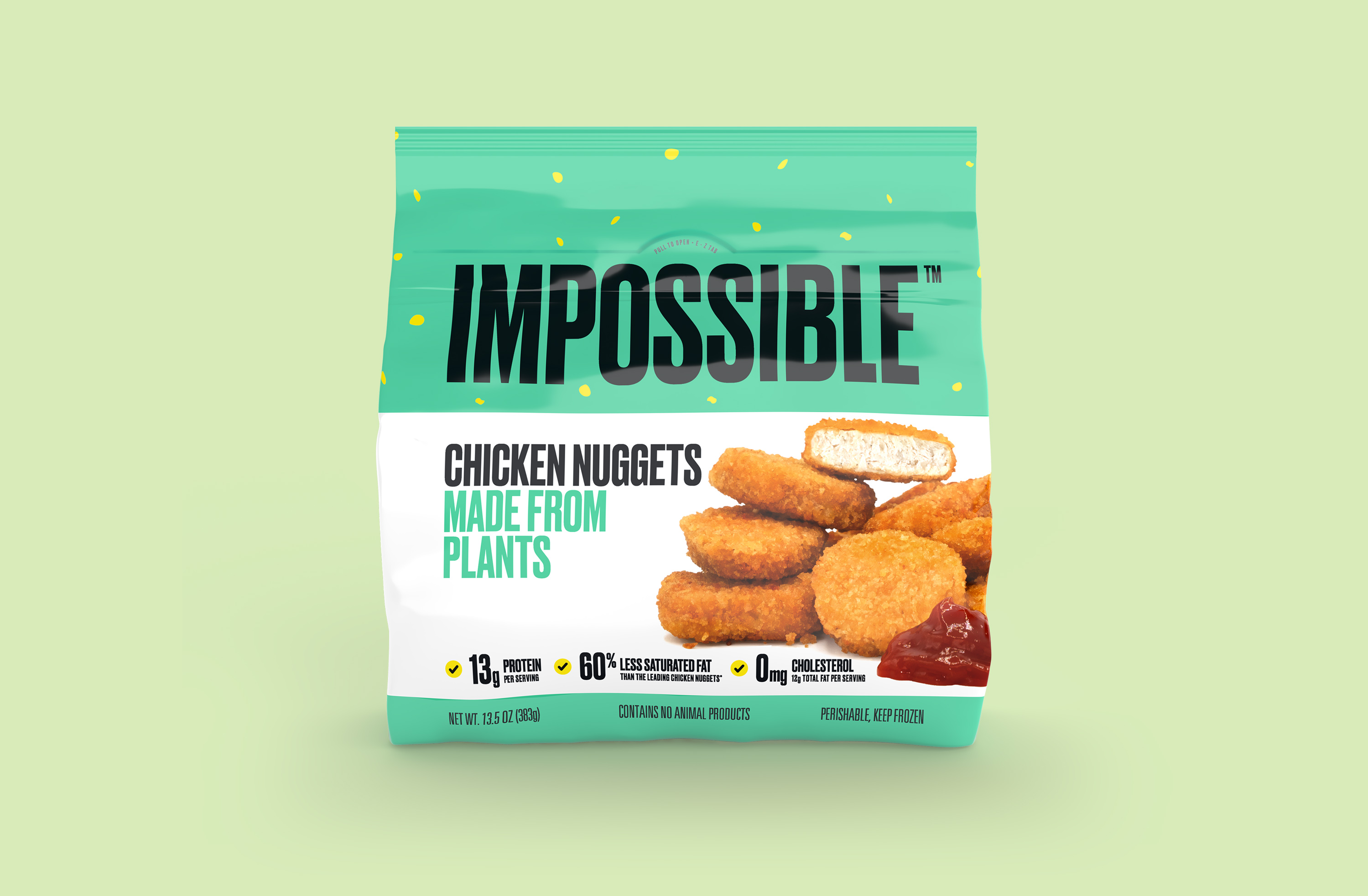 Impossible Foods aims to get its new plant-based chicken nuggets on shelves at 10,000 stores by the end of the year where they will be sold fully cooked and ready to reheat in resealable freezer bags at a suggested retail price of $7.99 per 13.5-ounces (approximately 20 nuggets). This launch represents the first time that Impossible Foods has offered plant-based chicken and the third category of meat—following beef and pork—that the startup has replicated using plants.
"Our technology platform allows us to recreate animal products across protein categories that outperform the animal versions in every way," Impossible Foods President Dennis Woodside said. "Poultry is the most consumed meat in the United States, and Impossible Chicken Nuggets represent an incredible opportunity to transform the industry with a more delicious and sustainable version of a classic."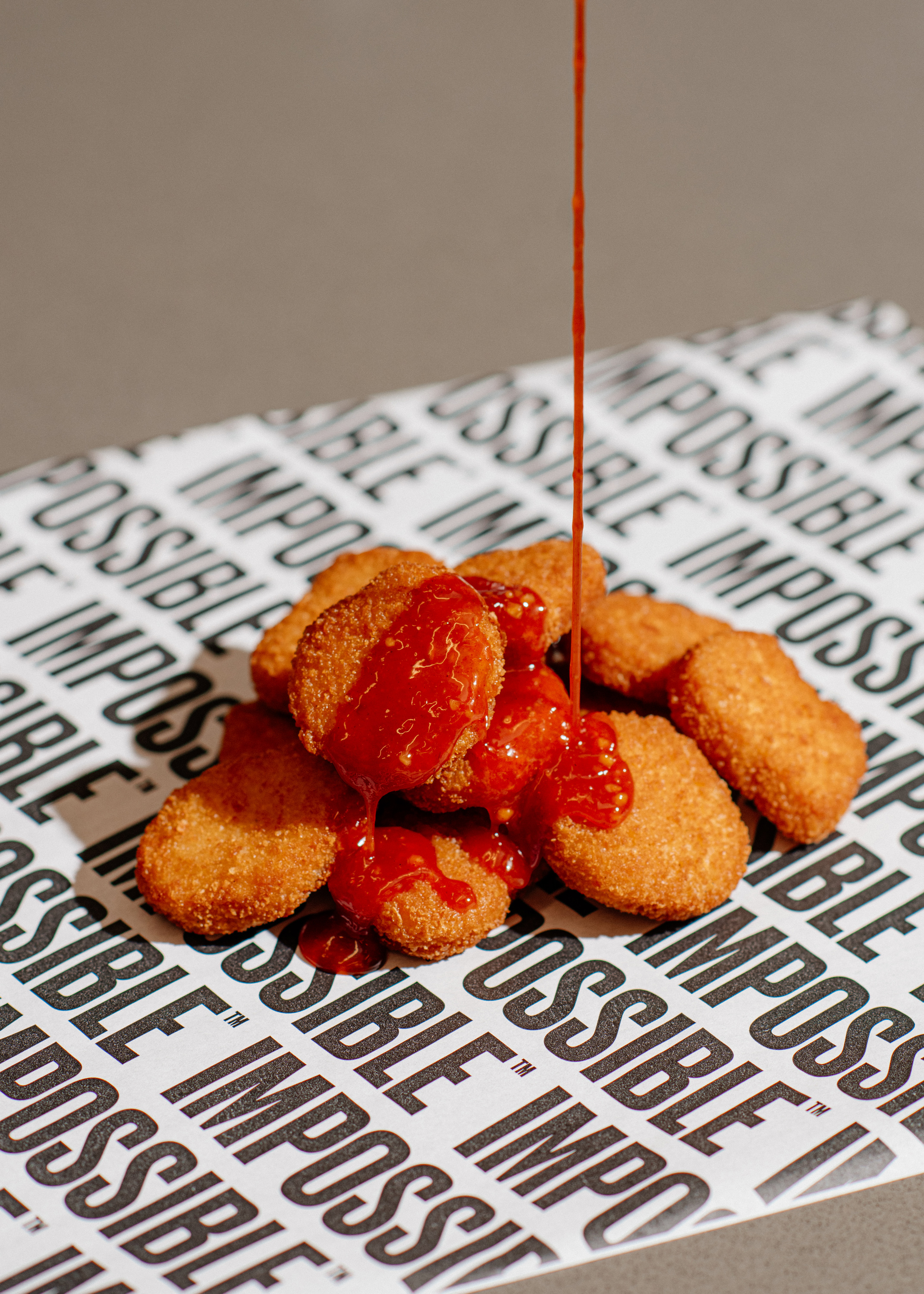 Katelyn Perry
Celebrity chefs embrace Impossible Chicken Nuggets
The Impossible Chicken Nuggets are also available to foodservice operators and are hitting approximately 150 restaurant locations today. Back in 2016, Impossible Foods introduced its now popular Impossible Burger at a handful of upscale restaurants around the country—an approach it is using with its newest plant-based innovation. Starting today, some of the country's most celebrated chefs will be the first to add Impossible Chicken Nuggets to their menus.
Momofuku chef-owner David Chang is now serving the Impossible Chicken Nuggets at his fried chicken shop Fuku in New York City with a choice of two house-made sauces and optional waffle fries. "We were blown away by the Impossible Burger when it launched at Momofuku in 2016 and we feel the same way about Impossible Chicken Nuggets," Fuku CEO Alex Munoz-Suarez said. "Our Impossible Nuggies pair perfectly with the playfulness of Fuku's menu and will satisfy the cravings of fried chicken lovers looking for an alternative bite."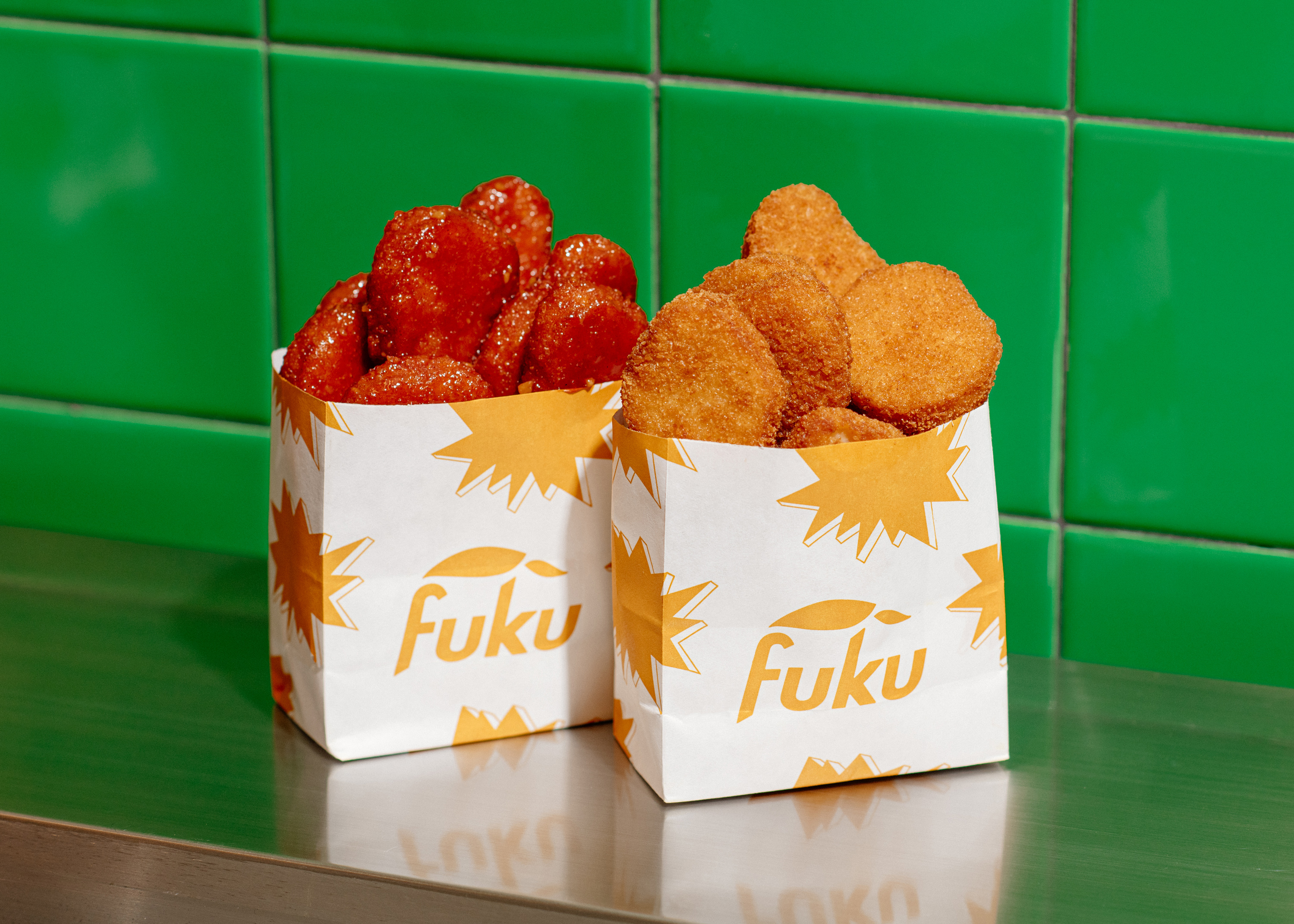 Katelyn Perry
The Impossible Chicken Nuggets are also hitting the menu at comfort food eatery Red Rooster in Harlem, NY and Miami, FL. Red Rooster is owned by celebrity chef Marcus Samuelsson, who is responsible for curating the fully plant-based menu at this year's Met Gala—the first time the high-profile fundraising event has served only plant-based food.
James Beard Award-winning Southern chef Sean Brock, another Food Network mainstay, is serving Impossible Chicken Nuggets at his Joyland restaurant in Nashville, TN. There, chef Brock serves the plant-based nuggets with a peach sweet and sour sauce alongside pimento mac and cheese.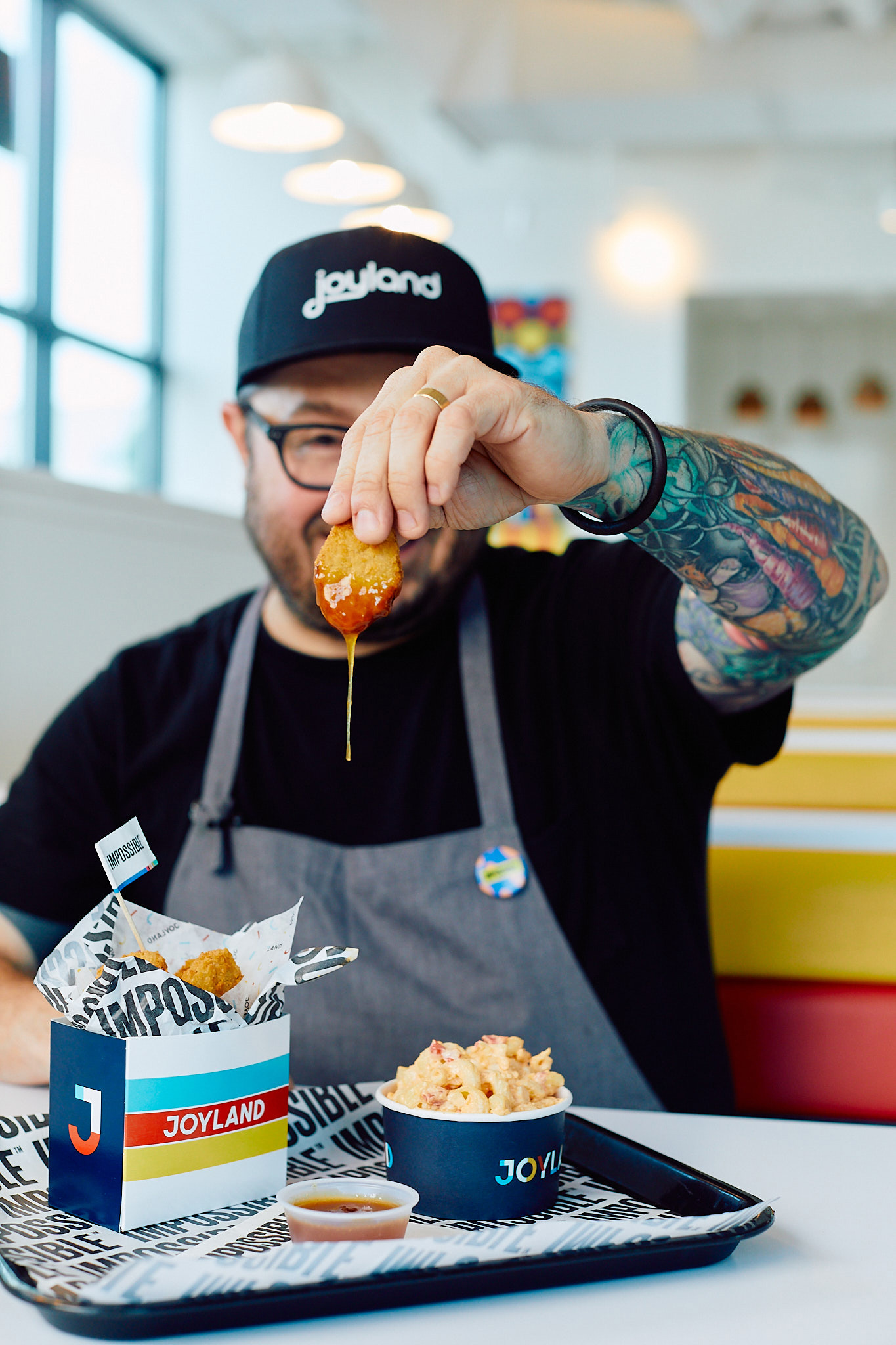 Impossible Foods
Impossible Chicken Nuggets will also be available at Tal Ronnen's vegan restaurant Crossroads Kitchen in Los Angeles; Traci Des Jardins' family-friendly pop-up El Alto Jr. in Los Altos, CA; and at chains Fatburger, Gott's Roadside, and select Dog Haus locations nationwide.
Making better chicken from plants
Impossible Foods is on a mission to replace all animal foods with indistinguishable plant-based alternatives by 2035 and tackling chicken was high on the list—as billions of chickens are tortured in factory farms annually to make nuggets, wings, and tenders. To take animals out of the food system, plant-based products must compete with them on metrics such as taste, nutrition, and price.
When it comes to taste and texture, Impossible Chicken Nuggets have a wing up on the competition according to a blind taste test the company conducted with 201 meat-eaters in Irving, TX. Seven out of ten participants preferred the Impossible Chicken Nuggets to traditional chicken nuggets made by a leading brand. When it comes to nutrition, Impossible Chicken Nuggets are 40-percent lower in saturated fat and 25-percent lower in sodium than traditional chicken nuggets. Unlike chicken nuggets, Impossible Chicken Nuggets do not use titanium dioxide to achieve their color—which comes from the natural hue of the ingredients and without colorants.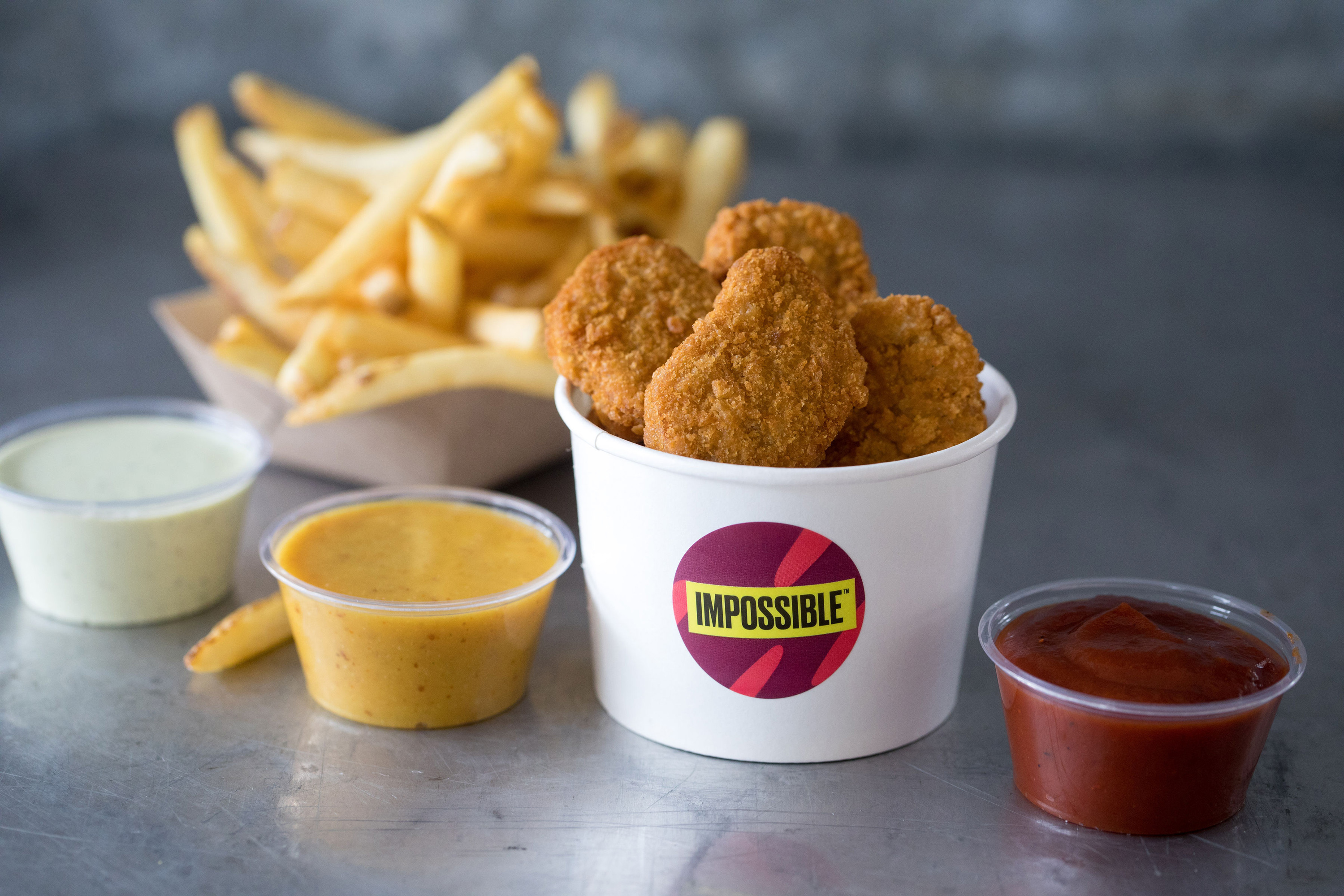 Briana Marie Photography
To compete with chicken meat on price, Impossible Chicken Nuggets are made from genetically modified (GMO) soybeans, a widely available ingredient that is often wrongfully vilified. "We use GMO soy because it's one of the world's most abundant crops," an Impossible Foods spokesperson told VegNews. "According to the USDA, 94 percent of the soy produced in the United States is genetically engineered—it's scalable, safe, and nutritious. GMO soy is commonly used in many consumer products including soy milk, soybeans, soybean oil, and baby formula."
Similar to Impossible Foods' other products, Impossible Chicken Nuggets also outperform their chicken counterparts on environmental metrics—a factor many consumers now consider when purchasing products. Based on a preliminary Life Cycle Assessment of Impossible Chicken Nuggets, the product uses up to 49 percent less land, 44 percent less water, and generates 36 percent less greenhouse gas emissions than the animal version.
Lead photo credit: Impossible Foods