Los Angeles-based LaRayia's Bodega—an all-vegan and organic bodega where everything is priced under $5—is coming to Atlanta next month. Its first location outside of the Southern California metropolis, LaRayia's Bodega will open on the first floor of Atlanta's famed Ponce City Market in its Central Food Hall, officially becoming the shopping center's second fully vegan eatery after Slutty Vegan offshoot Bar Vegan. Although LaRayia's Bodega in Atlanta won't follow the $5 pricing model its Los Angeles location is famous for, 10-percent of proceeds will be donated to Lunch On Me ATL, the city's local chapter of founder LaRayia Gaston's nonprofit committed to eradicating hunger.
"[Houseless] people are disregarded every single day. They're dehumanized, and it's really important to restore the understanding of who these people are."
-LaRayia's Bodega Founder LaRayia Gaston
The new grab-and-go takeaway counter will offer plant-based fare inspired by Gaston's Caribbean upbringing. Open for breakfast, lunch, and dinner, the outpost's signature dishes will include breakfast items such as overnight oats and parfaits, bites such as vegan ceviche and Jamaican Jerk Jackfruit Tacos with mango salsa; and comfort food favorites including cornbread, chili, and collard greens. Assorted juices and teas, such as Gaston's Black Girl Magic Lemonade with activated charcoal and Moon Juice—the founder's unique take on Thai tea—will also be available for purchase.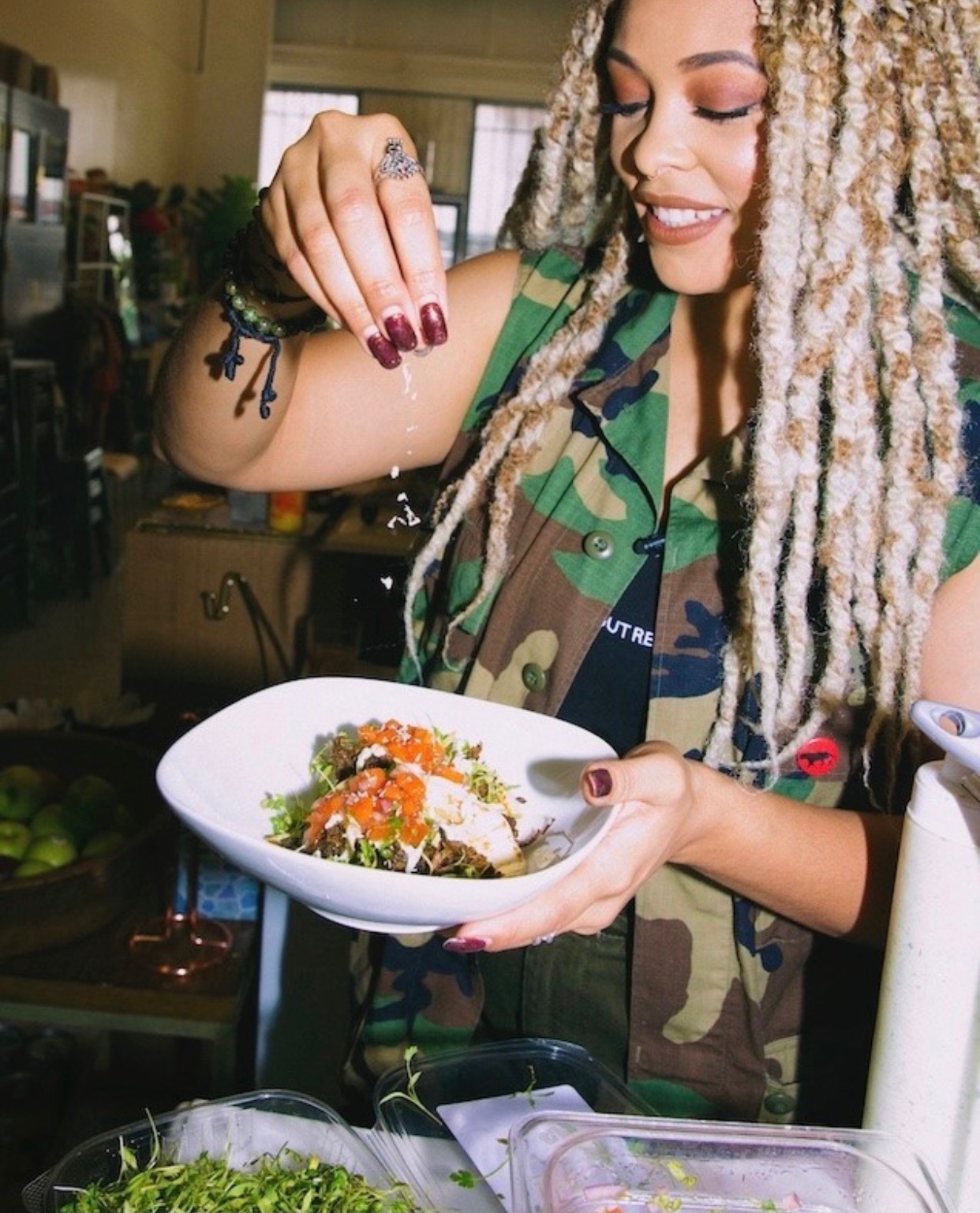 Alex Kim Kenealy
"We want to make it easy to eat vegan and feel good. Our aim is to take familiar recipes and pump them up a notch with ingredients made from the freshest produce," Gaston said in a statement. "We can't wait to bring some of what we love from our Los Angeles bodega to Atlanta and support the local [houseless] community through Lunch On Me." In Atlanta, the nonprofit will provide free vegan meals to communities in need every Friday in Woodruff Park.
A vegan bodega fighting to end hunger and food waste
Launched in 2015, Lunch On Me is committed to ending starvation, redirecting food waste, and empowering local houseless communities through block parties and different opportunities to enrich the spirit, mind, and body. In Los Angeles, Lunch On Me provides vegan meals six days a week to houseless communities in Skid Row and across the city. Perfectly good leftovers that would have otherwise been thrown away are picked up from a local organic market before Gaston's team repurposes the ingredients to create individually packaged, nutritious meals. Today, Lunch On Me reaches 10,000 people every month.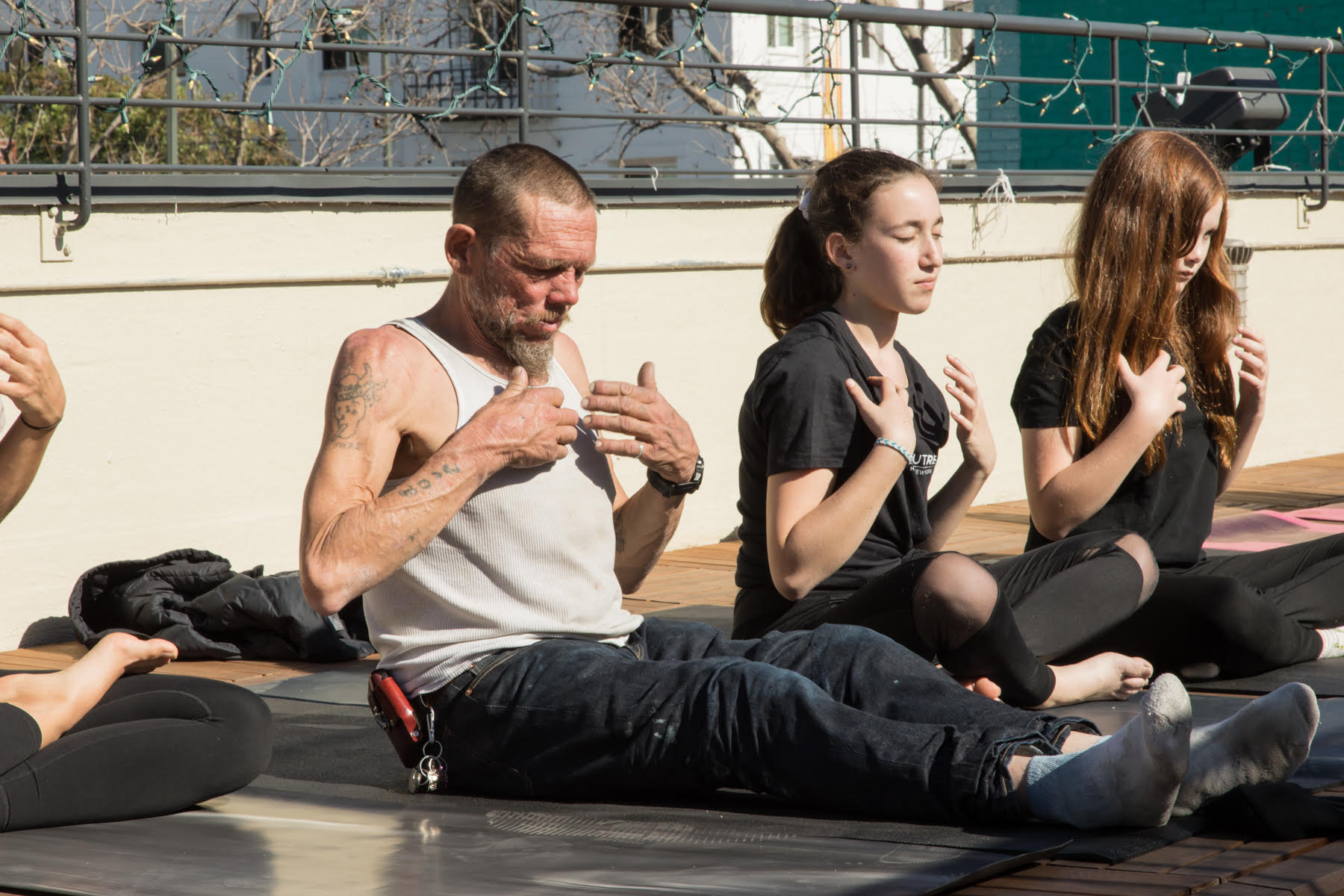 LaRayia's Bodega
"[Houseless] people are disregarded every single day. They're dehumanized, and it's really important to restore the understanding of who these people are," Gaston said. "I felt it was very important, if we were going to be on Skid Row six days a week, that we know who our neighbors are and that we connect with them." Lunch On Me also operates the Love Without Reason Block Party which offers organic meals, manicures, free haircuts, and healing practices to houseless Angelenos once a month, each event complete with a live DJ. "I decided to throw parties where we can create a sacred space where people can come together and where there's food, celebration, and music," Gaston said.
Today, Lunch On Me services communities in New York, Detroit, Austin, Honolulu, and internationally in the Dominican Republic. "We've been blessed to bring our brand of love to many places. We have chosen cities that are in need, mostly hometowns of our team members," Gaston told VegNews. "We want to support everyone. We plan to go global, and bring love everywhere we travel."
For more about how to help houseless communities, read:
This Organization Has Served 6,000 Vegan Meals to Houseless People in LA
Vegan Sandwich Shop Will Offer Houseless Communities Food, Haircuts, & More
There's Now A Vegan Community Fridge in New York City