Singapore-based startup Shiok Meats recently unveiled the world's first lab-grown crab meat at a tasting event at Kebaya, an eclectic restaurant in Bukit Timah, Singapore. The first cell-based meat company in Singapore, Shiok Meats creates real seafood from a small amount of animal cells in a lab setting, a method of producing food that does not rely on industrial fishing. For the event, Shiok Meats partnered with local chef José Luis Del Amo to prepare various dishes highlighting the startup's innovative cell-based crab.
"We are ecstatic that we were able to showcase the first-ever cell-based crab meat that we produced in our facility," Shiok Co-founders Dr. Sandhya Sriram and Dr. Ka Yi Ling said in a joint statement. "We are humbled by the support and enthusiasm of our team, investors, and collaborators. In this exclusive tasting event, we invited some of the key stakeholders in the food and alternative protein industry."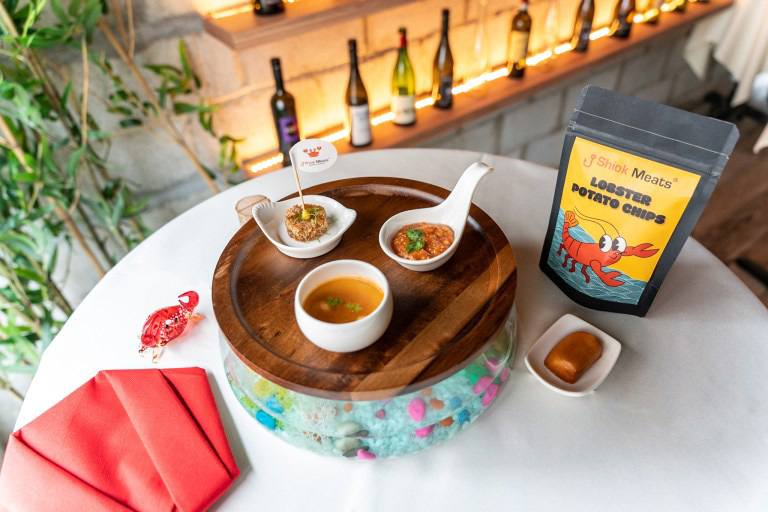 Chef Del Amo created two dishes using Shiok's cell-based crab in combination with other innovative products: Crab Cake (a blend of Shiok's cell-based crab and vegan OmniPork) and Chili Crab (which features Shiok's crab powder served with mantou buns). "The ingredient is really versatile, and it works well across different cuisines, including local Asian dishes," Del Amo said. "Also, it's fantastic that we can now prepare delicious meals with sustainable crab meat."
While Shiok has nailed the flavor of crab, the startup is currently working to mimic the texture of the crustacean by introducing scaffolding in the growth process. The startup is also looking to bring down the production costs of making seafood in this way and aims to commercialize its crab by 2023. Shiok's home country of Singapore has already granted regulatory approval to cell-based meat when it approved the sale of GOOD Meat chicken, made by California-based startup Eat Just last year. As such, Shiok's road to market will be unencumbered by regulatory hurdles it would likely face in other regions.
Cell-based crab, shrimp, and lobster make better seafood
Prior to unveiling its cell-based crab, Shiok produced meat from other crustaceans using its cell-based technology. During the recent tasting event, Shiok also spotlighted its cell-based shrimp in a Tom Yum Soup and its cell-based lobster in a finishing course of Lobster Potato Chips. The cellular aquaculture startup is unique in that it isolates stem cells from shrimp, crab, and lobster using a proprietary technology. The harvested cells are then grown in a nutrient-rich environment (similar to a greenhouse) and after four to six weeks, the result is real seafood meat.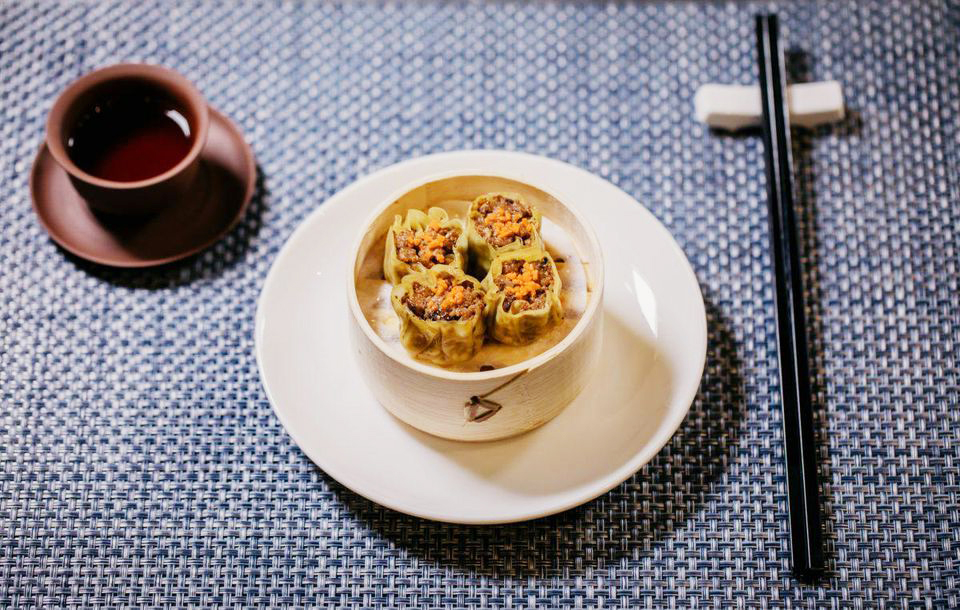 This new way of producing crustacean meat is a solution to the growing global demand for traditionally caught seafood. As exposed by recent Netflix documentary Seaspiracy, the global industrial fishing industry destroys marine ecosystems, enslaves workers, and wreaks havoc on the environment. The fuel-intensive crustacean industry is responsible for 22 percent of fishing-related greenhouse gas emissions, despite making up only six percent of global catch landings.
"Our mission is to develop cell-based crustacean meats that are contributing towards a cleaner and healthier seafood industry and solving for the inefficiencies around global protein production," Sriram and Yi Lin said. "We are working very hard on making sure that our products are delicious, healthy, and affordable in the long run."
Growing seafood on land
One of the many benefits of growing seafood from cells as opposed to catching it from the ocean is that the process can be carried out in landlocked regions. In Madison, WI, cell-based startup Cultured Decadance—the first cell-based seafood startup in the Midwestern region of the United States—is using its newly secured $1.6 million to show that growing lobster hundreds of miles from an ocean is possible. Cultured Decadence's cell-based lobster will be nutritionally equivalent to traditionally raised and wild-caught lobster but will be made without waste products such as shells and organs and will eventually be available at a lower cost. While Cultured Decadence is starting with lobster, the startup's technology can also be applied to grow other types of seafood, including crab, shrimp, and scallops.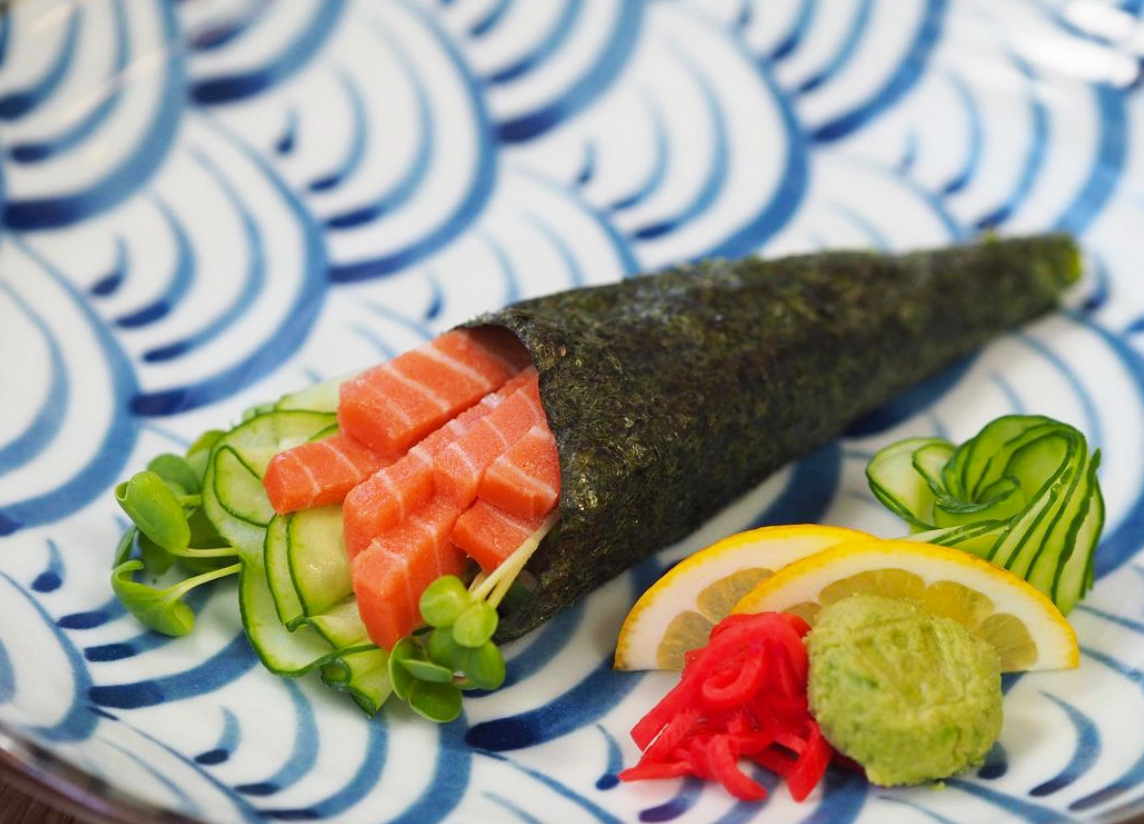 In San Francisco, WildType is reimagining the fishing industry by growing sushi-grade salmon from cells—which it hopes to serve at its own sushi bar built adjacent to its production facility. The company's pilot plant recently became operational and at maximum capacity, the plant will be able to produce upwards of 200,000 pounds of slaughter-free seafood annually. As an added health benefit, fish grown in this way is free from mercury, microplastics, and other contaminants deposited in the oceans by humans.
Down the California coast, San Diego-based BlueNalu secured $60 million in debt financing earlier this year, the largest financing event in the global cell-based seafood industry to date. The startup is also a semifinalist in XPRIZE, a global competition with a $15 million total prize fund designed to incentivize teams across the world to produce alternatives to chicken breasts or fish fillets that outperform their traditional counterparts.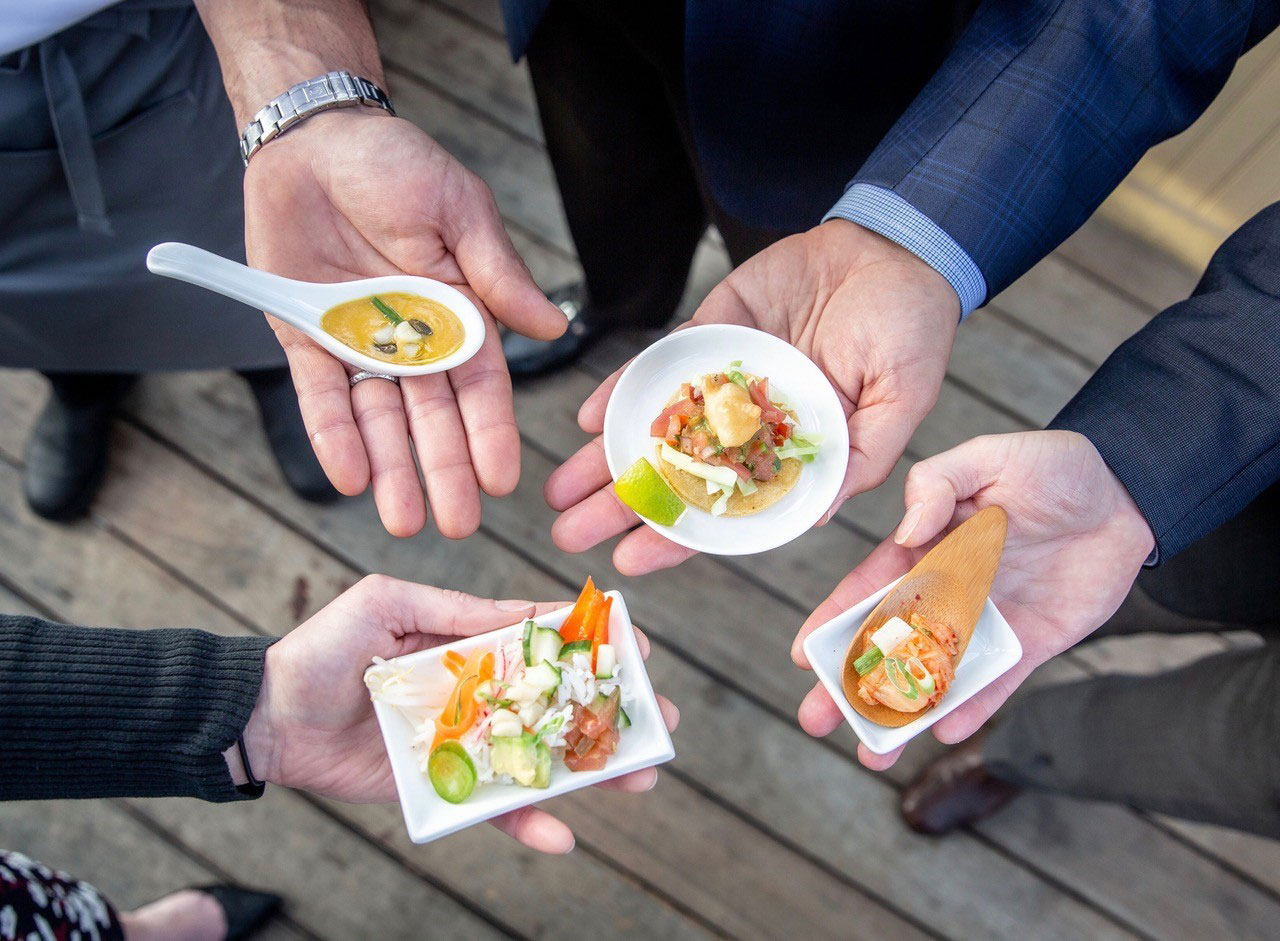 In 2019, BlueNalu held a private tasting to unveil its cell-based yellowtail amberjack and is working to democratize some of the world's most expensive fish by creating it through cellular aquaculture. BlueNalu aims to begin testing its cell-based fish at foodservice establishments, starting with mahi mahi, later this year followed by premium bluefin tuna. Once BlueNalu is operating at scale, it can produce 18 million pounds of seafood annually without slaughtering a single fish.
For more about lab-grown meat, read:
The USDA Just Made Its First Investment in Lab-Grown Meat
Michelin-Starred Chef Aims To Be First to Serve Lab-Grown Chicken in the US
Leonardo DiCaprio Invests in Cell-Based Meat Companies to Save the Planet