Taco Bell's hot sauce packets are coveted condiments that have been used as part of marriage proposals and other creative ways over the years. However, the truth is that 8.2 billion of these single-use packets end up in landfills every year—a fact that Taco Bell is aiming to change drastically with a new recycling program. Launched in partnership with recycling leader TerraCycle, the program will turn the hot sauce packets—which are made with flexible film materials—into something new. These single-use items are notoriously tough to recycle en masse and the success of Taco Bell's new program could set a precedent for the recycling of sauce packets across the fast-food industry.
"As simple as it sounds, it's important to remember to first reduce our consumption habits, then reuse products wherever possible, and then recycle," Missy Schaaphok, Taco Bell's Director of Global Nutrition & Sustainability, said. "We're excited that TerraCycle has provided a way for us to extend the life cycle of our iconic sauce packets as we reevaluate the rest of our packaging suite."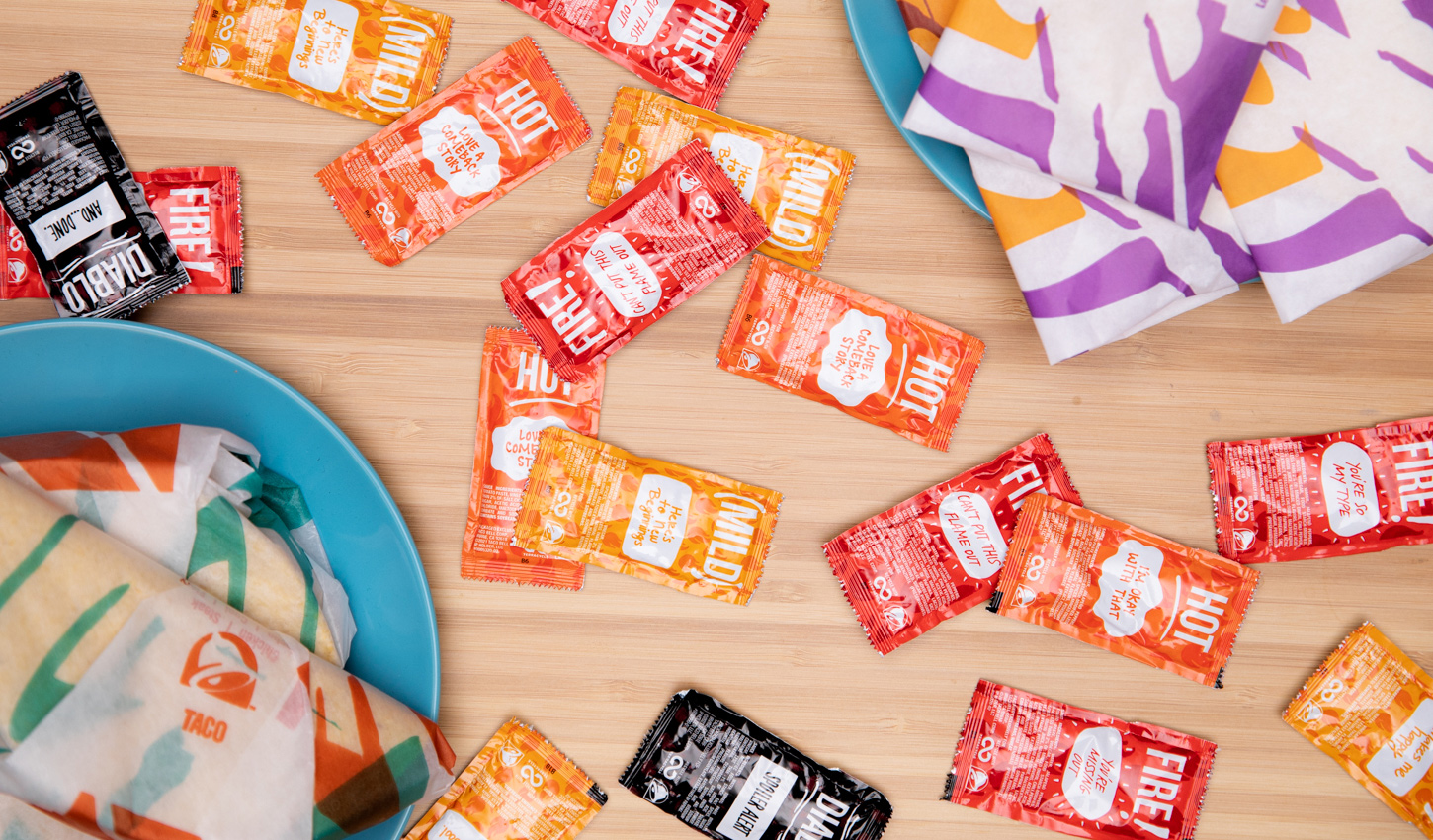 Taco Bell is heavily advertising the program in-store and at its drive-thrus—which currently account for 75 percent of the chain's transactions. Customers will be pivotal in helping the hot sauce program succeed and are encouraged to collect packets, create an account with TerraCycle, and send them to the company, which will then melt the single-use packets into hard plastic that will be turned into secondary items.
"Since our founding, TerraCycle has made it our mission to 'Eliminate the Idea of Waste' and provide solutions for items that are not traditionally recyclable curbside," TerraCycle CEO and Founder Tom Szaky said. "This first-of-its-kind recycling program not only highlights the forward-thinking nature of Taco Bell, but also marks a huge step forward for the quick service industry on its journey towards more sustainable business practices."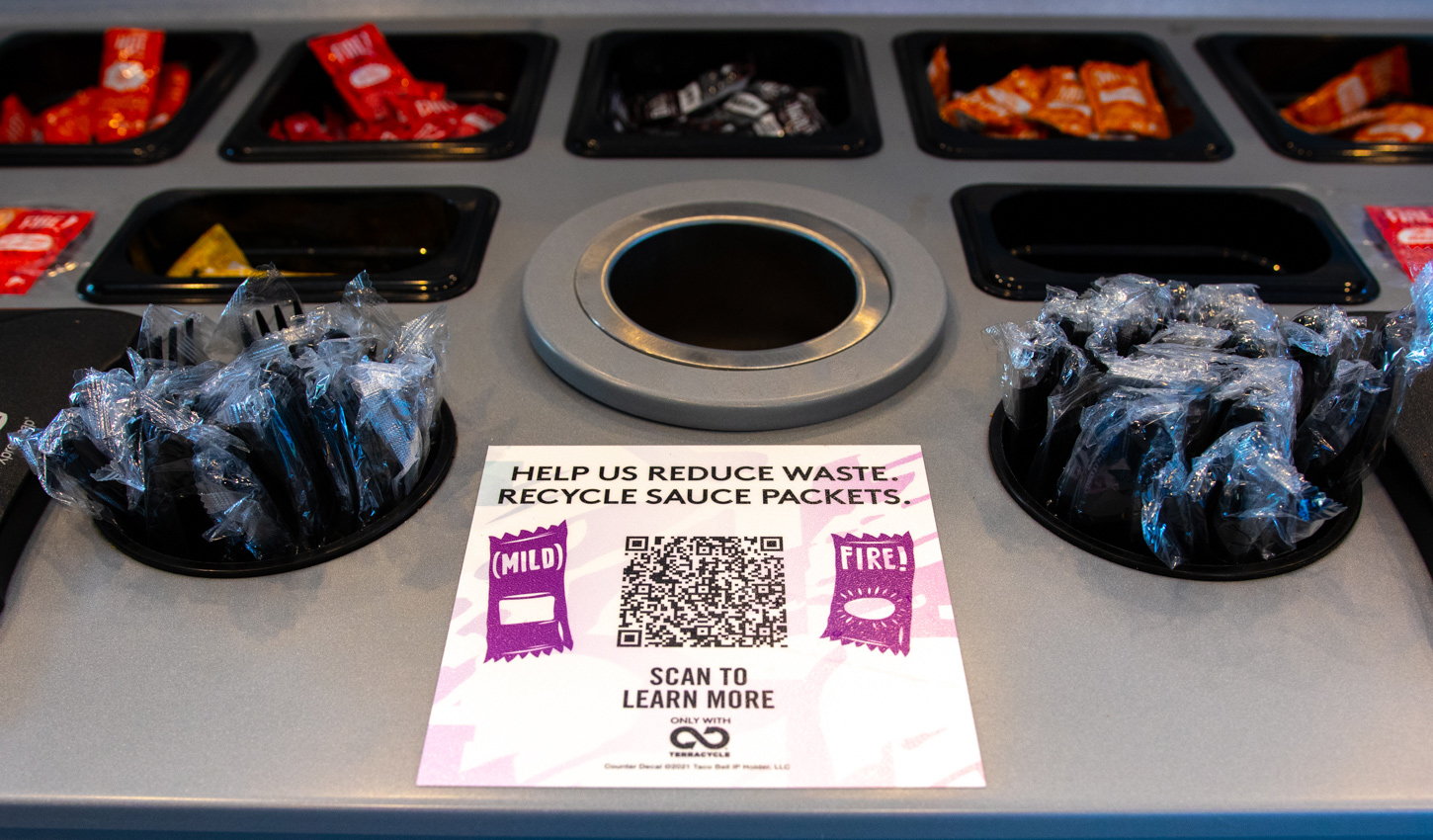 Taco Bell's hot sauce packets recycling program is one step toward its goal of making all of its consumer-facing packaging recyclable, compostable, or reusable by 2025.
Taco Bell gets into sustainable plant-based innovation
Taco Bell's Mild, Hot, Fire, Diablo, and Breakfast Salsa hot sauces are all vegan and implementing a way to recycle them is helping establish Taco Bell as a leader in sustainability in the fast-food sector. When it comes to cutting its carbon footprint in other ways, Taco Bell—which is already known for its myriad customizable vegan options—is working on plant-based menu innovations.
While Taco Bell previously leaned on its beans as its plant-based protein offering, the chain officially tested vegan meat—a first for its US outposts—at one location in California in April. That store location offered the limited-time The Craveterian Taco, a meatless version of its Crunchy Taco Supreme stuffed with a "boldly seasoned plant-based protein," shredded cheddar cheese, lettuce, diced tomatoes, and sour cream, and served in a crunchy corn shell.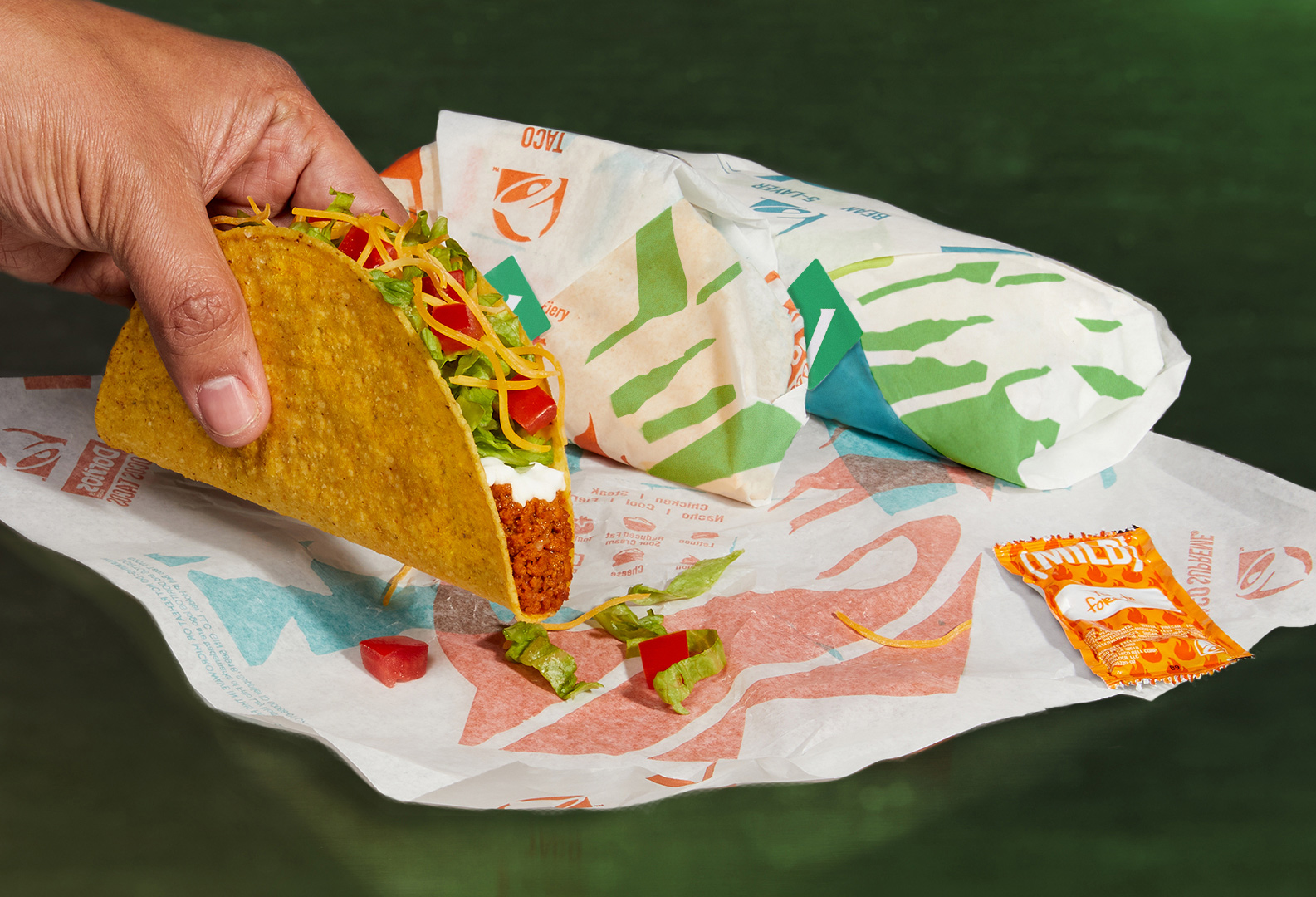 Taco Bell followed this test with another super limited launch of the The Naked Chalupa with a Crispy Plant-Based Shell at another single California location in June. Created as a meatless version of its Naked Chalupa, this item was a shell made from vegan chicken filled with lettuce, cheddar cheese, diced tomatoes, and avocado ranch sauce.
Taco Bell used both of these inconsequential releases to showcase what it could do in the plant-based space on a small scale. However, the chain is committed to plant-based innovation on a larger scale.
Taco Bell is owned by Yum! Brands—the parent company of Pizza Hut and KFC— which is in a multi-year partnership with vegan brand Beyond Meat to develop a menu item that it describes as "not quite yet seen in the industry." The partnership has already resulted in limited launches at Pizza Hut (where Beyond Pepperoni launched in five cities in August) and KFC (where Beyond Fried Chicken was tested in 2019). At Taco Bell, the anticipated Beyond Meat menu launch will occur within the next year.