"I want my babyback, babyback, babyback …" Can you name the jingle? Chili's seared the tune into our heads for years while promoting its famed baby back ribs. So what's a vegan to eat at a restaurant known for barbecue-slathered rib cages? Plenty. The next time you're seated in a plush red booth or hightop with a giant chili anchored on the wall in front of you, pull up this guide to order the best vegan eats at Chili's.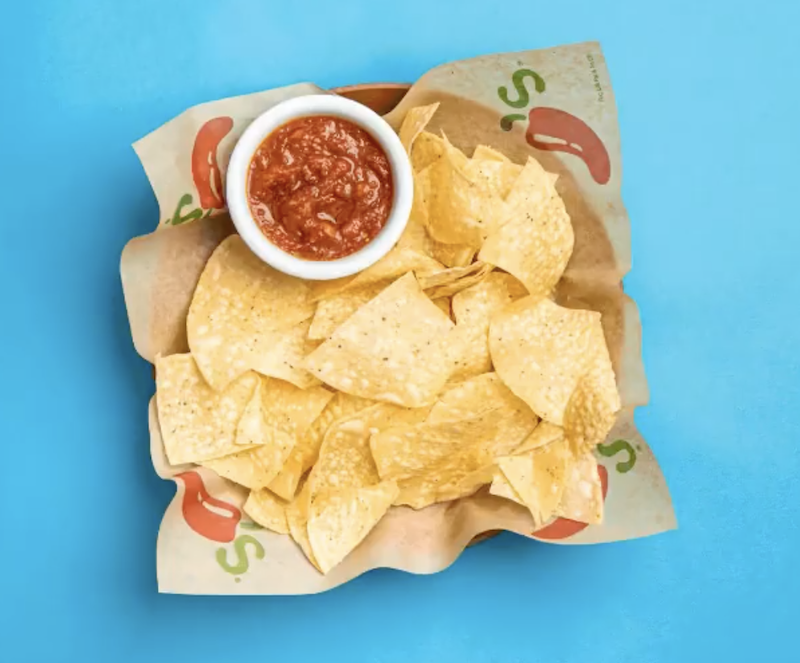 Chilis
Appetizers
The Chili's menu is a bit of a chain restaurant smorgasbord. The eclectic selection brings to mind a taste of Outback Steakhouse, On the Border, and TGI Friday's. As such, you'll find Tex-Mex staples such as guacamole and chips and salsa—all of which are vegan. For a more interesting app, order the fried pickles without ranch. While these briny bites are coated in a vegan batter, note that these are the only egg-free fried option. Alas, the Awesome Blossom Petals (fried onions) are not vegan. A few other appetizers are animal-free with modifications. The Classic Nachos can be veganized by omitting the meat, cheese, queso, and sour cream. You're left with tortilla chips, pico de gallo, guacamole, black beans, jalapeños, and shredded lettuce. If fries are more your thing, ask to substitute fries for chips underneath these toppings for a cast-iron skillet full of loaded fries. Note: a fryer is shared between the fries and fried chicken.
Salads
Every salad at Chili's comes with meat, cheese, or a combination of the two, but that doesn't mean you can't find a vegan green here. For a salad that has a little more to it than just chopped lettuce, opt for the Grilled Chicken Salad (no cheese, chicken, or honey-lime vinaigrette) or the fruity Caribbean Salad (no shrimp or honey-lime dressing). Request a side of the Citrus Balsamic Vinaigrette and avocado to add even more substance to the salad. If you're looking for something basic to accompany a larger main, the House Salad made with romaine, tomatoes, red onion, and cucumbers is vegan when ordered with no croutons or cheese.
Big Mouth Burgers
Chili's has some work to do in the burger department. While it does offer a black bean patty, it contains milk and eggs, and the only bun option is an egg- and milk-based brioche. Here's some homework: call your local Chili's or write in to corporate and politely request a vegan patty and bun. We're sure Impossible Foods or Beyond Meat would be more than happy to be a Chili's supplier.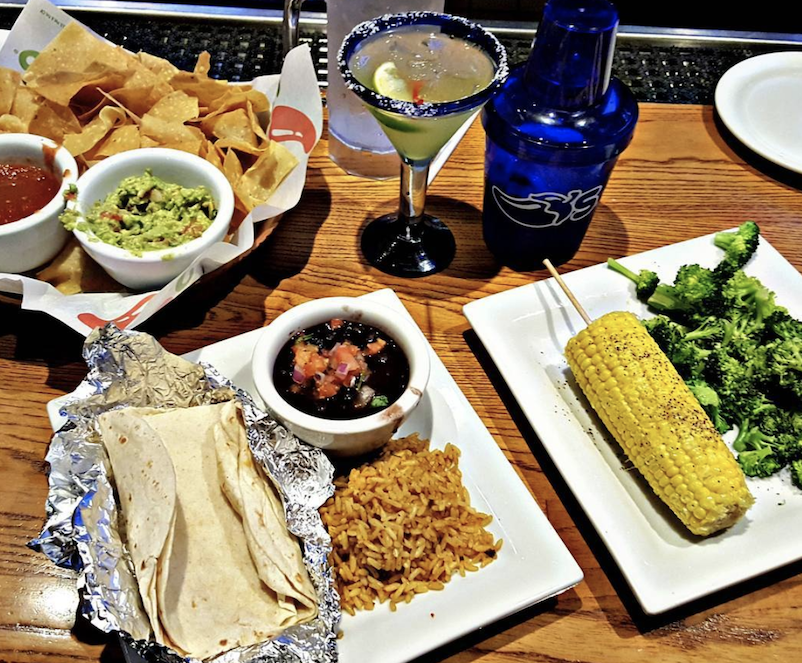 @veganhotspringsarkansas/Instagram
Fajitas
The kitchen offers a vegetarian option for these sizzling plates by using the same egg- and dairy-infused black bean patty offered for the vegetarian burger option. To veganize, swap the patty for plain black beans and request no queso fresco, chipotle butter, cheese, sour cream, or Santa Fe Sauce. You'll receive a piping-hot cast-iron plate loaded with black beans, grilled peppers and onions, mushrooms, roasted asparagus, corn and black bean salsa, fresh avocado, and Mexican rice with a side of flour or corn tortillas. Dig in.
Bowl Hacks
You won't find a menu subsection with this title, but if you look under the Chicken & Seafood section, you'll find two Fresh Mex Bowls. These are layered with field greens, Mexican rice, pico de gallo, corn and black bean salsa, avocado, cilantro, and tortilla strips—all of which are vegan-friendly. Just request no meat, pesto, cheese, and ranch, and you've got yourself a flavorful beans-and-rice bowl. Add chopped mango for a fruity accent.
Sides
Chili's isn't a steakhouse, but it does offer steakhouse-adjacent sides. Vegan options include steamed broccoli, plain corn on the cob, roasted asparagus, and fries. Ask for a side of the Original Barbecue Sauce (which is vegan) for dipping. On the Tex-Mex side, the corn and flour tortillas, Mexican rice, black beans, grilled avocado, guacamole, salsa, and pico de gallo are vegan as well. You could easily build your own tacos from that hearty spread.
For more tips on dining out as a vegan, read:
The VegNews Vegan Guide to Taco Bell
The VegNews Vegan Guide to The Cheesecake Factory
The VegNews Vegan Guide to Panera