Vegan brand Violife recently revealed that its vegan cheese has 50 percent of the climate impact of dairy cheese. The brand worked with leading sustainability advisor Quantis to calculate the climate footprint of eight Violife vegan cheese products through their entire life cycle. The assessment took into account the growing of the natural ingredients used in the products' recipes, and then it considered all the steps involved in making the products, including transportation, production, packaging, distribution, and their disposal by consumers.
In addition to producing less than half the carbon footprint, the study revealed Violife cheeses occupy less than one-third of the land when compared to the same amount of dairy cheese. Violife undertook the assessment to highlight the importance of making the switch from dairy to dairy-free products, and the impact consumer choices have on the environment.
"The food we eat contributes around 25 percent of the CO2 emitted globally each year. Violife wants to show consumers that what we eat can make a significant positive impact on our planet by making a simple change from dairy cheese," Victoria Slater, Head of Violife UK and Ireland, said in a statement. "With our award-winning range of alternative-to-cheese products, people will not have to miss out on any of the cheesy recipes they love."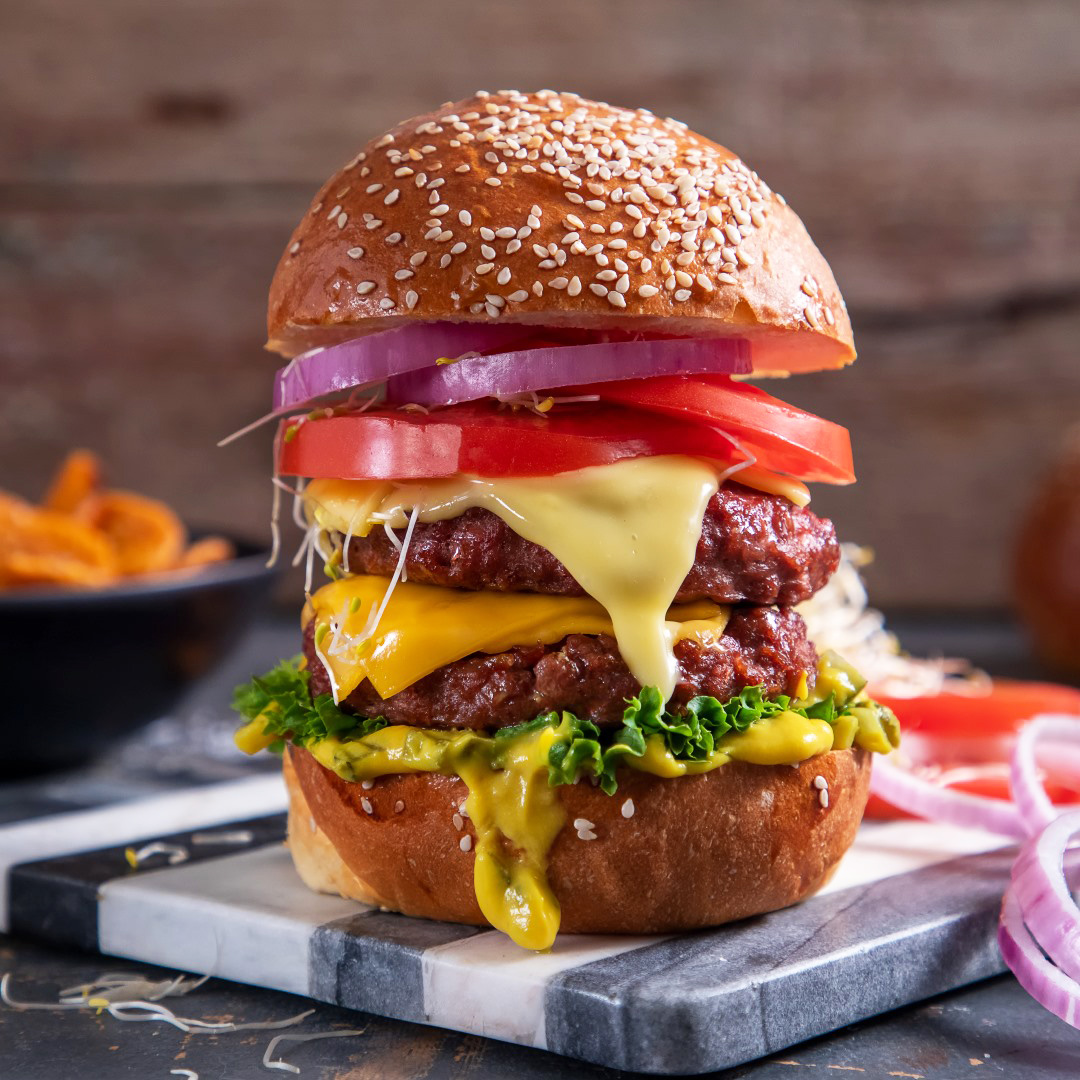 Swapping dairy for vegan cheese to save the planet
As a result of these findings, Violife has announced a new "Change" campaign launching across the globe on January 1, 2022, that welcomes consumers to a world where simply changing dairy cheese to a vegan alternative can reduce one's environmental impact. The fully integrated, multi-media campaign shows everyday foodie moments such as dining out, indulging at the movies, and cooking at home and introduces Violife's "change" meals which switches out the word '"cheese" for "change." In an effort to dispel the myth that vegan food will not taste or perform as well, Violife recreates classic comfort foods such as the "Change" Burger, Nachos and "Change," and "Changecake" showing that small swaps make a difference.
As an official sponsor of Veganuary—an annual campaign that encourages people to go vegan for the month of January—Violife will also be encouraging consumers to sign up for the Veganuary challenge by pledging to plant 10,000 trees. For every five vegan meals registered, Violife will plant one tree. Created in partnership with One Tree Planted, the campaign aims to plant 10,000 trees, and those wanting to support the tree planting will be able to visit the Violife website starting on January 1, 2022 to submit their vegan meal count.
"These research findings show just how big an impact adopting a vegan diet can make in tackling climate change," Toni Vernelli, International Head of Comms and Marketing at Veganuary, said in a statement. "And thanks to innovative brands like Violife, no one has to sacrifice on taste or convenience when they choose climate-friendly options."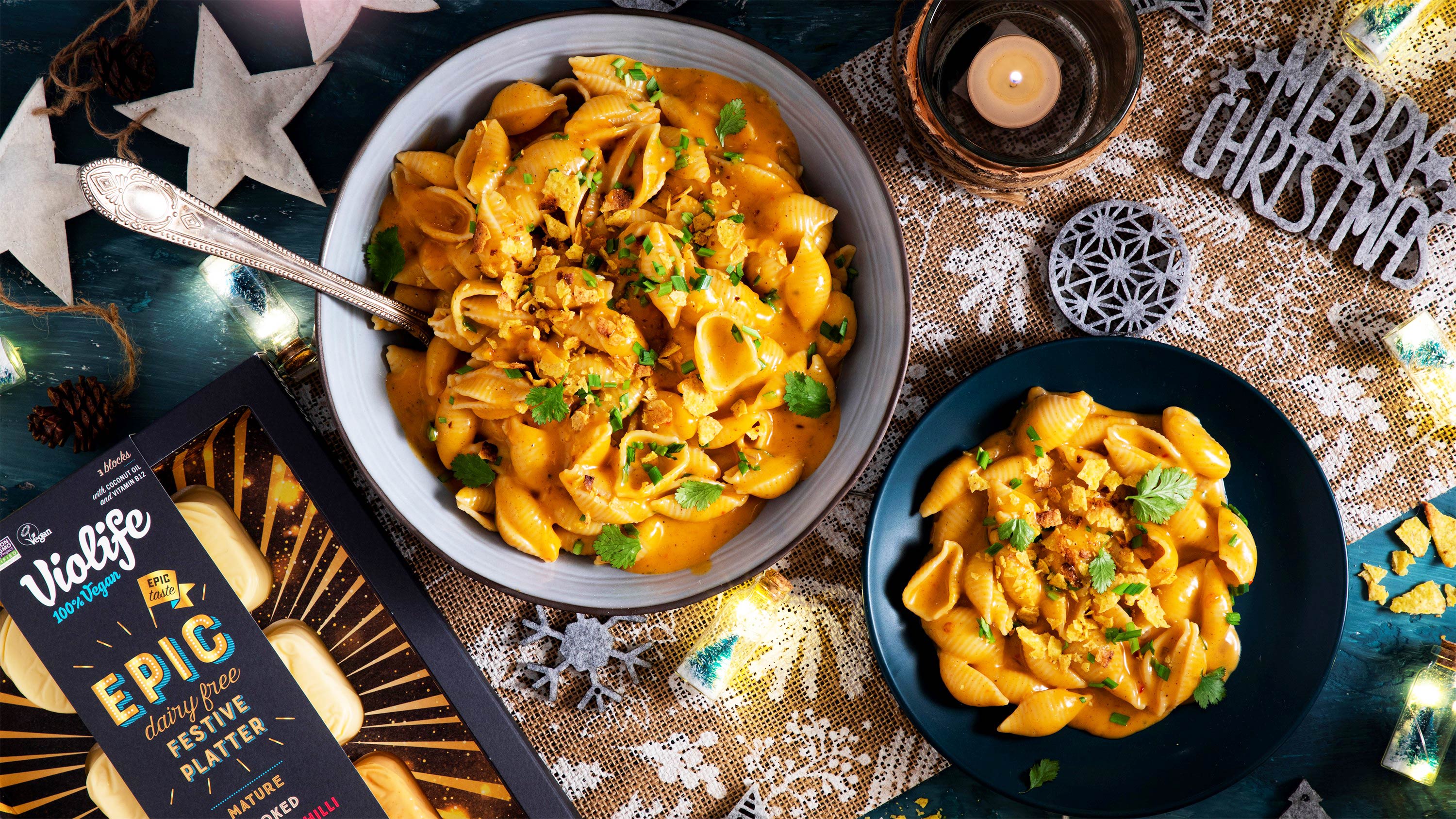 Based in Thessalonica, Greece since the 1990s, Violife's products are now available in more than 50 countries around the world. In 2018, the brand became widely available in the United States through Whole Foods Market. Violife has focused mainly on vegan cheese, offering products such as cheese blocks, slices, spreads, and wedges in various flavors from cheddar to feta. The brand has also offered a seasonal EPIC Christmas Platter featuring three Cheddar-flavored blocks (mature, smoked, and garlic & chili).
Earlier this year, Violife launched its first vegan butter, Vioblock, at Asda stores across the United Kingdom. Vioblock is a new direction for the vegan company as it looks to expand its product offerings further within the dairy alternatives category.
For more on vegan cheese, read:
Vegan Babybel Cheese Is Here and It's Wrapped in Green Wax
Toronto Cheese Master Makes Vegan Brie That's Just Like the Real Thing
Daiya Improves Vegan Cheese Blocks with Oats and Chickpeas