Actor and "aspiring vegan" Rainn Wilson—best known for his role as Dwight Schrute on the NBC sitcom The Office—is urging Americans to sponsor a rescued turkey this Thanksgiving.
"I admire vegans, and I admire people who just love animals and want to rescue animals," Wilson posted on Instagram. "Go to FarmSanctuary.org … take the quiz. You can sponsor a turkey this year, $35—I did."
Wilson is referring to animal rescue organization Farm Sanctuary's Adopt a Turkey program, which aims to encourage people to symbolically adopt one of its rescued "spokesturkeys" for the holiday season instead of eating one.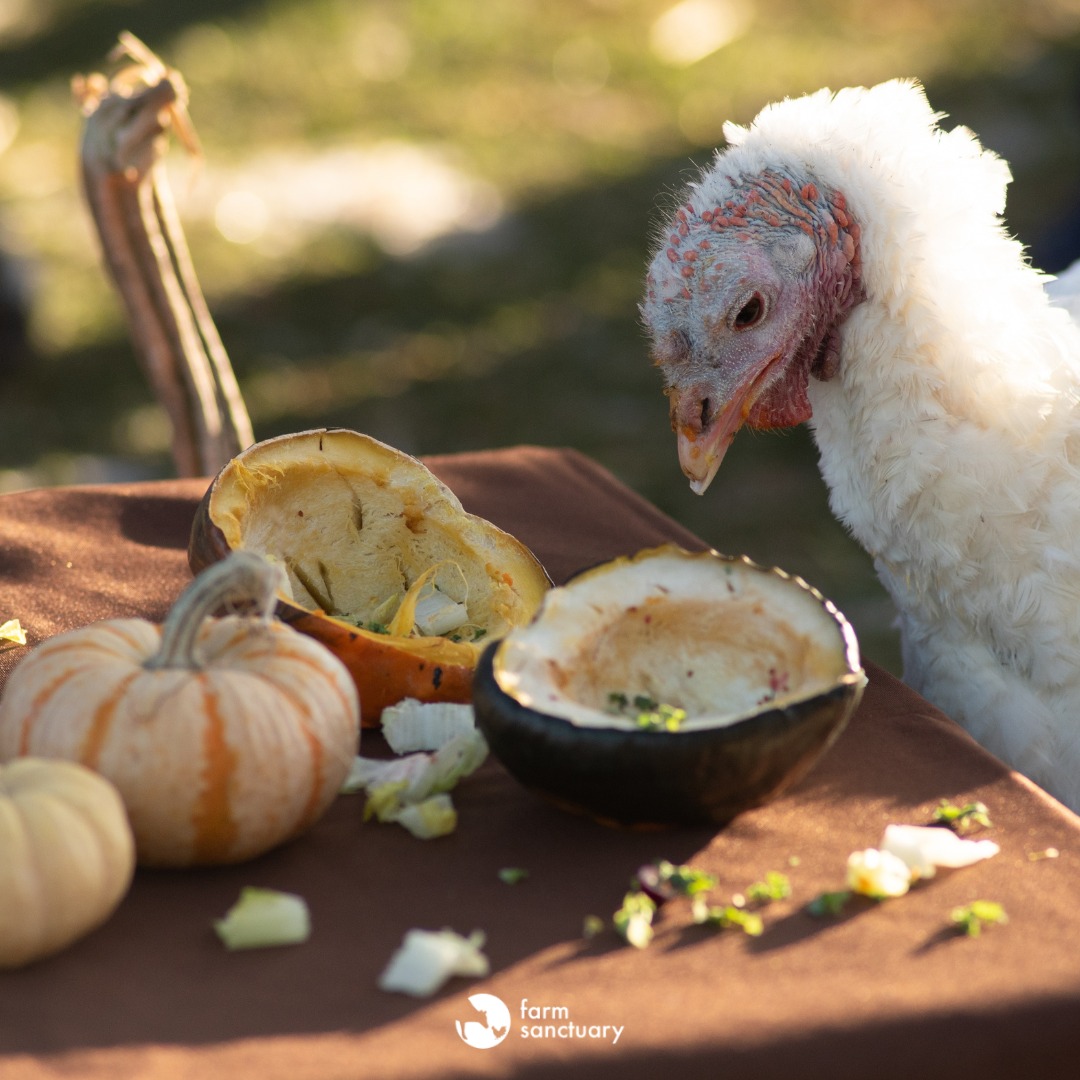 Farm Sanctuary
"As we approach the holiday season it's so important to stay mindful of the impact our rituals of consumption have on the planet, and on the agricultural system," Wilson said. "And your one-time donation helps Farm Sanctuary care for rescued turkeys and protects other rescued farmed animals and allows them to live beautiful lives."
Is Rainn Wilson vegan?
Wilson considers himself an "aspiring vegan" and stopped eating animals after he and his wife rescued two potbelly pigs—who still live out their lives in Wilson's backyard. In a 2017 episode of talk show Conan, Wilson explained that he chose to eschew animal products once he made the connection that the pigs, Snortington and Amy, are no different than pigs used for making bacon.
"In the morning once I was up, [the pigs] hadn't gotten up yet, and I was microwaving some of that Trader Joe's bacon, chomping on it, looking at these adorable little pigs," Wilson said. "So it was just heartbreaking to sit there looking at their beautiful little faces, staring at them. It was macabre and terrifying, so I went vegan."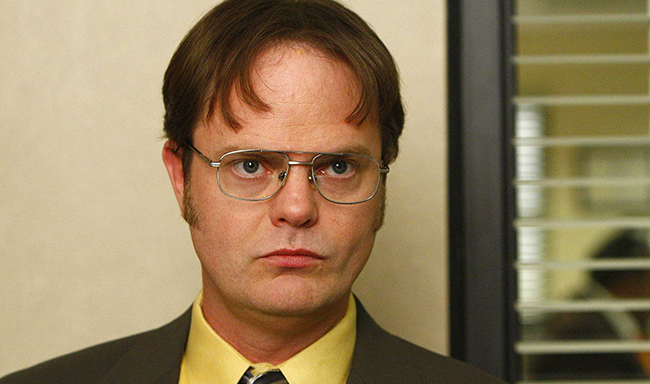 NBC
Wilson's compassion towards animals also extends to the planet. In an effort to bring awareness to the extreme effects of climate change, he recently changed his name on social media platforms to Rainnfall Heat Wave Extreme Winter Wilson. Timed to coincide with COP27, the United Nations Climate change conference taking place in Egypt, the actor made the announcement via a Twitter video.
"I'm hoping this name change brings attention to this growing… er, melting issue," Wilson tweeted. "We need world leaders at COP27 to take notice and take action. The Arctic is melting at millions of liters per second, yet this problem can't seem to make a name for itself, so it's up to us to make a name for it."
Celebrities support Farm Sanctuary
Wilson's endorsement of Farm Sanctuary is not the first time a celebrity has brought attention to the organization, which runs a farmed animal sanctuary in Watkin Glen, NY, and Acton, CA. In 2020, actor and vegan activist Joaquin Phoenix saved a cow and her week-old daughter from being slaughtered at Manning Beef in California.
Phoenix negotiated the release of the animals from the slaughterhouse alongside a group that included his wife and fellow actress Rooney Mara, both his and Mara's mothers, Earthlings director Shaun Monson, Los Angeles Animal Save Founder Amy Jean Davis, and Farm Sanctuary President and Co-founder Gene Baur.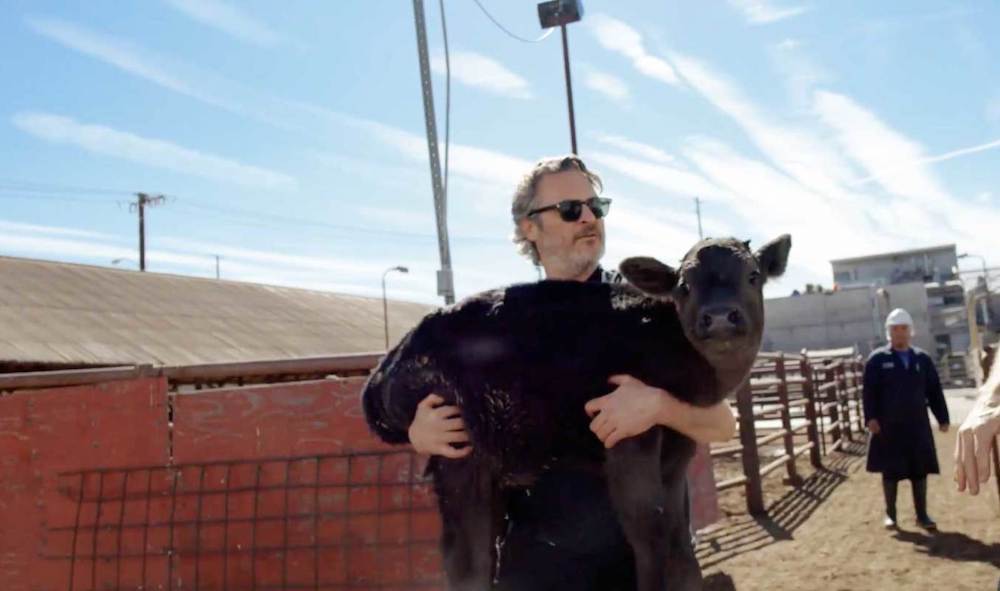 Farm Sanctuary
The group successfully removed the cow and calf—whom Phoenix named Liberty and Indigo, respectively—from the slaughterhouse and transported them to the Acton, CA location of Farm Sanctuary, where they live together in peace alongside other rescued farmed animals.
A year later, Phoenix repaid a visit to Farm Sanctuary with his sisters Liberty and Rain to see the cows living alongside other rescues at the animal sanctuary. "There was no way [Indigo] would come up to me when we first met yet," Phoenix said in a video made about the visit. "Yet here now, feeling the safety of this place, knowing that these humans had been there to care for her and the other cows … she came up with curiosity. She didn't feel scared of me."
Phoenix explained that he saw Indigo nursing from her mother. "It's their natural behavior; so often we interrupt that. These are unique lives and they deserve autonomy and freedom to live whatever lives they wish," Phoenix said. "I'm just thinking about the billions of animals that we kill for our consumption, for our hats or wristbands or shoes or belts."
For the latest vegan news, read: