The Venetian Resort in Las Vegas is celebrating World Vegan Month (November) with a variety of plant-based dishes this year. For the second year in a row, the resort is showcasing elevated vegan menus, with many new plant-based dishes, at its signature restaurants throughout November.
The resort's location of Hong Kong import Mott 32 recreated some of its signature dishes for World Vegan Month to expand its existing vegan options. This year, the eatery is serving Shanghainese Soup Dumplings and Signature Smoked Cod using plant-based meat alternatives.
"Most of our dishes are served family style and it was very important to us that our guests all have the same experience whether they eat meat or not," Mott32 Executive Chef Alan Ji tells VegNews. "We looked at our signature dishes and fan favorites like the soup dumplings and found a way to substitute pork and meat for plant-based ingredients."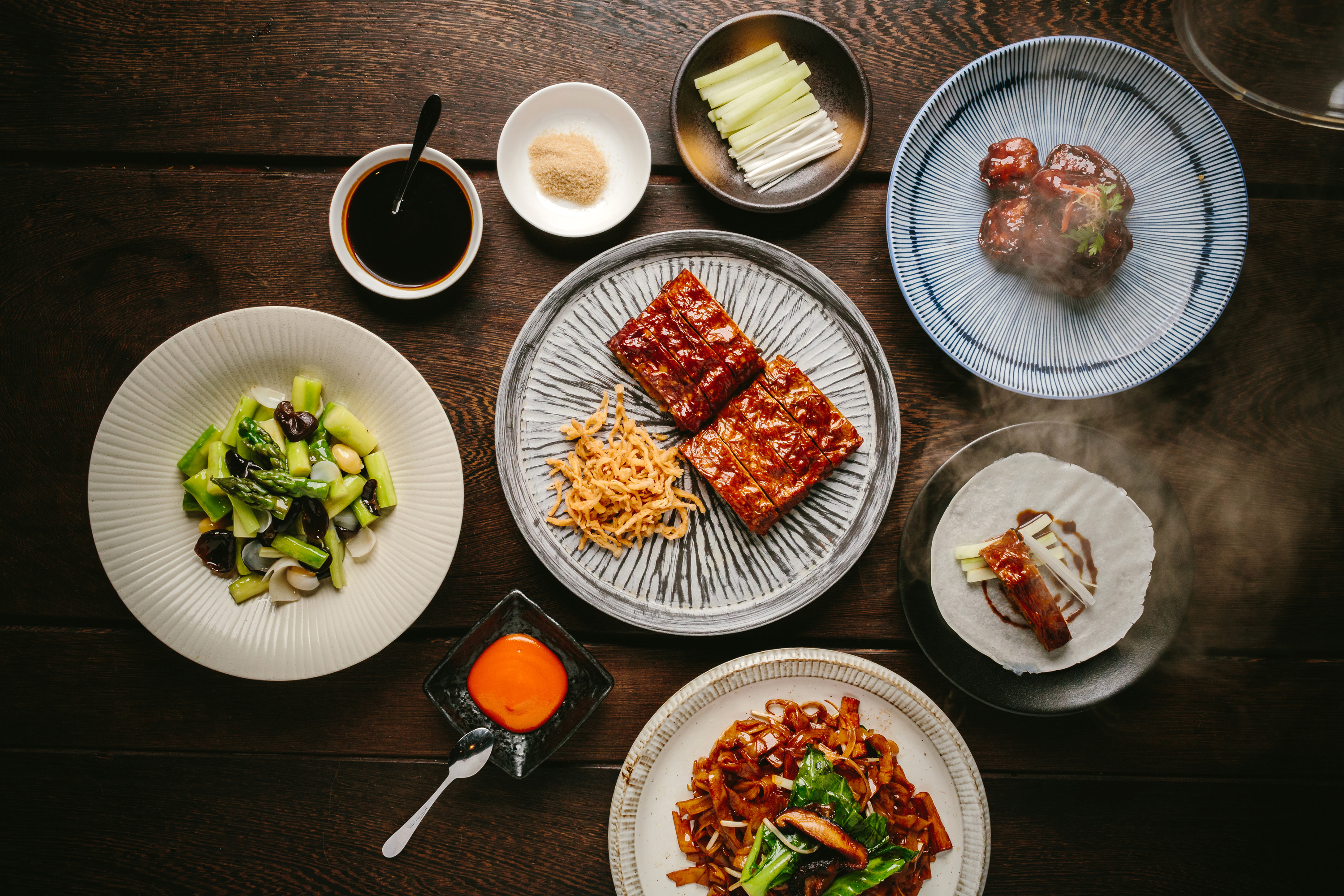 Mott32
"The smoked cod is another dish we wanted our vegan diners to experience," Ji says. "In addition to tasting incredible, it's also a visual dish the way it's presented and plated."
Other restaurants at The Venetian resort will also highlight their existing vegan fare, including famed French eatery Bouchon—a favorite of the late Anthony Bourdain—which offers the "Vegan Chop" a mixture of grain and mushroom formed into the shape of a pork chop and served with seasonal vegetables.
The Venetian location of New York City's Black Tap Craft Burgers and Beer is also serving Vegan Falafel Burger (served with vegan feta, pickled onions, lemon hummus, tahini, cilantro, and parsley on Dave's vegan bun).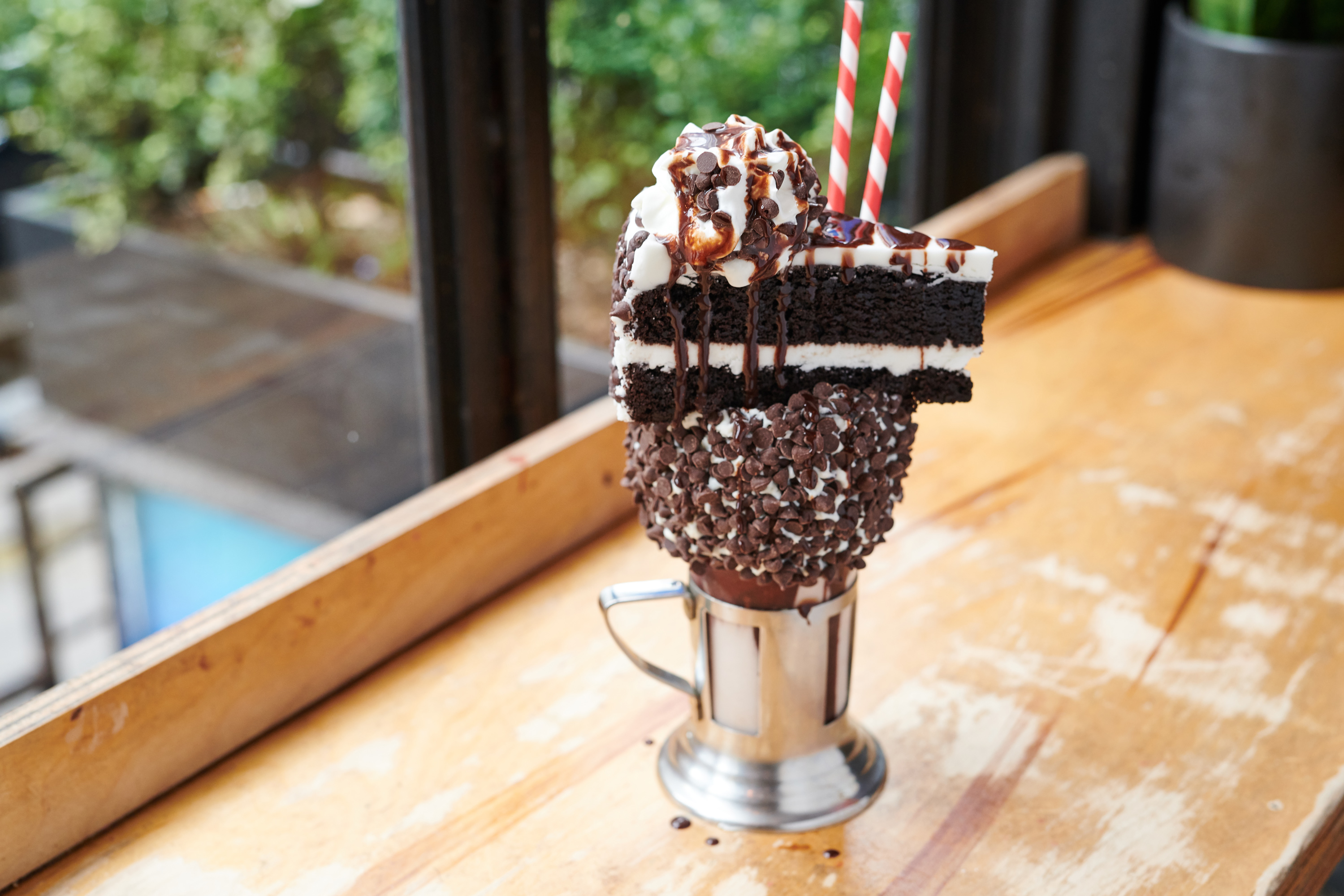 Black Tap
For dessert, the eatery offers a Vegan Black 'n White CakeShake (an over-the-top milkshake accented with a black 'n white cake slice, vegan whipped cream, a vanilla frosted rim with chocolate chips, and a finishing chocolate drizzle).
The Venetian goes big on World Vegan Month
In addition to individual vegan dishes at its restaurants, The Venetian's BRERA osteria—an upscale Italian eatery helmed by chef Angelo Auriana—will offer a Go Vegan tasting menu. Dishes include cauliflower over a bed of couscous with kale pesto; almonds and bell pepper romesco or fregula with grilled mushrooms, roasted garlic, parsley, and tomato sauce; and farro risotto with artichoke, roasted peppers, and onions.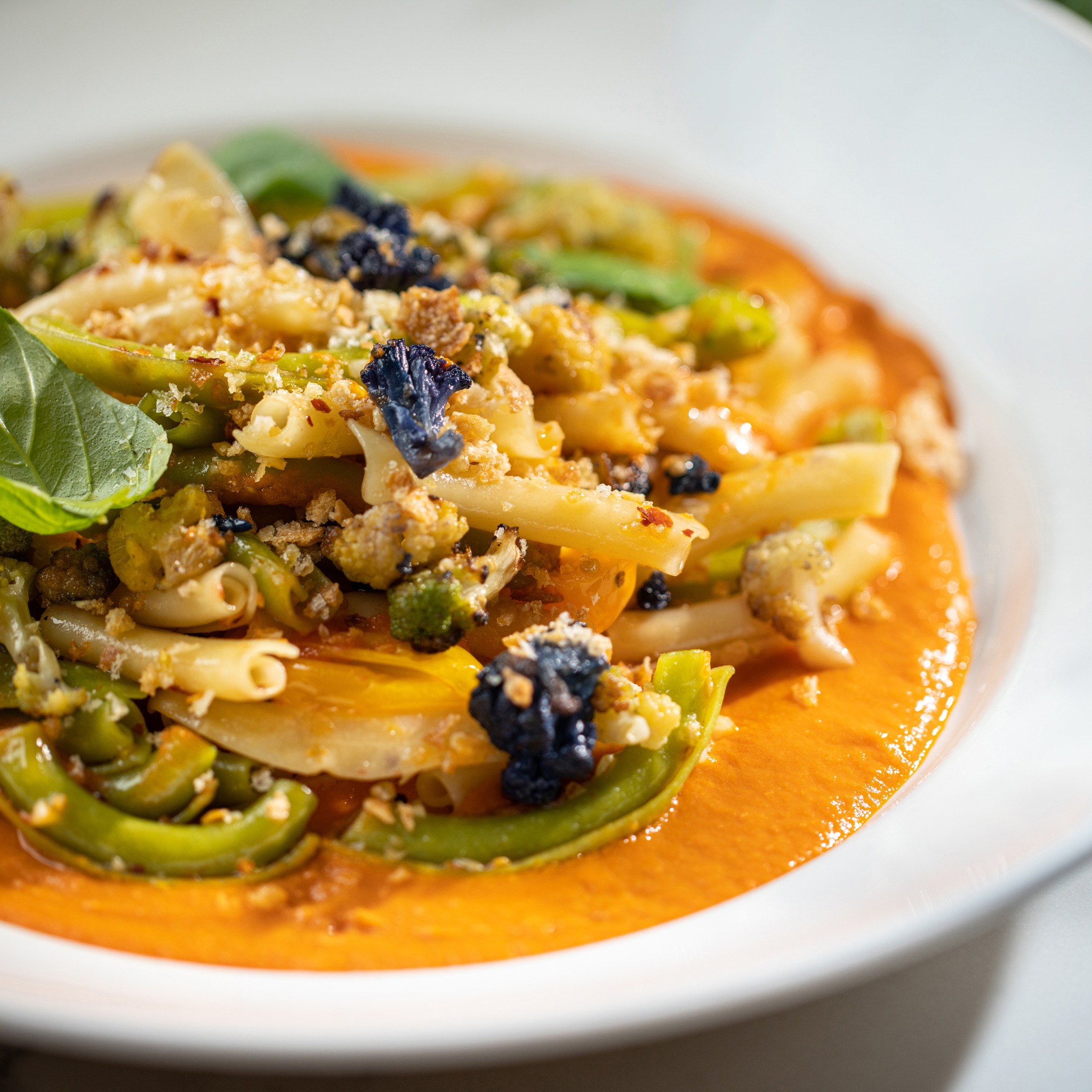 BRERA Osteria
At his other restaurant inside The Venetian, Matteo's Ristorante Italiano, Chef Auriana is also serving a "cheesy" vegan pasta dish made with freshly extruded garganelli pasta, zucchini, nardello peppers, basil, and spicy tomato crema.
Another tasting menu launched this year at WAKUDA, where two Michelin-starred chef Tetsuya Wakuda pulled out all the stops. Dishes here include avocado carpaccio, sashimi toasts, tofu dengaku, cold soba with white truffles, and tofu steak.
"In my eyes, vegetarians and vegans deserve the utmost respect," Christopher Shane Chan, WAKUDA Corporate Brand Executive Chef, tells VegNews. "I wanted to ensure they don't miss out on the beautiful flavors and creations that WAKUDA has to offer.
"The menu creates an educational experience for guests, showing that vegetables can taste as good, if not even better than proteins when prepared with care and passion," Chan says.
At Yardbird—a chicken-focused eatery—vegan options include lemon basil rigatoni that is made with roasted garlic cashew cream and seasonal vegetables; heirloom field pea hummus with pistachios, crackers, and veggies; and a butter lettuce and grilled mango salad.
The first vegan restaurant on the Las Vegas strip
The Venetian is also home to the Las Vegas strip's first vegan restaurant Truth & Tonic, which opened in January 2021 inside the resort's spa. Wellness company Canyon Ranch transformed the existing café inside its spa into Truth & Tonic to keep up with its clientele's growing shift-toward plant-based foods.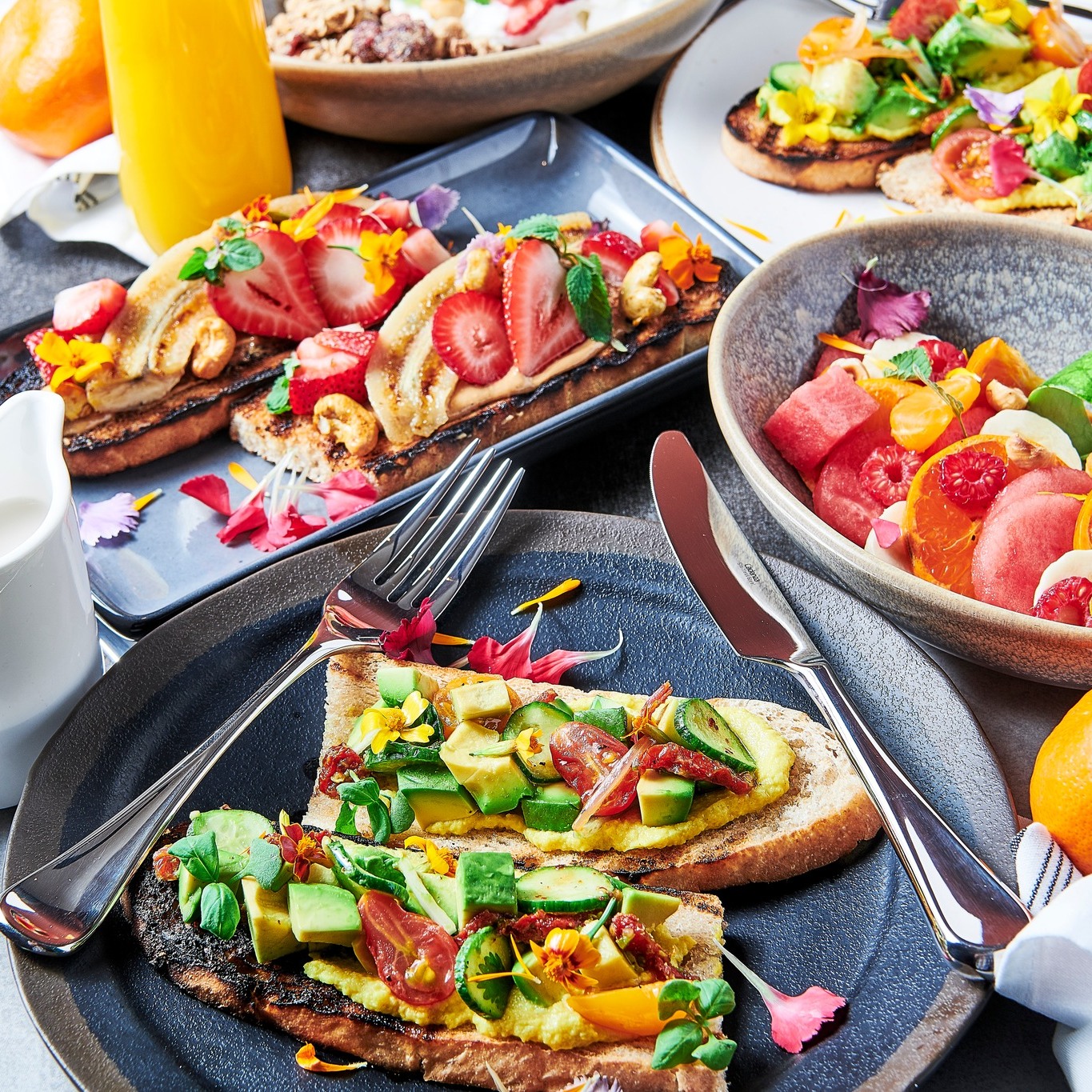 Truth & Tonic
During World Vegan Month (and all other months) the eatery offers its wellness-focused menus prepared by Chef Pete Ghione. A unique experience here is the Afternoon Tea Service served on Saturdays between 3pm and 5pm. The menu features a made-from-scratch tea sandwich built around housemade chamomile bread which comes filled with cantaloupe and cucumber basil cream cheese.
The service also features a selection of other bites such as vanilla and blueberry lemon scones, roasted chai spiced apple crepes, a truffled spinach JUST Egg quiche, French macarons, almond raspberry tarts, and Earl Grey chocolate pot de crème.
Vegan in Las Vegas
In recent years, Las Vegans got many more vegan options. In 2019, NoButcher opened as the city's first vegan butcher shop with a large deli case to showcase the company's vegan meat products (such as NoTurkey, NoPepperoni, and NoBacon), a dine-in area with communal seating (for guests to enjoy deli items such as vegan pulled pork sandwiches and potato salad), and a drive-thru for customers who are short on time.
Beloved vegan taco shop Tacotarian has been operating in the city since 2018. From recreating birria (goat meat) from plant-based ingredients to constructing the largest vegan taco in the universe (a whopping seven-inch monster that launched for World Vegan Day 2019), Tacotarian has been living up to its motto to "turn Vegas vegan one taco at a time"—which rang particularly true in March 2021 when Vice President Kamala Harris stopped in for a few tacos to fit into her "vegan before 6pm" lifestyle.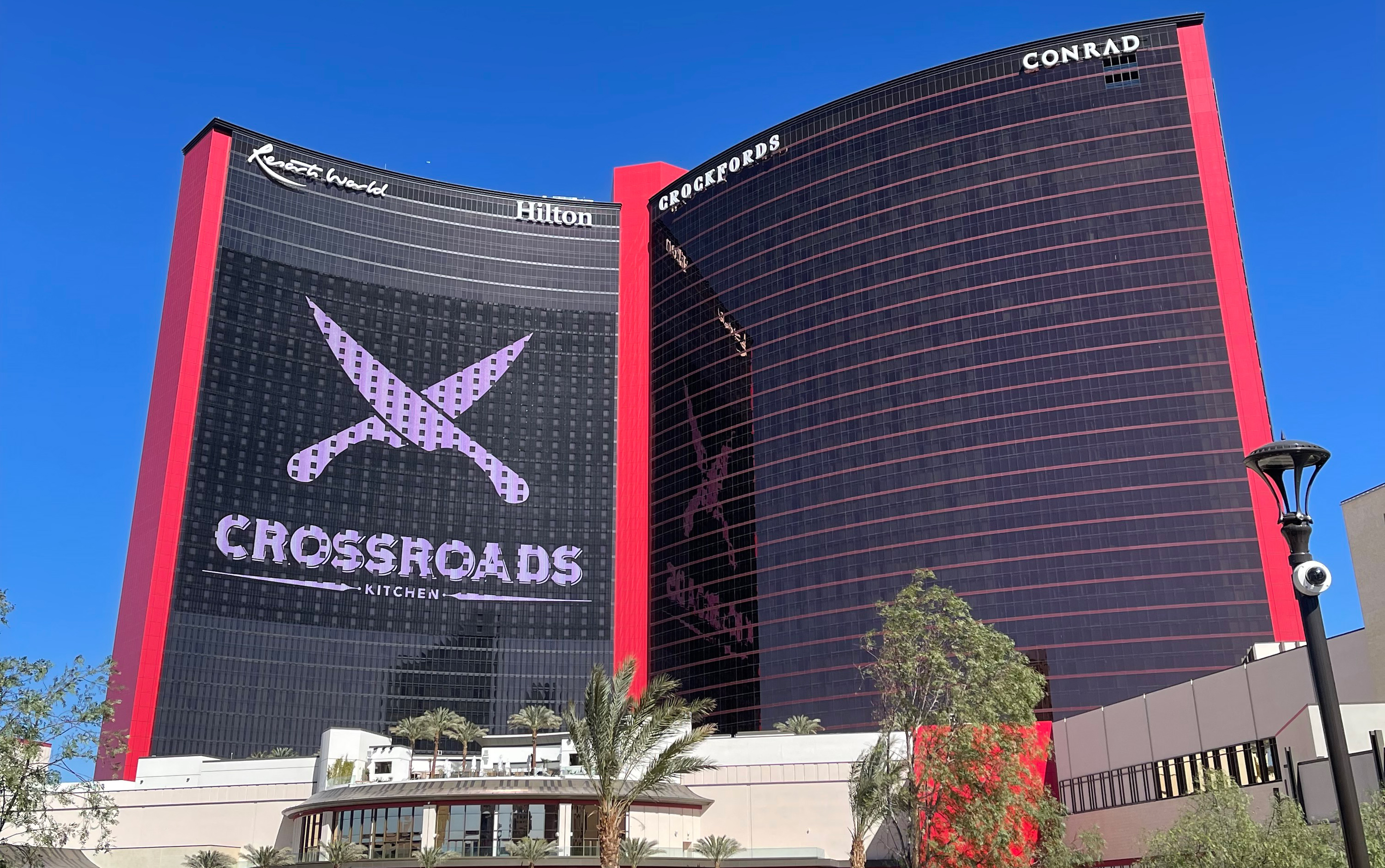 Tal Ronnen
And this year, Crossroads Kitchen became the first vegan fine-dining establishment on the Las Vegas strip when it opened at Resorts World in May. Here, Chef Tal Ronnen serves his popular dishes from the eatery's flagship West Hollywood location, including Stuffed Zucchini Blossoms, Beet Tartare, and house-made pasta such as the Tagliatelle Bolognese and Fettuccine and Truffles. Crossroads also operates a more casual concept, CB/Crossroads Burgers, inside the resort.
For the latest vegan news, read: