On January 4, global fast-food chain McDonald's will roll out a new Double McPlant in all restaurants in the United Kingdom and Ireland. The move comes after a successful launch of its original plant-based burger, the McPlant, last year.
Developed in partnership with vegan brand Beyond Meat, the McPlant features a Beyond Meat patty with ketchup, mustard, vegan special sauce, onions, pickles, lettuce, tomato, and dairy-free cheese on a sesame-seed bun. The new Double McPlant will feature the same build but with two Beyond Meat patties.
McDonald's has confirmed that the burger will be cooked on a separate grill and use dedicated utensils for its plant-based offerings. The burger has been certified vegan by the country's Vegetarian Society.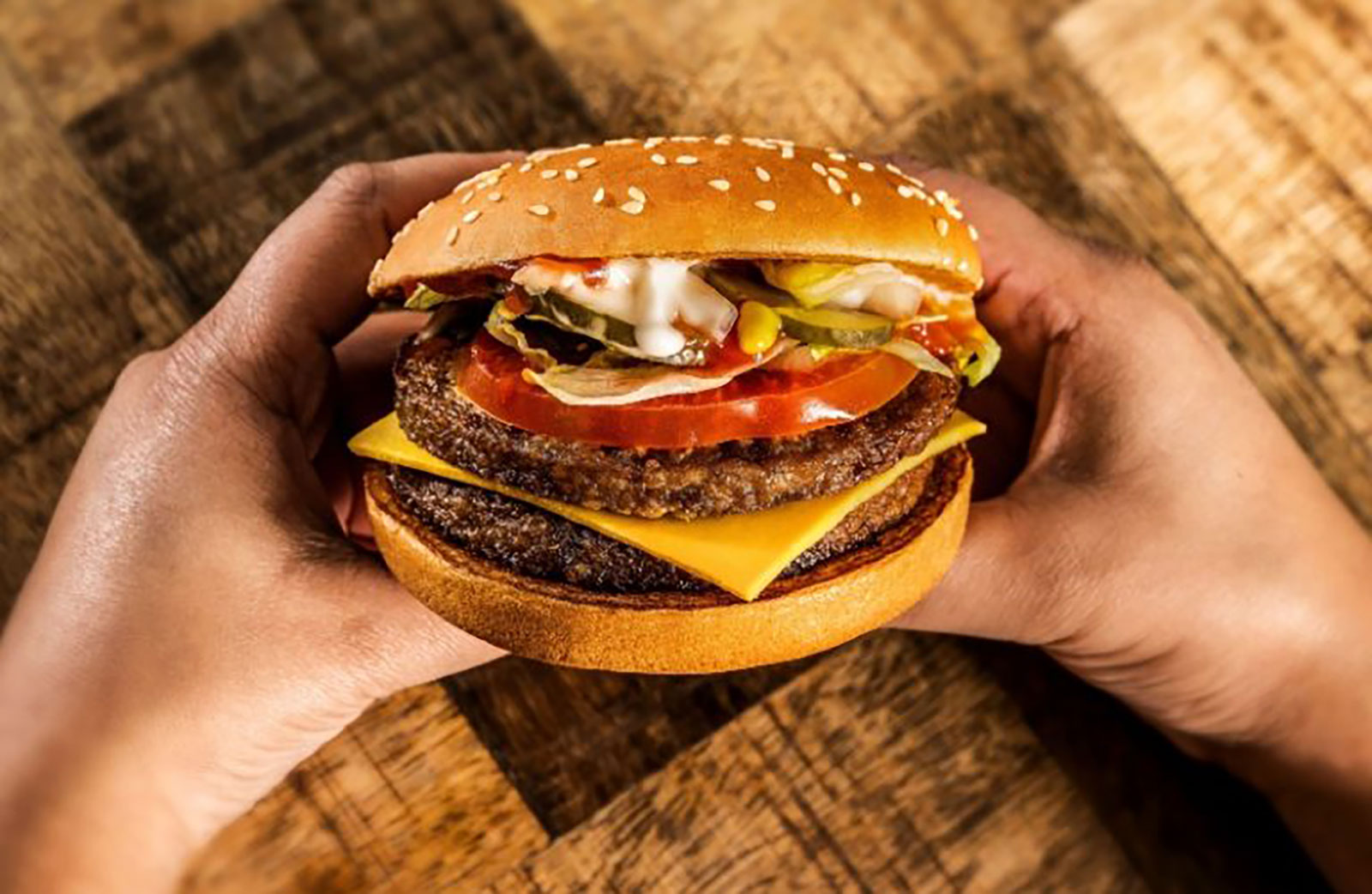 McDonald's UK
McDonald's says the McPlant has already proven to be "wildly successful" with customers since its launch in September 2021. "It's no secret that people went wild for the taste, with many taking to Twitter to express their desire for a doubled-up version," the chain said in a statement.
One user said: "I know it's 7am but when are @McDonaldsUK going to allow a Double McPlant?? All I want is the option to have two patties. this is the important stuff I need addressed."
Another fan took to Twitter to say: "I have said on many occasions that the McPlant has changed my life, but if there were to be a double McPlant? I can only imagine."
McDonald's McPlant platform
Last year, McDonald's signed a three-year partnership with Beyond Meat to co-develop the fast-food chain's McPlant platform, which is expected to result in the launch of various plant-based options globally. The range includes the McPlant and Double McPlant burgers, but could include new items such as plant-based chicken burgers and vegan egg breakfast sandwiches.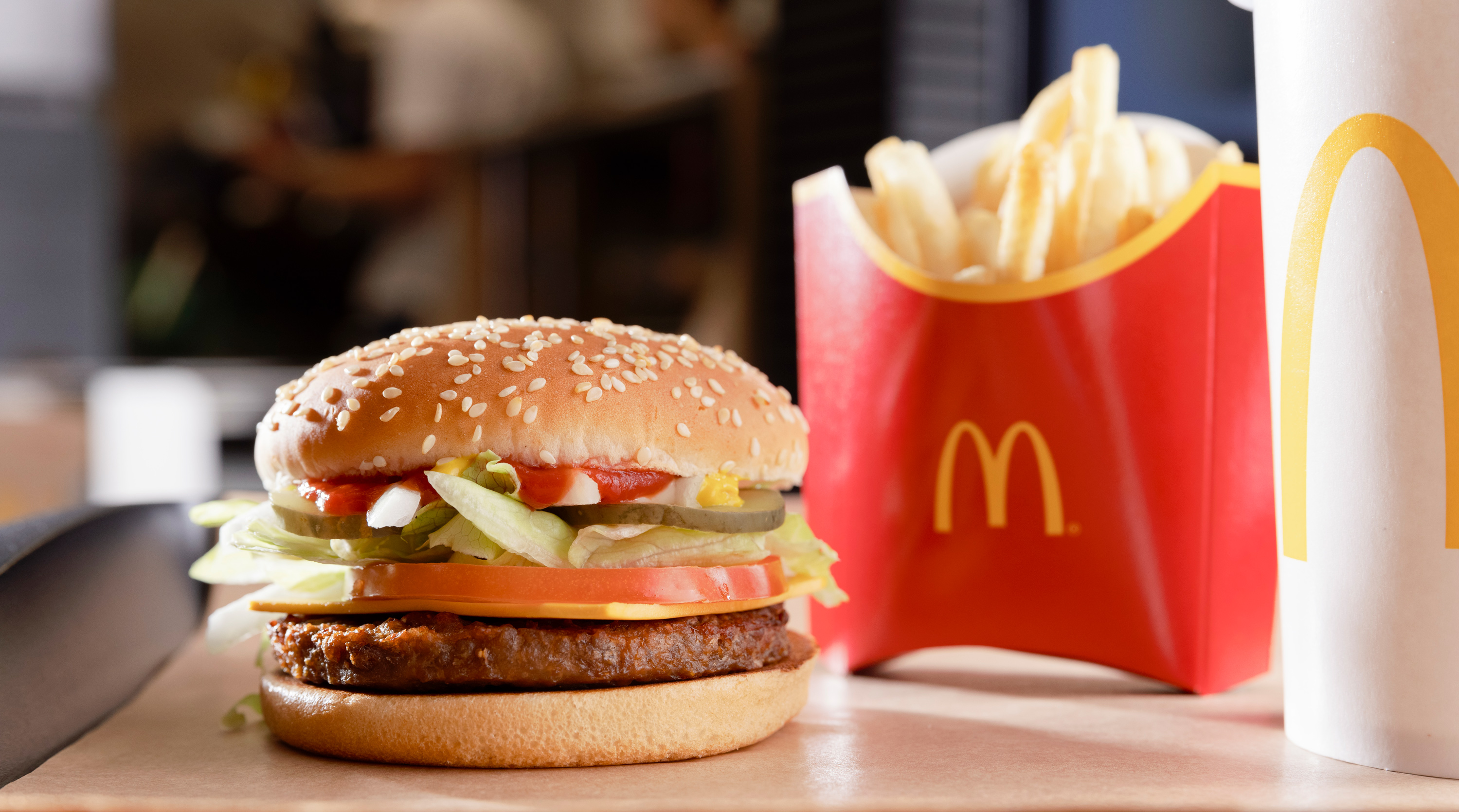 McDonald's
Until now, the Beyond Meat partnership has resulted in a limited launch of a McPlant burger in European markets, including test locations in Sweden, Denmark, Austria, the United Kingdom, Australia, and Portugal. Most recently, the burger found permanent placement on McDonald's menus across The Netherlands after a limited test last year. While few countries have trialed the McPlant burger, the company has said it plans to use the McPlant platform to develop products that meet demands in specific markets.
McDonald's also tested the McPlant domestically, first in a handful of locations in California, Texas, and Louisiana late last year before expanding its test markets to 600 additional locations in the San Francisco Bay Area and the Dallas-Fort Worth region in March. Stateside, McDonald's concluded the McPlant test with no announcement of national expansion.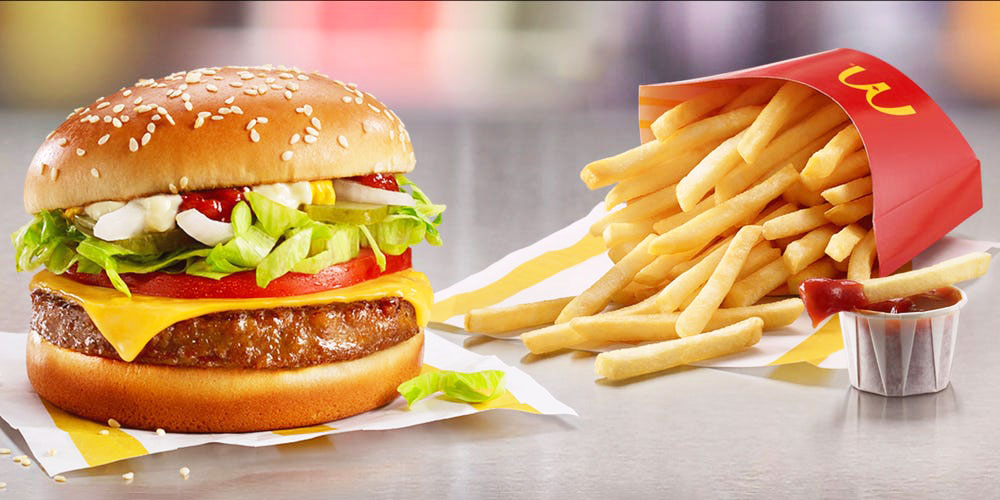 McDonald's
Prior to launching the McPlant, McDonald's first began testing plant-based burgers in 2019 with a limited-time test of the P.L.T. (Plant, Lettuce, and Tomato) burger made in partnership with Beyond Meat at select locations in Ontario, Canada.
Fast-food chains go plant-based
Though McDonald's has been slow to add plant-based options to its menus, many fast-food chains worldwide are ahead of the game. Stateside, Burger King offers the plant-based Impossible Whopper at its more than 7,000 locations across the United States. The Impossible Whopper features a flame-grilled Impossible Burger 2.0 patty topped with sliced tomatoes, lettuce, mayonnaise, ketchup, pickles, and onions on a toasted sesame-seed bun—and can be made vegan if ordered without the mayonnaise.
The chain has also tested a plant-based chicken sandwich—made with an Impossible Foods' patty—at select locations in Cincinnati, OH. Burger King's exploration of vegan chicken has put meatless nuggets and sandwiches on the menu in other regions, including in Chile, where it added two options made by local startup TheNotCompany in July.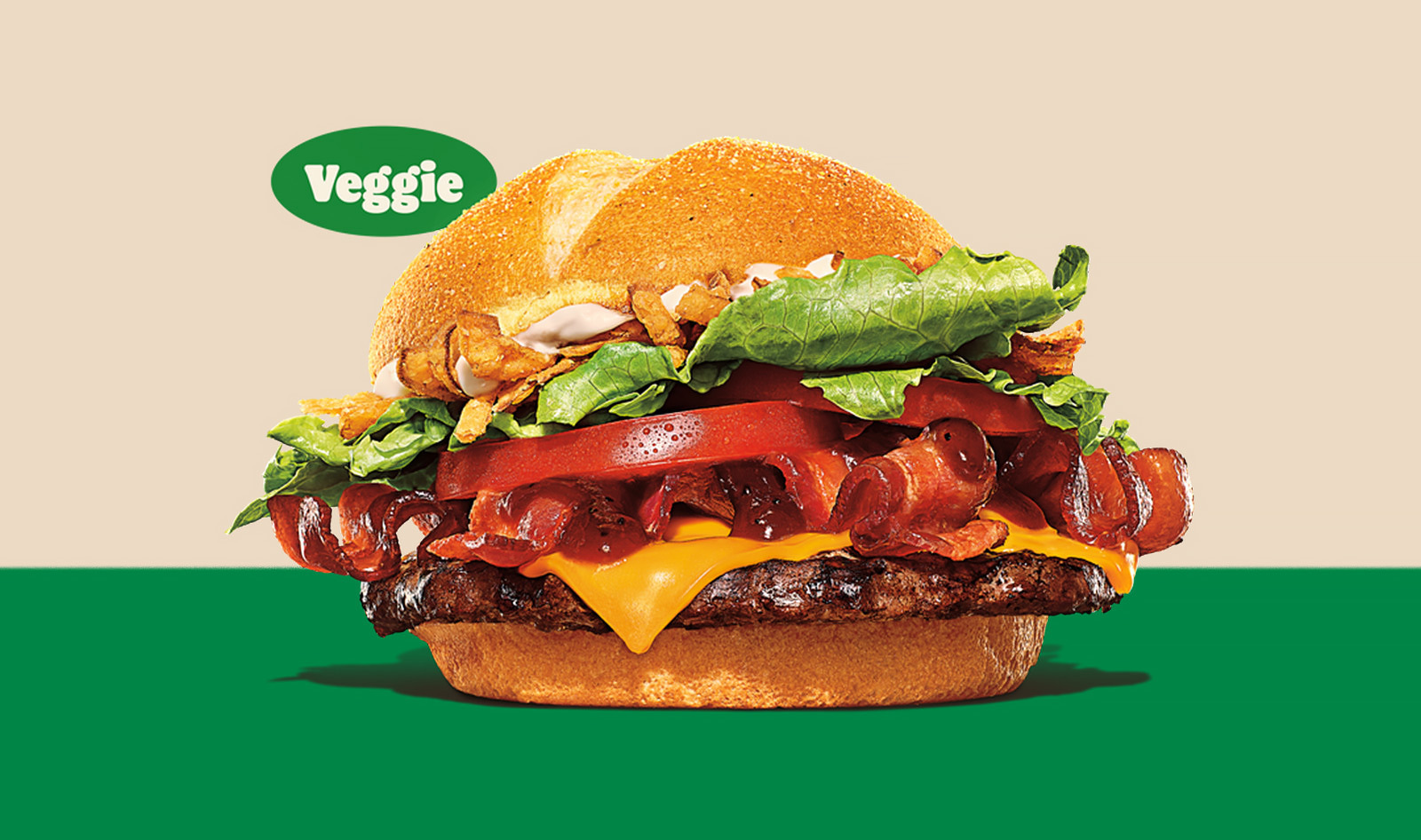 Burger King UK
In recent years, Burger King has also been transforming locations around the world into meatless outposts, serving plant-based versions of its classic menu items in countries such as the UK, Spain, Portugal, and Costa Rica.
In 2019, Wendy's tested The Plantiful Burger on its menu in Canada. It was made with a pea protein-based patty—the key ingredient used by many modern vegan meat brands, including Beyond Meat—made by an undisclosed company. While the chain has since removed The Plantiful Burger from its menu, last year Wendy's got back into the plant-based game with the introduction of the Spicy Black Bean burger in three test markets in the US: Columbus, OH, Jacksonville, FL, and Pittsburgh, PA.
For the latest vegan news, read: