While Chick-Fil-A and Popeyes keep giving consumers the same old chicken sandwiches, Burger King is stepping it up with a plant-based version of its fan-favorite Original Chicken Sandwich. Starting today, customers at participating Cincinnati, OH Burger King locations can order the Original Chick'n Sandwich made with Impossible Foods' new Impossible Chicken Patties made from Plants. The limited-time sandwich can be ordered fully plant-based by omitting the mayonnaise.
"Burger King has demonstrated once again that they know how to deliver innovative options that taste great," Dan Greene, Impossible Foods SVP of North America Sales, said in a statement sent to VegNews. "Working with them to launch our first-ever chicken patty has been a fun way to continue our partnership. We think fans are going to love this new plant-based twist on the Original Chick'n Sandwich."
As with its other meatless items, Burger King notes that while the chicken is plant-based, it shares equipment with animal-derived items.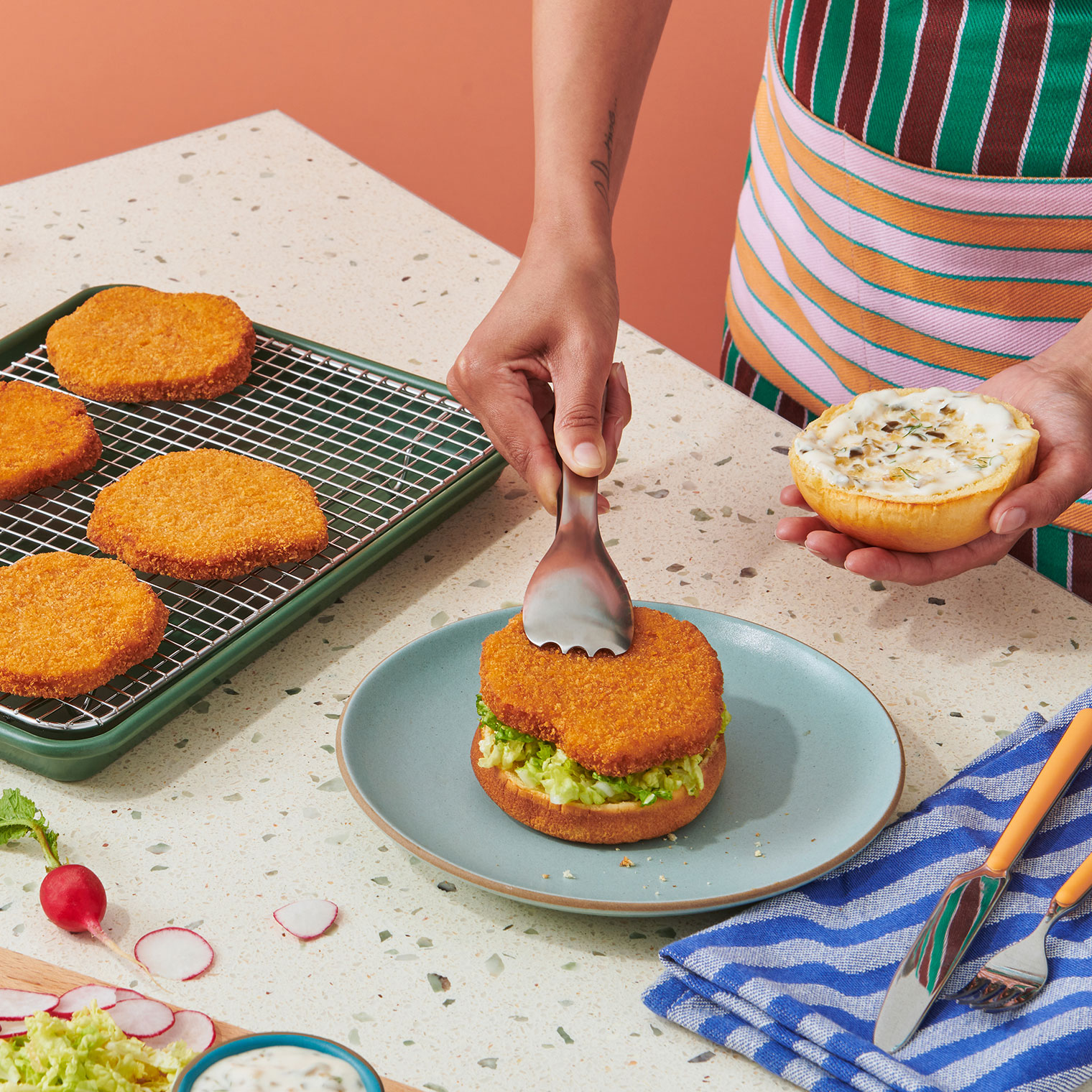 Impossible Foods
Impossible's plant-based chicken
Impossible Foods' overarching mission is to create viable plant-based alternatives to all animal products by 2035 in an effort to rebuild a better food system for all. Thus far on the journey, Impossible Foods has tackled several meat categories—on both the foodservice and retail front—starting with Impossible Burger as a beef alternative and followed by a line of Impossible Pork products in ground, sausage, and link formats.
Impossible Foods began tackling the chicken category last summer with the launch of its Impossible Chicken Nuggets made from Plants—which it has since expanded with fun, wild animal shapes in retail. In addition to Burger King menus, the new plant-based chicken patty is scheduled for a retail rollout, as well. This month, the Impossible Chicken Patties begin hitting the frozen aisles of nationwide retailers such as Safeway and Sprouts, with thousands more locations to follow this fall including Kroger and Albertsons.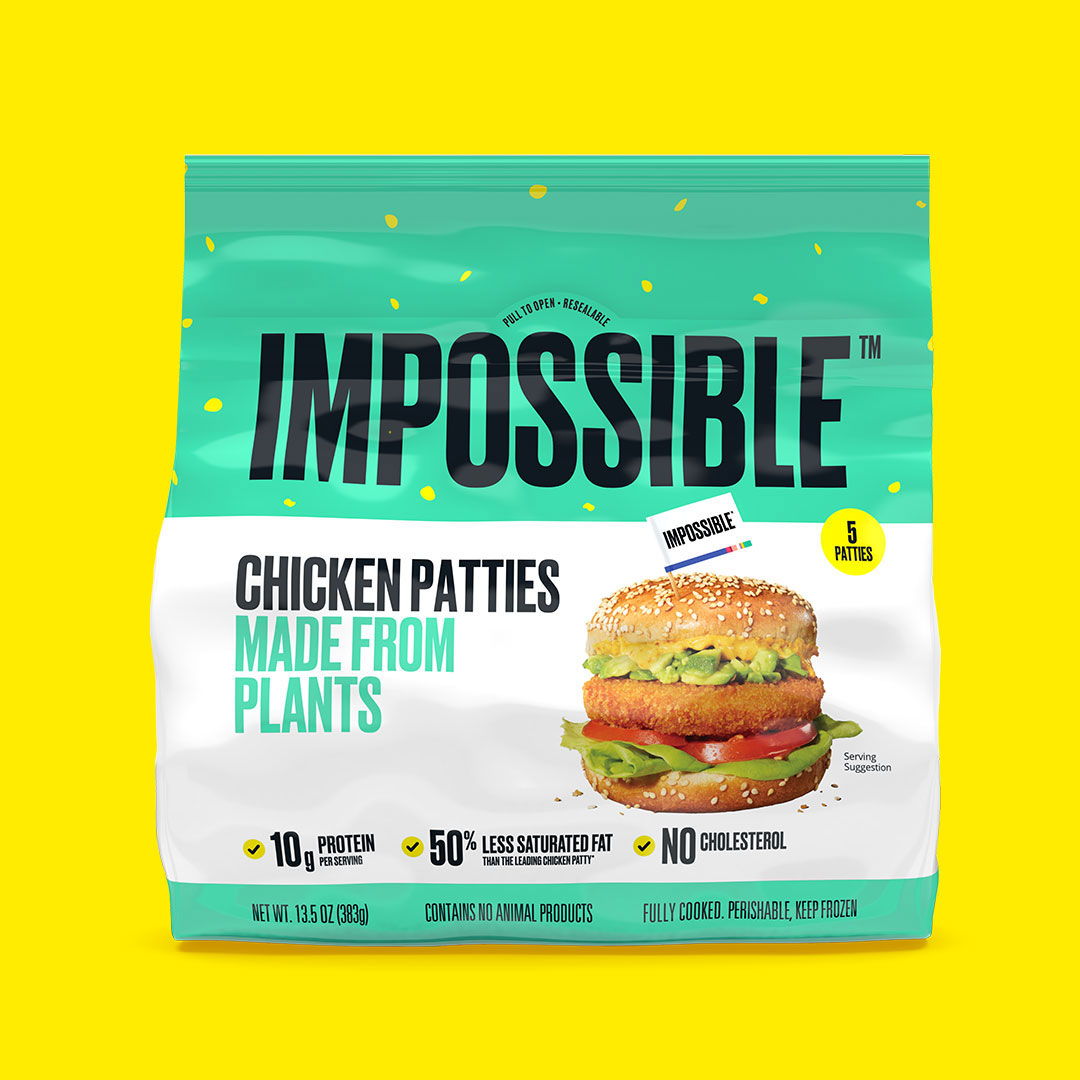 Impossible Foods
Much like its other products, Impossible created the plant-based chicken patties to compete with animal-derived chicken on every level, and to outcompete it on factors such as environmental impact. To that end, the Impossible Chicken Patties made from Plants use 49-percent less land, 44-percent less water, and emit 36-percent fewer greenhouse gasses than animal chicken patties.
Burger King goes all in on vegan fast-food
In 2019, Burger King and Impossible Foods paired up for what would become a fast-food industry-changing partnership. That year, the first Impossible Whopper—a plant-based version of the iconic burger—landed nationwide on Burger King's menu. While the Impossible Burger was already on the menu at cult favorite fast-food chain White Castle at the time as a slider, with Burger King's 7,000-unit weight pushing the plant-based burger revolution forward, other industry giants could no longer ignore shifts in consumer habits and demands.
Since then, plant-based burgers have become a mainstay on many fast-food menus, with the exception of McDonald's, which just completed its first domestic test of the McPlant—its first meatless burger made in partnership with Beyond Meat.
Burger King is constantly exploring its relationship with Impossible Foods in new ways. This summer, the chain added the Impossible King and Southwest Bacon Impossible Whopper (where the beef is plant-based and the bacon is made from pigs) to give customers additional options. While its new Impossible sandwich is its first foray into plant-based chicken sandwiches in the United States, Burger King tested Impossible's plant-based chicken nuggets—the largest fast-food chain to do so—shortly after they first launched last year.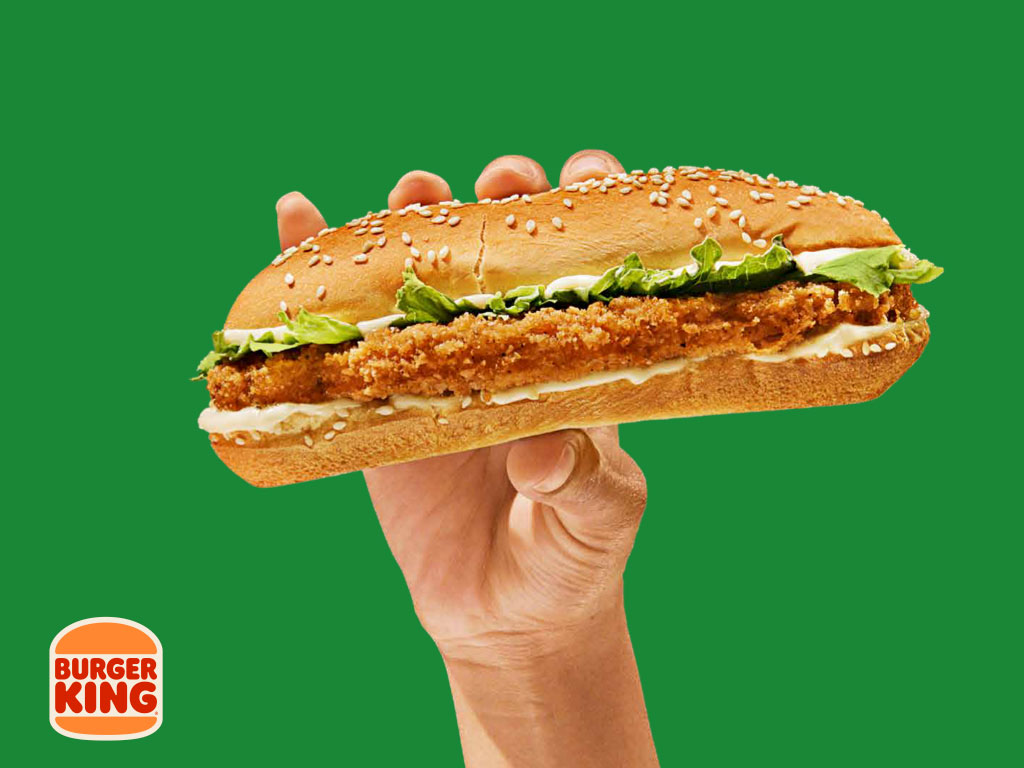 Burger King
Outside of the US, Burger King has forged partnerships with a variety of plant-based brands to help it put more vegan food on the menu. In many regions, including Europe, it works with Dutch brand The Vegetarian Butcher which supplies its plant-based chicken and beef alternatives so it can offer meatless versions of classics such as The Chicken Royal (also known as The Long Chicken). In the United Kingdom, these meatless items have proven so popular that Burger King is aiming to serve a menu that is 50-percent plant-based by 2030.
Currently, Burger King is gathering intel about how plant-based foods perform on its menu globally through a series of meatless pop-ups that started last year with one store in Germany. There, the fast-food giant served nuggets, chicken sandwiches, and other items in partnership with The Vegetarian Butcher. Since then, Burger King has expanded the pop-up concept to other regions, including London, Switzerland, Austria, Spain, and Chile—where it works with local vegan food-tech company NotCo.
For the latest vegan news, read:
Food Network Champion Priyanka Naik Is Home Bistro's First Vegan Chef
Why Harry & David Is Getting Into Vegan Charcuterie for the First Time
Doctor-Led Vegan Meal Program Tours Hospitals, Schools, and Prisons