Like many food-obsessed millennials, New York native Priyanka Naik grew up watching the Food Network. Fast-forward to today, and she is featured on meal delivery platform Home Bistro, alongside one of her Food Network idols, Cat Cora, the first female Iron Chef on the network's series of the same name. A self-taught chef, Naik can now also claim an important first of her own as she is officially the first vegan, South Asian chef on Home Bistro.
Home Bistro is a meal delivery platform that brings elevated frozen meals to its customers through collaborations with some of the industry's best-known chefs and culinary stars. Currently, the platform features meals made by Cora, Top Chef runner-up Richard Blais, Ayesha Curry (wife of NBA star Stephen Curry), and more. Naik's plant-based meals are joining the line-up during a time when Home Bistro is actively looking to expand its plant-based options with unique offerings.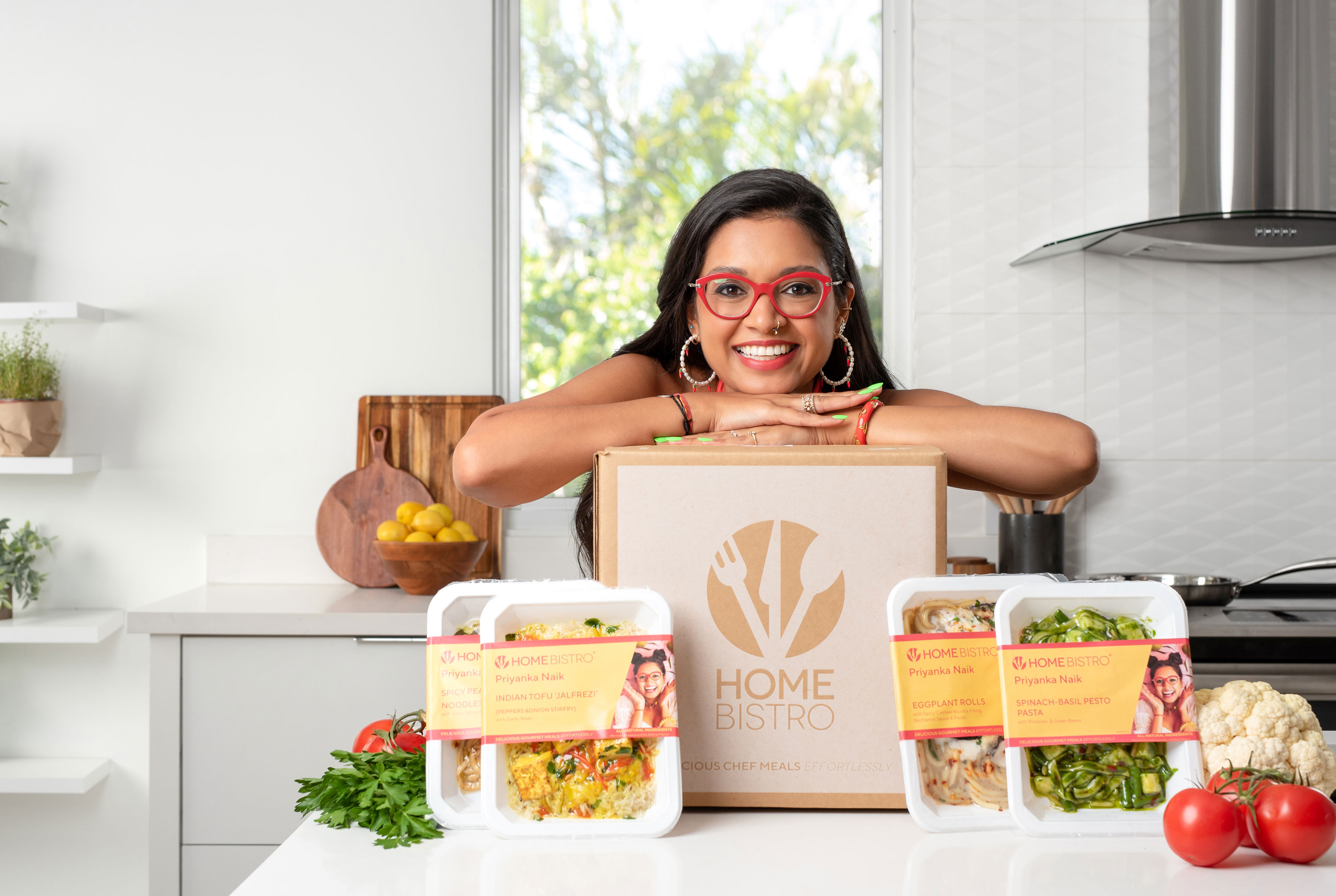 Home Bistro
"Given the recent popularity of plant-based items in general it was something we have wanted to do for quite some time," Home Bistro CEO Zalmi Duchman tells VegNews. "I have followed Priyanka for a while on social media and loved her personality and the fact that she wasn't just plant-based but also so familiar with many cultures given her extensive travel so the combination was very intriguing to us."
Naik was born and raised on Staten Island, NY but her roots are from the Maharashtra region of India—which encompasses Mumbai. While North and South Indian cuisines are well-known in the United States, food from this region—typically characterized by seafood, boldly spiced sautéed vegetables, rice-based dishes, and dry chutneys—is not yet as popular stateside and Naik is working to change that through her own lens.
"The Home Bistro launch is really important to me because it takes away the effort for people to have to cook," Naik tells VegNews. "But as a chef, it is really fulfilling to have people actually eat my food. And if it's vegan, that's a win-win for me."
The vegan menu at Home Bistro
For her Home Bistro debut, Naik had full creative freedom to develop five dishes that speak to her culinary identity. "The message that I'm trying to send with the meals I developed for Home Bistro is the versatility of vegan food," Naik says. "Each dish has a completely different flavor profile and that directly stems from my knowledge of how to use spices and pairing that with different ingredients."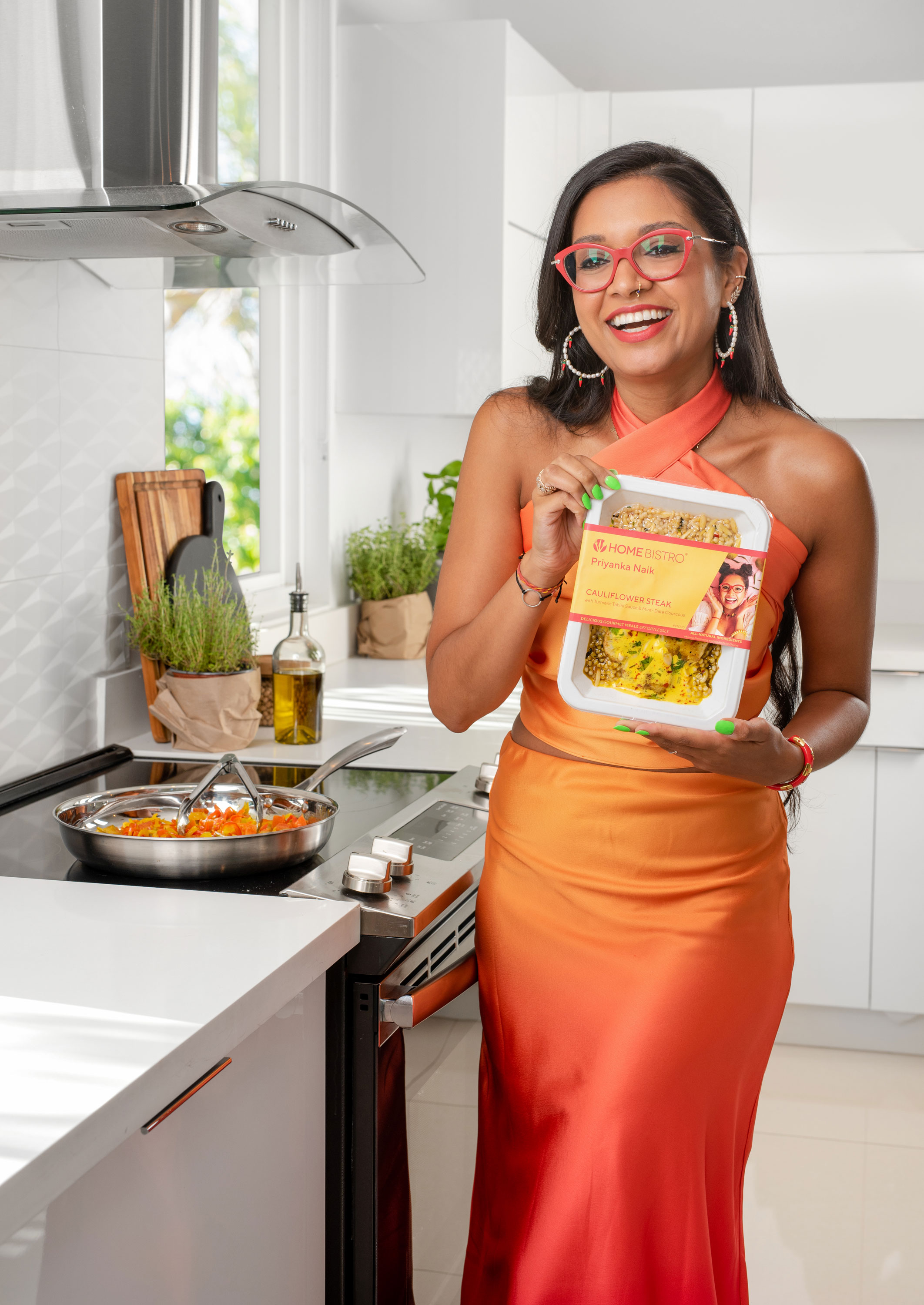 Home Bistro
She dedicated two dishes to Indian flavors: Indian Yellow Daal with Jeera Rice & Sauteed Cabbage and Creamy Pumpkin-Cardamom Oats with Caramelized Banana & Slivered Almonds. While Naik is always inspired by the flavors of her cultural heritage, the chef—who has visited nearly 40 countries—also likes to explore food through a global cuisine lens and developed the Spinach-Basil Pesto Pasta With Potatoes & Green Beans as an homage to her hometown of Staten Island, NY where Italian-American cuisine is prevalent.
To honor Middle Eastern food, one of her favorite cuisines, chef Naik created Cauliflower Steak With Turmeric Tahini Sauce & Mint-Date Couscous. The final dish available through Home Bistro is a Sweet Potato Chipotle Quinoa Bowl with Esquites, which Naik made to capture Mexican-inspired flavors in everyone's favorite format: a bowl.
Chef Naik's Home Bistro meals are currently on sale for $15 each (normally $19) and can be purchased in bundles of five ($75) and 10 meals ($150). The meals are only available for a limited time throughout August but could see a more permanent placement if demand proves successful.
Do culinary schools need to evolve?
Naik's placement alongside Iron Chef Cora on Home Bistro is the second Food Network accolade for the self-taught chef. In 2017, Naik became a champion on Food Network's Cooks vs. Cons, winning the cooking competition—predicated on pitting culinary professionals with home cooks or "cons"—with her two vegetarian dishes. Throughout her career, Naik has achieved some of her biggest goals without the help of culinary school … and for good reason.
Courtesy
A vocal vegan for ethical and environmental reasons, Naik grew up cooking, mostly "vegan by default" dishes, alongside her mother. When Naik first became interested in professional cooking in high school, she explored attending an accredited culinary school and, to her dismay, discovered some outdated practices. When she inquired about having to cook meat, she was told that animal butchery and eating animal products were mandatory to complete the curriculum.
She also found that culinary schools rarely dedicated more than a few days to Asian cooking, despite this demographic representing a large portion of the human population. "It just didn't make sense to me," Naik says. "The reason why I love to cook is because of my culture and I'm not going against my food philosophy so I exed out the option of going to culinary school."
Instead, she taught herself how to cook and started a food blog after college, Chef Priyanka, which she has run for 10 years and expanded upon through various social media channels. "Not everyone needs to go to culinary school to become a chef," she says. "Culinary school is a European-developed institution … I don't really care to sous vide anything. It doesn't apply to anything I cook. Once people start getting out of that tunnel vision, then their entire horizon expands to new talent. Some of us are doing really cool sh*t here."
In addition to her Home Bistro meals, Naik recently released her first cookbook The Modern Tiffin, which captures her unique style of cooking, and is preparing to deliver a TED Talk next year which will be focused on her journey as a self-taught chef.
For the latest vegan news, read:
Harry & David Gets Into Vegan Charcuterie for the First Time
Doctor-Led Vegan Meal Program Tours Hospitals, Schools, and Prisons
After 40 Years, Tofutti Rebrands To Keep Up With the Vegan Movement