Since 1910, Harry & David has been delighting food fans with gift boxes filled with gourmet products. But while the brand started its business shipping deluxe pears from its own farms, over the years, Harry & David's gourmet gift boxes focused heavily on cured meats, cheeses, and desserts made with animal products. However, this year, the brand is looking to evolve its offerings based on a shift in consumer tastes toward animal-free, environmentally friendly products.
This month, Harry & David added its first-ever vegan cured meat option. Made by California-based Renegade Foods, the plant-based salami comes in three flavorsi: Toscana, Sopresatta, and Spicy Chorizo.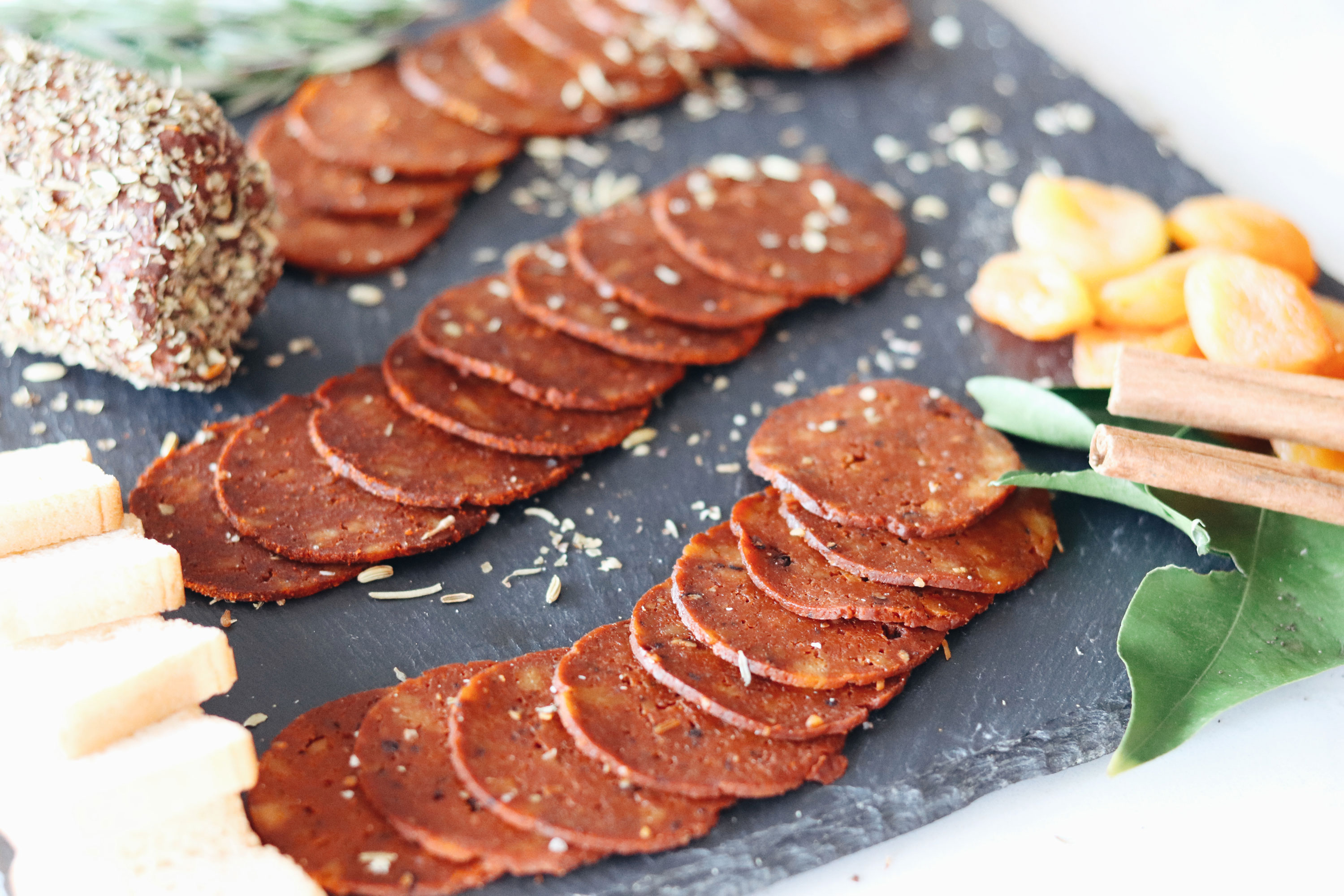 Veronica Darrah
"The demand for alternative meat offerings has surged, and we want to ensure our customers have the opportunity to purchase gourmet vegan meat products from Harry & David, whether for gifting, easy entertaining, or self-consumption," Sierra Castellano, Senior Director of Merchandising at Harry & David, tells VegNews. "Additionally, the charcuterie and cheese categories continue to trend, and Renegade offers a premium alternative meat charcuterie that is a perfect complement to our Harry & David product assortment."
Making vegan salami
Renegade Foods co-founder Iona Campbell is a foodie at heart and started the company with the mission of bringing vegan options into a space typically occupied by gourmet animal products. A lifelong vegetarian, the trained chef initially found the inspiration for starting Renegade Foods during her travels to Spain in 2010, where she learned everything about cured meats from a team of European chefs.
"I was so inspired by the experience but I felt left out because I couldn't share in any of these experiences," Campbell tells VegNews. "I came back to [Sonoma] California and was feeling really inspired to take everything I had learned and apply it to plants. I love bringing people together over food and sharing new experiences and flavors. Charcuterie is the perfect way to do that."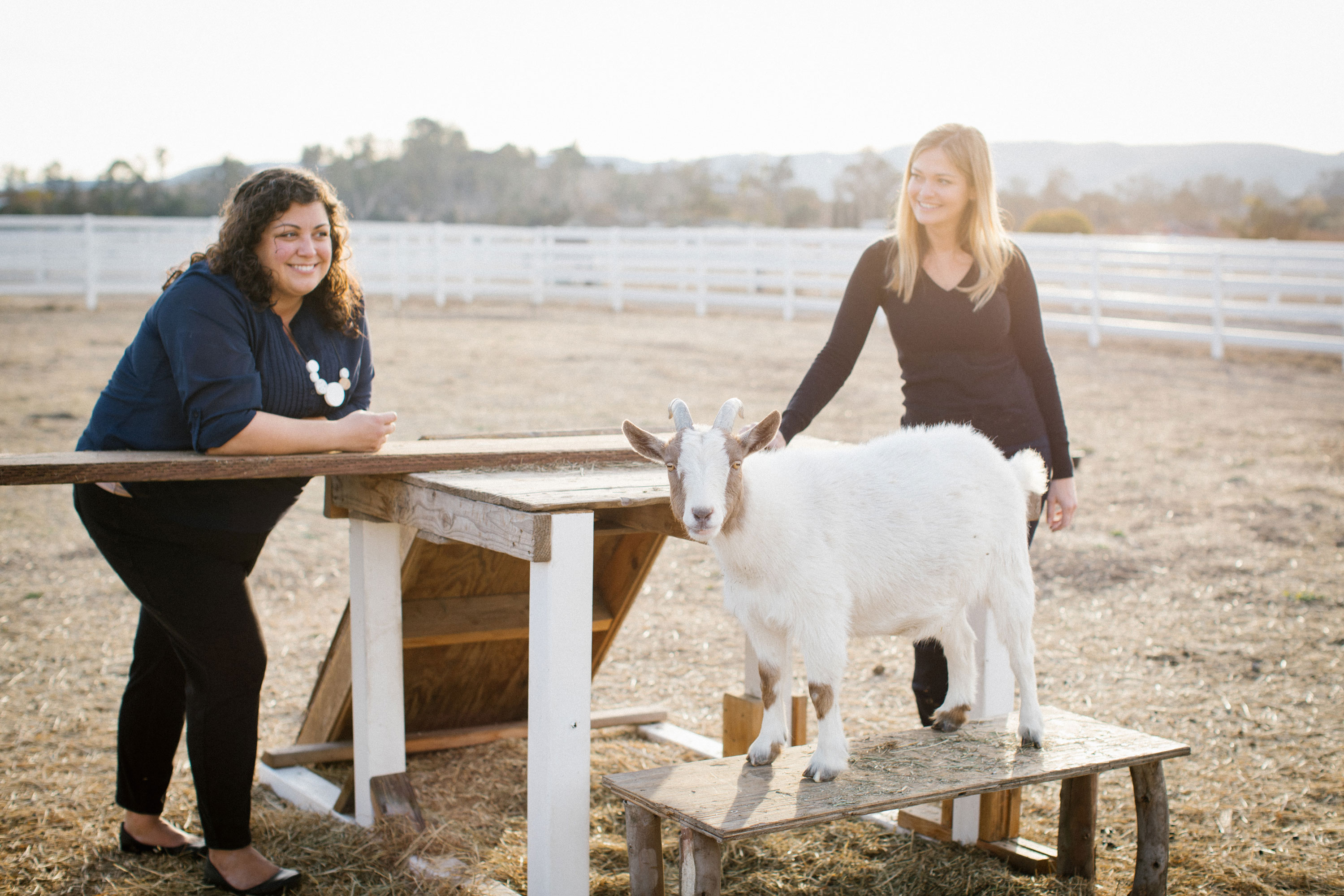 Founders Kalie Marder (left) and Iona Campbell (right). Photo by: Sonya Yruel
Prior to launching Renegade, Campbell decided to go vegan after discovering Miyoko's Cultured European Butter, a gourmet vegan butter made using traditional dairy techniques. "There was something about trying that butter. It was so delicious and authentic that something just clicked in me to take the plunge," Campbell says.
"Going vegan is partly what inspired me to launch this company because I realized that just one product could have such a big impact on someone's life direction," Campbell says. "I was really inspired to create products that could have that impact on others, as well."
Drawing from these experiences, Campbell created vegan salami by repurposing the tools (think meat grinders and sausage stuffers) and techniques, such as fermentation and dry-aging, used in traditional charcuterie making but applied them to plant-based ingredients with a focus on retaining nutrition.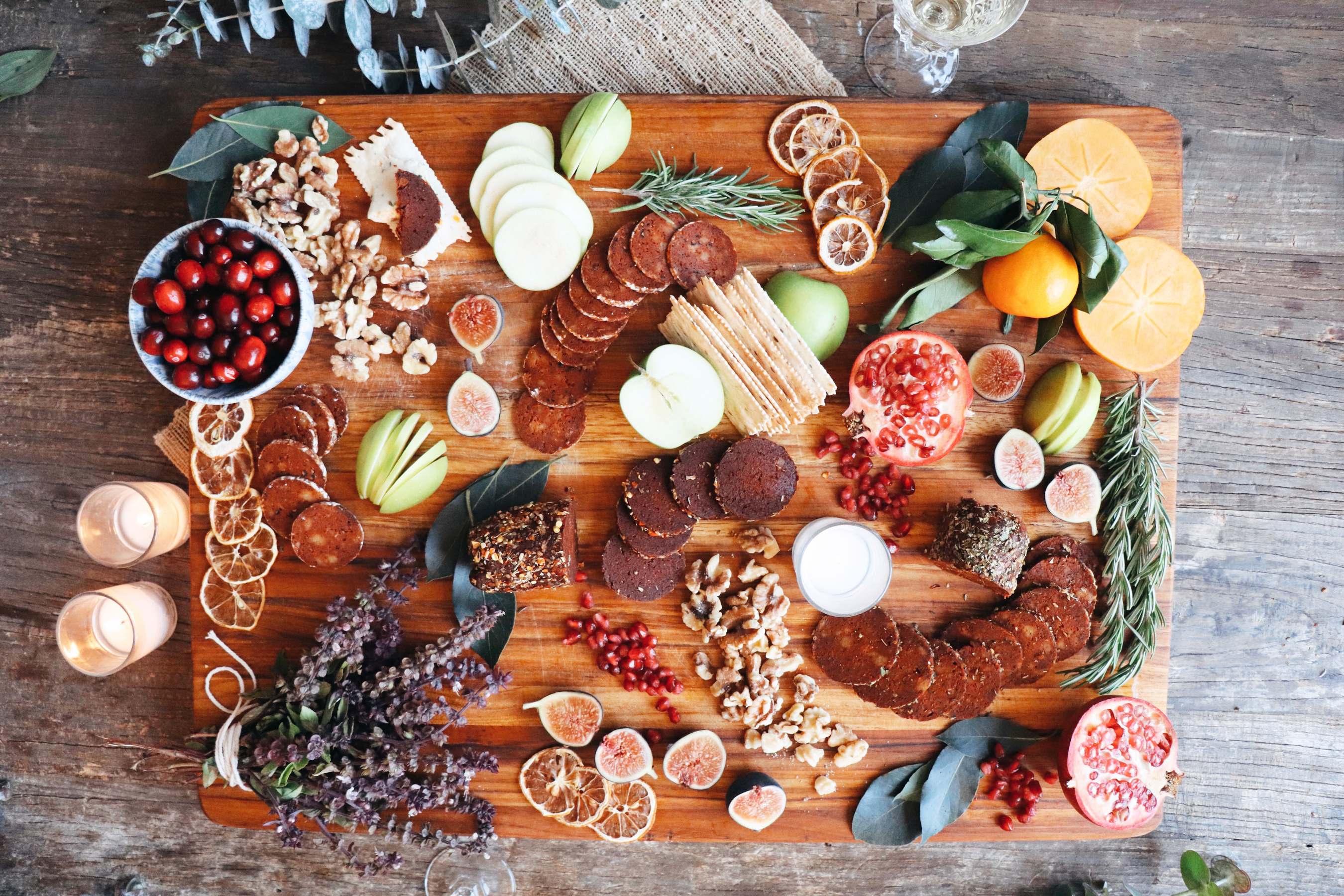 Veronica Darrah
While gourmet foods are Campbell's passion, she also sees value in expanding Renegade into other categories to make the most impact, including more mainstream deli meat styles that she hopes to distribute through affordable chains like Target. In addition to Harry & David, Renegade's vegan charcuterie is also available through the company website, select retailers, restaurants, and wineries.
Harry & David's first vegan salami
While the plant-based meat industry has carved out market share in spaces such as fast-food menus and the grocery meat aisle, gourmet vegan meats are just starting to come to the forefront, with a big surge in popularity of charcuterie boards created during the COVID-19 lockdowns.
Now, legacy brands like Harry & David are making companies like Renegade Foods visible to a new audience who is hungry for vegan charcuterie. Renegade Foods approached Harry & David with its vegan salami after learning from an advisor that the company was looking for a meatless offering but was not satisfied with what was available on the market.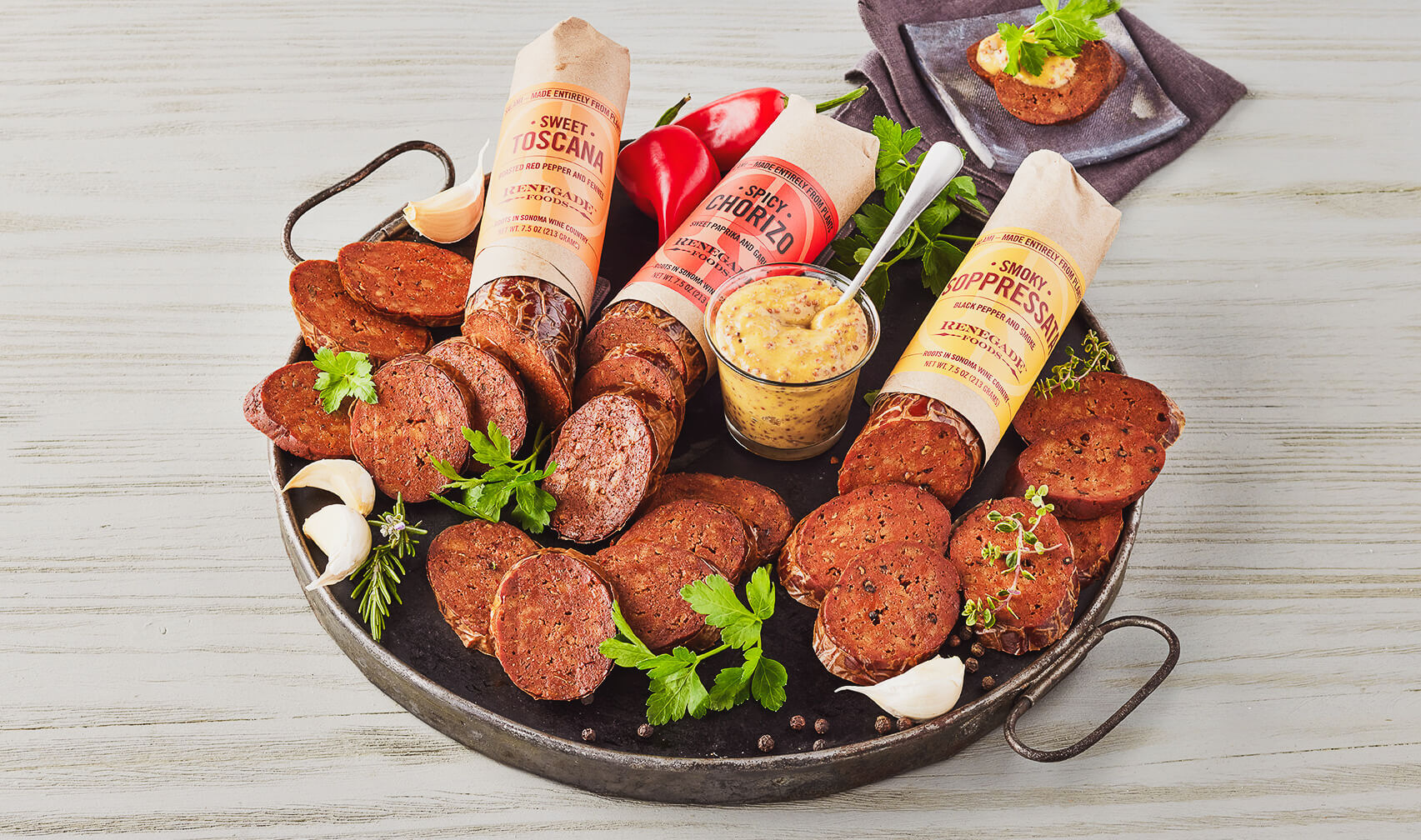 Harry & David
"From what I've heard, Harry & David is an extremely data driven company. The fact that they have decided to branch out into vegan products just shows how much this movement has grown and how it's really impacting every corner of the market," Campbell says. "It's not just these new-age companies providing plant-based options. [Harry & David is] over 110-years-old and they are extremely established in the market."
Harry & David's gets into vegan food
Harry & David was born during a time when the internet did not exist and has had to evolve rapidly to remain viable in the modern era. Its parent company, 1-800-FLOWERS.com, Inc.—a floral delivery service previously accessed by its namesake phone number—owns 17 brands and is modernizing them with plant-based options.
This month, 1-800-FLOWERS also announced its subsidiary cookie delivery company, Cheryl's Cookies added its first vegan cookie assortment to keep up with the times. The cookies come in four flavors—Sugar Cookie, Marshmallow and Chocolate Chunk, Chocolate Chip Cookie, and Frosted Cut-Out—and are available in four different gift boxes that range in price from $14.99 to $49.99. Since 1-800 FLOWERS often cross-promotes products across its family of brands, the cookies are also available as a vegan sampler pack through Harry & David.
Harry & David also just launched plant-based prepared foods: Wheatberry-Kale Salad with Vegan Chorizo and Quinoa-Roasted Sweet Potato Salad. Made to be enjoyed as a side or light meal, these dishes arrive ready to thaw and serve. While adding Renegade's meatless salami, vegan cookies, and plant-based meals to its arsenal is a new move, the company is already looking forward to exploring additional options to best serve its consumers' evolving preferences.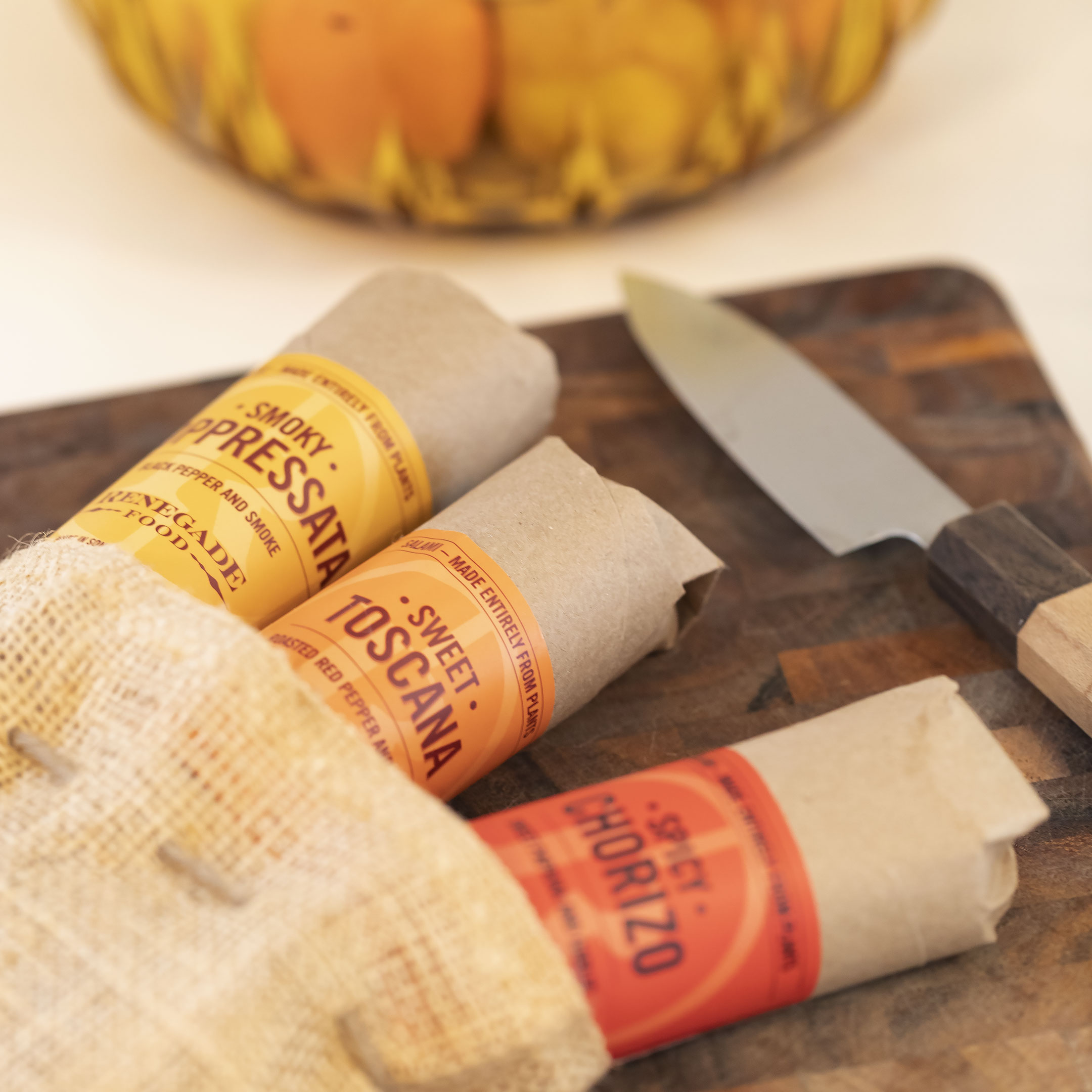 Peter Quinn
All three of Renegade's vegan salami flavors are part of Harry & David's Vegan Charcuterie Collection ($74.99) which is now available for shipping nationwide. Renegade's vegan salami is also part of Harry & David's forthcoming vegetarian box which includes dairy cheeses.
"Currently, Harry & David does not have a vegan cheese offering," Castellano says. "However, we continue to explore this category, as well as other vegan offerings, to further expand our specialty assortment and to create new recipes to provide customers with the absolute best gourmet products."