San Francisco-based The EVERY Company has finally cracked the age-old question: what came first, the chicken or the egg? The food-technology company uses precision fermentation to make chickens unnecessary in the production of eggs, more specifically egg whites—which means the egg can come first without the need to exploit a single chicken.
And the resulting egg white—called the EVERY EggWhite—is nothing short of extraordinary. To show the world how the EVERY EggWhite performs exactly like its traditional counterpart, EVERY partnered with Chantal Guillon, a French company that moved to San Francisco in 2008 and is known worldwide for its exquisite macarons.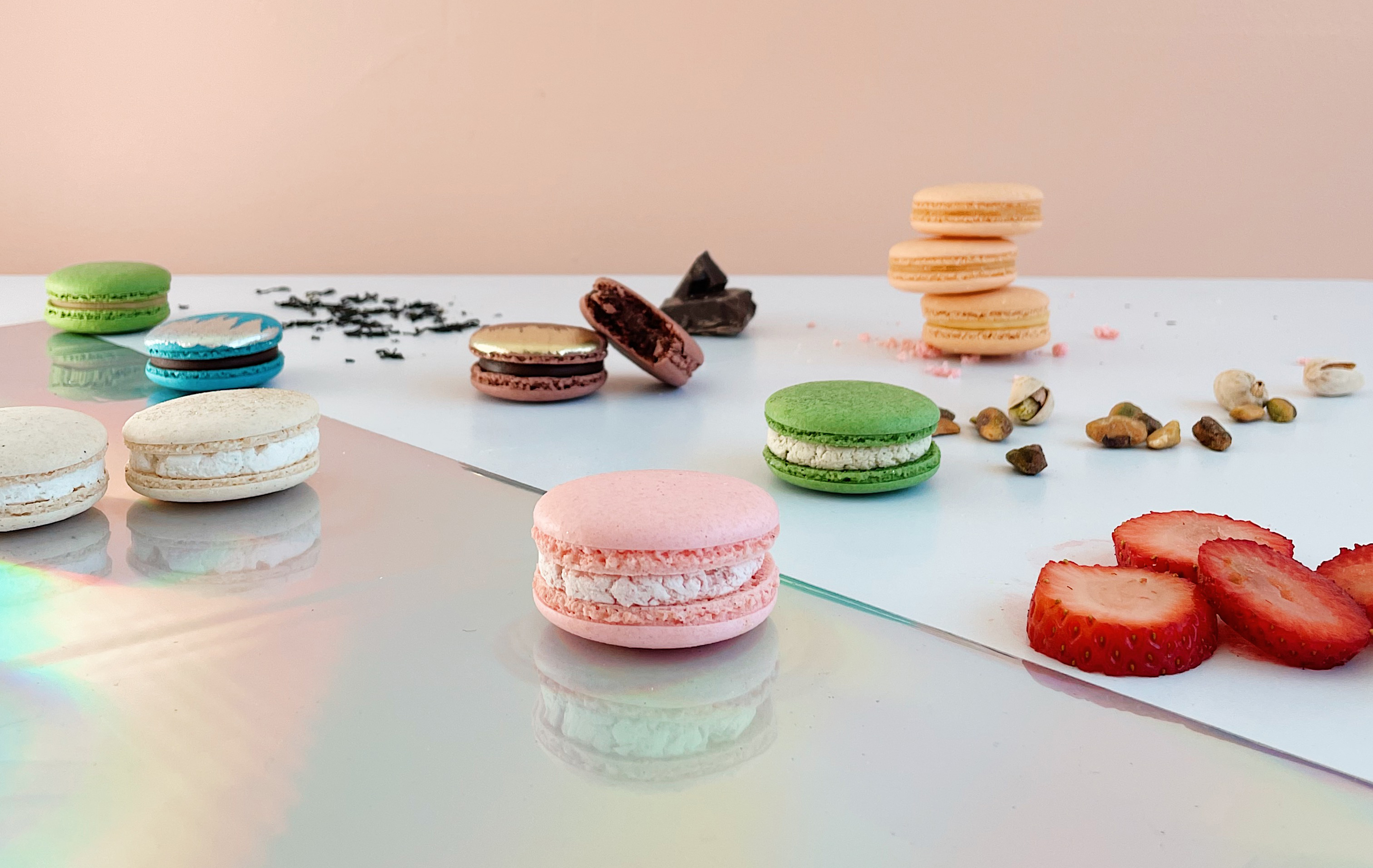 Kimberly Tsai
The bite-sized cookies are notoriously difficult to perfect and rely heavily on egg whites for their texture and subtle eggy flavor. "The egg white is the holy grail of functionality when it comes to so many of the ingredients that have yet to be replaced [with plant-based alternatives] because it's not about taste, it's about the functionality—the mouthfeel and texture," EVERY founder and CEO Arturo Elizondo told VegNews. "For me, the macaron is the holy grail application that has yet to be cracked."
Together with Chantal Guillon, EVERY unlocked this holy grail innovation and is showcasing it in the limited launch of vegan macarons in six flavors: Earl Grey, passionfruit, pistachio, strawberry, Tahitian vanilla, and dark chocolate.
Starting today, the vegan macarons will be sold in boxes of six ($28 each) in-store at Chantal Guillon's Northern California locations in San Francisco and Palo Alto and will be available for delivery across the San Francisco Bay Area via partners such as GrubHub, UberEats, Seamless, and Allset starting Wednesday, March 30.
Chantal Guillon is also taking pre-orders for nationwide shipping of the innovative animal-free macarons.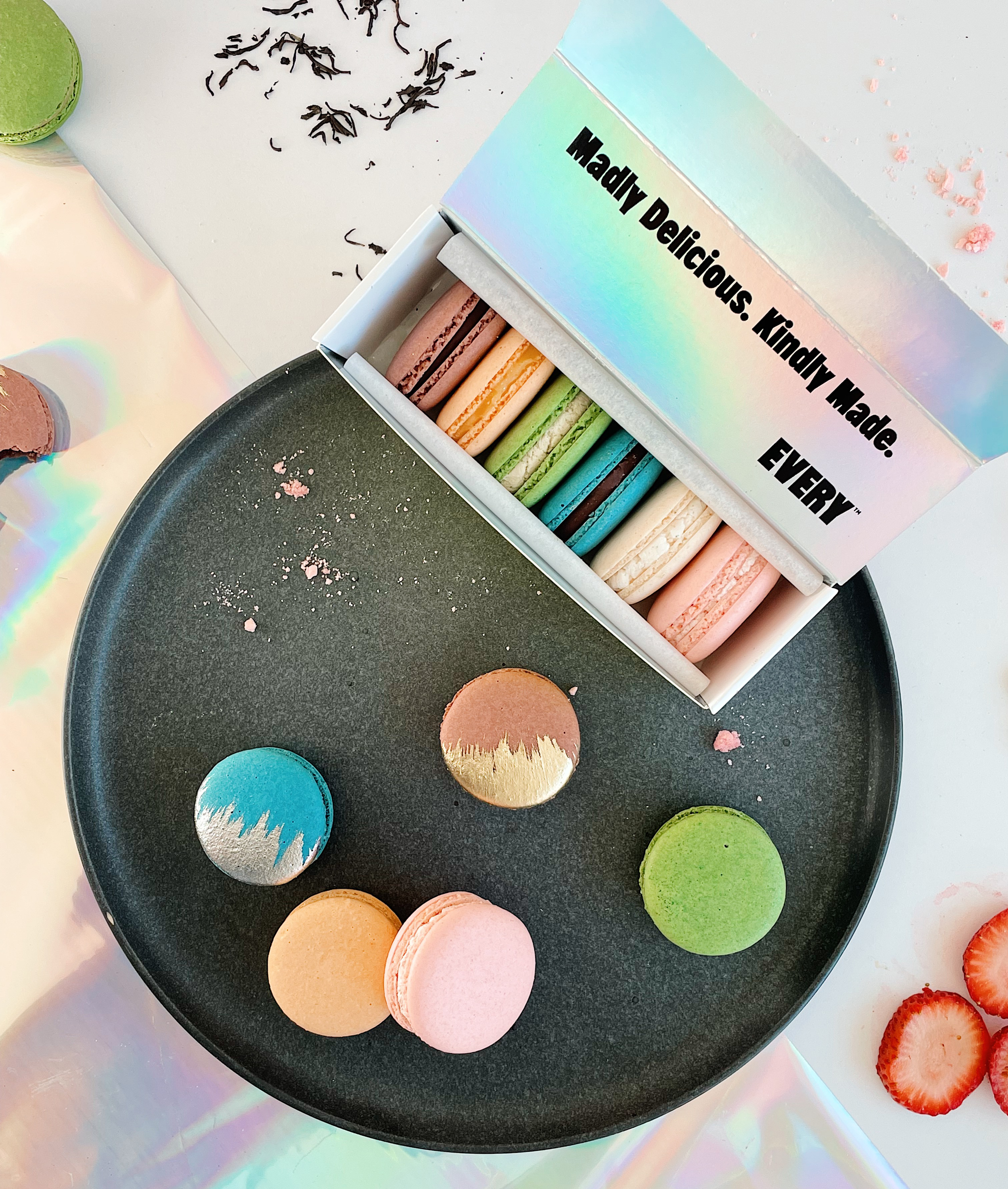 Kimberly Tsai
Perfecting macarons with chicken-free egg whites
With decades of experience in French culinary techniques, Chantal Gullion owners chef Patrick Lassaque and his wife Lubna Lassaque were seeking nothing short of perfection when it came to making an animal-free version of their famed macarons and they found it with EVERY's EggWhite.
Chef Patrick Lassaque previously experimented with plant-based alternatives to eggs such as aquafaba—the liquid brine from a can of beans or legumes. However, these alternatives fell short due to their high starch content which does not match the exact chemistry needed to create the perfect macaron shell, in which every ingredient and step is critical, particularly when making large quantities. The macarons are also filled with a buttercream made with plant butter and EVERY EggWhite—which is designed to whip, gel, and taste just like its animal-derived counterpart—further demonstrating its versatility.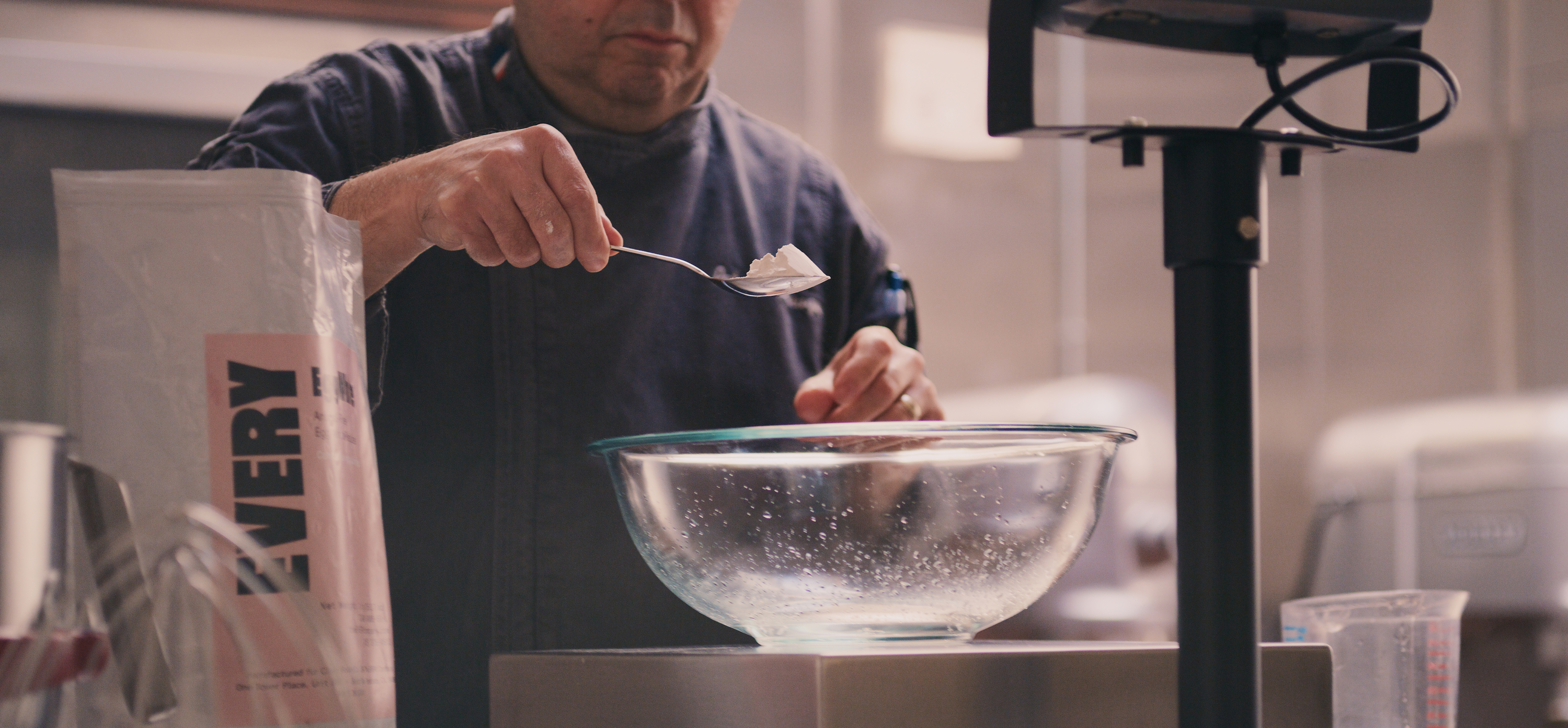 The EVERY Company
"You have to respect every step," Patrick Lassaque told VegNews, explaining that while you can add salt and pepper to a savory recipe to help it shine, pastry-making is much more deeply rooted in science. After just a few tests, the chef found that EVERY EggWhite—which only requires the addition of water—worked as a perfect one-to-one substitute for traditional egg whites. Compared to aquafaba, he says that EVERY EggWhite is "really a new entity."
The Lassaques were so impressed with EVERY EggWhite's performance that they are exploring the ingredient in other pastry applications, including animal-free angel food cake—which, similarly to macarons, relies heavily on egg whites for its fluffy texture. "I can guarantee you already, it's going to work," Patrick Lassque said with confidence. "We're at the tip of the iceberg. Anything that is made with egg whites can work with EVERY."
In addition to EVERY EggWhite being identical in functionality and flavor, the chef says the animal-free egg white is consistent and takes out any variation that might occur in animal-derived egg whites—which can be affected by seasons and other factors tied to animal biology. After working with the animal-free egg whites, Patrick Lassaque is also open to replacing traditional chicken egg whites across Chantal Guillion's other menu items with EVERY's version.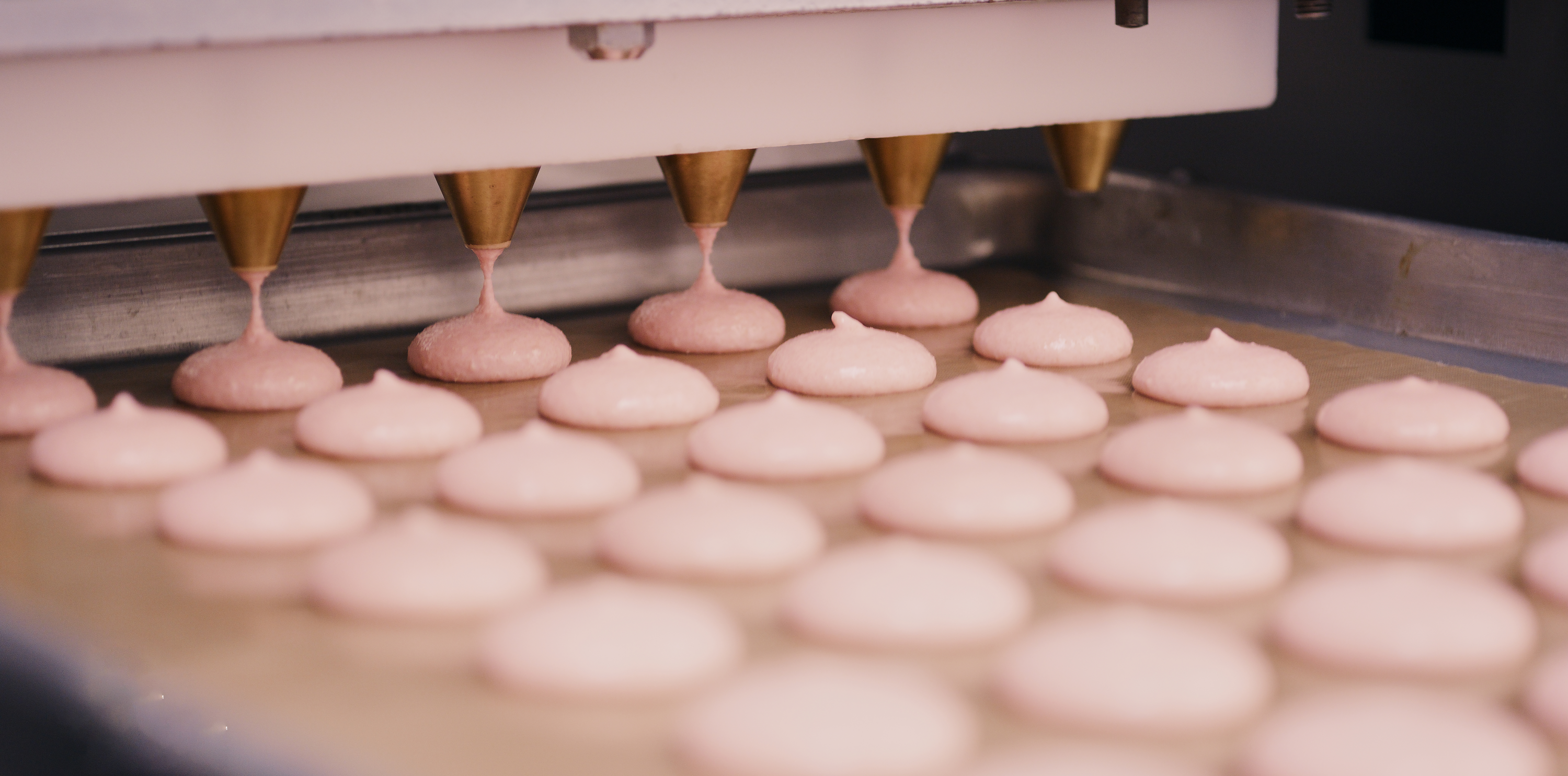 The EVERY Company
The Lussaques see this innovation as a new frontier in food, where the precise science of baking intersects with the science of replacing traditional animal proteins with innovative alternatives. "We're in San Francisco and it's all about the new ideas and new concepts," Lubna Lussaque told VegNews. "We're so excited to be part of this revolutionary time and we want to exclusively work with EVERY because it is going to take us to the next level as a brand."
Making the egg without the chicken
The EVERY Company has been working to make animal proteins without exploiting animals since 2014. Similar to brewing beer, the company developed a fermentation process which feeds sugar to yeast that then produces egg proteins that have the same amino acid profile, nutrition, and functionality as traditionally made egg proteins without any animal inputs. To brew its proteins at scale, EVERY is working with ZX Venture's BioBrew—the global investment and innovation group of the world's largest brewing company AB InBev.
"In the same way that brewers use yeast to convert sugar into alcohol to make beer and wine, the yeast that we work with naturally converts the same sugar into protein," Elizondo said. "We can 3D-print different DNA sequences to encode into the yeast which becomes like a little computer that reads the DNA sequence and prints out the specific protein that it's been encoded with."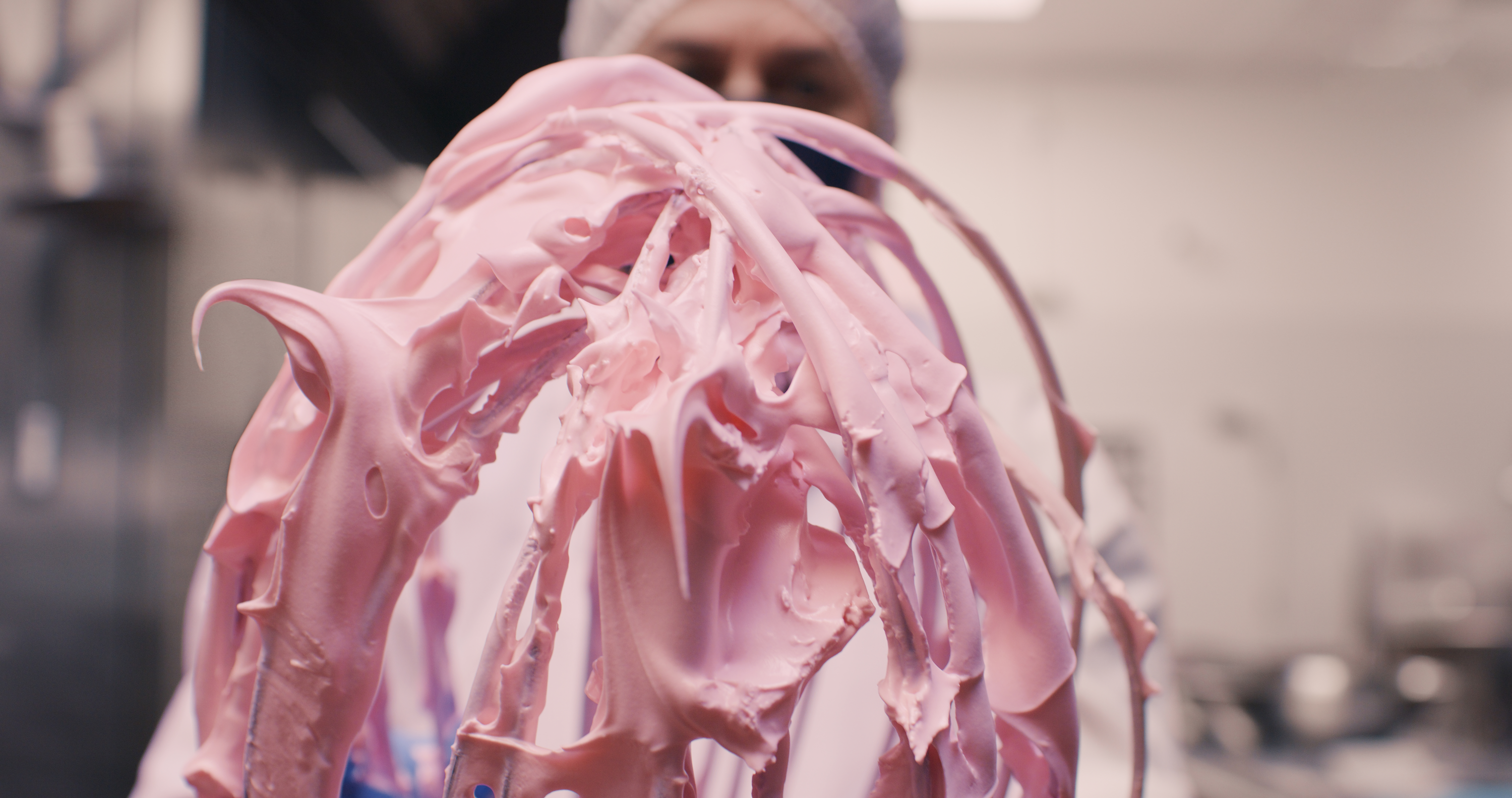 The EVERY Company
A similar process has been used in the pharmaceutical industry to make insulin (which was previously derived from the pancreas of a pig) and rennet (previously derived from the fourth stomach of a baby cow). While it used to require 50,000 pigs to make one kilogram of insulin protein, now it is all made through fermentation. Most cheese made after the 1990s uses rennet created in this way, as well.
"We've replaced the pig for insulin protein production and the baby cow for rennet protein production," Elizondo said. "Now we can replace the chicken for egg protein production and use technology to replace animals more broadly for the mass market protein production process to alleviate the impact it has on the planet."
The company's EggWhite is its third product in a growing portfolio that includes animal-free pepsin (which was previously derived exclusively from pig stomachs) and ClearEgg, the world's first soluble animal-free egg protein which it released in October. Ultimately, the goal of EVERY—which is armed with $175 million in capital and counts Ingredion as a distributor—is to decouple the animal from the protein it produces to build a more sustainable global food system that does not rely on animal exploitation.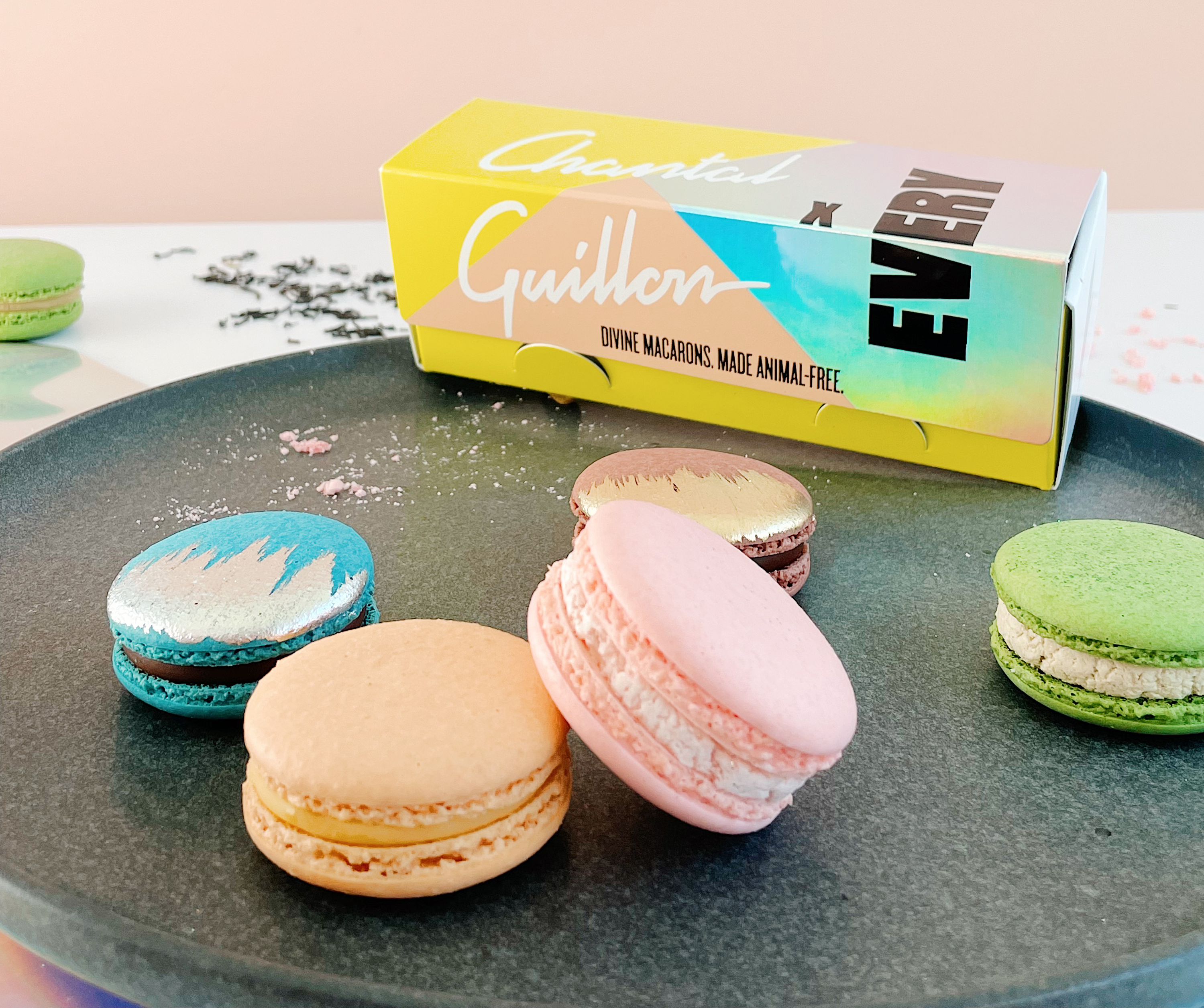 Kimberly Tsai
Animal-free protein for every human
Previously known as Clara Foods, the company recently changed its name to "EVERY" to signify its intent of making its proteins accessible to every human on the planet. While it is first showcasing its EggWhite technology in macarons (a luxury good), the implications of making proteins in this way are far-reaching and can help nations find protein independence. EVERY's approach is also an attractive alternative for companies looking to move away from their dependence on animal agriculture, particularly in light of swine and bird flu outbreaks, and other supply chain disruptions such as the COVID-19 pandemic and the war in Ukraine.
"One of the beautiful pieces of this [fermentation] technology is we can manufacture and brew anywhere in the world and so every country can actually own their food supply so they're not dependent on foreign sources," Elizondo said. "When there are conflicts and there are pandemics, [this technology] can ensure that you can still feed a population with high-quality protein."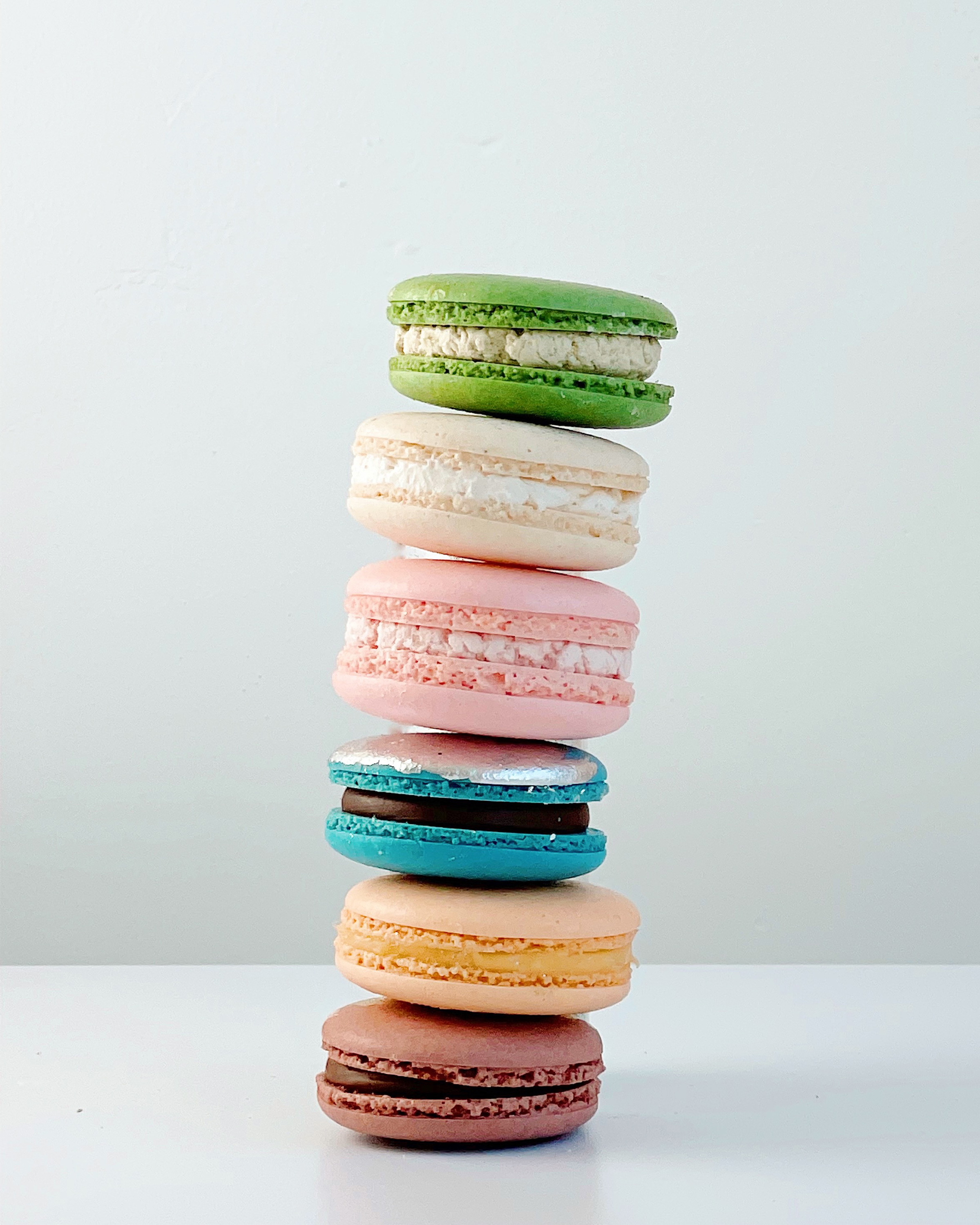 Kimberly Tsai
And Elizondo and the Lassaques are sure that a future where protein is produced without animals will come with no compromise in terms of taste. "This future of food is not only sustainable and pandemic-proof but it's also magical and delicious. And people can get excited not just because it's the right thing to do but because it is truly amazing … it's a new frontier for food that is no longer about compromise," Elizondo said, adding, "If we can win over a French chef working in the pastry [industry] for 30 years, I think we can win over the world."
For more about animal-free technology, read:
Startup Raises $120M to "Liberate Food Chain From Dependency on Animals"
"Dairy-Identical" Cheese Made From Animal-Free Casein Will Launch in 2023
With New Startup, Africa Joins the Growing Animal-free Dairy Movement