Musical artist Lizzo recently shared a creative hack on TikTok where she added a homemade vegan cheese sauce to a bowl of Takis tortilla chips. Calling the video the "cheesy Takis edition," Lizzo showed viewers how to make the vegan cheese sauce. "I don't have a recipe but I'll tell you how I did it," she said in the video.
For the vegan cheese sauce, Lizzo explained to her 21 million fans that she boiled Japanese yam potatoes and blended them with a few cubes of high-protein tofu, onion, garlic, nutritional yeast, Kelly's Gourmet Cheezy Parm, salt, pepper, and habanero hot sauce. "The secret ingredient: put a few slices of this [Follow Your Heart] smoked gouda [vegan cheese] in there—whoopsy," Lizzo said in the video. "I blended it all up with some of the water from the yam boil … mmm."
Previously, Lizzo shared on TikTok that her favorite chips are Hot Cheetos (which contain dairy ingredients), but she doesn't eat them anymore because she's vegan. Though she has tried various brands of Cheeto-style vegan snack options, she has yet to find one that satisfies her craving for the real thing. Lizzo's latest TikTok hack is the closest thing to her favorite snack.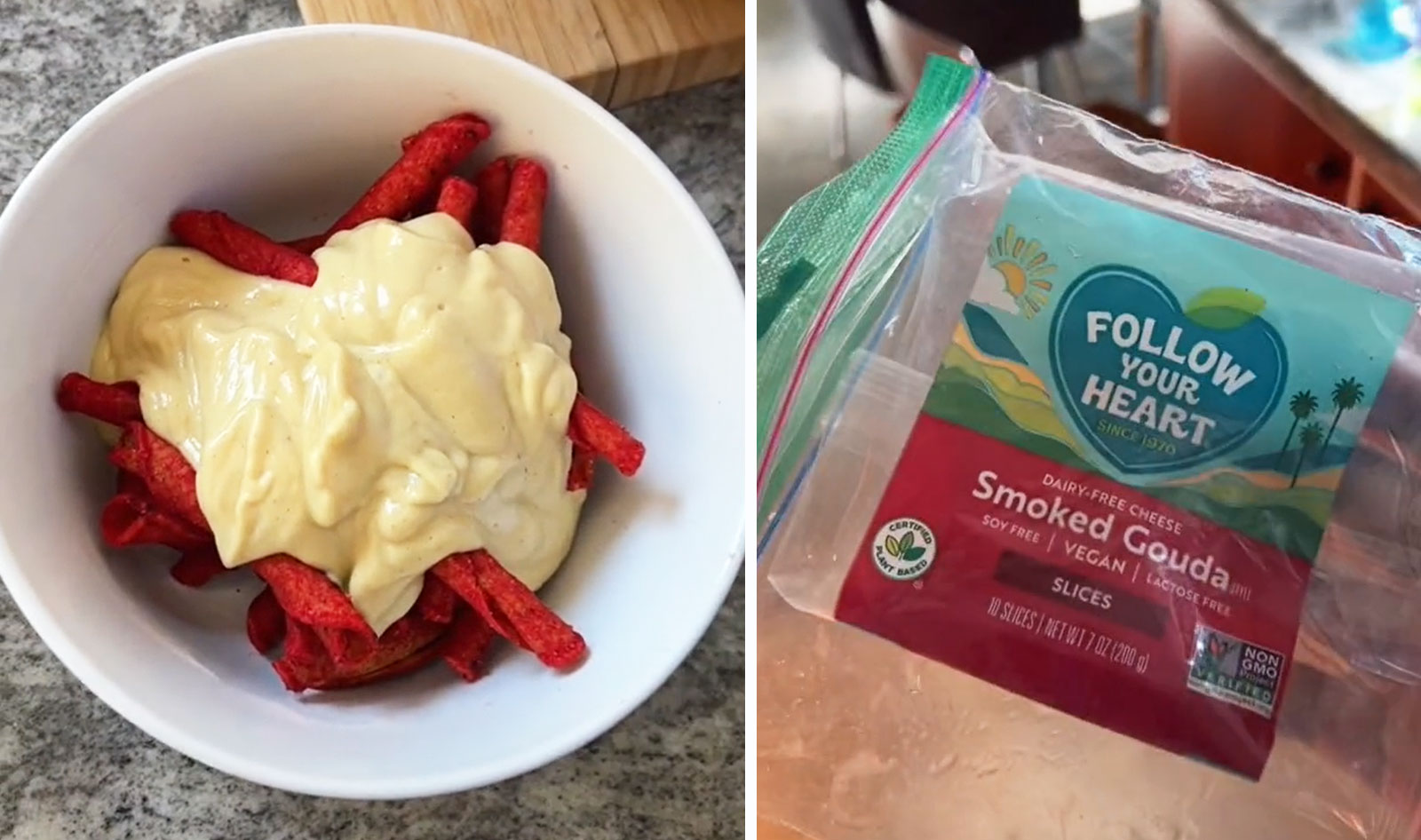 Lizzo/TikTok
Lizzo's vegan cooking content
Lizzo first publicly announced she was vegan in June 2020, and since then she has regularly shared her vegan recipes and meals on TikTok in which she features replacement products for meat, dairy, and eggs from brands such as Beyond Meat, Eat Just, Califia Farms, and Good Catch. And fans seem to love to see her vegan cooking content. Last December, when Lizzo was too busy with her music to share her cooking videos on TikTok, fans noticed. After a fan posted that she misses Lizzo's vegan cooking content, the musical artist replied with a TikTok video of herself cooking a vegan lentil stew.
"I've just been working so much that I have not had time to cook, and every time I cook I be [sic] just so ready to eat that I forget to film it," Lizzo said in the TikTok video. "But I just remembered right now that I'm about to make a lentil stew."
The TikTok video goes on to show Lizzo roasting red onions and potatoes, rinsing spinach and kale, and making broth. She blends the roasted vegetables and broth together in a blender and then pours it into a stock pot and adds lentils and greens.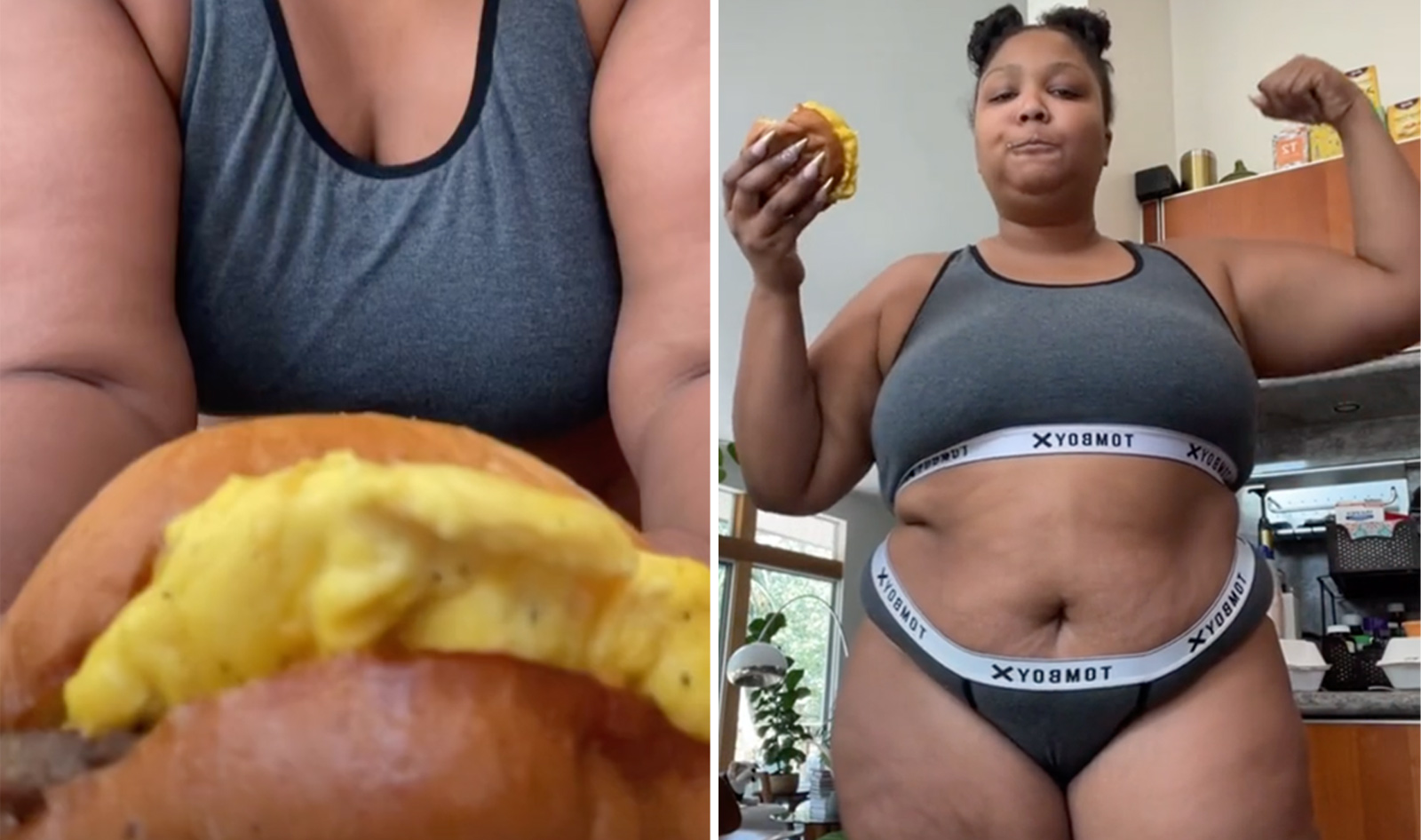 Lizzo/TikTok
Lizzo shuts down fat-shamers
Lizzo has also been vocal about fat shaming and body positivity and has brought the conversation into the vegan realm. Last year, the musical artist shut down fat-phobic commenters with a short TikTok post. The 33-year-old musician shared a video of herself in her underwear eating a vegan egg sandwich over an audio clip of a woman saying, "I'm seeing way too many plus-sized vegans. Are ya'll frying the lettuce?" Lizzo clapped back further in her caption of the TikTok video. "Yes, actually I do," Lizzo said in reference to fried lettuce. "Shout out to all my fat vegans—we look as good as we feel … and to the haters, good luck chasing that narrow beauty standard."
Though the musician admits that she eats vegan junk food and sometimes ignores her "fuel" foods such as kale, rice and beans, and plant-based protein shakes, she advises her fans to love their bodies unconditionally. "Eat the cake. Don't eat the cake. Eat intuitively," Lizzo said. "I think food is a beautiful thing and my relationship with food is f*cking awesome. Because I never feel guilty or bad for anything I do."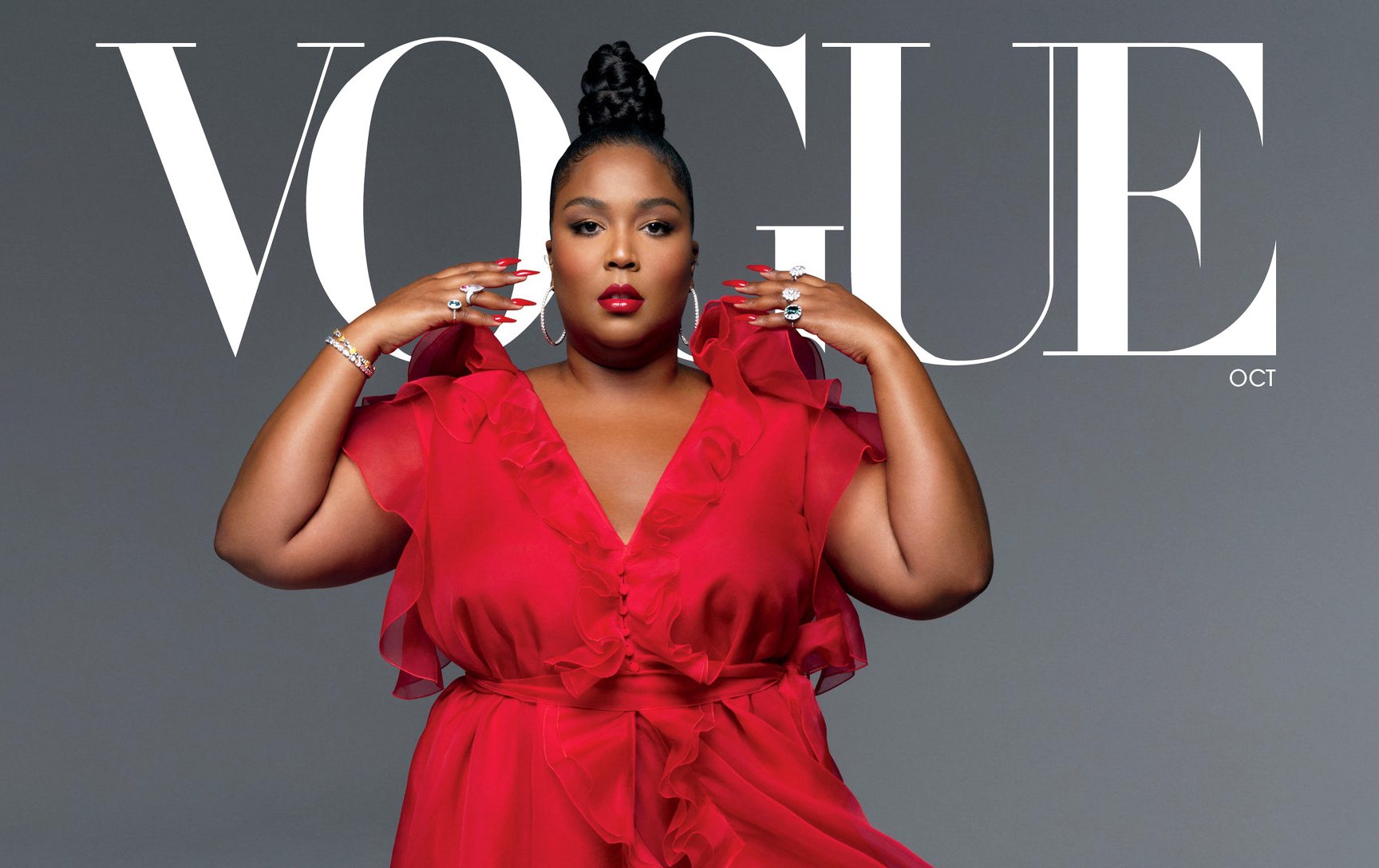 Vogue
In 2020, Lizzo was featured on the cover of Vogue Magazine, representing the first time a plus-sized, Black woman was on the cover of the fashion magazine. "I am the first big Black woman on the cover of Vogue Magazine. The first Black anything feels overdue. But our time has come," Lizzo said. "To all my Black girls, if someone like you hasn't done it yet—be the first."
Lizzo is also bringing this message to other platforms with her upcoming reality series, Watch Out for the Big Grrrls, in which the Grammy Award-winner will hand select back-up dancers, all of whom she chose for the show to increase representation for different body types. Lizzo's show will begin streaming on Amazon Prime Video on March 25.
For more about Lizzo, read:
Lizzo Becomes First Plus-Sized Black Woman on Vogue Cover
Lizzo Made Her First Vegan Feast For Thanksgiving
7 Reasons Why Lizzo Needs Her Own Vegan Cooking Show