If both eating and drinking during brunch has become too cumbersome, Los Angeles eatery Mohawk Bend has a solution: vegan breakfast sandwiches infused with a full cocktail's worth of alcohol. Operating in LA's Echo Park neighborhood since 2011, Mohawk Bend is known for its creative vegan fare and, according to the restaurant, invented the Buffalo cauliflower appetizer—its vegan answer to Buffalo chicken wings—in 2012.
To celebrate the return of brunch after a COVID-induced hiatus, Mohawk Bend's Kitchen Manager, Tim Balen, came up with a whole new invention when he incorporated the eatery's bar program directly into three breakfast sandwiches: The Bloody Mary, The Old Fashioned Almond Butter & Jerry, and the Rummy MoGriddle. Each sandwich features 1.5-ounces of alcohol (which is about the content of a standard cocktail) and comes vegan by default, but non-vegan versions are also available.
Starting March 12, the edible cocktail sandwiches will be available only during brunch (11am to 4pm) on Saturdays and Sundays to guests that are age 21 and over. To ensure that customers are eating responsibly, these sandwiches are limited to two per person.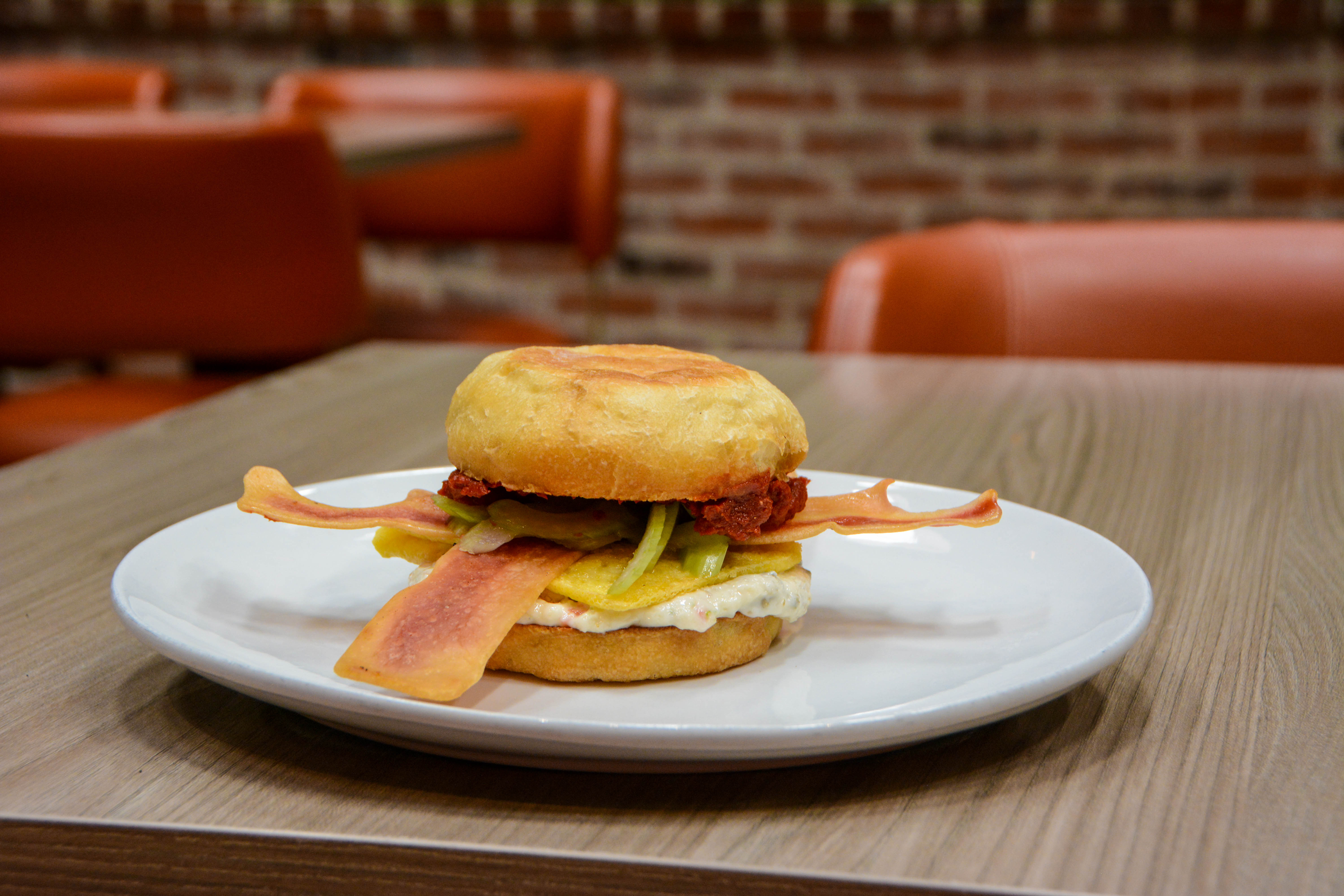 Mohawk Bend
Turning brunch cocktails into vegan breakfast sandwiches
After riding out the difficult waves of the pandemic, Balen wanted to inject fun (and plenty of booze) into the revamped brunch experience at Mohawk Bend. "We just want to make people smile," Balen told VegNews. "We're pretty confident that we can bring this odd thing to our brunch menu just to have a little fun; a little kitsch."
Balen's goal was to create a menu that delivered enough of a boozy kick (not just a splash for show) together with a balanced bite. The menu development began with Balen bringing the flavors of a classic Bloody Mary into a brunch sandwich by injecting celery with New Amsterdam Vodka. He paired the veggie with a Bloody Mary-spiced tomato spread, horseradish aioli, vegan bacon and JUST Egg, which all comes served on an English muffin.
When the Bloody Mary sandwich proved successful, Balen decided to transform a childhood favorite into a brunch cocktail. For The Old Fashioned Almond Butter & Jelly, he whipped together Four Roses Bourbon and a blend of almond and cashew nut butters to create a cohesive spread that he paired with sweet and tangy blackberry and fig preserves and served on sourdough bread for the ultimate, adult PB&J.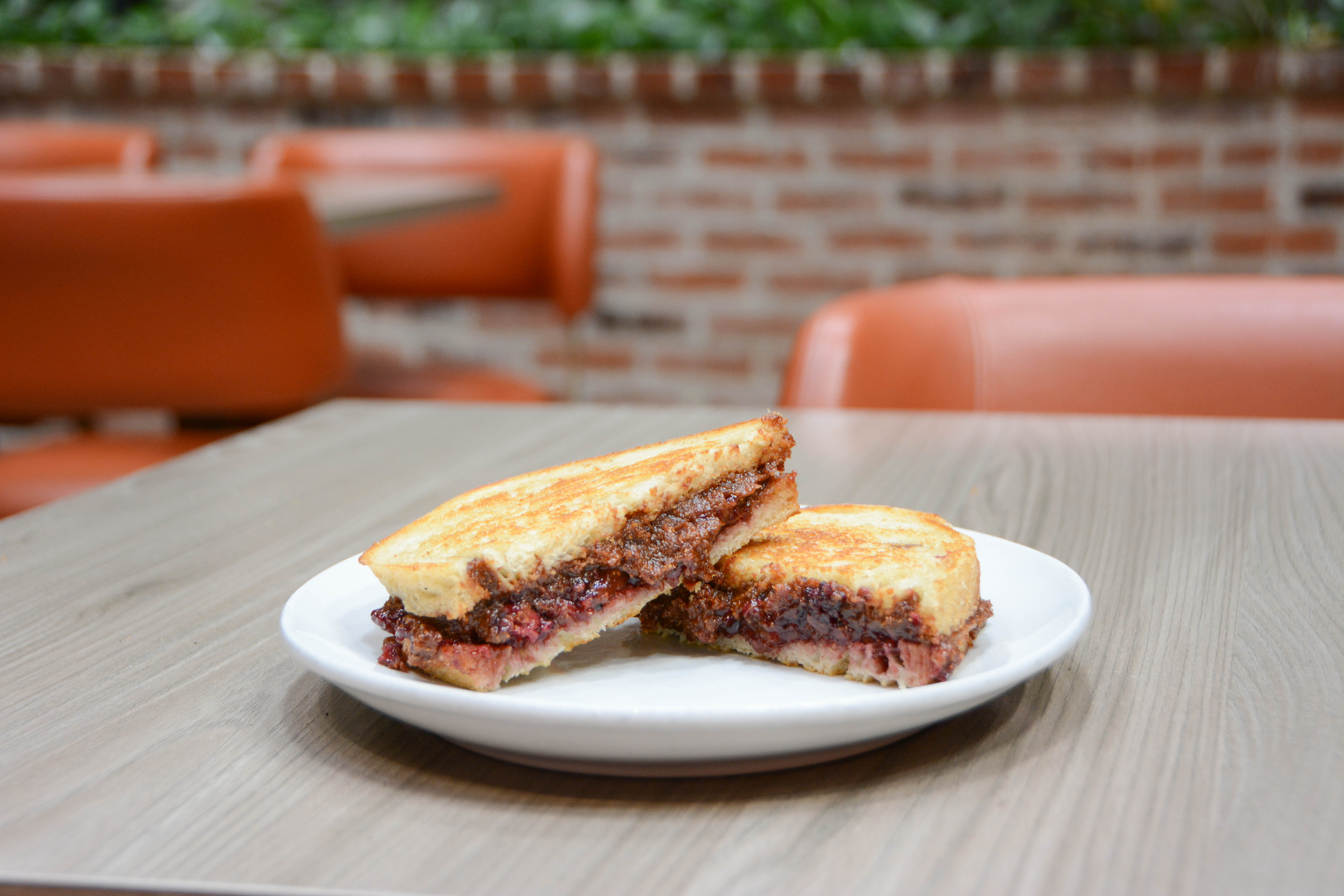 Mohawk Bend
All of this experimentation led Balen to the Rummy MoGriddle, a hearty creation that features JUST Egg, Impossible Sausage, and rum-infused vegan butter. For the buns, Balen first experimented with using waffles but ultimately landed on pancakes which he injected with a rum and maple syrup blend to bring the creation up to the edible cocktail level. "It's a little interactive," Balen said about the sandwich, which takes inspiration from McDonald's McGriddle. "It's something guests can wrap their minds around … a reference point."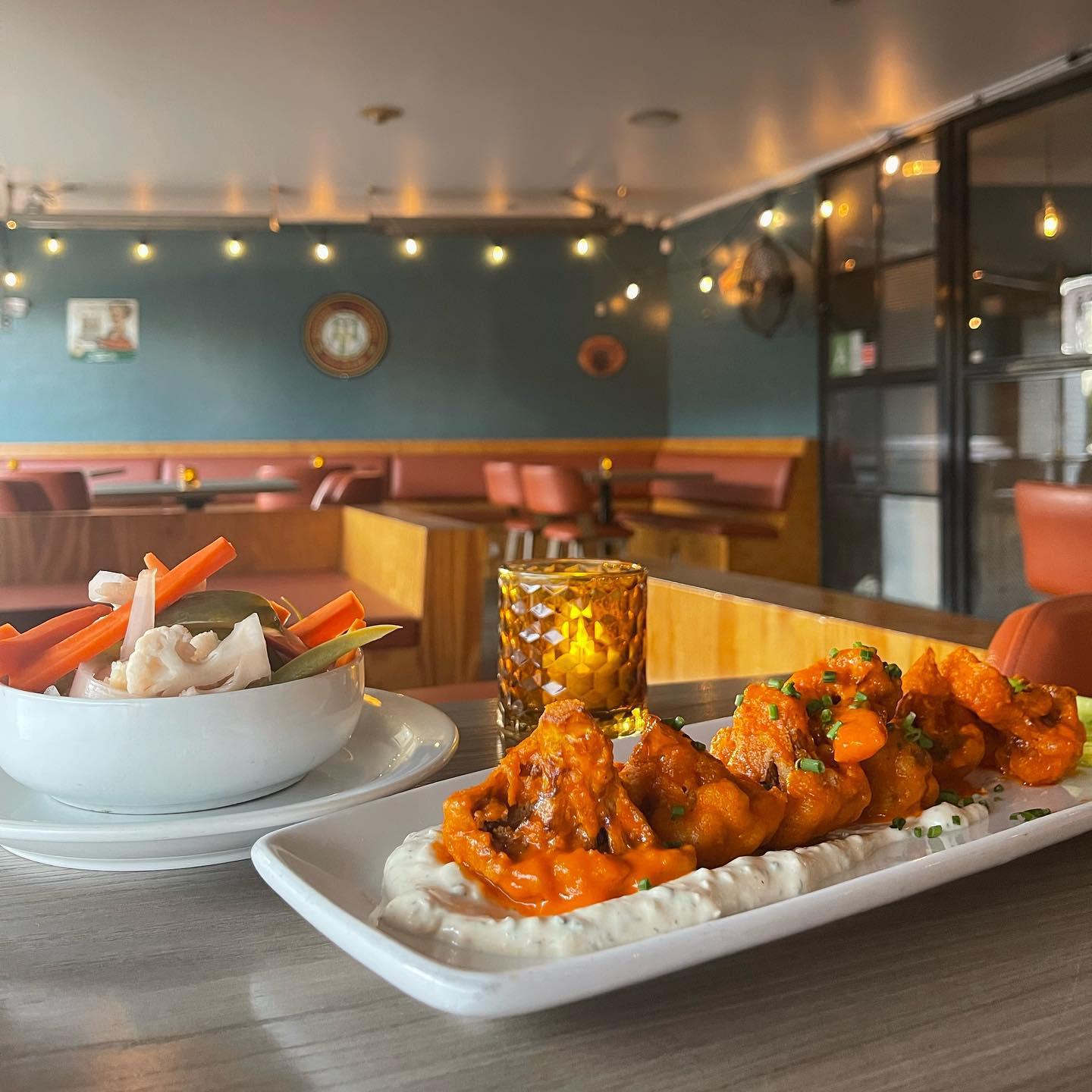 Mohawk Bend
Vegan by default
While Mohawk Bend is not a vegan restaurant, its approach to plant-based options—which, in addition to the new brunch sandwiches, includes a wide array of small bites, sandwiches, and pizzas—is a little different.
"We want to make sure our vegan guests are happy first," Balen said, explaining that all of the foundational elements at Mohawk—including sauces, aiolis, and dressings—are vegan. "I've spent most of my energy sourcing vegan products first," he said. "That thoughtfulness makes a difference. It's nice to flip it by thinking vegan first."
Approaching vegan options in this way also allows Mohawk Bend's guests to decide if animal products are necessary additions while at the same time being inclusive of all diners. "We are exposing people to vegan food who might not have thought of it first," Balen said. "It can make an entire table happy."
For more about vegan breakfast sandwiches, read:
IHOP Just Launched Its First Vegan Breakfast Sandwich
San Diego's First Vegan Breakfast Café Is Black-Owned
Peet's Just Launched Its First Vegan Breakfast Sandwich