Hundreds of university menus across the United States will increase their plant-based meal offerings to 42 percent of total meals by 2025. The push toward plant-based food comes from an initiative by Sodexo and longtime partner Humane Society of the United States (HSUS) which has helped the foodservice giant modernize its menus and animal welfare policies for 15 years.
Sodexo Campus—the foodservice giant's college and university arm—is making the shift after determining that 70 percent of its carbon footprint in the 2020 fiscal year came from animal-based food purchases. Since plant-based foods come with a much lighter carbon footprint, Sodexo is focusing on developing its menus around animal-free foods to meet its climate goals of slashing ​​carbon emissions by 34 percent by 2025.
"Any sustainability plan that's meant to create real change—and not just be greenwashing jargon—will center on shifting from a meat-heavy menu to one that's focused on plant-based entrées," Karla Dumas, RDN, Director of Food Service Innovation at HSUS, said in a statement. "I'm thankful to Sodexo for being a leader in the industry by committing to the tangible changes required to meet greenhouse gas emission goals. By developing a plant-based initiative that includes menu goals, recipe innovation, and customer satisfaction, Sodexo has found a formula for success."
Sodexo
Plant-based meals to fight climate change
Sodexo's move toward plant-based menus comes at a time when demand for climate friendly foods, particularly among young people in a university setting, is growing. One recent survey—the Innova Health & Nutrition Survey—found that 23 percent of 18- to 25-year-olds adhere to either a vegetarian or vegan diet, with nearly a third of youth increasing their consumption of plant-based proteins in 2021 alone.
Sodexo will implement these menu changes using its existing Plant-Based Takeovers programs which involve Sodexo chefs undergoing plant-based menu training led by the HSUS. Thus far, 140 universities serviced by Sodexo have implemented these programs, which are based on feedback from staff, students, and faculty.
"It's important for us to receive feedback directly from the customer as it helps us identify which plant-based dishes will become permanent fixtures on our menus," Chef Jennifer DiFrancesco, Director of Culinary Innovation for Sodexo Campus, said in a statement.
Sodexo's commitment to plant-based meals
Over the years, Sodexo—which purchases $20 million in goods annually—has added exciting items to its foodservice menus in an effort to both meet demand for plant-based foods and reduce its own carbon footprint. In 2019, Sodexo added multiple menu items made with Impossible Foods plant-based meat to the menu of more than 1,500 cafeterias at colleges, hospitals, and corporate offices nationwide. The menu featured eight dishes, including plant-based sausage muffin sandwiches, sausage gravy and biscuits, steakhouse burgers, and Creole burgers.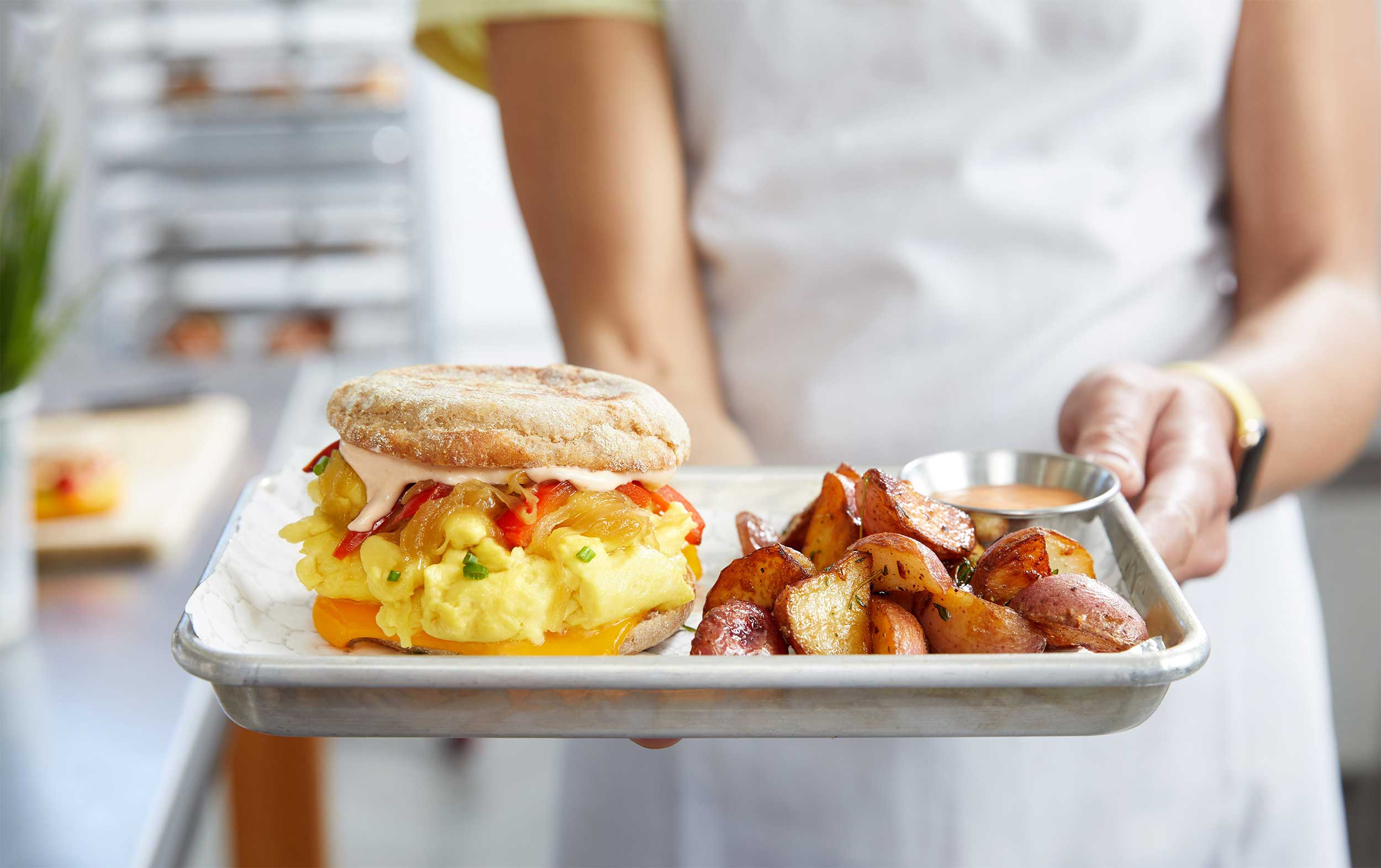 Sodexo/JUST Egg
In 2020, the foodservice giant continued its menu evolution with the addition of JUST Egg, a vegan egg alternative made from climate-friendly mung beans it made available to the 75 million consumers it serves each day. Last year, Sodexo further expanded its plant-based meat options with the addition of MorningStar Farms' Incogmeato vegan meat line.
The addition of these items emerged from another HSUS collaboration that Sodexo implemented called "Love of Food" which put 200 plant-based meals on its menus at corporate, university, and healthcare cafeterias nationwide in 2018.
The following year, Sodexo also expanded this plant-based initiative to cafeterias it services outside of the US, including in Belgium, the United Kingdom, and France, to make even more of an impact. Sodexo focused on developing meals from ingredients named in the Future 50 Foods report co-written by Knorr Professional and leading conservation organization WWF-UK which identified 50 of the most nutritious plant-based ingredients based on their nutritional value and relative impact on the environment. This resulted in an array of new vegan meals such as Wild Rice Quinoa and Lentil Bowl, Tuscan Chickpea Polenta and Rapini Bowl, and Ube Maitake Tartine served at 5,000 Sodexo-serviced cafeterias.
"When you see there are more than 20,000 known edible plants on our planet, and yet our food comes primarily from a dozen of them, there is definitely [an] opportunity to change and discover new ways of eating," John Wright, Senior Vice President, Sodexo Food Platform, said in a statement at the time. "Today, we are helping consumers as they look for ways to adopt more sustainable diets."
For more about vegan food and initiatives at colleges, read:EU Grants Irish College $10 Million to Research Vegan Food
These 5 Incredible Colleges Have Vegan Food Courses
Berlin Drops Meat From University Menus To Fight Climate Change