On May 6, a new vegan omakase experience called "Omakaseed" will debut at New York City's Plant Bar in the NoMad neighborhood of Manhattan. The experience is a collaborative effort between vegan eatery Plant Bar, hospitality group SimpleVenue, and Vegan Warrior Project—an organization that helps restaurants maximize their kitchen capacity by connecting them to plant-based delivery concepts.
The experience is led by Michelin-starred chef Roberto Romero, in collaboration with Vegan Warrior Project chef Jorge Pineda (from legendary vegan restaurants Candle 79 and Candle Café), and will focus on highlighting seasonal ingredients sourced week by week at the peak of their flavor. The menu will be inspired by global and Japanese cuisines and include a variety of nigiri and courses such as Potato Matcha Soup, Sunomo Style Pulled Oyster Mushroom Salad, and Watermelon Tuna with Pickled Kelp.
"Omakaseed was created on the foundation of innovation, and is inspired by global flavors and fresh plant-based ingredients to deliver a unique, vegan option to omakase dining," Erika London, President at SimpleVenue—which specializes in bringing unique concepts to underutilized spaces—told VegNews. "Highlighting the incredible flavors that the Earth provides us, we believe that Omakaseed will truly showcase the marriage between Japanese-inspired dishes and nutritious, plant-based ingredients for an experience unlike any other."
Cocktails will follow the lead of the food courses, with a focus on fresh, seasonal fruit and vegetables incorporated into libations that include Feel the Beet, Practice What you Peach, Who's Your Edamame, Green Goddess, and Mint to Be. In its entirety, London says Omakaseed is designed to "give guests a dining experience that uncovers the complexities of each course."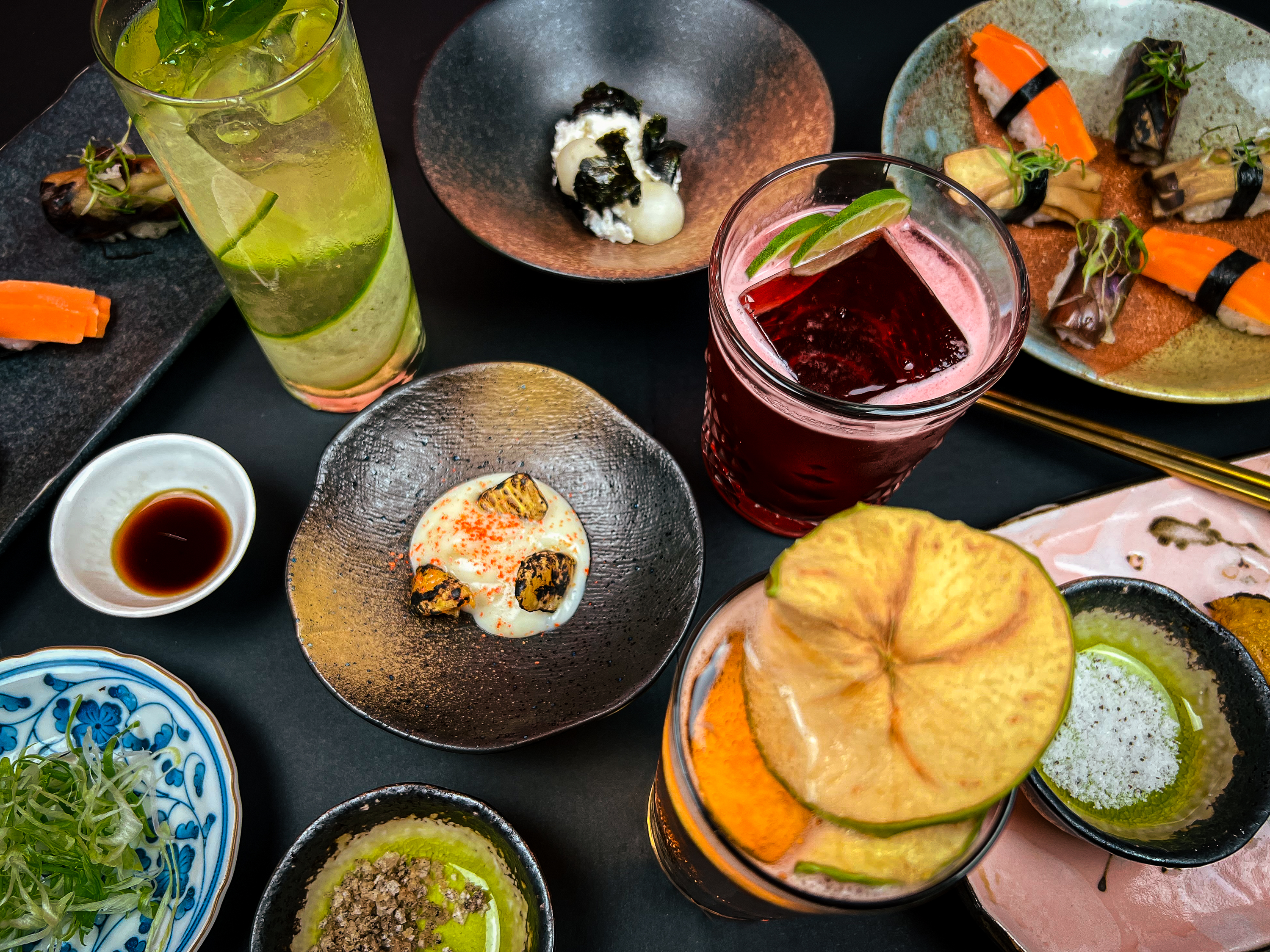 Omakaseed
An omakase-style vegan sushi experience in NYC
Chef's tasting menus are evolving, particularly in NYC, where chef Daniel Humm transitioned legendary fine-dining restaurant Eleven Madison Park to a mostly plant-based menu last year. With Omakaseed, the team wanted to create an experience that is both modern and an homage to omakase tasting menus of the past, all while celebrating the best of the plant kingdom.
"Our mission is to bring the magic of omakase-style service to the plant-based dining scene, offering a personalized dining experience that takes a deeper look into the ingredients provided to us by the Earth every day," London said. "Omakaseed puts an emphasis on conscious cuisine, expanding the palettes of all who join us, vegan or not."
The intimate Omakaseed bar experience is limited to eight seats, with seating priced at $85 per person (plus tax and gratuity). Reservations are available for dinner seating from Wednesday to Saturday. Outside of the Omakaseed menu, Plant Bar—which opened in February—serves a variety of plant-based appetizers, sandwiches, and salads with a pan-Asian twist.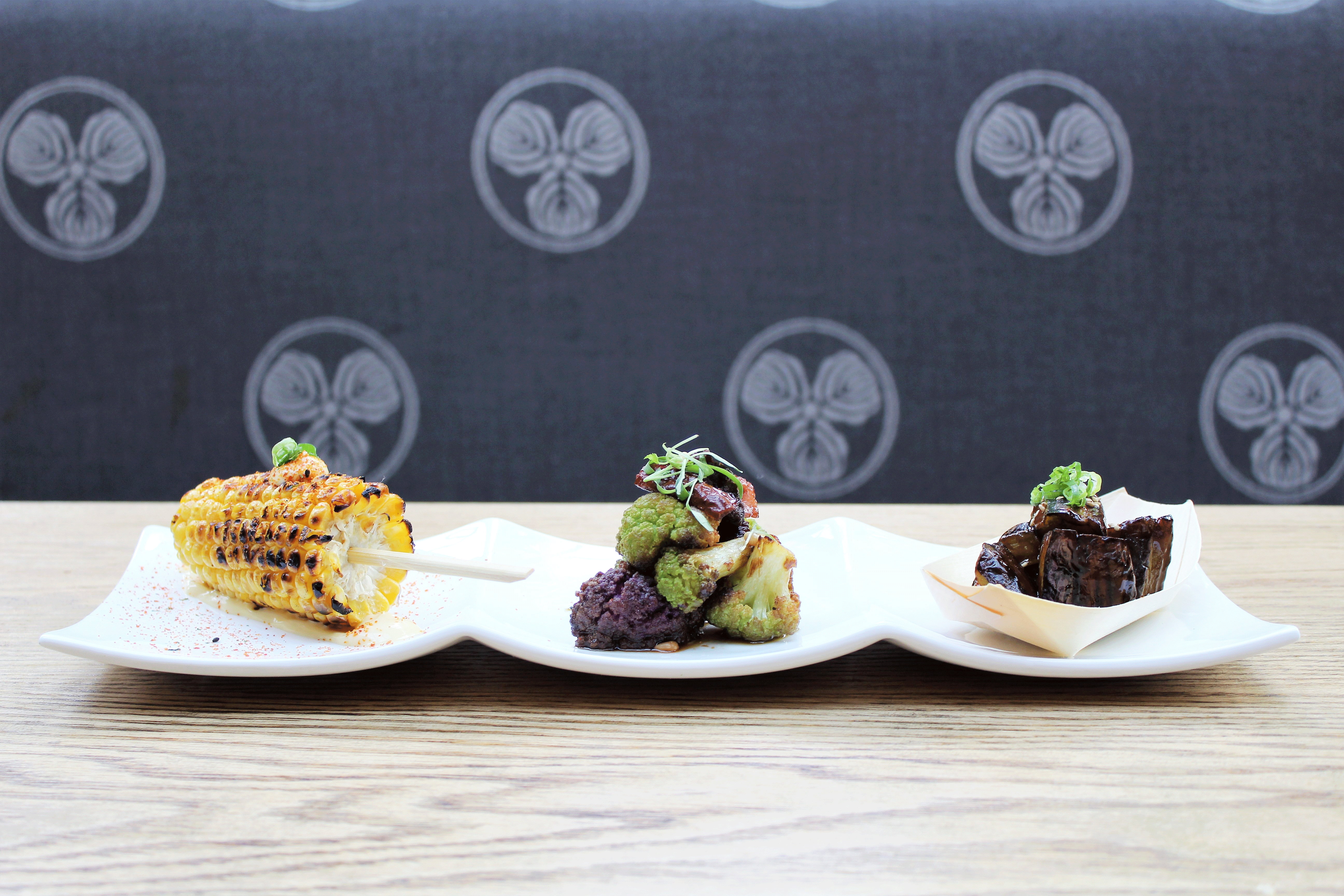 ROKU
Vegan sushi and omakase from coast-to-coast
Omakaseed will join NYC's thriving vegan sushi scene which includes Beyond Sushi, a chain that operates locations across Manhattan. Over on the West Coast, vegan sushi is gaining popularity, too, particularly California—which is home to many upscale vegan sushi restaurants such as Shizen in San Francisco, Shojin in Los Angeles, and many more.
Traditional sushi restaurants are also taking note of the demand for fish-free options. In 2019, ROKU, Sushi Roku, and Katana—owned by Innovative Dining Group (IDG) and regarded as some of the best sushi restaurants in Los Angeles—began serving a vegan omakase menu. Dishes included on-the-cob grilled corn, miso-glazed eggplant, and roasted cauliflower; a hefty entrée-sized Tofu Steak served on a bed of tobanyaki mixed mushroom; a whole grilled avocado with ponzu sauce; and a variety of vegetable-topped nigiri and hand rolls.
"It's important to us to always keep our menus fresh and flavorful," IDG Hospitality Partner Lee Maen told VegNews at the time. "Veganism is a lifestyle that embraces that, and we want to provide our customers with more vegan options, so everyone can enjoy the experience of omakase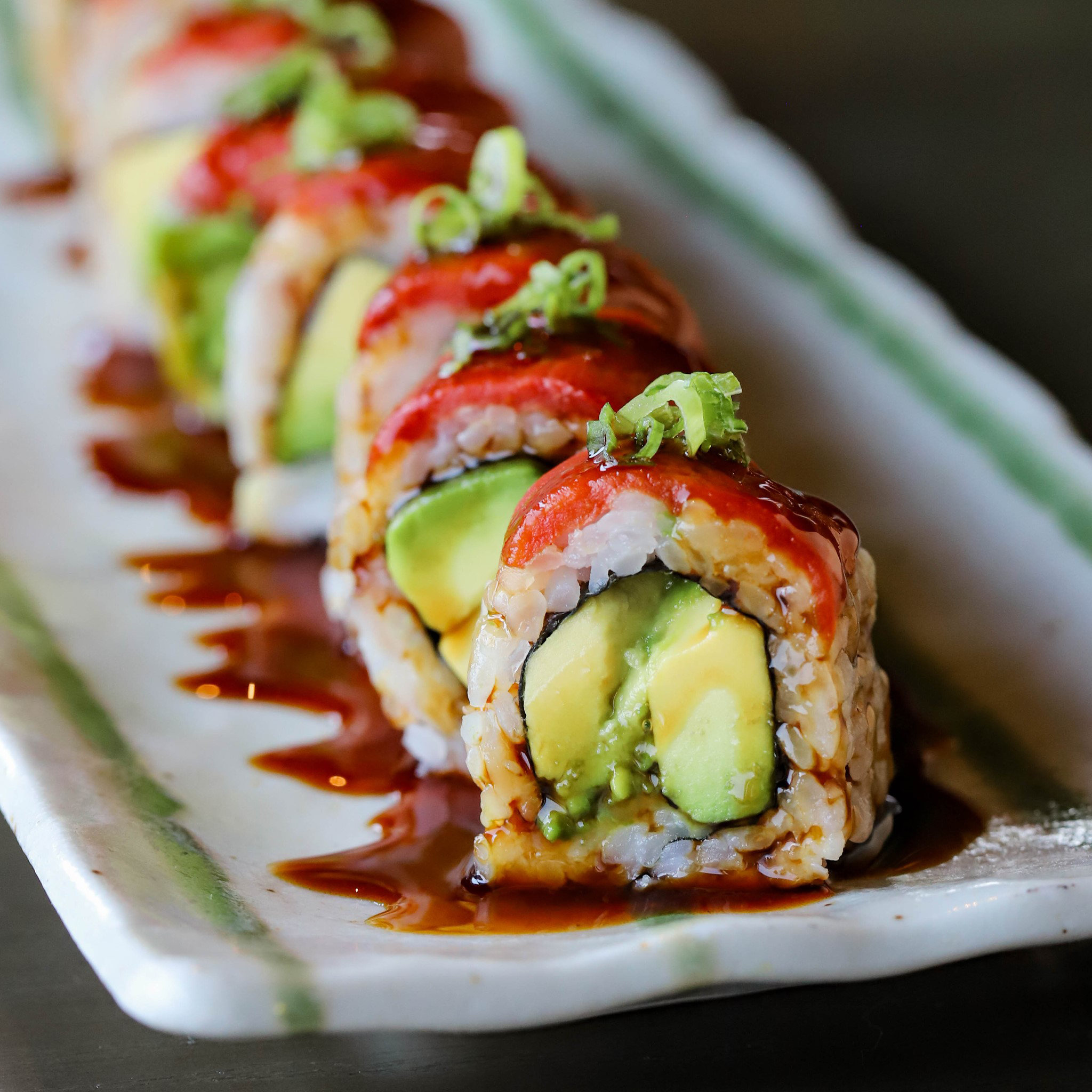 Blue Sushi Sake Grill
Outside of the coasts, vegan sushi is also booming in more inland locales thanks to Blue Sushi Sake Grill. The sushi chain operates locations in 10 states and began experimenting with expanding its vegan options in 2019 when it worked with products made by vegan seafood company Ocean Hugger Foods and Follow Your Heart to add four rolls to its menu. Now, the chain offers an expansive vegan maki menu with rolls that feature fish-free tuna, eel made from eggplant, and plant-based shrimp tempura.
For more about vegan sushi, read:
Malta Gets Its First Vegan Sushi Takeout Restaurant
Beyond Sushi Opens 7th Vegan Restaurant in NYC
This New Vegan Sashimi Looks Just Like Tuna, Calamari, and Salmon
Editor's note: this story has been updated to reflect a new opening date for Omakaseed.