Online vegan grocery store GTFO It's Vegan just launched its own line of vegan sashimi to tap into the growing plant-based seafood industry. GTFO—which stands for "GreaTFOods"—now offers konjac-based vegan tuna, salmon, sailfish, and calamari which can be used for cold preparations of dishes that feature traditional sashimi. The online grocery store created the new line after its data and proprietary research determined that the vegan seafood industry is the fastest growing category in the plant-based market.
"This launch represents an incredible milestone in our efforts to introduce our own private label line of products under the Great Foods, It's Vegan brand," Tanya Pierce, GTFO It's Vegan's president and co-founder, said in a statement. "The launch showcases one of many planned private label launches of vegan offerings in rapidly growing, yet undeserved vegan and plant-based categories."
GTFO launched during the height of the pandemic in May 2020 with the mission of providing greater access to vegan groceries. Now, the online grocery store offers more than 2,800 vegan and plant-based products across more than 700 brands. GTFO has also co-developed new items that it offers on its platform, including deli meats it launched in partnership with Portland, OR-based Snackrilege in December. Since its launch, GTFO has fulfilled nearly 30,000 orders containing over 300,000 vegan and plant-based items.
To fund its mission of "becoming one of the most important companies in this century to ensure the sustainability of our people and our planet," GTFO recently raised $400,000 from 390 investors in just over three weeks on crowdfunding platform StartEngine.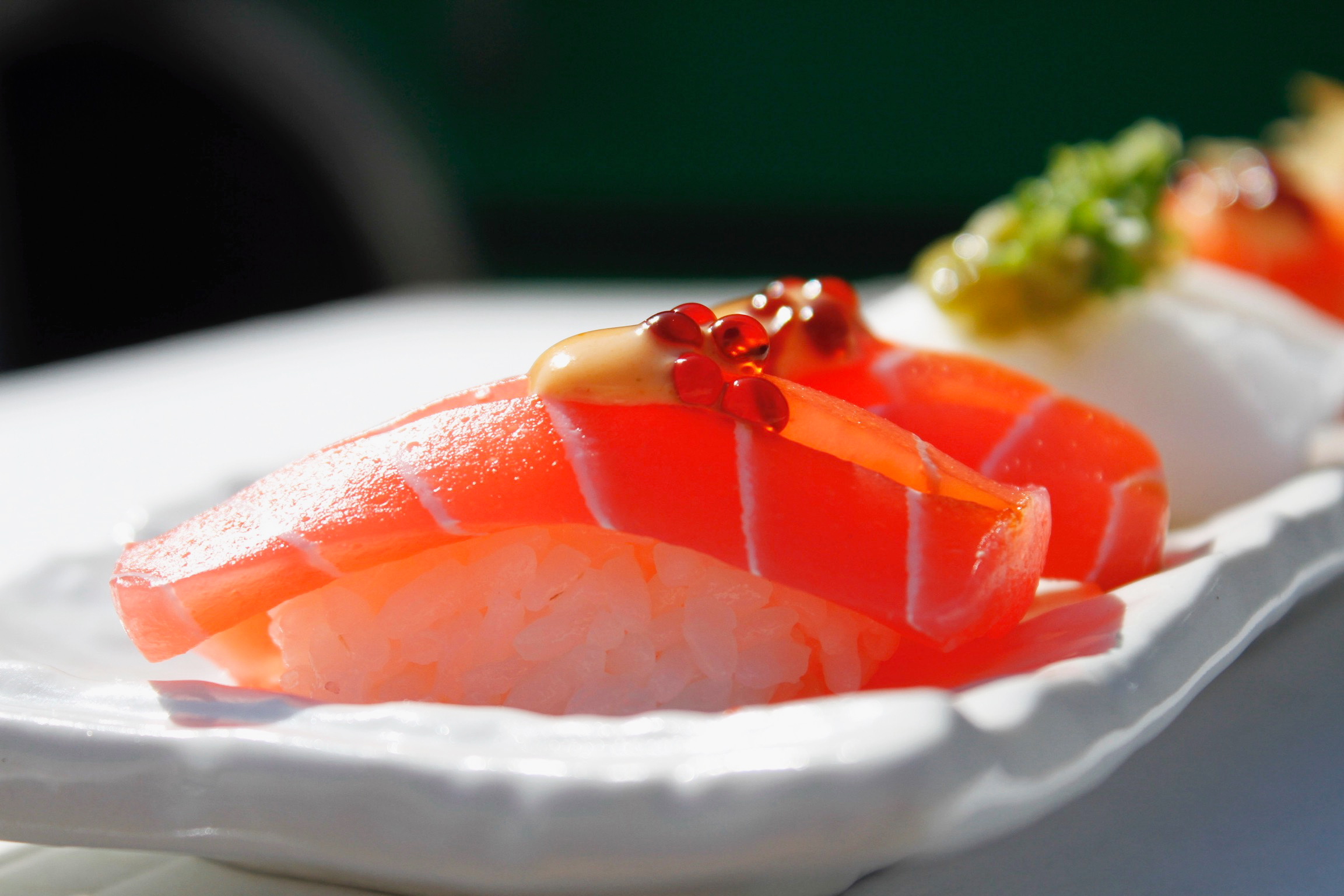 Realistic vegan sashimi
Released earlier this year, documentary Seaspiracy put the global fishing industry back in the spotlight, showing how damaging its practices are for human, animal, and planetary health, pushing consumers to search for fish-free foods. Luckily, many new options are now available to satisfy every sashimi craving.
GTFO now offers the most extensive line of vegan sashimi on the US market. In Europe, vegan brand ZeaStar has offered plant-based items such as Sashimi No Tuna, Sashimi Zalmon, Shrimpz, Crispy Lemon Shrimpz, Crispy Chili Shrimpz, Kalamariz, and Tasty Codd. In April, Dutch chain Sushi Point added five new vegan dishes to the menu of its 32 locations across the Netherlands, including several made with ZeaStar's realistic vegan sashimi.
The vegan seafood industry grows
Outside of the vegan sashimi realm, a growing number of plant-based seafood products are making their way to stores and restaurants. Founded by chef brothers Chad and Derek Sarno, Good Catch makes vegan seafood using a proprietary blend of six legumes that offer a flaky texture that mimics popular fish products such as pouched tuna, crab cakes, and breaded filets. This summer, Goot Catch trolled sandwich chain Subway by parking its "OurWay" trucks outside of New York City, NY; Austin, TX; and London, England. There, the brand gave away free vegan tuna sub sandwiches to show passersby that enjoying familiar seafood flavors does not have to come at the grave cost of ocean destruction. In July, Good Catch's vegan crab cakes and fish filets landed on the menu at select test locations at Long John Silver's, becoming the first chain of its size to test vegan seafood.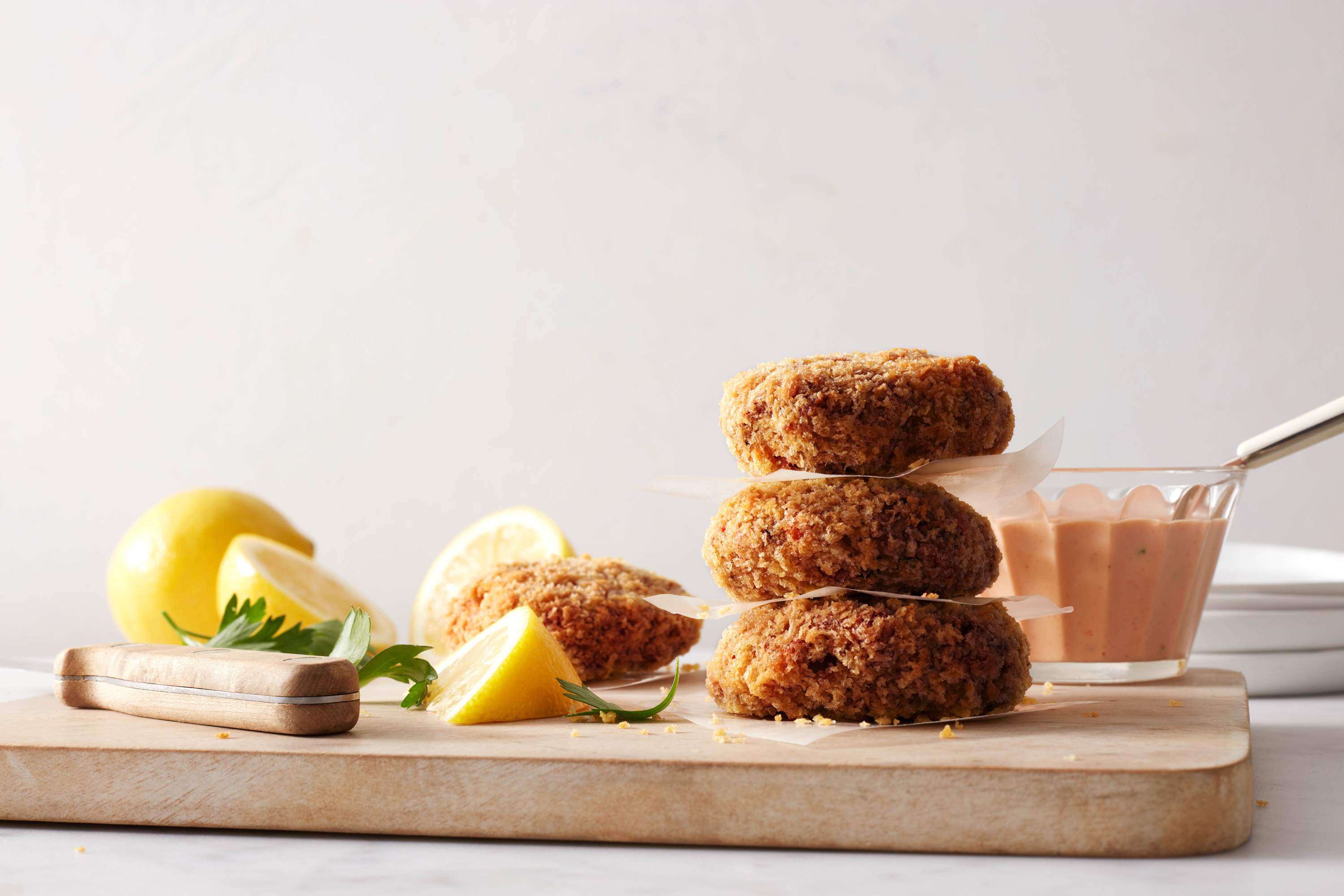 On the other side of the planet, Starbucks just got into the vegan seafood game with the launch of Thai Style New Crab Cake Salad at its 170 locations in Hong Kong. The new option is made with vegan crab cakes by OmniFoods, a local brand known for its OmniPork (vegan pork) products which just launched its OmniSeafood line extension. In addition to the crab cakes on Starbucks' menu, the new vegan seafood line includes vegan fish filets and burgers.
For more about vegan seafood, read:
Trader Joe's Is Working on Vegan Seafood
Fish-free Seafood Companies Raise $116 Million in Last Six Months
The Best Crab Cakes in Baltimore Are Vegan